The Great Pyramids of Giza have been on my bucket list for as long as I can remember. Dreaming about seeing the famous structures built over 4,000 years ago, the oldest temple complex in Egypt with Abu Simbel in a close second, and wondering how those giant blocks were put so strategically in place mesmerizes me to this day. I hope this visitor's guide will help you make the most of your visit to the Great Pyramids of Giza!
Visit the Pyramids
How do I get to the Pyramids of Giza?
Depending on where you are staying it may take a long time to get to the entrance of the pyramid complex. Traffic in Cairo in insane, so take that into consideration when planning your departure time. It is easy to get a taxi or an Uber in Cairo and if I had to choose I'd go with the Uber. It will be a flat rate and you won't have to haggle with the driver.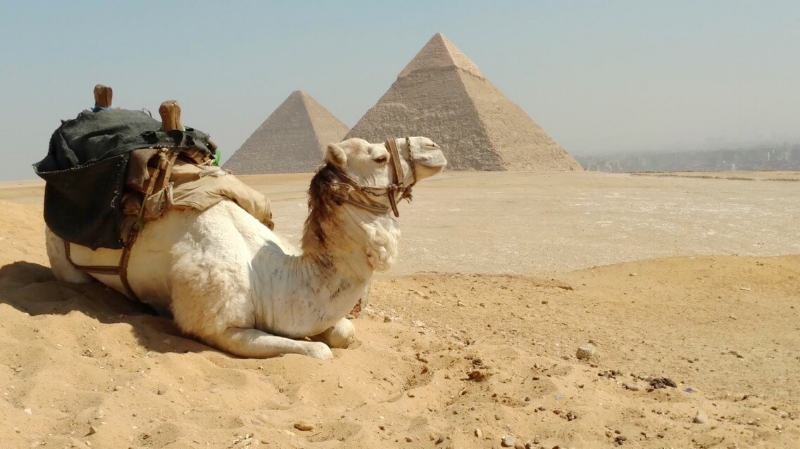 Upon arrival, ensure that your driver takes you all the way to the ticket booth. If they let you off by the road you'll have to walk a good distance to the ticket booth and it's uphill. This will also help you to avoid the touts by the road. All in all it will be less of a hassle for you.
Pin it for Later
Alternatively, you can also hire a guide. I would recommend hiring a guide in advance ensures you receive a high quality tour. Most of the time that will include a pick-up and drop off service from your hotel. I did a City Tour of Cairo with Egypt Tailor Made and would hire them in an instant for another tour in Egypt.
Where should I stay when I visit the Pyramids?
Luxury Lodging near the Pyramids
From the Marriott Mena House Cairo you can see the Great Pyramids at Giza, which will thrill you the first time you see them! If you get the right room you'll have a balcony where you can sit, sip tea or coffee, and gaze at these ancient wonders. This is a 3-star hotel and has multiple restaurants on-site, along with a pool and gorgeous outdoor lounging spaces. If you're looking to find the most beautiful hotel in the area, this is it!
Mid-range Lodging near the Pyramids
During my first visit to Egypt, I stayed at the Safir Hotel Cairo. I loved lounging by the outdoor pool in the Egyptian sun. Plus, the buffet breakfast is extensive and a perfect way to start the day. They had to most comfortable bed I slept in during my time in Egypt too! If you're spending time in Cairo and Giza, this is perfectly situated between the two cities.
Budget Lodging near the Pyramids
If you're on a budget and looking for a nice clean place to rest your head stay at the Best View Pyramids Hotel. The basic rooms are clean and comfortable. The more high-end rooms have views of the pyramids from the balconies and jacuzzi tubs perfect for soaking after a long day on your feet. For all my solo travelers out there they have single rooms at a good price.
How Much does it Cost to Visit the Pyramids?
At the time of this writing the cost to enter the pyramid complex is $10. Please note that in order to go inside any of the pyramids there is an extra cost and you must purchase those tickets upon entry as no tickets are sold inside. To go inside the pyramid of Khufu is costs $20.
What to Do and See when you Visit the Pyramids
The Great Pyramid of Khufu: A UNESCO World Heritage Site and the largest of the pyramids.
Pyramid of Kharfe: The pyramid that in only slightly smaller then that of Khufu.
Pyramid of Menkaure: The smallest pyramid at the complex.
The Great Sphinx: The oh so famous creature with the head of a man and the body of a lion.
Pyramid of Snefuru: The first pyramid.
The Solar Boat Museum: A small museum make of glass that houses what might be the oldest boat in the world.
Camel or Horse Rides: There are people everywhere with camels and horses. Some of these animals are well cared for and others are not. If you choose to go for a ride know that you'll most likely be swarmed and receive many offers, often at the same time.
Sound and Light Show: Most nights there is a sound and light show at the Giza Pyramids. While I did not attend, this is a very popular family friendly evening activity.
What to Wear
Egypt is a prominently Muslim country, so please dress accordingly. For a visit to the pyramids, and any of the other temples in Egypt, I'd recommend wearing loose fitting airy pants or an ankle length skirt and keeping your shoulders covered. I lost my luggage on the way to Egypt so my wardrobe was not want I wanted it to be during my visit. It was hot and I wish my clothing has been more breathable.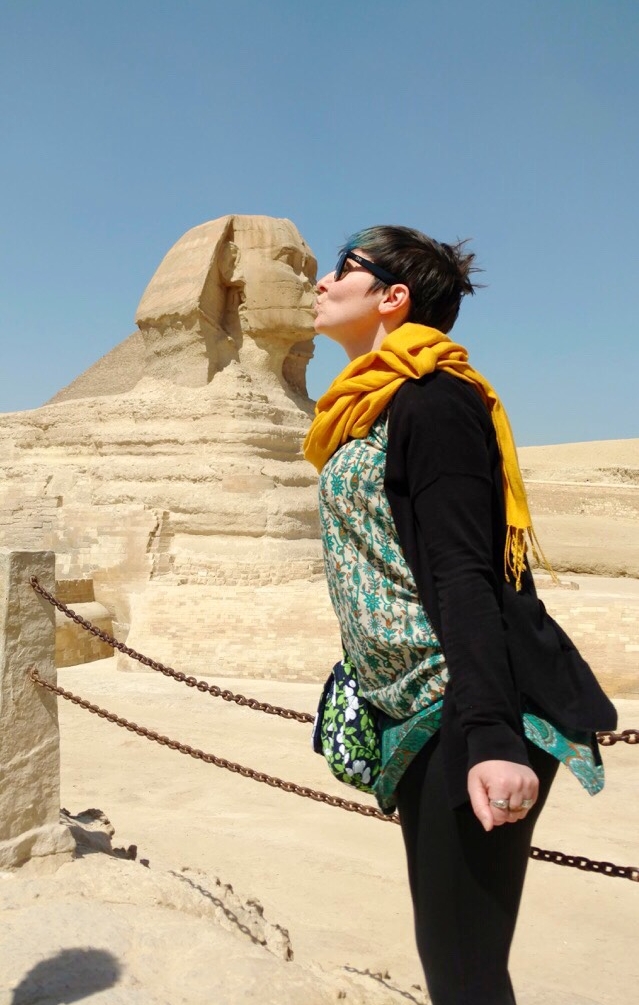 There is very little shade at the complex. Make sure you bring sunglasses and sunscreen, your body will thank you. I brought a scarf to cover my head to protect from the sun as well.
Visit the Pyramids: Do's and Don'ts
There are many do's and don'ts for when visiting Egypt, here are a few specifically for the Pyramids at Giza.
Do:
Give yourself plenty of time: The site is huge and there is so much to see. Don't rush and give yourself a least half a day to see everything.
Bring lots of water: The hot desert sun can get really get to you. Make sure you have more water then you think you need. Getting dehydrated will ruin your experience.
Be aware of your surroundings: Like any touristy area there are pick pockets. I didn't have any issues, but have heard from friends and fellow bloggers they had some trouble. Stay alert and keep your wallets in a safe place.
Don't
Take pictures inside the Great Pyramid: This topic gets me really upset. When a tourist area tells you not to take pictures, just don't do it! They are trying to preserve the space and your flash – you turned it off, yah, yah, I get it, but it still doesn't matter – can cause damage to an ancient site.
Make eye contact with touts: If you don't want to be bothered by touts don't make eye contact. This doesn't work all the time, but I find it to be pretty effective. If you're approached and not interested simply say, "la, shukrann," which means no thank you in Arabic and keep walking.
Climb on the Pyramids: There are walkways up to the Pyramids where you are able to get on them in order to go inside, but otherwise don't climb on them. It's disrespectful, don't be that tourist.
If you're going to visit the pyramids and have any other questions, ask in the comments.
Love it? Pin it!