Cozumel is a small island off the coast of the Yucatan peninsula. It's commonly known as a cruise ship stop, but for those who spend time on the island, it is so much more than that. Here is my list of the best things to do in Cozumel Mexico.
Best Things to do in Cozumel
Scuba Diving
If you go to Cozumel and don't go scuba diving did you really go to Cozumel? The scuba diving in Cozumel is known as some of the best diving in the world. During my visit I did 8 dives with ScubaTony, and completed my PADI Open Water Certification with them as well.
Between the amazing diving, care, and awesome Dive Master (Hi Manu!) I think diving with ScubaTony in Cozumel has ruined me for every other dive I'll go on. I saw sea turtles, nurse sharks, green moray eels, angel fish, parrot fish, barracudas, and my personal favorite – the splendid toad fish. (this specific kind of toad fish can only be seen in Cozumel!)
If you're planning to go scuba diving in Cozumel I can't say enough amazing things about ScubaTony. They've been sharing the waters of Cozumel with visitors to the island for over ___ years. No matter if you're diving during the day or at night, you'll only ever have 6 divers on a boat at once. It's the perfect number of people to help spot creatures in the water and not have too many divers to compete with to see them.
Pin it for Later
Snorkeling
Not ready to take the full plunge into the water? Snorkeling is a great first step to exploring the underwater world in Cozumel Mexico. No matter the age, snorkeling is a great activity for young and old alike.
For those renting a bike or car, it's easy to get around and find free snorkeling access. If you're looking for a place to hang out and get some food as well as snorkel, I enjoyed the Tikila Bar located right on the ocean between San Miguel and Puerta Maya. The first day of my scuba diving course with ScubaTony, where I did my closed water dive, was in the water by Tikila. I saw some amazing fish and there were plenty of scuba divers in the area exploring.
Snorkels and masks, or one of the full face snorkel masks can be found in nearly every shop in town or rented at some of the beach clubs. I wouldn't recommend doing a guided snorkeling tour (unless they take you to El Cielo) as most boats will take you to close to one of the beach bars located south of town. It is easier (and more budget friendly) to grab your own snorkel gear and hang out at one of the bars for the day.
However, if you want to go out on a boat and snorkel check out this glass bottom boat and snorkel tour. This is a great option for families especially if everyone in the group doesn't want to snorkel. Plus it takes you to 3 different reefs.
If you're a regular snorkeler and you're looking for something a bit different try this cool power snorkeling tour. You'll get to use a sea scooter to propel you in the water and take an island tour.
Rent a Bike
Whether you plan on exploring the island or using it to get around town, renting a bike is super easy and one of the best things to do in Cozumel. A bike allows you to discover Cozumel like a local, not worry about where you're going to park a car, and do it in a budget friendly way.
I recommend getting your bike from Best Bikes Cozumel. Best Bikes Cozumel is located right off the main square in San Minguel close to where the ferry from Playa del Carmen docks. Depending on what hotel you're staying in they'll even pay for your cab ride to and from the pick-up/drop-off of your bike.
The biggest thing to be aware of when renting a bike is the weather. The afternoon heat can be extremely dangerous to bike in and I do not recommend it until you are a seasoned biker. Get an early start especially if you plan on biking the east side of the island as there is little shade along the bike path. However there are plenty of places to stop and re-hydrate. Make sure you have a water bottle with a built in filter, like the LifeStraw Water Filter Bottle, so you can refill from a tap and reduce the amount of plastic water bottles used.
Be aware of the rules of the road when you're riding your bike as riding in town especially you'll need to follow specific right of way procedures. Ask for details at the bike shop you rent from.
If you want to explore the western side of the island consider this e-bike and snorkel tour. They're take you to some fun spots to snorkel and you'll get to bike too!
Watch the sunset from Jeanie's
Jeanie's in a restaurant and bar located across the street from the Mega (a supermarket/grocery store) in San Miguel, right on the water facing west towards Playa del Carmen and mainland Mexico.
I spent 7 nights in Cozumel and 2 of those were spent a Jeanie's, watching the sunset, beer and hand, surrounded by good people and great conversation. What more could you ask for?
Keep in mind that once the sun goes down much of the town closes, as there is not much of a night life.
A quick note about ordering beer at Jeanie's: During happy hour beers are 2 for the price of 1. On my last day in Cozumel I was the first person from my group there so I ordered us a bucket – with ice to keep them cool – of 5 beers. Once everyone arrived, the waiter showed up with 2 buckets and a total of 10 beers. If you want 2 beers order 1, if you want 4 beers order 2. You get the point. Good luck ordering
Visit Punta Sur Eco-Park
15 miles south of San Miguel is Punta Sur Ecological Park. An amazing day activity for the entire family, Punta Sur is the largest Eco-Park on the island of Cozumel.
The park has crocodiles in a lagoon with observation tower, exotic birds, and a plethora of beautiful flowers and plants.
If you're looking for a day at the beach the White Sand beach in the park is well taken care of and has Chunchacab Reef right off shore. The reef is amazing for snorkeling and has a slight drift.
With a little work, you can climb the stairs to the Celarain lighthouse for a 360 degree view of the area. In the old lighthouse keepers quarters is the Museum of Navigation. For even more history make sure to visit the Mayan Ruins, El Caracol.
Click here to purchase your skip the line ticket to Punta Sur Eco-Park.
Pin this Best Things to do in Cozumel post for Later!
Sail on a catamaran at sunset
Picture yourself ending a long day of adventures on the island of Cozumel on the deck of a catamaran at sunset with cold drink in hand. If you're looking for a romantic activity for your and a loved one this is it.
Catamaran cruises can be booked during the day and at sunset. Depending on the cruise booked, there are different options from snacks and drinks or dinner and champagne on-board.
If you're looking to book in advance click here to book your sunset catamaran tour. If you want to book upon arrival, in downtown San Miguel there are plenty of tour operators, so you can shop around and negotiate the best price as well
Best Things to do in Cozumel: Learn how to Paddleboard
When looking to go Paddleboarding during your visit to Cozumel look no further than Ha' Haak Water Adventures. The husband and wife team of Rene and Gina will take such good care of you during your time on the water you won't want it to end.
I was greeted with open arms by Gina and after signing a bit of paperwork and putting reef safe sunscreen on I headed to the water. Rene gave me a great one on one paddleboard lesson going over how to stand, the proper way to hold the paddle, and a few other tricks of the trade.
After I took the paddleboard for a spin with Gina, we hooked out boards up to some buoys and she did a paddleboard yoga session with me. It was a great way to wrap up the paddleboarding; I felt so relaxed, albeit a little wet cause I feel in!
Ha'Haak also has paddle bikes for rent. I had never been on one and Rene took one for a spin with me. I think the bikes would be a great activity for people of all ages because they're so low impact.
Best Things to do in Cozumel: Have a drink at Cozumel's only Micro-brewery
No matter where I go around the world I always make sure I try some delicious local beer. After a long day of scuba diving, my blogger friend Claire and I went to the only micro-brewery on the island of Cozumel, Cerveceria Punta Sur.
This little hole in the wall brewery and restaurant offers a great selection of hand crafted beer and perfectly cooked pizza. A specialty of Cerveceria Punta Sur is their Lionfish pizza.
The Lionfish is a non-native species to the Caribbean Sea. Lionfish are creating huge problems in the reefs around the island of Cozumel. They eat anything that can fit in their mouths and have no natural predators. Because of this the Lionfish is hunted and eaten by islanders and visitors alike. The Lionfish is a light white fish. Put atop a pizza it is delicious! Add a beer, or 2, to it and you've got an amazing meal.
Chill out at Mr. Sanchos
Beach clubs aren't usually a place that I'd consider going while I travel. What I love about Mr. Sanchos beach club is they're proudly family owned and operated. I was at Mr. Sanchos for my paddleboarding lesson and ended up getting a tour and staying to hang out for the day. The manager, Jorge, told me that over 120 local families benefit from jobs at Mr. Sanchos, and they do not work with any of the cruise lines because they don't feel it will directly benefit their business and employees. For this reason alone I would call Mr. Sanchos the best beach club in Cozumel Mexico.
Click here to purchase your all-inclusive day pass to Mr. Sanchos.
If you're looking for a day out in Cozumel with every type of activity you could possibly want, go to Mr. Sanchos. Some of the activities you can experience at Mr. Sanchos are:
White sandy beach
3 pools
Message and spa services
Swim up bar
On site restaurants
If you've got cash to burn and want a special day pampered day reserve 1 of their 4 private suites equipped with day bed, wading pool, snacks, massage and your own personal butler for the day.
Explore the ocean with a helmet dive
Another alternative to scuba diving is doing a helmet dive. This gets you fully submerged in the water to explore a bit deeper than you would if you were snorkeling.
For a helmet dive you put on a helmet that fully encloses your head giving you air from the surface. Visitors are able to see fish and walk on the ocean floor.
Depending on the company you explore with, the time you spend underwater varies. I'm a big believer that this is a great experience for kids that love snorkeling, but are not old enough or ready to go scuba diving.
Best things to do in Cozumel Mexico: Taste bean to bar chocolate
I have a sweet tooth. I have a BIG sweet tooth! After my Cozumel road trip, I stumbled upon the most amazing little shop in downtown San Miguel, Chocolateria Isla Bella.
Inside we learned that it is owned and operated by a mother, daughter team. They work with local farmers who grow Criollo, Guayaquil & Patastillo varieties of cacao. Every bit of chocolate sold in the shop is roasted in house and made into bars, truffles, or other delicious treats.
They also offer a chocolate making and tasting class. Tasting different varieties of chocolate and ingredients and learning about the chocolate making process. All participants go home with plenty of tasty treats.
Take an ATV Tour
ATVing is a great way to explore the island of Cozumel. One of the most adventurous things to do on land ATV tours are offered at plenty of places throughout the island. Many popular day tours are a combination of ATVing and Snorkeling. I wish I had the time to take an ATV tour to the Jade Cavern, the only cenote on the island, while I was on the island.
If you're planning on going ATVing remember to wear clothes you don't mind getting dirty just in case the trail gets muddy. I was covered in mud after my short ATV tour at Mr. Sanchos. And don't forget the sunscreen!
Depending on the tour operator, or rental company (because you can rent an ATV too!), the ATV could be automatic or manual. Make sure to check with them in advance to ensure you're able to have the best experience possible.
Rent a Car or Scooter
To fully explore Cozumel Mexico you need to rent a car or a scooter. Because I have no idea how to drive a scooter, I went with a car. I had never been to Cozumel and my girl Claire's adventures were mostly underwater, so we a day long road trip around Cozumel.
Renting a car to discover all that the island has to offer is one of the best things to do on Cozumel. We got our vintage VW Bug from Rentadora Isis. Between the research I did online and recommendations from other blogger friends I found that they not only have the best deals, there are also no hidden fees. Check the Rentador Isis website for prices and to reserve a car (or scooter) in advance to get the best deals.
Please be aware, this ones for all my American friends out there, that most car rental companies only have manual transmission vehicles. We learned this (and that I'm terrible at driving stick) the hard way.
View my Renting a Car in Cozumel blog post for all the details you'll need from the rules of the road to renting a car, jeep, or scooter.
Glass Bottom Boat
While the idea of going on a glass bottom boat can be a bit cliche I had to add it to my list of things to do in Cozumel because my Grandma loves them. When I was younger and we went on family vacations we used to go on these all the time no matter where we were.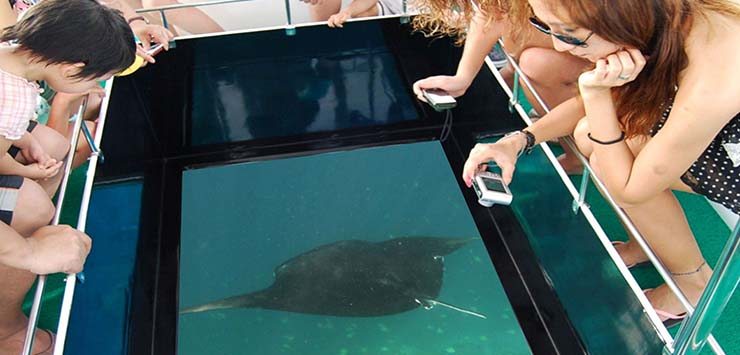 A glass bottom boat is an experience for the entire family, young and old. You never know what you'll see through that little glass window, you might get some surprises!
Many glass bottom boats will often offer snorkeling tours (snorkel rentals included) as part of a package and usually include lunch or at least a snack. Seeing and experiencing the world's second largest coral reef system in the world from the boat and in the water.
Get a massage
With all the adventurous things to do in Cozumel both in the water and on land you'll need time to relax and unwind. Massages in Cozumel are affordable, just make sure you choose the right place.
Almost all the beach clubs and large hotels on the island have a spa with various massage and beauty services. Throughout San Miguel there are spas that offer similar services.
The beach clubs and hotels are going to be the most expensive than their counterparts downtown. Spa del Sol is a great place right in the heart of San Miguel offering massages, beauty treatments and spa packages. For a different kind of massage head to Barefoot in Cozumel for a Ashiatsu Barefoot Massage.
Best Things to do in Cozumel Mexico: Go horseback riding
Trotting along the beach or through the jungle on horseback is one of the most adventurous things to do in Cozumel. Being close with such majestic animals is my favorite part of horseback riding.
For beginners, horseback riding at Mr. Sanchos is a great way for someone who has never been on horseback. It is a short and walk through some jungle paths and then on to a small expanse of beach. If you know how or want to get adventurous, once on the beach you can trot or even gallop your horse.
For those looking for a little more adventure should head over to the eastern side of the island to Rancho Buenavista. The ranch will pick you up in San Miguel and bring you to their location. On your ride you'll be taken through the jungle to explore several locations of Mayan Ruins. A guide will give you the history or the site and explain aspects of Mayan civilization and how they contributed to modern society. This is a half day experience taking around 3 hours, ending with food and time by the pool.
There are a few other horseback riding tours in Cozumel, but please be aware of how the horses are treated and cared for. I'm not saying that these other companies treat their animals poorly, just be aware when booking tours and activities.
Ride inside a submarine
Gliding through the underwater world in the magnificent Atlantis XII submarine, or any submarine, is a rare treat. This sub is specifically designed for underwater viewing, gives visitors to Cozumel the opportunity to see what life is like below the surface.
With 26 portholes and a large viewing area by the bow of the submarine it allow adventurers to see the Chankanaab reef and the tropical fish that live there, the Felipe Xicotencatl shipwreck located 50 feet below the surface, and The Wall teaming with fish and where the ocean drops off to 180 feet, fading into darkness.
There is also an option to do a full day of activities and add on snorkeling, a lunch buffet, and a tour of the island by dune buggy.
Keep in mind that a trip in the Atlantis submarine is not an activity for those who are claustrophobic and do not like confined spaces.
What do you think the best things to do in Cozumel Mexico are? Let me know in the comments!
Love it? Pin it!