I've been a member of the Girl Scouts since I was 5 years old. I'm a Gold Award recipient and a Lifetime Member. It's safe to save Girl Scouting is my thing. Here is a little bit of my Girl Scout story along with some things I've learn over the years.
Girl Scouts + Adventure
I recently received an e-mail from my old Girl Scout friend and former supervisor from my days as a Girl Scout Camp Director – shout out to Camp Wind-in-the-Pines – Mary Jane Strom. Mary now works at Girl Scouts of Northern California as the Senior Director of Camps & Adventure. After a brief hello and talking about who excited she is to be going to Japan with me in the Fall her e-mail read:
"I'm writing to ask you about your summer plans. I saw on FB you are leaving your Nanny family. While I'm guessing you are beyond spending the whole summer at resident camp, I wanted to see about 1 session. We are offering a program at our camp in the Santa Cruz Mountains, Skylark Ranch, called Skyline to Sea. It is a 7 day backpacking program for 9th-12th grade. I'm looking for an experienced backpacker to lead a group of counselors and girls on this adventure."
The e-mail went on to describe the program and after running to my bag to check the dates in my planner I immediately e-mailed her back with: "I just put it on my calendar!"
Pin it for Later
So this summer I'll be headed to Skylark Ranch to run their Skyline to Sea backpacking program! If you know a 9th to 12th grade girl (she does not have to be in a Girl Scout troop to attend camp) who's interested in backpacking, send her to camp with me! Here is the program description:
Calling all backpackers! Spend a few days at camp learning how to pack efficiently for backpacking, use a compass, and plan a menu. Then, hit the local Skyline-to-the-Sea Trail in Big Basin State Park for a 25 mile trek over the course of 7 days. Starting at Waddell Beach and heading towards to the redwood forest, you will learn more about yourself as you connect with the outdoors. Come back to camp with enough time to play on the ropes course, try archery, and dabble in stargazing! We'll be doing it again in 2021. Check my Travel with Me page, once I have dates I'll post them there.
My Girl Scout Story
Girl Scouts builds girls of courage, confidence, and character, that make the world a better place. That is the mission of Girl Scouts and I am living proof of that mission. As a Brownie Girl Scout I went to troop meetings, Girl Scout events, and started going to Girl Scout Camp. I learned the Girl Scout Promise and did countless community service projects.
When I became a Junior Girl Scout, my troop started going to bigger events, so I met other girls from all over Southeastern Massachusetts that were Girl Scouts too. That's also when we started to travel! We did overnights at the Rodger Williams Zoo in Providence, Rhode Island and slept overnight (and usually we were the only girls) on the Battleship Massachusetts in Fall River, Massachusetts. I went to camp every summer, knew all the camp songs, and never wanted to leave at the end of my session.
I'm a big believer that Girl Scouts gets better the longer you do it. When I entered the 7th grade I became a Cadette Girl Scout and the fun really started.
At school I was kind of a dork and definitely got made fun of by the popular girls because being a Girl Scouts isn't cool. But they didn't know that every summer I went to camp and could completely be myself without anyone judging me for it. At camp their were girls like me who loved being a Girl Scout and going to camp. They didn't know that on weekends, while they were sitting in front of their TV sets I was going on a road trip to New Jersey to go to Six Flags Great Adventure with my troop, or at Girl Scout programs with 300 other girls my age kayaking, rocking climbing, and learning outdoor skills.
Yeah I had to wear the uniform, but for me it wasn't dorky. It was a symbol of everything I'd learned over the years, everywhere I'd been.
Every February, we'd head to the now defunct Camp Greenbrier for a program called Operation Snowflake. We'd camp out with girls from all over New England for this completely girl run winter camping competition. Fire building was my specialty and for 4 years in a row I took home a blue ribbon in it. The program still goes on to this day and has been running for over 30 years. I even took girls to the event when I was a troop leader.
More of my Girl Scout Story
There were several events my troop would attend every year – Great Escape and Senior Conference – and we'd arrive and I'd go hang out with all the girls I had made friends with over the years. My friend Katie and I met at these events way back when and have been friends ever since. I even went to visit her when she was teaching in China!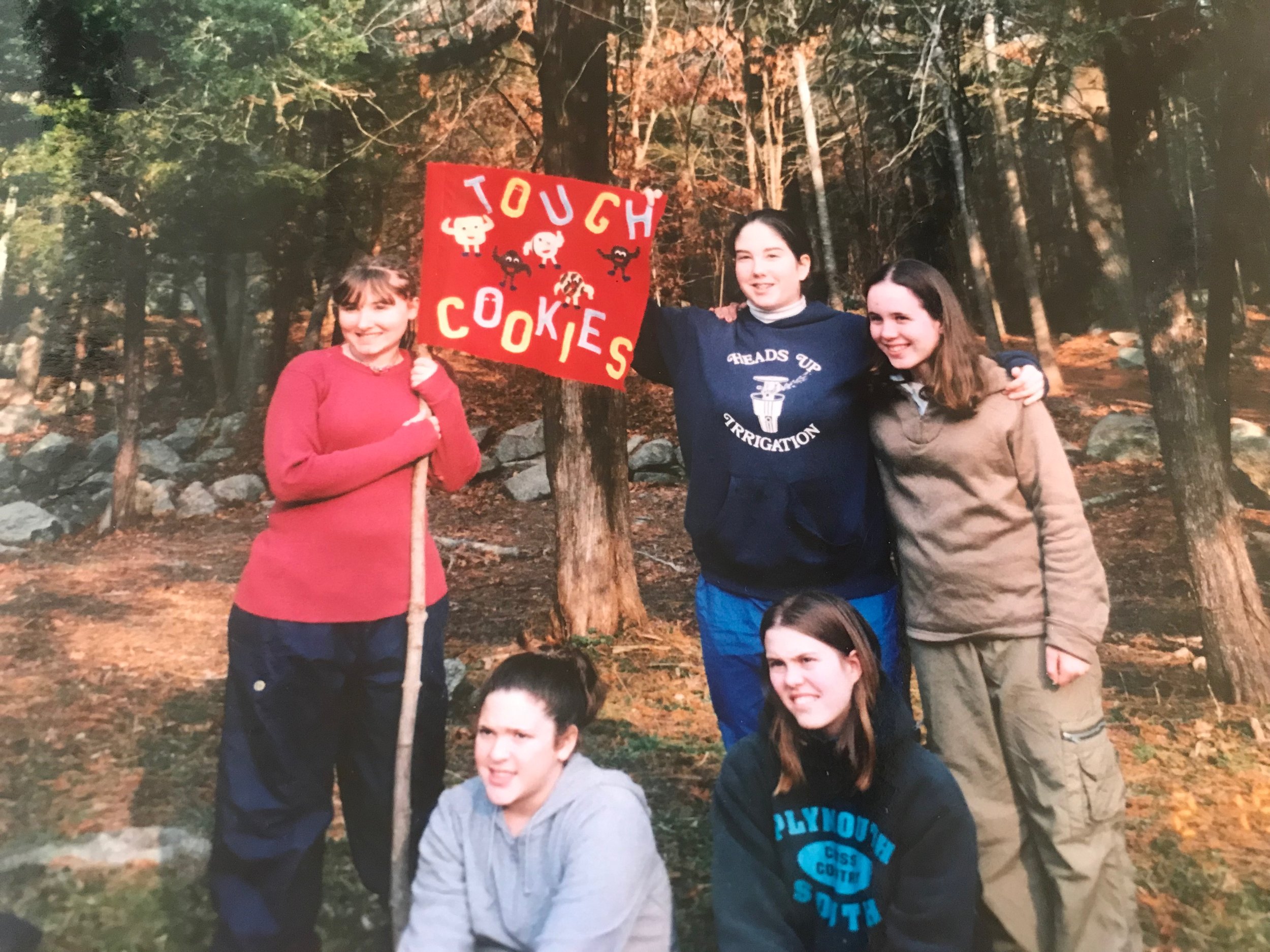 Towards the end of my journey as a girl member of the Girl Scouts I earned my Gold Award, the highest award a Girl Scout can earn. At the awards ceremony where I received my award with other Girl Scouts, several of which were my friends, we did a candle lighting ceremony. There were 10 candles, each symbolizing a part of the Girl Scout Law. I was assigned to light the last of the 10 and had to say while lighting the candle, "and be a sister to every Girl Scout."
As I stood in front of friends, family, and Girl Scout staff members and volunteers I had known for years I was completely overcome with emotion. For those of you who know me personally, you know how much of an emotional cry baby I can be when something strikes a cord. All I could think of was how the words being spoken had shaped the women I had become. When it came my turn to speak I couldn't hold in the tears anymore and said, while ugly crying – cause that's the only crying I know how to do – "and be a sister every Girl Scout."
Girl Scouts isn't something I did, it's the reason I am the women I am today. A women that supports other women. Someone who wants to smash stereotypes. A women who leads her life by my own terms. And the women who really does want to make the world a better place.
What Girl Scouts taught me:
I've been sitting here for 15 minutes, typing and deleting, because nothing I write here seems good enough a description of what Girl Scouts has taught me and how it prepared me for a life of adventure.
When most people think of Girl Scouts they think of Cookies, Camp, and Crafts, but it's so much more than that.
Be true to Myself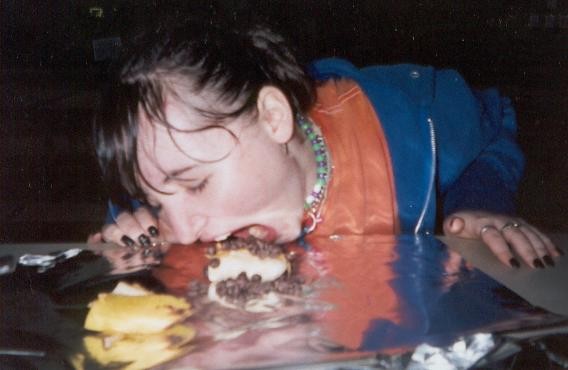 Girl Scout Camp was the first place I was ever able to be my complete self. No one knew who I was, therefore I had no one expecting me to behave or act a certain way.
I was free to sing as loud as I wanted, dress up in silly outfits and costumes (which I still love doing), try new things and totally get them wrong, and not be afraid that anyone was going to judge me.
I remember one summer when I was a bit older. At the time I had extremely long brown hair and before camp I decided to put it in to a bunch of tiny braids. I wore my hair like that for the 2 weeks I was there and by the end of it there were a few of the younger girls that did the same to their hair.
Looking back it was totally gross leaving my hair like that for 2 weeks without washing it, but it gave me the confidence to do my hair however I wanted. When I got home and went back to school I started wearing my hair like that. I got some strange looks at school to begin with, but the looks didn't bother me and eventually nobody took note of it anymore.
Being myself was never really a tough road for me to follow. My Girl Scout community was always so supportive. I was constantly surrounded by women and girls who didn't tease or make fun of me. And when people did make fun of me, I just reminded myself that there were plenty of other people that liked me for me.
Always look for Adventure
No matter where I go, I'm always looking for adventure. I think that's because growing up there was always plenty do to, see, explore, and learn. Whether I was at camp, traveling with my troop, or at an event we were always having a great time.
When your weekends are consistently full of fun and exciting things to do they become part of your routine. As I got older I continued searching for fun and excitement on the weekends. It became a never-ending need. A need that I'm totally OK with searching for for the rest of my life.
Make the World a Better Place
Our world is amazing and full of wonder; It's also completely messed up. I firmly believe that anyone who has the power, even in a small way, to make a difference should.
I volunteer in my community to raise money to help non-profits. I've been a Big Sister for Big Brothers Big Sisters, and volunteered at a local historical site. And I volunteer for several small events each year. There is no wrong way to make the world a better place. Big or Small.
Get out there and use your spare time to do some good in the world. I do!
Spread Joy to Others
There is nothing in the world I like more than making others smile.
In 2011, I apply and receive the position of Camp Director of the summer camp I attend as a girl. I spent 4 summers there as the Director and went from 50 girls a week to 150+ girls a week. I attribute that success to my willingness to listen to what girls wanted to see and do at camp.
My amazing staff and I worked tirelessly to give our campers a safe and fun environment where they could grow.
I made sure to get out into camp everyday. To visit with each of the different programs we offered, sometimes doing activities with or for them myself. I gave the girls every opportunity to cover me in shaving cream, mud, paint, you name it. Their smiles and laughs were the biggest reason I loved working their. I wanted to give them the amazing experience I had as a girl at camp.
Speak up for what is right
I will never, just sit back and allow something to happen without taking a stand. History has proven that those who allow injustices to happen do nothing, but feed the flame.
On a Girl Scout trip with the Freedom Foundation as a teenager to Philadelphia was one of the first times I clearly remember speaking up to someone.
We were the only Girl Scouts at the week-long event. A few days into the week the event planners threw a little dance for all the participants. Most of the Girl Scouts that I came with I had known for years. Each Fall many of us attended an event where we had a big dance and we all danced together. It was one of my favorite events.
During the dance we were all dancing together, and this guy that was in the program came up to me and called be a lesbian. I whipped around and looked him straight in the eye and asked, "What if I was a lesbian? Would that be a problem?"
He looked at me, mouth open, with no response.
"Be careful, all of your friends over there [I pointed to his group of friends, who where all watching] might think you're hanging out with a bunch of lesbians," I told him.
"Well, I, ummm, that's fine," was his response.
He walked away, with much less confidence than when arrived on the dance floor.
Looking back I would have worded it differently, but the end result was the same as I'd look for now. Because that boy was so embarrassed about what he said, I hope he thought twice before running his mouth again and using being a lesbian as an insult.
A Life of Adventure
When I look back on my childhood, being a Girl Scout was the biggest influence on who I am today. My moral code is so high because of what I learned as a Girl Scout and I will not apologize for it. Looking back I can honestly say that my need for change, challenge, and adventure all stems from one thing. I hope you've enjoyed my Girl Scout story.
Where you a Girl Scout? Share some of your Girl Scout story in the comments