Packing for the Kumano Kodo Pilgrimage isn't hard, I promise. With this list of gear all you'll have to worry about is how to capture the beauty of the Kii Mountain Range, the grand shrines, and spectacular forest this trek has to offer.
What Bag should I use for the Kumano Kodo Pilgrimage?
Packing the Kumano Kodo is a bit different than most of the hikes I do as I stayed in Ryokans – traditional Japanese inns – and my luggage was transferred from one place to the next. However, I know people the have done this trek and opted not to have their luggage transferred for them, which means you'll need a backpack. If you've read my blog before I always recommend Gregory Backpacks. I've had mine for over 10 years now and it works like a charm.

Compare Carry-on Luggage Prices
Buy it on Amazon
Compare Backpack Prices
Buy it on Amazon
Pin it for later
Day Pack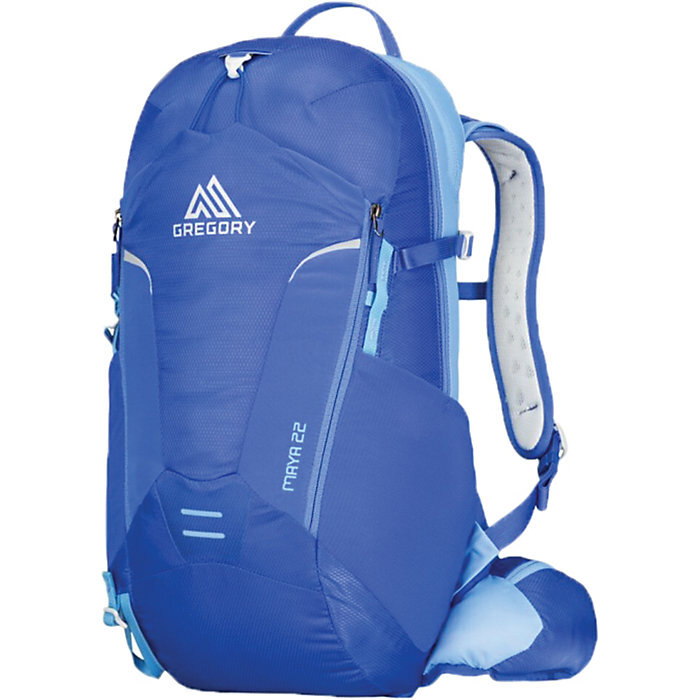 In addition to the bag with all your clothes in it, you'll also need a day pack. I love my backpack more than words. It's my travel buddy and we've shared so many memories together. However, it's old and Gregory Backpacks doesn't make it anymore. The updated version on my day pack is the Gregory Women's Maya 22L pack. It has a mesh venting system where your back meets the pack to helps alleviate back sweat. This pack will fit everything you need for long days of hiking. I've never had any complaints about Gregory.
Compare Backpack Prices
Buy it on Moose Jaw
Buy it on Amazon
Buy it from Eastern Mountain Sports
Hiking Poles
When packing the Kumano Kodo Pilgrimage I highly recommend you bring a pair of hiking poles as there are several steep inclines and descents. I've gone through several different kinds over the years, but am currently in love with my Black Diamond Trail Back Trekking Poles. They are lightweight, have comfy grips and fit nicely in my backpack. The Kumano Kodo is an ancient pilgrimage and you'll see many signs along the way asking you to put caps on the ends of your trekking poles, so make sure you bring them with you and use them.
Compare Hiking Pole Prices
Buy it on Amazon
Buy it from Black Diamond
Buy it on Moose Jaw
Buy it from Eastern Mountain Sports
Dry Bag
Sea to Summit makes the best dry bags. They last forever and stand by their products, which is why I have so much of their gear. And, no, they're not paying me to say that. (unless you purchase something through an affiliate link. Dry bags are a must when it comes to hiking, no matter where you are in the world. The Sea to Summit Big River Dry Bag has joined me on plenty of my trips and is on all my packing lists. It's relatively light and most of my clothes fit inside. I carry it in my day pack just in case it rains
Compare Dry Bag Prices
Buy it on Moose Jaw
Buy it on Amazon
Buy it from Gander Outdoors
Water bladder and water bottle
I drink a TON of water normally, so when I go hiking I end up drinking even more. I use both a 3 liter Platypus Hoser and a 32oz. Nalgene. I have the Platypus to give me easy access to water whenever I need it and the Nalgene for extra water and just in case something where to happen to the water bladder. The Platypus is extra lite and it doesn't have any bulky plastic like many other brands do, and Nalgenes are indestructible.
Compare Hydration Pack Prices
Buy it on Amazon
Buy it on Moose Jaw
Compare Nalgene Bottle Prices
Buy it on Amazon
Buy it on Moose Jaw
Buy it from Eastern Mountain Sports
Hiking Boots
Vasque makes the best hiking boots, in my opinion. My boots are the Vasque Women's Eriksson Gore-Tex Hiking Boot, and they rock my world. I got them on sale, cause they were the sample size, from my local gear shop Outdoor Gear Exchange. Best. Purchase. Ever! Tons of ankle support, leather with a GORE-TEX lining, and great traction. However, Vasque recently discontinued production of my boots. I may have shed some tears before going online and buying 2 new pairs. I tweeted at them expressing my sadness and they recommended I try the St. Elias FG GTX style. I have a couple of friends that love these boots, and I'll be trying them after these 2 pairs hit the road.
Compare Boot Prices
Buy it on Amazon
Buy it from Eastern Mountain Sports
Camp Shoes
While you won't need any shoes for walking around the Ryokons, if you take a day off to explore the area you're staying in you'll need a pair of shoes to wear. I can't stand the look and feel of the original Crocs, so I have the Crocs Work Women's Alice Mary Jane Shoes. They take up less room in my bag then normal Crocs do and they're so cute the double as everyday shoes with a skirt. What can I say I love equipment that does double duty!
Compare Croc Prices
Buy it on Amazon
All the Socks
Keeping your feet happy and healthy is key is a successful hike on the Kumano Kodo Pilgrimage. I always bring 6 pairs of socks on my hikes because I change them so frequently. Since my feet tend to sweat and sweaty feet lead to blisters I' usually wear 2 or 3 pairs of socks each day. May favorite socks are my Smartwool Women's Hiking Medium Crewsock. They're not too heavy and give my feet some cushion, which makes them happy.
Compare Sock Prices
Buy it on Moose Jaw
Buy it on Amazon
Buy it from Eastern Mountain Sports
Shirts
For the Kumano Kodo Pilgrimage you'll only need 3 to 4 shirts. And chances are you'll be staying at a ryokan that will have laundry service. I always bring The North Face Women's Flight Better Than Naked SS Top on hiking trips. It is lightweight, quick dry, and odor resistant.
Compare Shirt Prices
Buy it on Amazon
Buy it from MooseJaw
Underwear and Bras
With the right pair of underwear and sports bras you'll only need to bring 2 of each for the hike. No I'm not gross, I just have the right bras and underwear.
For under wear I love anything from Exofficio, especially the Exofficio Grab-and-Go bikini briefs. They're long lasting, odor resistant, and moisture wicking. TO top it all off they're quick dry, so I can wash them and have them ready to go the following morning to wear again.
As for a bra I go with The North Face Women's Versitas Fearless Reversible Bra. It has amazing support, so the girls aren't following their own path, and I LOVE that it is reversible! You can wear it one day and reverse it the second.
Compare Underwear Prices
Buy it on Moose Jaw
Buy it on Amazon
Compare Sports Bra Prices
Buy it on Moose Jaw
Shorts and Leggings
For most trips on the Kumano Kodo shorts and leggins will be perfect. In fact I wish I had brought an additional pair of shorts because of how humid it was during my hike. For shorts I'm currently loving the Columbia Coral II women's shorts. The 6 inch inseam is long enough to prevent chaffing on my inner thighs and they're wicking.
When looking for leggings it's super important not to get the cheap ones for hiking. Yeah they're cute, but they'll fall down and be annoying all day. You don't need need that garbage. Get the Prana Momento 7/8 Leggings . They're made from recycled materials and have a gusset for reinforcement.
If you're not a leggings person try the Marmot Women's Minimalist Pant go right over my leggings (if I need them to) and even fit over my shoes, so I don't have to take them off! They're also SUPER comfortable.
Compare Leggings Prices
Buy it on Prana
Buy it on Amazon
Buy it on Moose Jaw
Compare Hiking Shorts Prices
Buy it on Amazon
Buy it on Moose Jaw
Jackets
Depending on the time of your you do the Kumano Kodo you'll need differnt jackets. When I did my hike I didn't need either a rain jacket or a down, but being the good little hiker I am I always had my rain jacket.
My rain jacket is made of a GORE-TEX type material developed by RAB Equipment called Pertes Shield+ and let me tell you this baby will keep you dry. I originally purchased it for my trip to Everest Base Camp. One of the days it rained for 4 hours and I was completely dry! My Rab Arc Jacket is a men's jacket for 2 reasons, men's jackets tend to be longer in the torso and it was on sale.
If you're going to be hiking the Kumano Kodo in the winter, which I've been told it absolutely spectacular, you'll need to bring a down jacket with you. My down jacket is a Marmot and is the older sister to the Marmot Women's Quasar Nova Jacket. Paired with the Rab Arc Jacket you'll be nice and warm for your hike.
Compare Down Jacket Prices
Buy it on Amazon
Buy it from Moose Jaw
Compare Rain Jacket Prices
Buy it on Amazon
Buy it from Moose Jaw
Additional things to pack for the Kumano Kodo Pilgrimage
Here are a few other important items to pack:
Want to hike the Kumano Kodo with me? It's a trip I lead for WHOA Travel, check out my travel with me page for more information and to sign up!
Love it? Pin it!