Going on an African Safari seems so simple, but there are many mistakes that can be made.
There are several things many people don't think about when it comes to going on an African safari. Simple mistakes that you might not think about and tricks that will help you have a more pleasant experience whether you're going to South Africa, Kenya, or anywhere in between.
Mistakes to Avoid on an African Safari
Additionally, a little mistake on in the African bush could put you or your group in danger. This isn't the Lion King and wild animals are not friendly.
With the help of some amazing bloggers I've put together this list to help you make the most of your African safari and avoid some common mistakes.
Don't Call the Animals on an African Safari
Submitted by Jessy from Planet Pilgrims
When you've never been on an African safari it is sometimes very hard to imagine the adventure. With many of us never being exposed to wild animals, we often think that animals in the wild react the same way as our domesticated cats and dogs, right? This is an African safari mistake many people make.
So whenever we see that first zebra or the majestic giraffe what do we do? We think we must CALL them to get them to come closer to us. WRONG!
Nothing is less true, wild animals are WILD. They find their own food so there's really no incentive for them to come and greet us and listen to our whistles, clicking of our tong or calling them by name. These scenes often became quite hilarious as I had to deal with them a lot when I was tour guiding throughout African on safari.
Even though the game rangers would always give a very clear brief: When seeing animals, be as quiet as possible and when they're very close, don't even move. The smallest interruption might chase them away. Wild animals basically eat, sleep and reproduce. That's all they do.
Did you know a lion sleeps about 20 hours a day? They're so tired after hunting and it takes so much of the energy that they need to rest afterwards. There's no way a lion will come closer when you call them. So when you go on safari, be quiet, don't make any noise and enjoy the incredible scenery.
Pin it for Later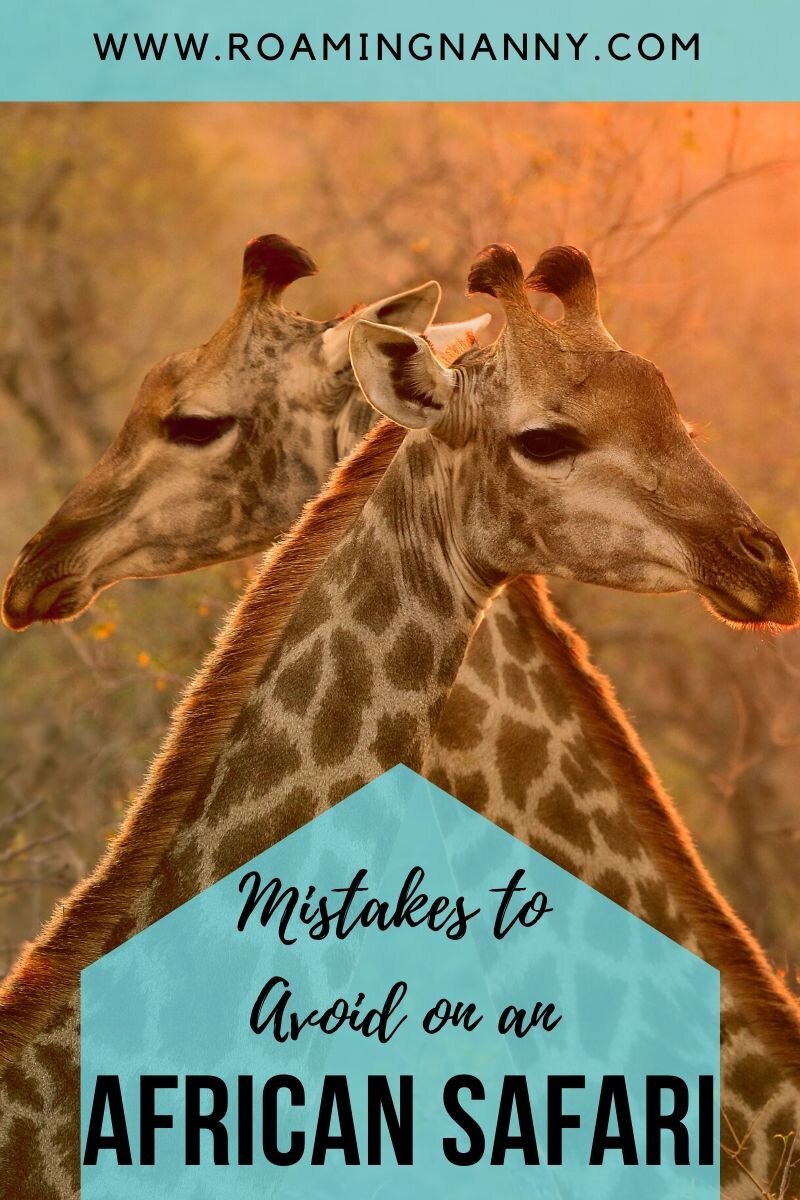 Don't leave food unattended on an African Safari
Submitted by Felicity from Baby Vine
My first safari experience was a camping one, and I was relatively new to camping, let alone with wild animals about. It came as a shock to me when the rules were read out to us on the first night.
We had our tents set up in a U-shape as a protective barrier for any animals that came wandering and were told to always go to the bathroom in pairs and to bring a torch with us – if we saw an animal, we were to shine the light in their eyes and back away slowly.
And finally, we learnt a valuable lesson: don't leave any food unattended.
My friend and I had packed plenty of snacks to get us through the trip, but soon realized they were more likely to get us eaten, rather than the other way around. While you might be thinking Lions and Cheetahs, this is not actually what we were warned about. Instead, it's the bush pigs.
Apparently they smell food from miles away and with tear open your tent to get to it, whether you are in there or not. We were asked to keep all our food locked up on the bus and to make sure we thoroughly cleaned up after ourselves after each and every meal. On previous camps they'd experienced the bush pigs ripping open the tent of two girls who woke to their food being eaten next to their heads – that was certainly an experience I didn't want to have!
Don't forget a tri-pod on an African Safari
Around 15 years ago, I went on my first trip to Africa. As well as a chance to climb Kilimanjaro and scuba dive in Zanzibar, a safari also came packaged with our itinerary. This involved a guided photography tour through the Ngorongoro Crater and the Serengeti in a Jeep.
There were six of us within the tour, all with fancy cameras and zoom lenses. But I stood out of the crowd because I lacked one piece of equipment, a full-size or travel tripod.
I'd taken zoom photography before – in Borneo. But I'd never had a chance to get as close to animals with the camera and lens. I use a 300mm zoom on an APS-C camera, effectively taking it up to 400mm.
But I was quick to learn that the closer you zoomed in, the more you had to compensate for camera shake. This was exacerbated by the fact that many of the best shots would occur while the jeep was moving. The result: after the first day, a lot of my shots came out blurred.
Fortunately, I had a Gorillapod with me. A Gorillapod is one of those mini-tripods with bendy legs you can wrap around things for stability. So, on the second day of the trip, I attached this to the sunroof of the jeep. It didn't stabilize things completely, but it really helped to take better shots.
Though now, when I try to sell some of these shots on Adobe Stock, they get rejected because of blur. So, lesson learned. If you're going on safari to take fantastic photographs, it will pay off in the long run to bring the best equipment you possibly can. And this includes a sturdy tripod.
Trust me, if you later decide to sell those photos, the investment will pay off.
What to wear on an African Safari
One of the important aspects of any safari is to know what to wear on the safari. It's not about being fashionable but most importantly about functional clothes, that will protect you from the sun and insects. This is a common mistake when going on an African safari.
During game drives you will be sitting or standing in the car, so make sure that the clothes you wear are comfortable and breathable. You don't want to sweat loads in the hot sun or freeze on the chilly mornings – layer up and be prepared for both. Layers are a good idea to keep your luggage light but allow you to stay warm.
Proper clothes are meant to protect you from the sun, the African dust, and at the same time help you to blend in with nature. Opt for light and breathable fabrics and neutral colors. Earth tones like brown, khaki, beige are a good idea. I would avoid very light colors like white, as they will quickly get covered by the red African dust which is impossible to wash off. Also, avoid dark blue and black clothing, as it is said to attract the ever annoying tse tse fly. Light colored fabrics are perfect for the evenings in camp or the resort, as they don't attract mosquitoes.
Don't forget your hat and sunscreen. Your African safari vehicle may or may not have a top and lack of a hat and sunscreen can result in serious sunburn or even heat stroke. A polarized pair of sunglasses and sturdy, but breathable shoes are also a good idea.
Book your African Safari Accommodation in Advance
Submitted by Jenny from Travelynn Family
If you are a free-spirited soul who loves to travel without a schedule, moving from place to place at a whim, you may be frustrated to know that for many of Africa's big safari parks, you need to book accommodation in advance. And not just a day or so in advance. For places such a Etosha in Namibia, or Kruger in South Africa, or Chobe in Botswana, you need to book weeks, sometimes months in advance, evening if you're camping.
For many, a trip to Africa and a visit to one of the big game parks, is a once in a lifetime experience. If you haven't booked accommodation and there's no availability, you will be allowed in to the park for the day, but you must be out of the park gates by sunset. This is such a shame as one of the best ways to experience a safari is on a night time game drive, and also to get out on a drive at sunrise when many animals are at their most active.
However, there are many smaller safari parks in Africa where you can turn up on the day and find a camping spot or lodge for the night. These parks will often provide a more intimate experience with wildlife. Plus they usually won't be as busy. Although, if you want to tick off the 'big five', your best bet is to head to one of the bigger parks. They often have a larger population of wildlife. If you are on safari with kids, these bigger parks often have a swimming pool, perfect after a early morning game drive.
Listen to your Guides and Camp Staff while on an African Safari
This last little tip is from me, and it is so important to remember.
Your Safari Guide and Camp Staff, work in the top African Safari destinations, and know what they are doing. When they tell you to do something, please listen.
Something as simple as taking a buddy to the bathroom with you if you're on a camp safari can seem silly. However, if you're by yourself an animal could stalk up to you and grab you, and no one would know.
At resorts, you'll be told not to leave the dining or lounge area at night without a member of the security team escorting you. A 2 minute walk can go bad very quickly, so just follow the rules for your own safety.
I was on an African safari in Tanzania a few years ago and our guide told us to be completely silent when our vehicle was close to animals. One women, sitting in the front seat let out a loud "Ekkk," when a large male elephant trumpeted. The animal stopped in his tracks and turned abruptly towards us, and faked a charge. Luckily, turning off at the last second. We were very lucky, but needless to say were all pretty angry at that women for not listening.
Know the Lingo
There are so many terms used in the safari world and not knowing them before heading out into the African bush is a mistake. Here are a few safari terms you should know before you go:
Game Drive: When you go out in the safari vehicle to view animals in the bush. Game Drives take place in the mornings and evenings whene animals are most active.
The Big Five: The safari term, "Big Five" is an old hunting term to name the five most difficult and most dangerous animals to hunt. It is less used for hunting and more so for safari goers.
Sun Downer: A sunset drink usually had while on an evening Game Drive accompanied by a light snack.
Walking Safari: A Walking Safari is a Safari on foot where a guide takes a small group of people around the Bush pointing out flora and fauna difficult to see from a safari vehicle.
What are some other tips you could add to this list? Let me know in the comments.
Love it? Pin it!