My Trip to Things to do in Southern Maine and the Maine Beaches Region was sponsored by The Maine Beaches Association. All opinions are my own. Thanks for reading!
The Maine Beaches Region of Southern Maine is a must visit area of this small New England state. Whether you're looking for romance, adventure, or family fun, this little corner of Maine has it all. Here are a few of my favorite things to do, see, and eat, in the Maine Beaches area.
Things to do in Southern Maine
Hike Mount Agamenticus
Mount Agamenticus or Mount A, as it is more easily referred to, can be found rising above the coastline in York, Maine. Now on 10,000 acres of conservation land, Mount A resides on land that was once home to the Algoquin people.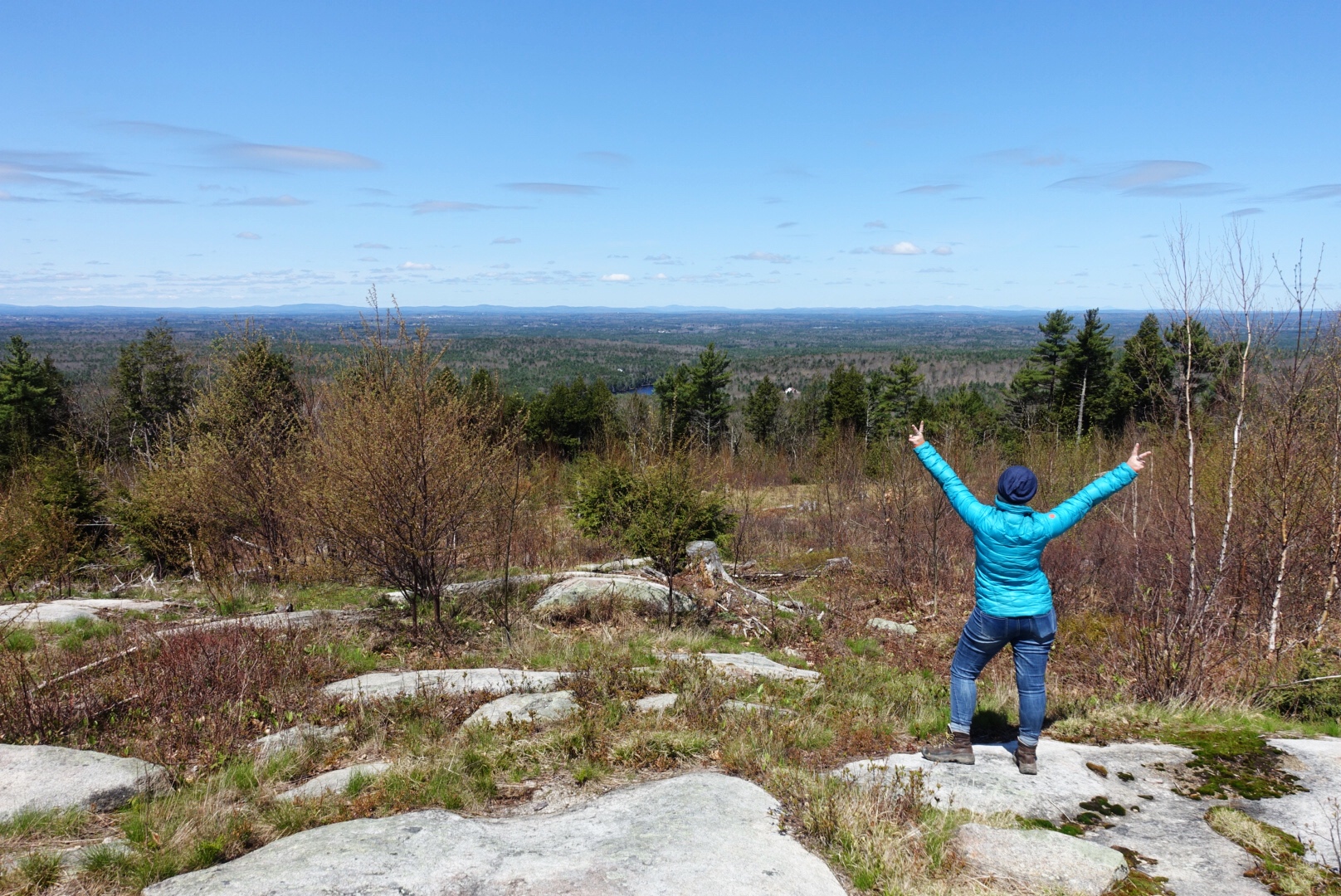 There are several parking areas and 8 trails surrounding the mountain. The trails around Mount A are for use of hikers, bikers, and during the winter you can go snowshoeing. Some of the trails are open to ATVs and horseback riders. You can view the official Mount Agamenticus trail map here.
For those with limited mobility there is a road up to the summit that gives access to a newer trail called the Big A Trail or the Universal Access Trail. This trail circumnavigates the summit area and is a wide, even gravel path for use by all hikers.
For such an easy hike, you are rewarded with spectacular views. On a clear day you can not only see the nearby Maine seacoast, but to the west you might be able to catch a glimpse of New Hampshire's Mount Washington (Who's surrounding area has some of the best hiking in New Hampshire.) off in the distance.
Things to do in Southern Maine: Eat Seafood at Mike's Clam Shack
On the outside Make's Clam Shack looks like your average restaurant on the main drag of a tourist area. After sitting down and having a taste, you'll realize it's a Maine Beaches' gem!
When I first pulled up, I noticed that the restaurant parking lot was huge. As silly as it might sound, that's usually a good sign. The inside is decorated as your casual seaside family restaurant. We ate in the bar area that was fully stocked in the lights were a bit dim.
Living away from the ocean I don't get seafood as much as I'd like. Growing up next to Cape Cod in Massachusetts I'm a bit of a snob when it comes to seafood. I spent my high school summers frying up fish and chips and all manners of seafood for tourists, so I know how to cook (and eat) seafood.
At Mike's I ordered scallops and onion rings. Cooking scallops can be a bit tricky as there is a fine line between overcooked and under-cooked. My scallops where absolute perfection! Just crispy enough on the outside and juicy on the inside. I couldn't have asked for a better meal. And the onion rings where hand cut and breaded. If you go to a clam shack, not matter where is it, and they don't have homemade onion rings, what are you doing with your life?
Things to do in Southern Maine: Take a Scenic Flight
You know that amazing view you get just minutes after take off from the airport? That's the view you get the entire time you're on a scenic flight. Southern Maine Aviation in located in Sanford, Maine out of the Sanford Seacoast Regional Airport.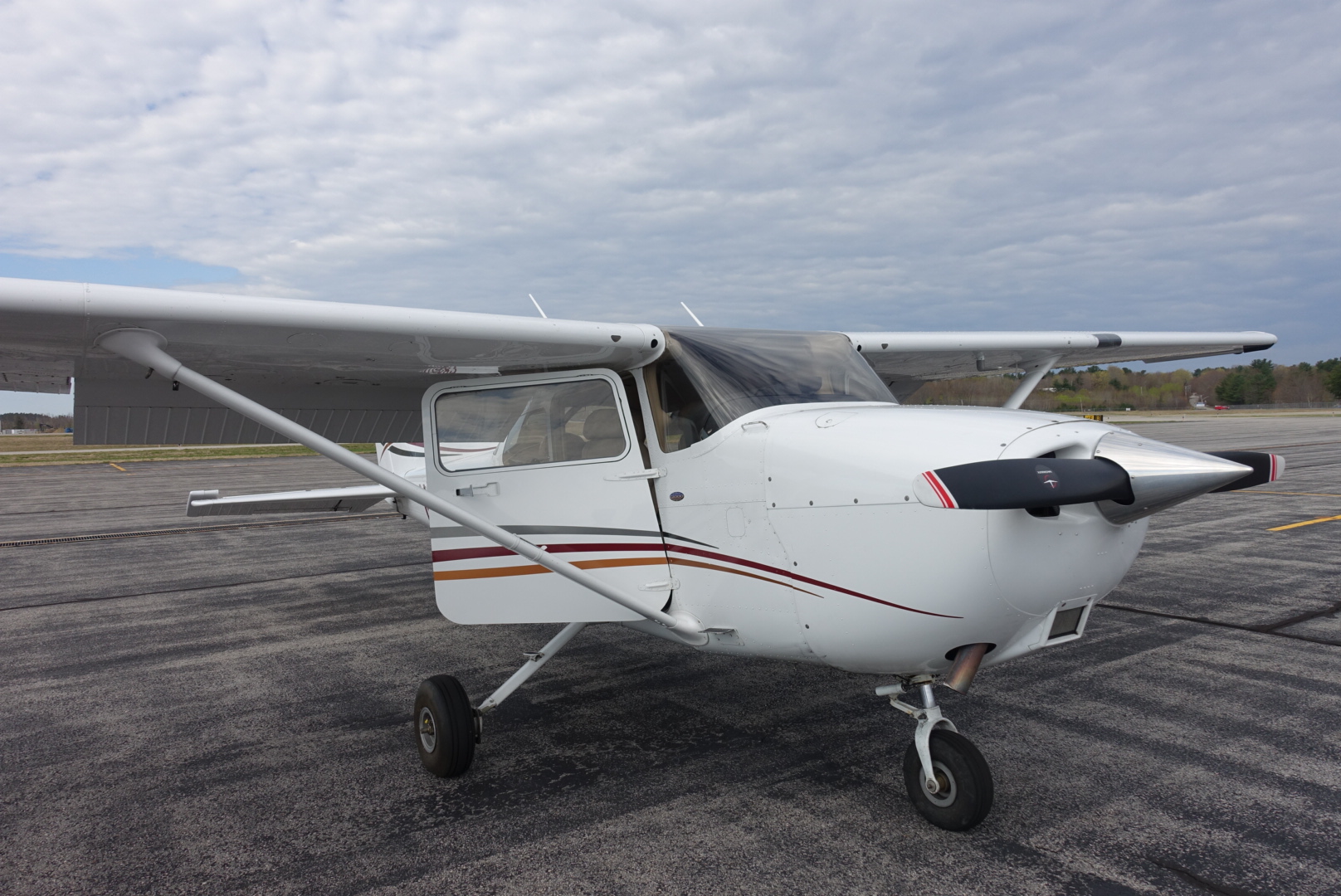 The pilot of the 4 seater I took my flight in was a retired American Airlines pilot named Paul. It was safe to say we were in good hands, even though after what I thought was a pretty smooth landing Paul shared that it wasn't one of his best.
During the flight we started up in the Kennebunkport area – but not too far north because planes don't have clearance to fly over the Bush (As in former President) Compound up there – and went as far south as Portsmith, New Hampshire. As Paul flew the plane south we found ourselves over our hotel, The Dunes, and the Ogonquit River, my personal favorite lighthouse in Maine, the Nubble Light, and all the small towns scattered along the coast.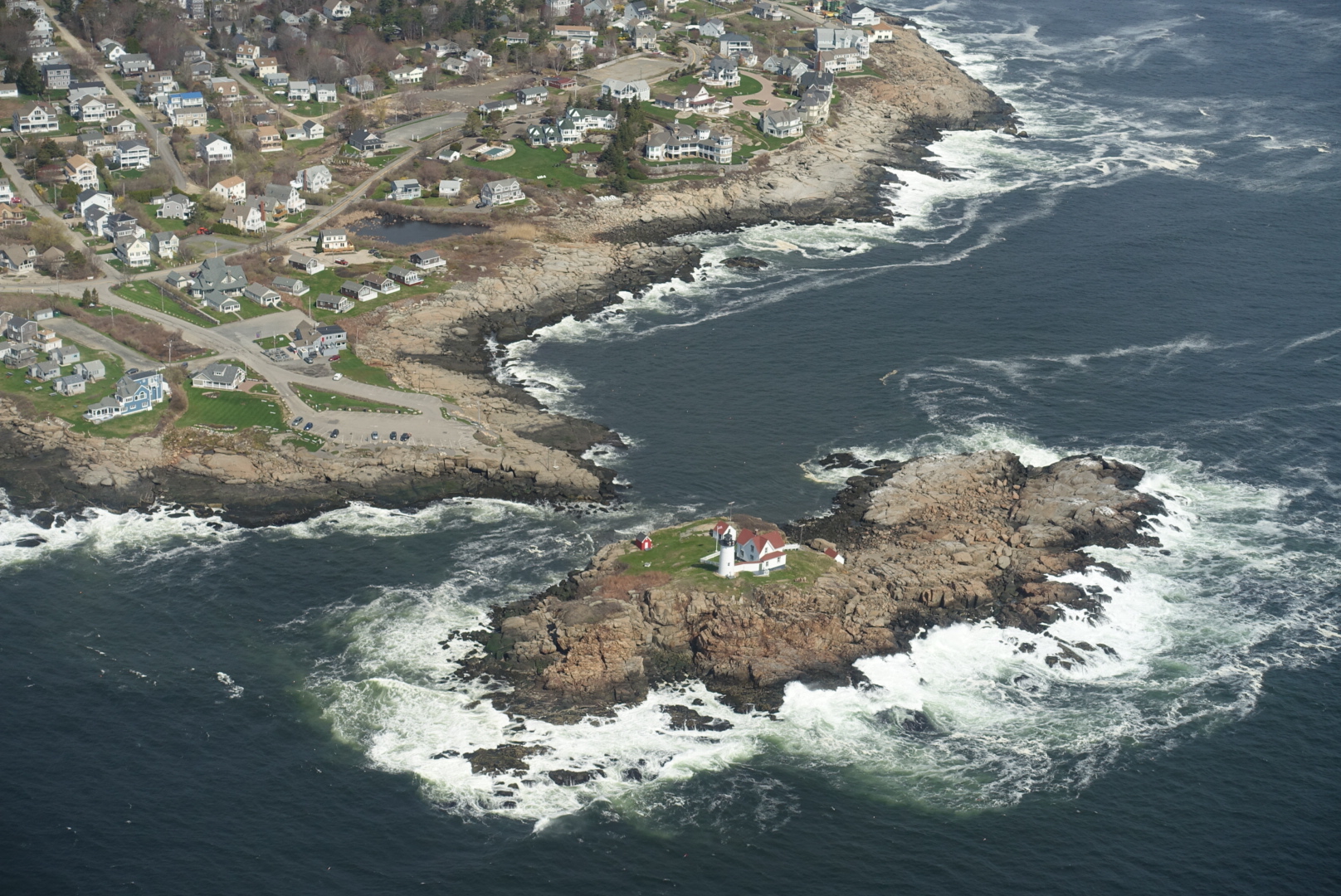 The only thing I would have changed about the flight is I didn't take any motion sickness medication before take off. I was sitting in the backseat, wearing my extremely attractive headset with microphone, and it got a little bumpy bout halfway through the flight. On the vomit scale of 1 to 10 I was at an 8 by the end of the flight. My advice is take a Bonine (a Dramamine alternative that doesn't have the drowsy side effect) a bit before take off to prevent stomach pyrotechnics.
Pin it for Later!
Go to the Beach
The Maine Beaches region is the only coastal area in the entire state that has sandy beaches. All the other coastline is craggy and the waves crash over rocks making it impossible to swim safely
Beaches in the area are usually very chilly most of the year, but they're not just for swimming. The long stretches of beaches are great for running, picnics (but watch out for the seagulls!), boogie boarding, making sandcastles, or sitting on the beach with a good audiobook. In the area there are several surf shops where visitors can rent surf boards and wetsuits.
Many of the hotels and resorts in the area have beach access right from their properties. To take it once step further stay at the Dunes on the Waterfront and take a row boat across the Ogunquit River over to Foot Bridge Beach at high tide.
Eat Poutine at Hackman's Pub in Kennebunkport, Maine
With only 5 tables and a few seats at the bar, Heckman's Pub, inside the Nonantum Resort, might not seem like a must stop place for dinner. Before my trip to the Maine Beaches, I was talking to a few fellow travel bloggers at the Women in Travel Summit (WITS) that live in the area. They told me that Heckman's was a must stop restaurant in Kennebuckport. With such a glowing local recommendation, I had to swing by!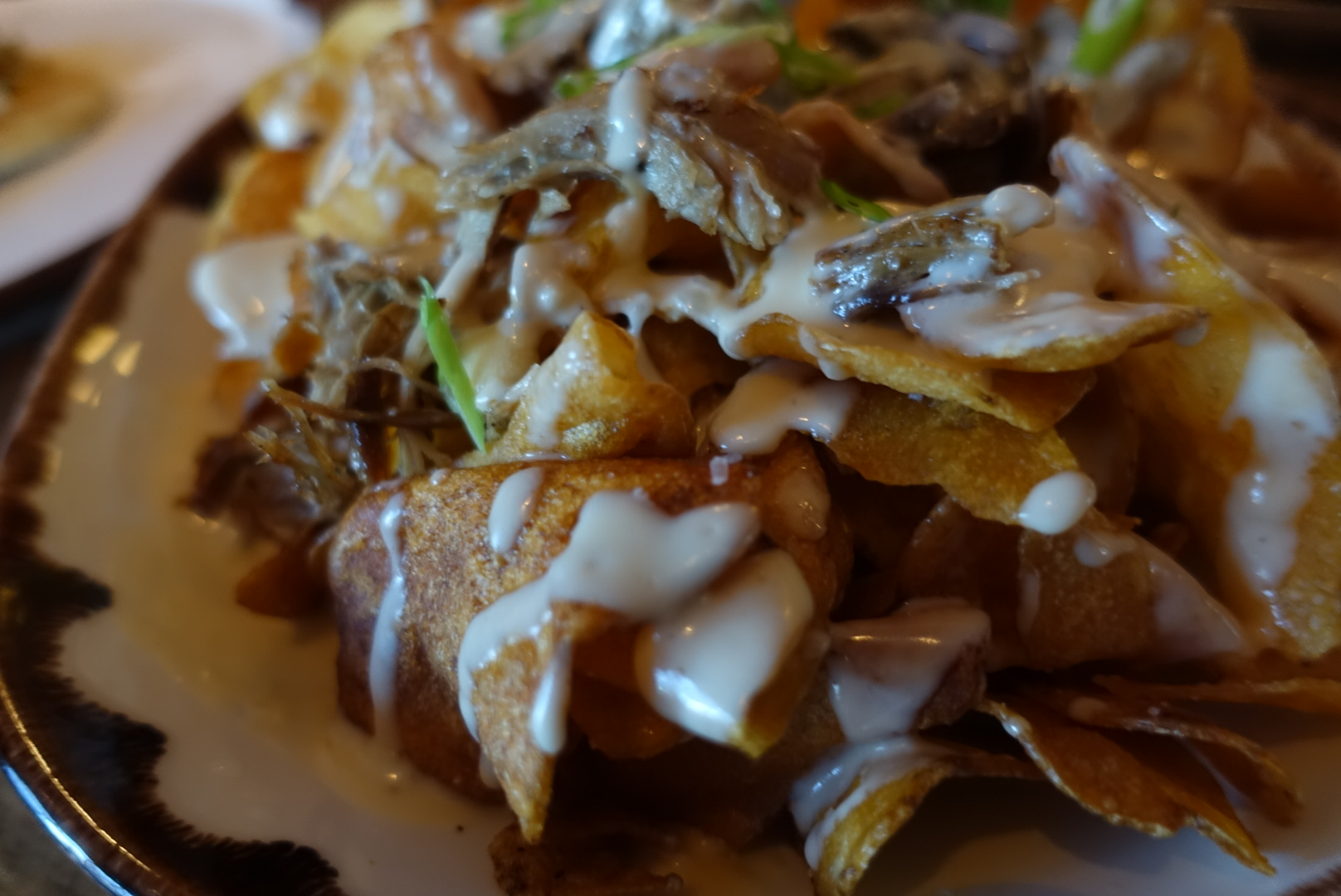 At the time of my visit the full menu wasn't available as I was there during the shoulder season. I ordered a few different things, but my favorite was the Chip Poutine. For those of you who don't know, poutine in it's purist form is a Canadian dish starting off with a base of French fries topped with gravy. I tried poutine for the first time when I moved to Vermont, but have had it several times since.
The Chip Poutine at Heckman's Pub begins with homemade potato chips, topped with braised beef, scallions, cheddar cheese, and marsala gravy. The dish was so big the bowl was larger than my head. It is the perfect appetizer to share with friends. I could not eat it by myself that's for sure. The poutine at Heckman's is definitely one of the must eat things in the Maine Beaches area, and you'll be missing out if you don't eat it!
Go bowling and Eat a donut burger at Garden Street Bowl
Garden Street Bowl in Kennebunk, Maine is the perfect place to spend a Friday night. Housed in a building that used to be a grocery store – love the reuse – this sweet bowling alley has 10 lanes and a funky game room. The game room has classic games like skee ball, pin ball (my personal favorite), and Pac Man. What I really loved about the game room was the space set aside for corn hole and bocce ball. Who doesn't love playing corn hole, beer in hand?
The full bar has over 20 beers on tap (with plenty of local options) and the in house restaurant, the Crotux Kitchen & Taphouse, has some fun offerings like the Nashville Hot Chicken & Waffles and Truffled Mac & Cheese.
I ordered the Rosemary Donut Burger, it practically jumped off the menu and begged me to order it! Being the perfect balance between sweet and savory, I loved every stick second of it. My fingers were covered with donut glaze, which I may have gotten on my bowling ball. This might actually explain why my bowling score was extremely low that day. (But probably not.)
Things to do in Southern Maine: Catch a Maine Beaches sunrise
For me, no vacation is compete without waking up early, at least once, to see the sunrise. I'm usually up on a mountain side, which always provides the perfect sunrise. Ok, not always, but I've seen some pretty amazing ones. During my trip to the Maine Beaches region I got up early 2 days in a row to catch the sunrise.
On the first day, I either woke up too late or it was a complete garbage sunrise. I mean, mother nature can't get it right all the time, right? After slipping my shoes on and taking 10-ish steps out of my cabin at 5:20 AM, I turned around and went back to bed as the sun was mostly up even though the weather channel told me sunrise was at 5:28 AM. Oh well.
The following day, I set my alarm for 4:50 AM, and was not disappointed by what I saw when I stepped outside of my cabin, camera in hand. It was like I was staring at a watercolor painting. I spent 45 minutes in complete awe as the heavens changed from bright yellows and oranges to a gorgeous blue bird sky.
Enjoy blueberry pancakes with the locals
For those looking for a true local experience in Southern Maine, head to Norma's Restaurant in York, Maine. From the outside it doesn't look like much, but they let their delicious food speak for itself.
Our waitress was a little bit sassy, as all good waitresses should be, and I asked her if I should get the french toast or the blueberry pancakes. She responded with, "You're in Maine ,you gotta get the blueberry pancakes."
Maine has some of the best blueberries you'll ever taste. At Norma's the blueberry pancakes are loaded with fresh Maine blueberries and served with a generous dollop of butter. Plus, you can't have pancakes without maple syrup, and they have REAL maple syrup at Norma's which made this Vermont girl very happy.
To round off my breakfast I had some orange juice and a side of nice crispy bacon. The service was fast and I loved all the local chatter the surrounded me as a enjoyed every last bite of my pancakes.
Climb or Zip at Take Flight Adventure Park
If you're looking to get your blood pumping, then climb to new heights at Take Flight Adventure Park in Kittery, Maine. Home to the Maine Seacoast's first zip line adventure tour and a 65 element adventure challenge course, Take Flight is the perfect place to stop on your next trip to the Maine Beaches Region.
During my time at Take Flight, I climbed all over and around each of the 3 levels of their adventure challenge course. The first level being the easiest, then going up in difficulty as you climb higher. Some of the elements were extremely physically demanding while others required a leap of faith.
The entire time I wore a full body harness and was safely hooked into the course. At certain points on the course, when moving from one element to the next, I needed to move my safety lines from one place to another. This is very easy and taught during the safety briefing before you hit the course.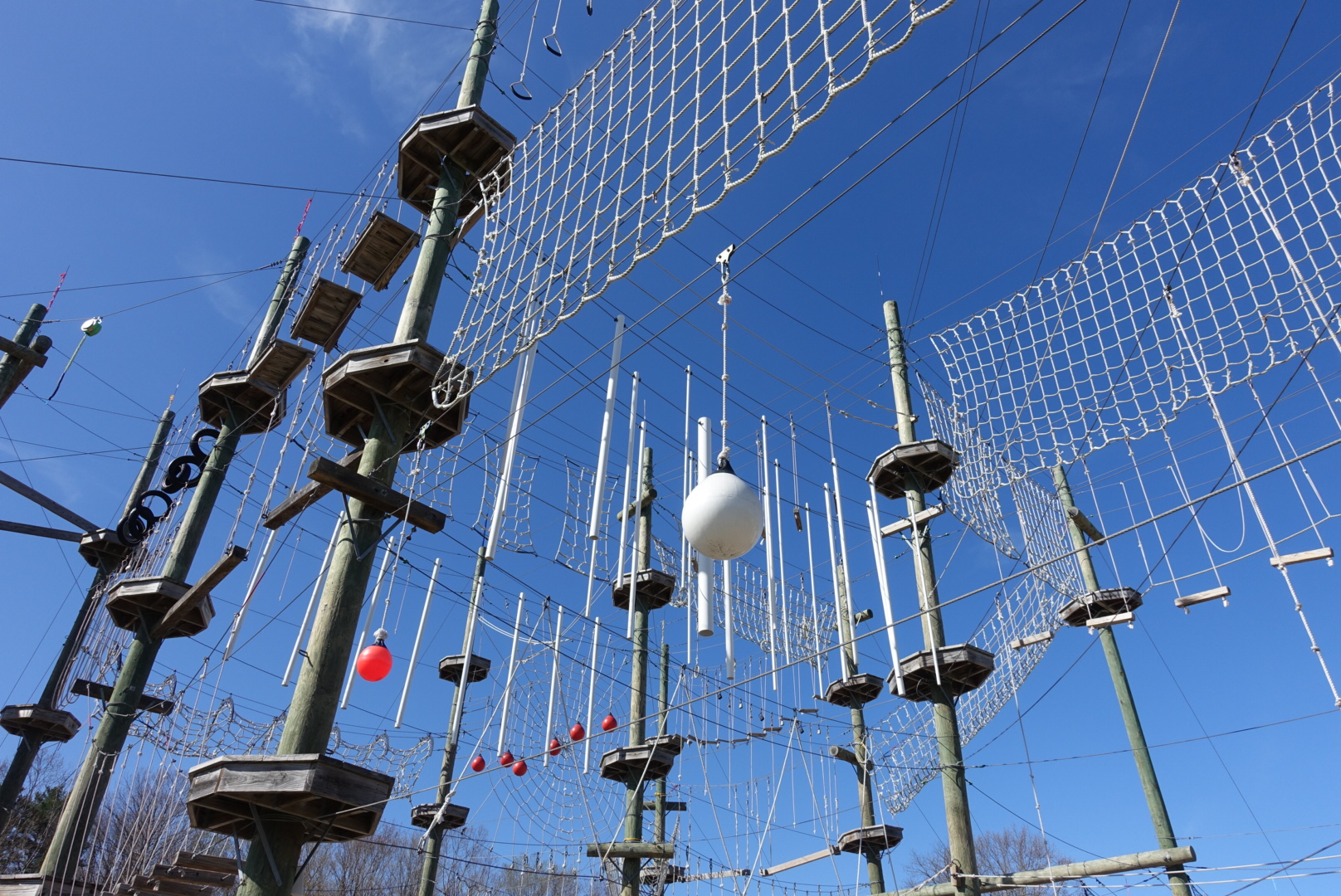 Although Southern Maine is a beach destination, all adventure seekers are required to wear close toed shoes while on the adventure challenge course and during the zip line tour. Take Flight is open from April to October with hours varying depending on the season and holidays.
Visit Kittery Trading Post
Every time I go to the Maine Beaches Region I make sure I stop by The Kittery Trading Post. The store is filled with almost anything that I can possibly think of. From outdoor gear to products produced in Maine to some of the ugliest women's clothing I have ever seen, They have it all!
During my trip to the area sponsored by the Maine Beaches Association I brought Lauren, of Justin Plus Lauren, over to the Trading Post after going to the Take Flight Adventure Park. We spent quite a while there roaming around the store finding some fun clothes, like a cat sweatshirt I really wish Lauren had bought, and a camouflage teddy that no one needs…ever.
Their outdoor gear section however, is absolutely amazing. They have boats, camping supplies, water filtration systems, and everything in between. While Lauren and I were there I even learned that my favorite water filter company, Sawyer Products, has upgraded the water filter that I use and I purchased a new one.
Whether you're looking to buy some souvenirs to remember your trip to Maine or it's a rainy day and you're looking for some laughs, a stop at the Kittery Trading Post will not disappoint.
What are some of your favorite things to do in Southern Maine? Let me know in the comments.
Loved it? Pin It!