I knew nothing about Mount Hua and The Plank Walk in the Sky when I arrived in China. I was there to visit my old friend, Katie. That was all about to change.
Mount Hua
What is Mount Hua?
Upon arrival at our hostel in Shanghai we went to our room to relax. We began talking about our 10 day trip between Shanghai and Beijing. Katie and I were in a 6 person room, but three of our roommates where out and about. Our fourth roommate was a British guy who had his headphones on and was relaxing on his bed.
This was in the winter of 2014, when the smog in Beijing was so bad that they were encouraging people to say away from the city if they could. Of course that was where we were planning to spend most of our time. Damn it!
"You should go to Xi'an," our roommate said, pulling one of his ear buds out.
"What's in Xi'an?" Katie and I asked.
"The death trail in the sky OR as I like to call it the cookie trail."
"Why, do you call it the cookie trail?" I asked?
"So it's less scary." Like it was totally obvious.
Pin it for Later!
I was immediately interested, Katie not so much. He told us that the death trail is well known as The Plank Walk in the Sky and is on Mount Huashan (We later on learned that the shan is Chinese for mountain so it's actually called Mount Hua) 120 kilimeters outside the city of Xi'an which is one of China's ancient capital cities. Stumbling upon the experience, he joined people on the trip with some other travelers he met at his hostel. He told us if we liked beautiful views and a rush of excitement we had to see the Huashan mountain hike for ourselves.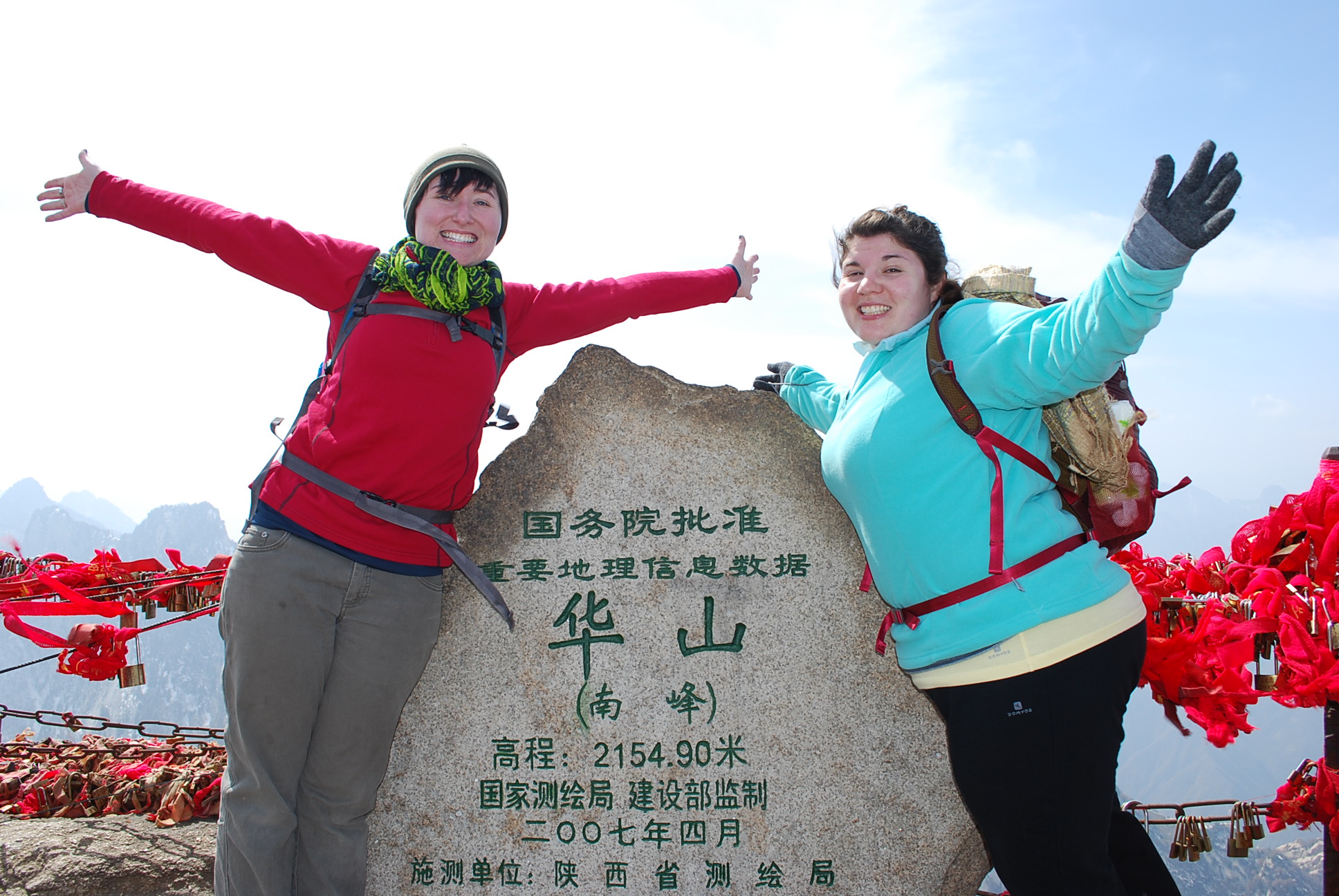 Should we explore Mount Hua?
After a little convincing and research on when else was in the area – i.e. The Terra Cotta Warriors – Katie and I purchased plane tickets from Beijing to Xi'an and then from Xi'an back to Shanghai. We were going to Mount Hua!
Fast forward to Xi'an about 7 days later and we're getting up early to get to the bus station. Our attempt to find the right bus that would take us to Huashan got off to a rocky start. After navigating through the hordes of people at the bus station, showing pictures of the mountain on Katie's phone and using our very limited amount of Chinese, we got on the correct bus and started towards the Mount Hua.
Katie slept. I looked out the window and did my best not to gag while listening to the women in front of my hack up a lung.
2 hours later we arrived at what I would call the Welcome Center and ticket entrance. Once inside we deciphered that we needed to buy a ticket to get on another bus to bring us to the base of the gondola as well as purchase a ticket for the gondola itself. From there it was confusing as to where we had to go to catch the bus, but ended up finding it because we had to use the bathroom and it was right next to the door we needed to go out. Lucky us!
Getting up the Mountain
A twisty, turny bus ride and a hike up a massive amount of stone stairs leading to the ticket booth of Huashan and then up some more stairs (I've never climbed more stairs than I have the 10 days I spent in China) and we boarded the gondola. After a brief alli-oop over a rock face we were given a vista that took my breath away. Craggy mountains speckled green, surrounded by mid-morning mist. In that moment I understood why the Chinese consider Mount Huashan one of the 5 sacred mountains, there was an otherworldly power there that is impossible to describe.
During our 12 kilometer ride we bobbed up and over parts of Huashan that jutted up towards the sky. Below we saw the cliffside path that leads to the peak Mount Hua, unoccupied and seemingly lonely. At one point during the ride we flew over small huts surrounded by gardens on the clif side, occupied by villagers.
It is a wonder how their homes are able to withstand the wind that whip through the mountains. Nearing the end of our journey the gondola's wire lead into the mountain Hua. The station was carved into the side of the mountain and swallowed us as we entered. Stepping out of the shelter of the car wind engulfed us and there was an instant chill. We put on thermal layers and jackets and our journey continued.
About Mount Hua
Huashan has 5 peaks and we knew The Plank Walk in the Sky was located near the South Peak, so we soldiered on climbing higher and higher. Red fabric was tied to metal posts and chains along drop offs to keep visitors away from the edge. The cloth blew in the wind creating a sound of birds wings flapping. In addition, shiny gold locks covered the chains to symbolize good luck. Further and further we climbed. A large boulder appeared and as we turned the corner we spotted the South Peak right in front of us surrounded with locks and streaming red pixels. We stood on one of the highest peaks in China, nothing but smiles.
Finding the Mount Hua Plank Walk in the Sky
A little ways back there was a sign that read, "Plank Walk in the Sky," so we turned around and followed the arrows. More colors and banners appeared when we came across a Taoist Temple hidden atop Huashan and among the rocks. A small maze of hallways spit us out on the other side and near a large bell with another arrow.
Along a small path, with nothing but a chain separating us from flying towards the ground and into the yellow river, led us to a man giving out chest harnesses and carabiners. This was it.
Katie began to freak out, "I can't do it."
"We didn't come all this way up Huashan not to do the Plank Walk in the Sky. You're going first," I told her.
The Plank Walk in the Sky
The man put her chest harness on, showed her how to use the carabiners and sent her off. He did the same to me and I followed her. Down the side of the mountain and on to some "stairs." Which were actually metal rods shoved into the side of the mountain. I can't remember who is taller, Katie or I, but we are not what you would call tall people, so when the "stairs" were unevenly spaced Katie's freak out escalated to, "Retha, I hate you, I hate you!"
I just told her to keep going because I was coming and she had to move. She didn't like that response, but she kept going. She's almost in tears, I'm snapping pictures. That's our friendship I guess. We alternate who's crying and who's taking pictures though, which is a nice balance.
Once Katie and I got going, she started to calm down and enjoy the Huashan cliff side path aka the Plank Walk in the Sky. On many online resources they'll say there is a tea house at the end of the cliff walk. This is not true. There is a tea house on Mount Hua, but it is not at the end of the Plank Walk in the Sky. At the end of the cliff side path there is a small temple and a beautiful view of the surrounding area. You'll have to wait until you get back to some tea.
Would you go to Mount Hua in China to do the Plank Walk in the Sky? Let me know in the comments.
Pin it for Later!