Road Tripping up California's Highway 1 is one of the best road trips in the United States. For many people, it is a USA Bucket list item. Doing it on a budget and making the most of your time is a challenge, but it is completely possible. This California Coast road trip is one of the best road trips you'll ever go on not matter if you're in a car or you rent a motorhome.
California Coast Road Trip
California Road Trip: Day 1
Huntington Beach
The first stop on our EPIC 7 day California coast road trip is Huntington Beach. It's one of EJ's favorite places to hang out, and some consider it one of the best beaches in Southern California so it was a must-do on our trip. He used to live in Southern California so some of the places we're going are old haunts of his.
Hunting Beach, known as Surf City USA, is everything you think about when it comes to a Southern California beach life. Surf, sand, and sun.
When we first arrived in town we walked around popping into shops and getting some snacks. I may have put a dollar in a Zoltar machine to get my fortune.
With a bag full of food and snacks we headed down to the boardwalk to have a picnic. We sat on a bench and watched surfers catch waves. When we were almost done with lunch a group of lifeguards in training walked down the boardwalk. One of the things they have to do for their training is jump off the boardwalk. It was amazing and scary to watch.
Since we were there on a Sunday there was a concert going on next to the beach. After doing a little research I found out that there are concerts there all the time, along with plenty of other amazing events like car cruises, trivia nights, and fitness events. Click here to see the Huntington Beach Events Calendar.
Discovery Cube Orange County
For those of you who read my blog and follow me on Instagram know, I'm just a big kid. I think being a Nanny and working at Summer Camps has helped me keep my childlike spirit.
When EJ took me for a spin to see his old apartment we drove by the Discovery Cube and decided to check it out. The Discovery Cube OC (there are several throughout Southern California) is a hands-on science museum for kids.
If you have kids and you're in the area you this is a must-stop on your California coast road trip. They had everything from hands on hockey science, a grocery store game to teach kids how to shop environmentally friendly, a space focused area, and an outside play space featuring a sculpture of a brontosaurus' anatomy.
We were lucky when we visited because there was a super cool DC Comics Superhero exhibit. Everything was hands on and there were some life-sized figures of Wonder Woman, Superman, Batman, and a few others as well.
Parking is limited so try and get there early, so you don't have to fight with people for a space.
Downtown Disney
When I was in the area Star Wars Land was opening 4 days later at Disneyland, and I was pretty broke, so unfortunately going to Disneyland, which is on my list of 40 things to do before I turn 40, was not in the cards.
If you're headed to Disneyland on your 7 day California itinerary, and I hope you are, here are some tips to help you navigate Disneyland.
For all you broke people like me, because as much as I love Disney the tickets are pricey, Downtown Disney is a fun afternoon alternative to get that Disney fix at half the price. I still went all out with a Rapunzel Disneybound and I rocked some homemade mouse ears.
When EJ and I went there parking was a pain in the butt. We drove around for 30 minutes in the parking lot trying to nab a spot. After we found a spot we walked around the Lego store which is filled with Disney character Lego sculptures. My personal favorite is the HUGE Disney store. I didn't buy anything, but I was tempted by a small work tank top that said love in several different languages.
And we obviously ate a few Mickey Mouse shaped snacks because, Disney.
Love it? Pin It!
California Coast Road Trip: Day 2
Hollywood Walk of Fame and Chinese Theater
Since this was my first time in LA I had to do the touristy things to do in Los Angeles and see the Hollywood Walk of Fame and Chinese Theater.
While the Hollywood Walk of Fame was underwhelming and kind of gross, I loved the outside of the Chinese Theater and the hand and footprints in the cement. It was fun searching for my favorite movie stars and see what they wrote. I even found my "Boyfriend" Donald Duck, which I didn't know would be there.
While I wouldn't go back again, it's definitely something you should do if it's your first time in LA. And it can be a quick stop if you have one day in Los Angeles.
I did go on a search for my favorite actor of all time from my favorite movie, Humphrey Bogart who starred in Casablanca. It is one of the best movies of all time.
The one thing I didn't get to do, and wish I had was take a tour of the Chinese Theater. It is one of the most iconic theaters in the world and the next time I'm in the area I'll be heading inside to check it out.
Starline Tours Celebrity Homes Tour and Madam Tassaud's
Starline Tours isn't something I would usually do while traveling, but when EJ lived in the area he would always take friends who visited on this tour. So I figured, since traveling is all about trying new things I did it.
I have mixed feelings about the tour because I felt super creepy looking at houses that belonged to other people. I would have rather gone on a hike in Los Angeles instead.
On the flip-side it was interesting seeing how different each house was and all the stories that the driver knew about the area. If you're into this kind of thing, you'll love this tour. We drove through Bel Air, Rodeo Drive, and around Hollywood Boulevard.
You can also purchase the LA Sightseeing Pass that will give you access to this tour and over 25 other tours and attractions in and around LA.
I think what I enjoyed most about the Starline Tour is that it came with tickets to Madam Tussaud's. Yup, I unapologetically love Madam Tussaud's Wax Museum. It's always fun and you never knew what "celebrities" you'll run into. haha? Yeah, it was a terrible joke.
Since my last visit to Madem Tussaud's, which granted it was when I was in college in and NYC. They've really upped their game.
There were a bunch of interactive exhibits. There was an entire area focused on horror movies where visitors can take photos with a yellow raincoat with red balloon about you (IT), through a door with an ax (The Shining), and in front of a television with static and hand prints on it (Poltergeist).
Santa Monica Pier
After we finished up at Madam Tussaud's EJ and I hopped in the car and headed over to the Santa Monica Pier.
I learned on this trip in the last day and a half that parking in Southern California is the worst. After looking near the Santa Monica Pier for a while we had to park in a garage.
The Santa Monica Pier was hopping! Here are a few things everyone needs to do at the Santa Monica Pier:
Ride the iconic Pacific Park Ferris Wheel
Go to Soda Jerks for ice cream
Watch the street performers (We saw some amazing break dancers.)
Take a photo next to the end of Route 66
Ride the Historic Carousel
Play Skeeball at the Arcade.
Check out the Santa Monica Pier Aquarium
Dance the night away to live music at Rusty's
Road Tripping the California Coast: Day 3
Santa Barbara Surfing
A few years ago I went to Oregon and Washington where I dipped my toes in the water on the west coast for the first time. Clearly, I needed to go all in, so EJ and I did a surf lesson.
Our lesson was half a day and included both board and wet suit rentals as well as lunch! It was the perfect amount of time to learn the basics and try to catch some waves.
Dustin was our teacher for the morning and he was the best. He really knew his stuff, was super chill, and he did everything he could to get us up on the board.
It was EJs first time surfing and he nailed it! Got up on his first wave. I, however, took a little time, even though I had done it before, but I ended up catching a few waves with Dustin's help and I even got one all on my own!
Our lesson made me so pumped about surfing. I wish I lived closer to the ocean so I could do it more.
If you're not into the idea of surfing, but want to be outside and in the water, head over to Channel Islands National Park. The Ferry leaves from both Ventura and Santa Barbara. You can go kayaking in the Channel Islands and see what this amazing park has to offer. They don't call it the Galapagos Islands of California for nothing.
Explore Downtown Santa Barbara
Downtown Santa Barbara is one of the cutest downtown areas I've ever seen. We started off our time in Santa Barbara by browsing the local shops along Main Street.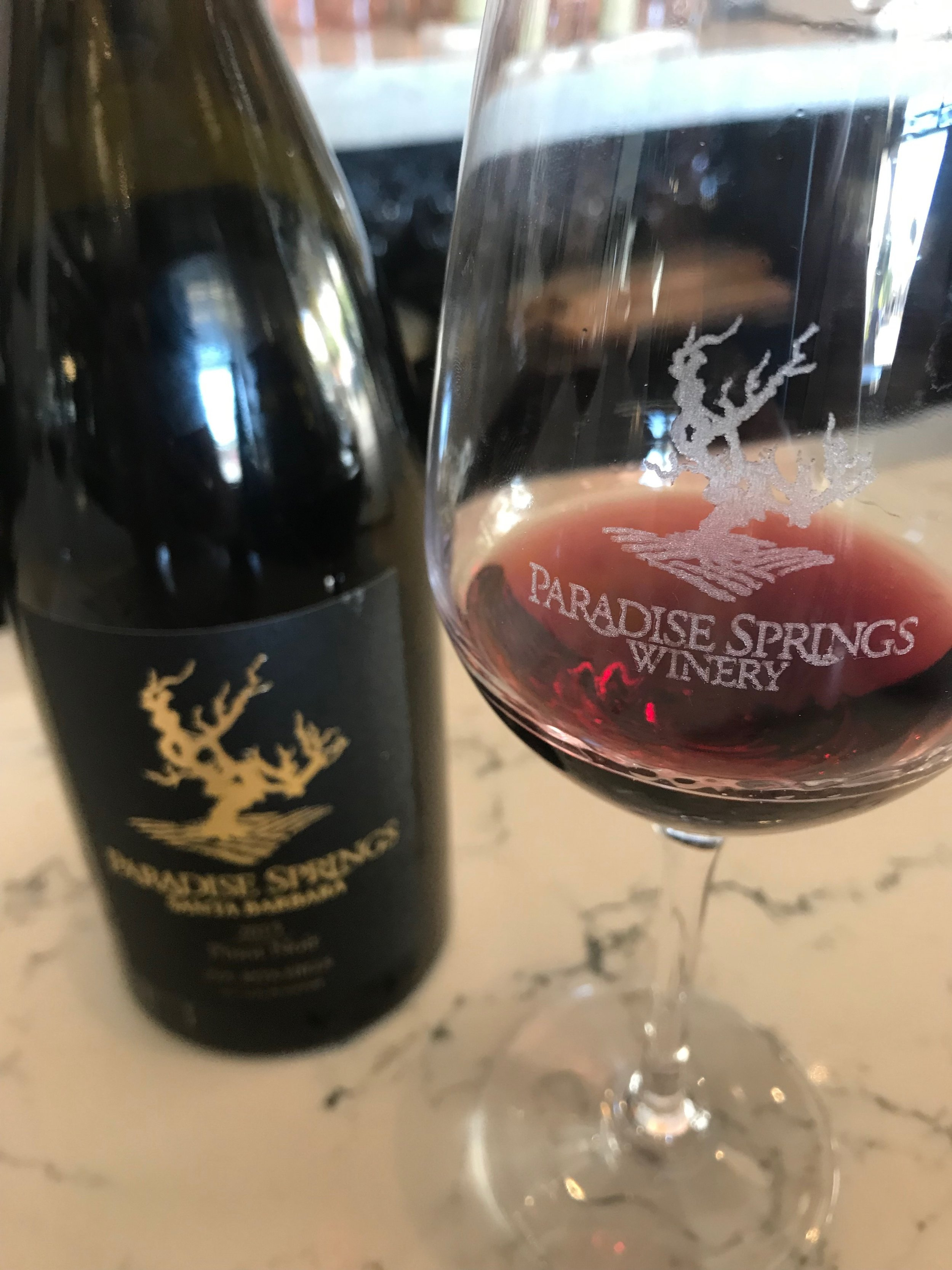 As we got closer to the water we saw the pier (which ended up being a wharf), and in keeping with our trend on this trip, we explored it. On Santa Barbara's Stern's Wharf there visitors can go to the Sea Center, which is part of the Santa Barbara Natural History Museum. They have displays of sea creatures and hands on activities all about the ocean. My favorite was the jelly fish exhibit on the second floor.
After we left the Wharf EJ used his sixth sense and found a winery for us to go in. At Paradise Springs Winery we made friends with the bar tender and she told us that Santa Barbara Funk Zone.
The Funk Zone is a revitalization project to bring more businesses into the area. There are wineries, restaurants, and art galleries in the Funk Zone.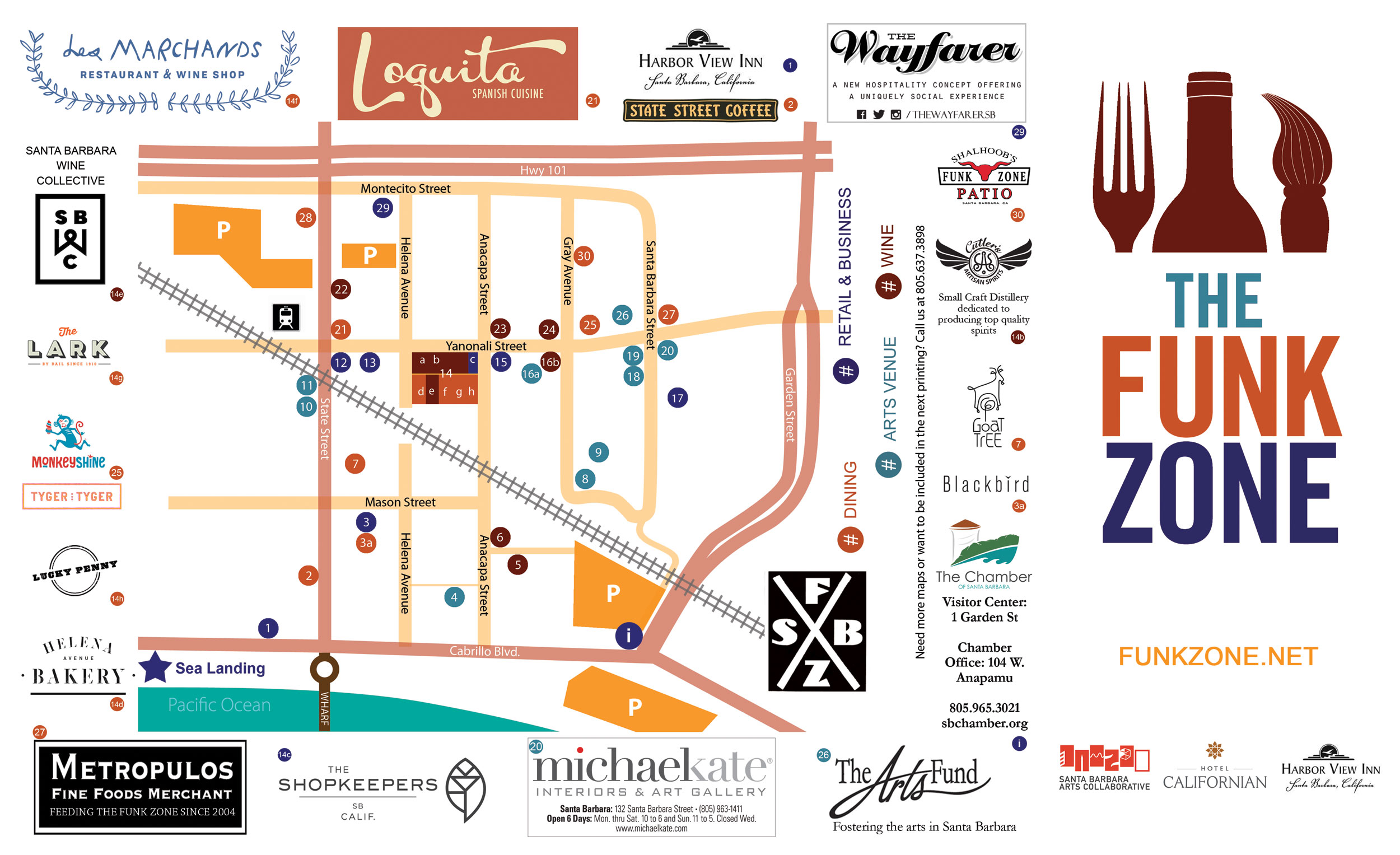 As amazing as all of this is we sat at the bar at Paradise Springs Winery and got a little tipsy. It was the perfect end to a perfect day.
Pacific Coast Highway Road Trip: Day 4
Hearst Castle
Perched high in the mountains in San Simeon, overlooking the Pacific Ocean is Hearst Castle. Originally set on 40,000 acres of ranchland, Hearst Castle was built by George Hearst, a self-made millionaire, and female architect Julia Morgan.
In its heyday Hearst Castle was the site of lavish parties hosting Hollywood's elite. Now a California State Park, Hearst Castle is still the home of George Hearst's massive art collection, but it open to the public to explore.
The outdoor Neptune Pools were recently refurbished and opened again in early 2019. The pool holds 345,000 gallons of water, but don't even think about taking a dip in the pool. There is a fine of $800 for anyone that decides to get cheeky and jump in.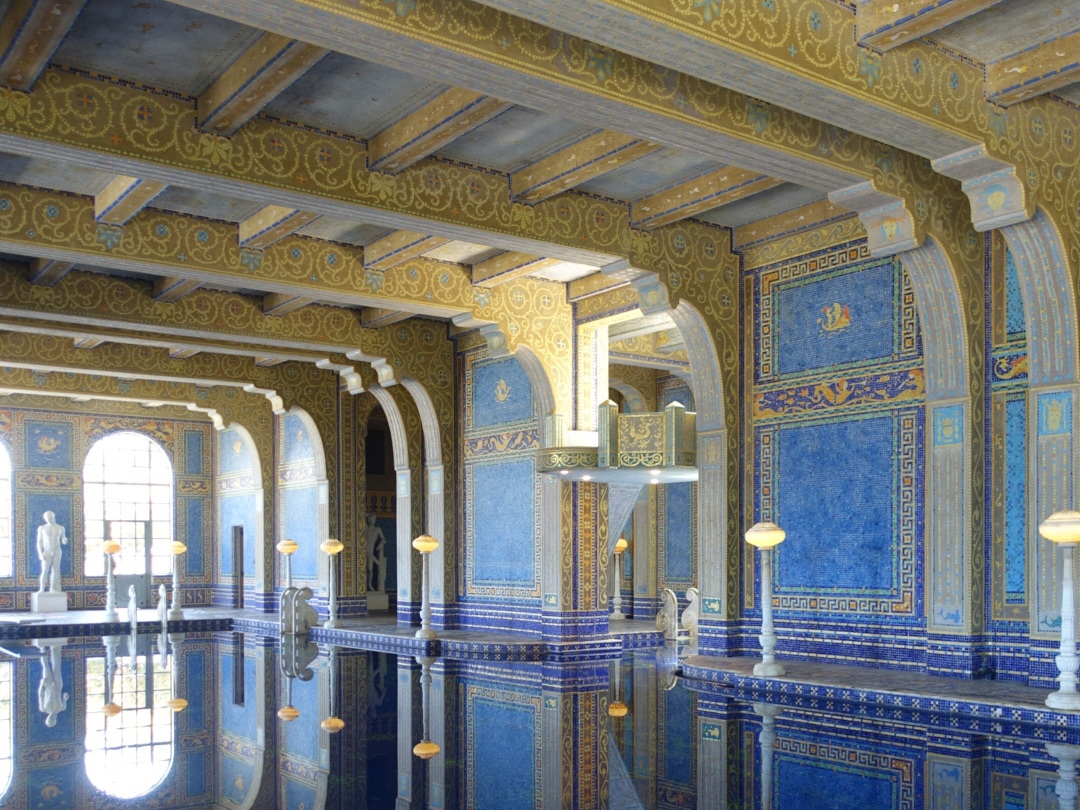 We took the Grand Rooms tour taking guests to the main rooms of the house, but there are several other tours that let people explore even more. With your ticket you'll get a ticket to the Hearst Castle movie theater to learn a bit about the history behind the property and George Hearst. I recommend getting there early and seeing the movie first because it gives a lot of context for that you'll see on the tour. During the tour itself you'll need to stay with your group, but afterwards visitors get free time to explore the gardens and the pools at their leisure.
Elephant Seal Viewing
Just down the road from Hearst Castle is a pull off from the Pacific Coast Highway – California Highway 1 – where you can view Elephant Seals.
The Elephant Seals can be found on the beach all year round, but depending on when you visit you'll see different things. At their peak there can be 17,000 seals on the beach. To see the most amount of elephant seals visit in January, April or October.
If you want to see the big male elephant seals you need to visit in December or January. During those months the males fight each other for mating rights for the female seals. From December to March pregnant females arrive on the beach to give birth to pups.
Drive Big Sur
Big Sur is one of the most beautiful drives on the California Coast. The area is huge, spanning over 90 miles along the Pacific Coast on Highway 1 alone.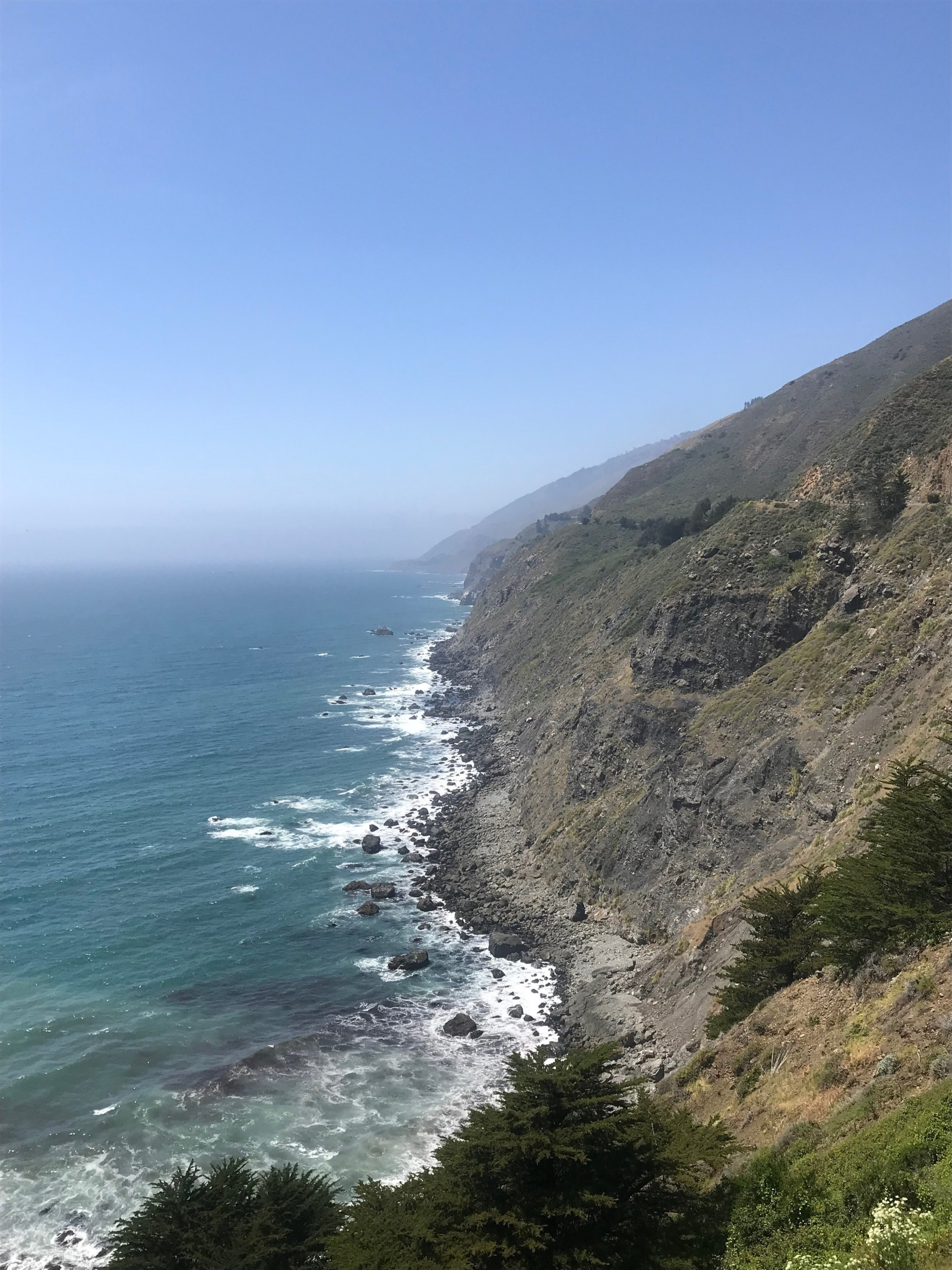 EJ and I spent the day driving this area making stops along the way. It is a long drive so make sure you get gas when you can, just to be safe.
Along the sides of the road there are plenty of places to stop and explore. It was difficult not to pull over at every single opportunity to take photos. If you like waterfalls make sure to take one of the many hiking trails to one of the viewing areas.
If I were to do this trip again I'd split this day into 2 or 3 days to help fully explore this area. There are so many waterfalls and side roads I want to, and should be, explore(d).
When planning your time in Big Sur remember to plan ahead. Once you enter the area cell phone service is gone. This one of the reasons I want to go back. I love going to places where there is little to no cell service so I don't feel like I need to be connected to the entire world.
Get this Big Sur Audio Guide to enhance your drive.
California Coast Road Trip: Day 5
Roaring Camp Railroad
I have a thing for scenic train rides. Yes, I realize this might make me seem like someone Grandma, and it's probably because as a little kid I spent too much time riding the Walt Disney World Railroad around the Magic Kingdom with my Grandfather.
The Roaring Camp Railroad has 2 routes. The first is a scenic ride up to the summit of Bear Mountain through a Redwood Forest aboard a steam engine. The steam engines at Roaring Camp date back to 1890.
The second route is from Roaring Camp through Henry Cowell Redwoods State Park, down San Lorenzo River Gorge, across a 1909 steel truss bridge and through a tunnel, and finally arriving at the Santa Cruz Beach Boardwalk. Trips to and from the Boardwalk are available.
Before or after your ride make sure you explore Roaring Camp itself. When EJ and I were there they were getting ready for a big music festival that was taking place over the weekend. They also have a Kids Club with plenty of old timey activities and adventures for kids under 12 years old. Roaring Camp is a great place for the whole family with fun and events aplenty.
Santa Cruz Beach Boardwalk
One last boardwalk to round out the trip and it was my favorite one yet! The Santa Cruz Beach Boardwalk in Santa Cruz, California is so much fun and is a great dog-friendly spot in NorCal.
There are so many rides at the Santa Cruz Beach Boardwalk! If you're going to spend the entire day there and want to ride all the rides getting the All-Day Rides wristband is a great deal. If you only ride one ride make sure it's the Giant Dipper roller coaster. It does not disappoint!
Inside at Neptune's Kingdom is an amazing mini golf course. On the second floor you'll find a treasure trove of pinball machines.
While I know it wasn't authentic I would excited to find a stand selling falafel and boy did I eat that up quick. You can also find fried dough, cotton candy, and all the other delicious boardwalk food you can think of. For the adults, they had a great selection of beer.
California Coast Road Trip: Day 6
Napa Valley Bike Tours
I realize that Napa is far from the California coast, but EJ and I couldn't miss out on some delicious Napa wine while we were this close.
We decided to add a little adventure to the wine tasting experience and took a self-guided bike tour with Napa Valley Bike Tours based out of Yountville, CA. They offer full-day guided bike tours, half-day guided bike tours, self guided bike tours, as well as bike rentals.
The self-guided tour was the perfect choice for us because we could go at our own pace, spend as much time as wineries as we wanted, and we got lunch. This last bit seems trivial, but when I learned that wineries in the Napa Valley don't sell food it was the best things ever! We worked with Napa Valley Bike Tours to pick a winery for them to deliver the lunch and when we arrived a full spread was waiting for us in a cooler.
In addition to our delicious lunch, Napa Valley Bike Tours also provides pick-up of any wine purchases you make throughout your tour and will come to help if you have any issues with your bike. A map with potential stops is provided and they'll help you map out your day before you leave the shop too!
California Road Trip: Day 7
Alcatraz
Alcatraz Island, also known as the Rock, was once a fort, a military prison, and an infamous federal prison. Visiting Alcatraz was on my 30 things to do before I turn 30 list, and it didn't disappoint.
If you plan on leaving San Francisco this evening or your hotel room isn't ready upon arrival use the StoreMe app. This easy to use app allow users to store their luggage in verified locations in major cities across the U.S., including San Francisco. It'll ruin your day to lug around all your luggage, and this is a simple and affordable way to help make your exploration even better!
The island is under the jurisdiction of the National Park Service, so make sure you visit the NPS website for the most up to date Alcatraz information. All tours to the island include round trip ferry tickets and an audio guide of the prison and its history.
Tickets to visit Alcatraz sell out months in advance and should be purchased as soon as you know your travel dates. If the dates you're looking at are booked on the National Park Service website book a tour instead.
Bike Across the Golden Gate Bridge
Biking around town and across the Golden Gate Bridge is one of the many reasons to visit San Francisco.
Rent a bike – you can do this at several different places, but I recommend doing to close by to the San Francisco Ferry building (more to come on this part of the adventure) – and travel along the water for great views and to explore fun shops and points of interest.
Once you reach the Golden Gate Bridge, bike acorss it being aware that pedestrians don't pay attention and no matter how many times you ring the little bell on your bike most people won't realize it and you might hit them. No, I'm not being sarcastic here, so watch out that you don't hit anyone. Once across the bridge, travel down into Sausalito; grab a drink, hangout, and when you're done take the Sausalito Ferry back across the Bay to the San Francisco Ferry Building and return your bike.
This can easily be turned into an all day activities with plenty of stops around San Francisco along the way to Sausalito.
For those who just want to visit Alcatraz and bike around near the water this Alcatraz and Bike Rental self guided combo tour is perfect.
California Coast Road Trip Map
California Road Trip Map #1
The first leg of this 7 day California coast road trip begins at Huntington Beach and heads north to Hearst Castle.
California Road Trip Map #2
The second half of the trip starts at Hearst Castle and wraps up in San Francisco.
What are some other fun activities to add to this amazing California Coast road trip?
Let me know in the comments.
Love it? Pin It!