London is a big city and apps helped me so much on my recent, and first trip to London. Searching for apps before or during travel can be a challenge because you never know which ones are going to help you the most. I've had my fair share of duds when it comes to apps.
Luckily, when it comes to the best apps for London, I've done the work for you! These must have London apps will help you find tours, events, and get your around the city quickly. Here they are, a bunch of apps to help make your next trip to London the best it can be.
Best London Apps
London Apps: Transportation
CityMapper is a Must-have London App!
This is the ultimate transportation app for any trip to London. I heard about this app over lunch with with two Londoners early on in my trip and it was a game changer.
This app is everything you'll need to find transportation options not just in London, but over 40 other cities around the globe.
CityMapper takes all of the city's transportation systems and combines them into one app. In one place you can see real-time departures, compare prices, travel times, and time disruptions.
The only difficulty I found with this app is it's inability to use offline. While some of the services are understandably only available while connected to the internet, it would be helpful to have access to maps while off-line.
Available on iOS and Android, Free to download
Santander Cycles
Santander Cycles is an amazing and affordable way to get around London. For around £2 a day you can use their bikes for up to 30 minutes at a time for 24 hours.
To get a bike: download the app, find your closest bike docking station using their live map, hire the bike, and you're off. It really is that simple. You can return your bike to any other docking station in the city.
A quick note, if you use your bike for more than 30 minutes you will be charged more than the original £2. As much as I love the app, this can cost you a bit if you don't keep an eye on the time. However, I found that most of the docking stations are close together enough that you can easily make the time limit.
Available on iOS and Android, Free to download
View this post on Instagram
MBNA Thames Clippers
When I climbed the O2 Arena while I was in London I took the Tube down to the North Greenwich station. I didn't know that the Thames Clippers even existed until I got there. I was walking around the O2 and ended up over by the Thames and saw the boats. With 5 different routes covering the Thames from Putney to North Greenwich this is a great way to get from one place to the next and see London from the Thames.
By using the app you can purchase your ticket in advance without having to print it out before arrival and get a discounted rate. Plus you won't have to join the queue to purchase a ticket like the other day of travelers. The app also shows live departure times.
Here's a quick how-to video MBNA Thames Clippers put together to show how easy the app is to use.
Available on iOS and Android, Free to download
Must Have London Apps
Gett
If you've always wanted to travel via one of London's famous black cabs, you'll want this app.
Gett is the Uber of the London Black Cab. You can order one to pick you up immediately or book now for a pick up later. They even boast about having the highest rated drivers in the city, which is no easy feat with so many drivers in London.
They'll even take you to and from these 6 London airports: London Heathrow Airport (LHR), London City Airport (LCY), London Gatwick Airport (LGW), London Stansted Airport (STN), London Luton Airport (LTN), and London Southend Airport (SEN).
Black cabs are known for being a bit pricey through, so keep that in mind when you're using this app.
Available on iOS and Android, Free to download
Looking for things to do in London? Check out my London Itinerary!
Google Maps
While this one is kind of obvious, I needed to put this on the list because so many people don't know that you can download the maps for offline use.
This is by far the best feature of the app! While traveling data use can add up, I know mine does. I use this feature everywhere I go to help me get around. I've included a helpful video below to show you how to download maps for use offline.
Available on iOS and Android, Free to download
Virtuo
If you're planning to take a trip outside of London and want to rent a car Virtuo will save you time because you don't have to wait in line at a car rental dealership. The entire rental experience happens right on your smartphone!
One of the best parts is you can rent a car 24 hours a day (if available at your desired pick-up location.) You go on the app, enter some important information including drivers license and credit card, choose your pick-up location – various underground stops including London Heathrow airport – and your smartphone is your key! Could it be any more simple? Virtuo is also available in over 10 other locations including: Paris, Nice, and Bordeaux.
The rental cars themselves are a bit high end, so plan accordingly with your budget.
Available on iOS and Android, Free to download
Best London Apps: Sights & Attractions
Keetoo is a Must-have London App
Keetoo is your key to experiencing some of London's best attractions at a discounted price. While I was in London I worked with Keetoo. Having never heard of them previously I was surprised and delighted about how easy the app was to use and what they offered.
To use the app you simply by a DayTripper pass and you'll instantly have access to 2 London attractions for the next 48 hours. Attractions include, the Tower of London, a bike tour around central London, and Kensington Palace to name a few. They are always adding new attractions, so check their app for the full list.
Available on iOS and Android, Free to download
Hidden London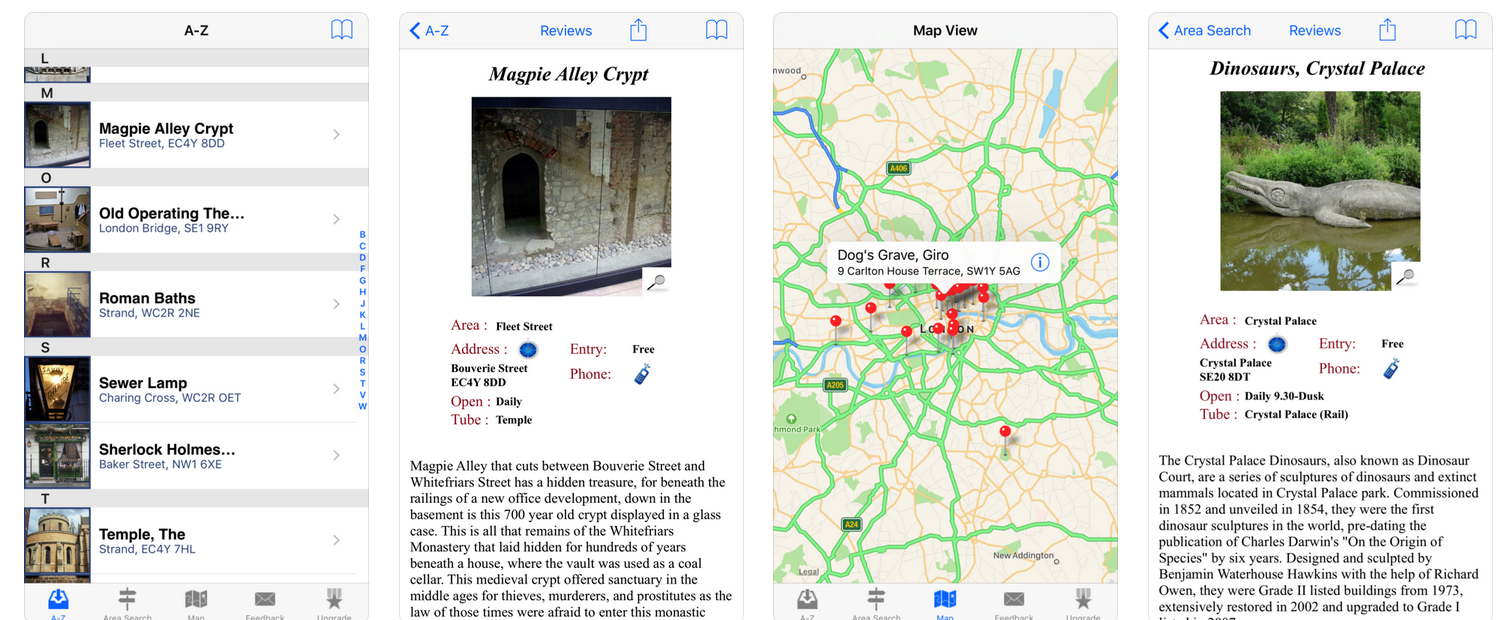 London has a long and storied past with hidden gems around every corner. The Hidden London app helps visitors and locals alike discover the city in a new way.
If you're looking to uncover the secrets of the city and see a new side of London, get this app! It will show you the location of some amazing places you would walk right by if you didn't know they were there. 2 of my favorites include a crypt under Fleet Street and the Roman thermal baths located right in central London!
While it is not the most beautiful app, it is simple and easy to use. Get this app if you don't mind a no frills app with interested information and to find special places in London.
iOS only, free (in-app purchases)
Get Your Guide
For visitors looking for an easy way to find and book tours in London the Get Your Guide app is perfect!
If you're looking for a street art tour with a guide, a central London tour or, whatever else, the app is easy to use. I personally love that you don't have to keep track of bunches of paper tickets and everything is easily managed from your smart phone.
They also offer attractions tickets for sale, but from what I've seen on the app the prices are around the same price as they would be at the ticket office. There are other apps and deals to use for attractions, in my opinion.
Available on iOS and Android, Free to download
Riverside London
There is always something going on along the Thames River, the Riverside London app helps you know what's on, and serves a guide to attractions and food.
Londoners and visitors use this premiere travel app to look for events from famous attractions by the Thames including the London Eye, National Theatre, Southbank Centre, BFI, Borough Market, Tate Modern, Shakespeare's Globe, Tower Bridge, HMS Belfast and The View from The Shard.
The best features of the app are the ability to create an itinerary for upcoming attractions and events, and the the map function allowing you to see what's going on nearby.
Available on iOS and Android, Free to download
London Apps: Food & Drinks
Best Coffee – cafes guide
While I'm not a coffee drinker this one is for all my friends who can't start their day without a good cup or need a little pick up in the afternoon.
In London, like in most major cities around the world coffee chains like Starbucks are popping up all over. If you're looking for a great cup of coffee you'll need to download this must have London app. Best Coffee – cafes guide app allows you to search for cafes around your location and search by personal preferences. There is a premium version as well that lets users to save their favorite cafes and share them with friends.
Available on iOS and Android, Free to download
British St.Food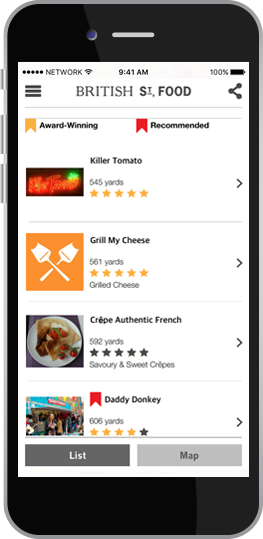 If you're in search of street food in London, or anywhere in Britain for that matter, this is a must have app for your next trip!
Put together by the organizer of the British Street Food Awards, you know it's going to provide the best and most up to date information on tasty treats around London.
For lovers of street food the app includes a Find Street Food near me function, a search via hand-picked categories, the ability to save your favorite food vendors, as well as sharing of photos and reviews. Don't be caught in London without this app the next time your tummy starts to rumble.
Available on iOS and Android, Free to download
OpenTable
Wandering around the city looking for a good place to eat? Want to make dinner reservations for tonight and don't know where to start? Download OpenTable!
OpenTable is a dining reservation app and so much more. Booking tables at over 48,000 restaurants world wide has never been easier! In London you'll find plenty of amazing places to eat on the app including some amazing brunch places. You can do a search by location, cuisine type, date and time.
The app even allows users to see restaurant reviews, photos, and menus. For foodies this is a must have app!
Available on iOS and Android, Free to download
London Apps: Tickets, Events, and Whats On
Time Out
If you don't already have Time Out, this is your sign to download it! This app is a never ending wealth of knowledge for cities around the world.
From film, art, bars, restaurants, festivals, and any other type of every a person could possibly dream up, it's probably listed on Time Out.
The best function of the app, for the budget traveler that I try to be, is the ability to search for Free & Cheap events. Time Out also allows users to download information for off-line use allowing you to build an itinerary for when you don't have access to WiFI.
Available on iOS and Android, Free to download
TreatWell
Tired from all that walking and exploring? Then treat yo self with the TreatWell app.
TreatWell is your guide to booking, messages, salons, haircuts, and other beauty treatments across London. The app gets amazing reviews from it's users and comes highly recommended.
Available on iOS and Android, Free to download
Stagedoor is a Must-have London App
If you're looking to explore London Theatre this is the app for you. With access to amazing prices (with exclusive discounts) and instant ticket booking this app is the best friend of any theatre goer in London.
Don't know which show to go to? There are thousands of reviews from critics and fellow theatre enthusiasts to help you choose.
Available on iOS and Android, Free to download
What are your must have London apps? Let me know in the comments!
Love these London Apps? Pin it!