It took me way too long to visit London. When I told people I was going there and it would be my first trip so many of them responded with, "You've never been to London?" Now that I've been I can't believe I waited so long. So I created this 3 Day London itinerary to help you make the most of your trip.
3 Days in London Itinerary
First-timers London Itinerary
In this first-timers London itinerary, I've included some of my favorite must-see destinations. Additionally, I included some fun adventurous activities that I know all of you active travelers will enjoy. But before we get to all the attractions and must-sees, here's where you should stay!
Stay at Astor Museum for your 3 Day London Itinerary
If you're looking for a home away from home during your time in London look no further than Astor Museum. Which, is located in one of the best neighborhoods to stay in London. When it comes to location you can't ask for a better place to rest your head. It's located 2 minutes from the British Museum and 2 blocks from the Russell Square Underground Station. If you're new to hostel life here are a few tips for staying in hostels.
I arrived on a Thursday evening to find free dinner! On Thursday, Friday, and Saturday nights the staff cook up a delicious homemade dinner. I tucked into the table with a few other travelers and ate some scrumptious homemade pasta Alfredo.
Hostel Events
In addition, there were a bunch of other events throughout the week including, electric toy car racing (sounds silly; it was awesome!), movie night, game night, pub night, and a pancake breakfast. (But don't be afriad to go out looking for great brunch places in London!) Right when you walk in the front door there's a whiteboard to let you know what's on that week. These little activities will help you meet people to adventure with on your 3 day London itinerary
At the front desk they had free SIM cards, umbrellas to borrow, discounts on Funzing tours (more on that later), and info about an attraction app called Keetoo that can save you a bunch of money. (keep reading for more info!)
To top it all off the staff are phenomenal! This was my first time in London and not only did they give me lots of suggestions on places to go, but they shared so many tips and tricks to help me make the most of my time.
When most people think of hostels they think of loud people and parties. While there were opportunities to go out and do pub crawls, the building itself was pretty quiet. I always have my headphones and an audio book on hand just in case, but didn't need them at all!
If you're looking into places to stay while visiting London, stop your search now and just book a room a Astor Museum – tell them Retha sent you! Plus, take an extra 10% off with discount code BUDDY19! Click here to book your room right now.
Compare Prices for Astor Museum:
Booking.com: Astor Museum Hostel
Hostel World: Astor Museum Inn
Pin it for Later!
London Itinerary Day 1: London Bike Tour and Kensington Palace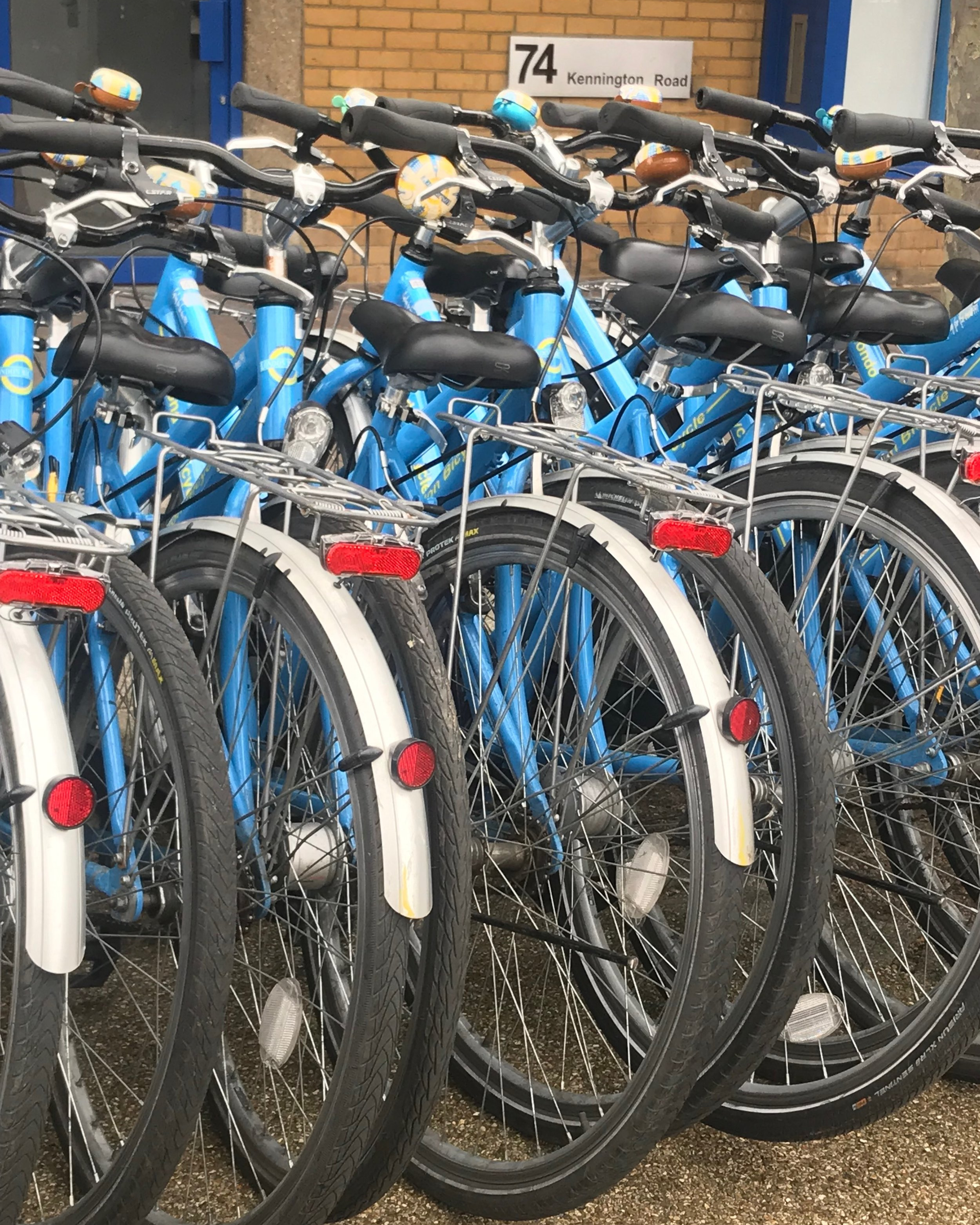 London Bike Tour
On my first full day in London a went on a bike tour to help me get oriented with the city. This is where the Keetoo App comes in. I downloaded it a few days beforehand – it's available for iPhone and Android – and purchased 2 Day Tripper passes. Each pass only costs £35 per adult (£20 per child) and gets you access to 2 attractions in a 48 hour period. The attractions are listed in the app and one of them is the Classic Tour with The London Bicycle Tour Company.
With the Keetoo App you need to call in advance to reserve your spot on their 10:30am tour. Plan to arrive 15 minutes prior to the tour departure time. The nearest underground station is Lambeth North on the Bakerloo Line.
London Bicycle Tours for a 3 Day London Itinerary
The bikes at The London Bicycle Tour Company are well maintained and are available for men, women, and children. As someone who's short I'm always worried bikes will be too big for me. The maintenance team helped me change the height of my seat and made sure I was comfortable before we left on the tour.
About 40% of the tour is on bicycle paths next to traffic, so be aware of that before booking. You'll need to follow the rules of the road on this tour. Your guide will go over hand signals and general safety rules at the beginning of the tour. On the tour be aware of your surroundings at all times. I nearly hit a small child who ran in front of me at Buckingham Palace and a fellow tour member almost hit me at one of the stops.
3 Day London Itinerary
With over 20 stops along the tour, I was able to explore Westminster and Central London. While I enjoy seeing sights like Buckingham Palace, Westminster Abbey, Trafalgar Square, St. Paul's Cathedral and the like, I usually only need a short while at each destination, so this tour was perfect for me.
What I enjoyed about this tour the most is at each stop our lovely guide, Philip, gave us a bunch of history and local insight into what we were looking at. As I told him on the tour I thought he gave just enough information to make me ask questions, but not make the group bored out of their minds (because some tour guides do that and it drives me crazy!)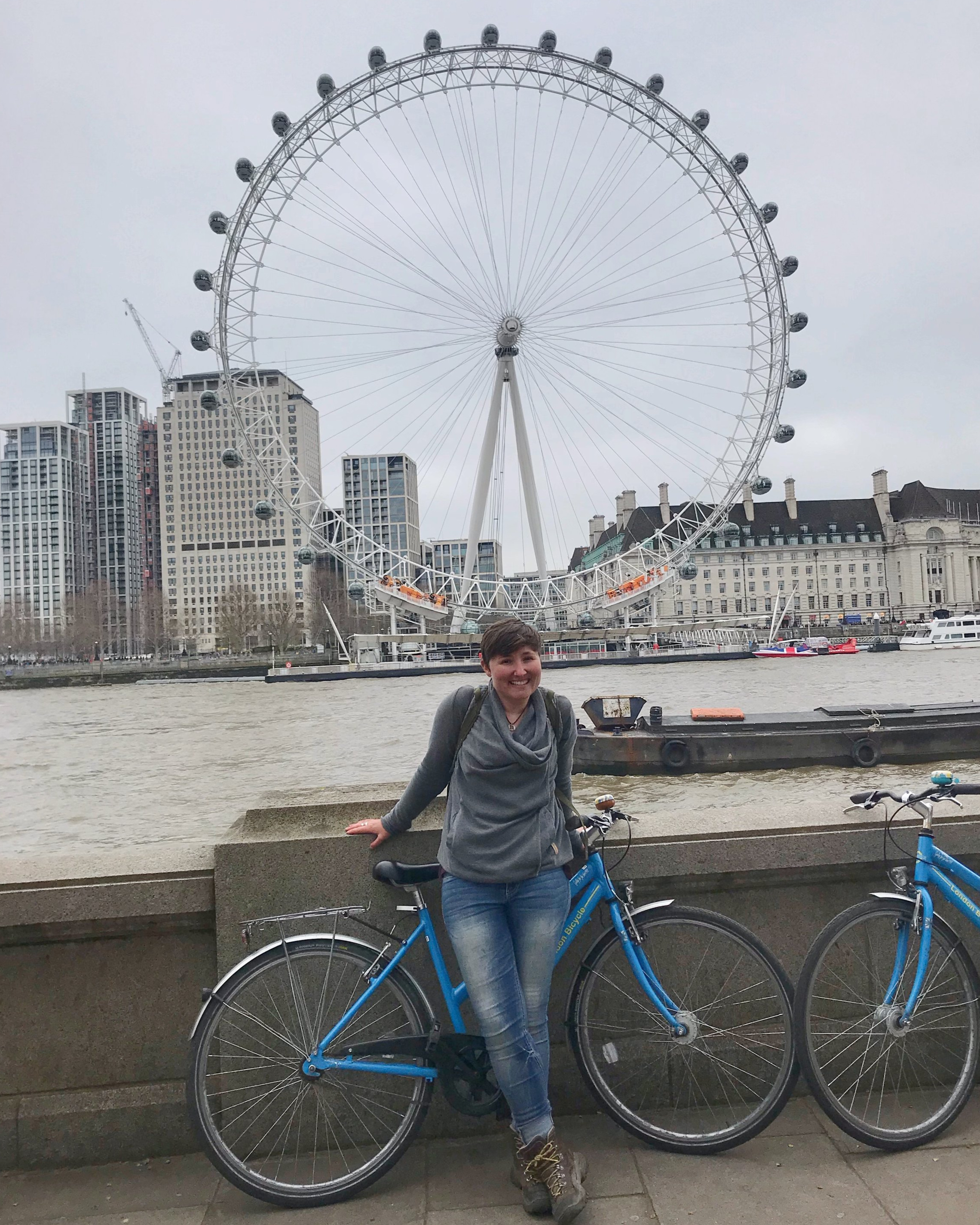 Off all the stops along our route I enjoy our last one the most! We peddled along the street I walked on to get to The London Bicycle Company's shop and took a sharp turn towards a tunnel. If it wasn't for the tour I would have had no idea the Banksy Tunnel was there. A haven for some of the most beautiful street art I've ever seen, the Banksy Tunnel is a revolving mosaic of graffiti art like I've never seen before.
No 2 visits to the tunnel will be the same as new art is always being added covering the previous piece. Want to see more street art in London? Check out this affordable street art tour.
Kensington Palace
After my jaunt around central London I jumped on the tube, made my way to the Circle line (or District line) and got off at the Knotting Hill Gate stop to discover some fun things to do in Kensington. From there I took a walk through Kensington Gardens. It was a bit of a chilly day, but the sound of children giggling in the playground danced in the air. When my walk came to a close – one that was much longer than I thought it would be because I took a wrong turn – I arrived at Kensington Palace.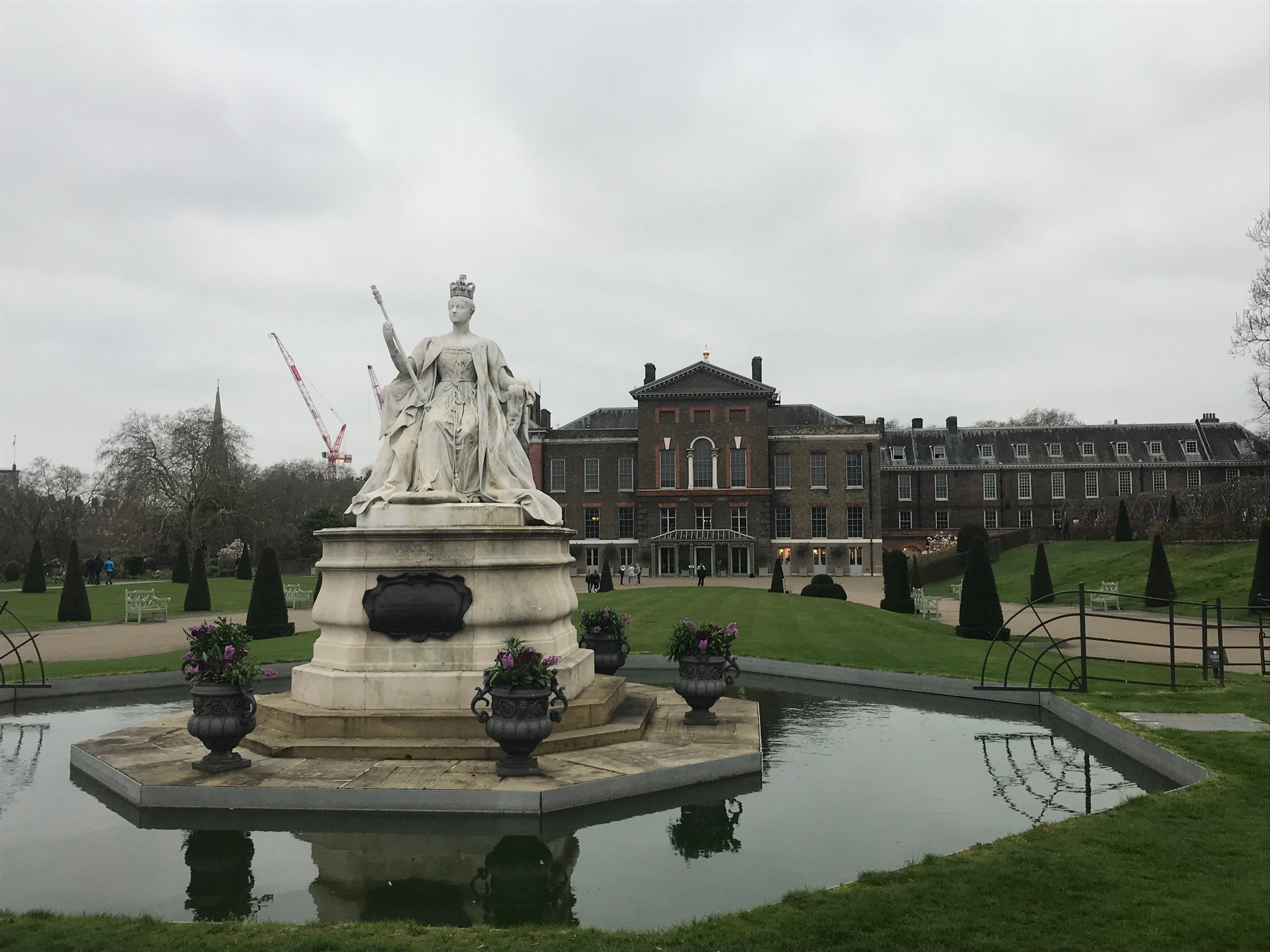 Just like with the London Bicycle Tour Company, Kensington Palace is an attraction included with the Keetoo App! I saved over £10 by using the Keetoo App, that's a nice lunch. A lunch which I had at the little cafe at Kensington Palace. I was so nice that day I was able to sit outside and enjoy it on the patio.
Kensington Palace is currently known as the residence of the Duke and Duchess of Cambridge AKA Price William and Kate Middleton. While I didn't see them there, nor is their portion of the palace open to the public, I did get to see the the grandeur of the King's and Queen's State Apartments, along with the Kensington Palace Gardens.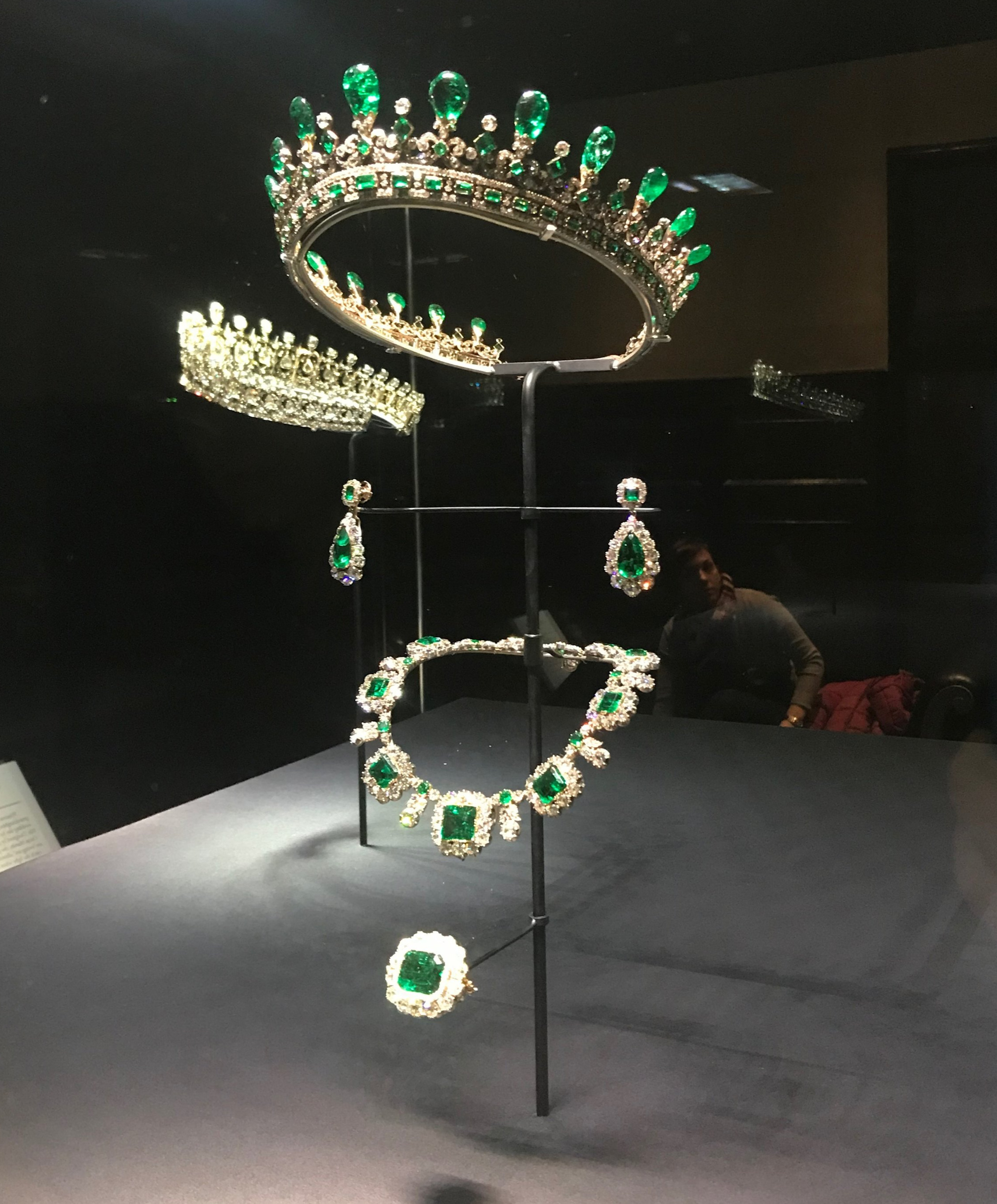 While most of the King's and Queen's State Apartments are not heavily furnished, as Courtiers were not allowed to sit in the presence of Royalty, they are decorated in the grand Georgian style. Massive paintings hang from the walls, their are gilded sculptures and don't forget to look up at the ceilings as you pass through walls that have seen so much history, and not doubt plenty of scandal!
In total, a leisurely visit to Kensington Palace takes around 3 hours, but do not leave without seeing Queen Victoria's tiaras located up the staircase just as you enter the palace. Trust me though, leave this until the end, as to end your visit with a bit of sparkle. The 3 tiaras do not disappoint, I audibly gasped when I entered the room, and got some stares because of it. This made Kensington Palace a must add to any 3 day London itinerary
Pin it for Later
The Sunken Garden
When I was done inside I headed out to the Sunken Garden, located right outside the exit and up the winding stairs surrounded by hedges. The garden was originally planted in 1908 and modeled after a garden a Hampton Court Palace. I spent a while walking around the perimeter of the garden taking it all in. It was so peaceful and beautiful with all the flowers beginning to bloom.
If you time the end of your visit to Kensington Palace right, when you head back to Astor Museum you'll have a delicious free dinner to enjoy and a fun event before going to bed.
Visit London Day 2: Harry Potter Magic and the Tower of London
I didn't worry about getting up too early today as my first activity didn't start until 10:30. Booking The Ultimate Harry Potter Tour when I arrived at Astor Museum and got 15% off the cost of the tour! This Funzing tour is a London must-do for any Harry Potter fan.
Harry Potter Tour for 3 Days in London Itinerary
The tour meets in front of the Palace Theatre where Harry Potter and the Cursed Child is playing. While I haven't seen it, because tickets are extremely expensive, I'm slowly saving my pennies to sit through the double header play some day soon.
If you add this tour to your London itinerary I recommend arriving 15 minutes before the scheduled start of the tour to check in with the guide.
The tour begins like any Harry Potter story should with all tour participants being sorted into Hogwarts Houses. Not as official or lengthy as the sorting ceremony you see in the films or read in the book, but the guide makes it funny. I was sorted into Hufflepuff, but ya'll know I'm really a Gryffindor.
Throughout the tour there are stops at places that not only inspired J.K. Rowling when she was writing the books, but at filming locations as well.
Some stops on the Ultimate Harry Potter Tour include:
The entrance to Diagon Alley from the films
The inspiration for Diagon Alley and Knockturn Alley
Trafalgar Square
Millennium Bridge
Borough Market (Which is one of the Best Street Markets in London)
Platform 9 3/4
Don't worry, I didn't give away all the stops as I want you to be surprised.
One thing I didn't know about the tour is it is not entirely a walking tour as we did use public transport during it, which is not included. Make sure you have an Oyster card so you can get on the Underground. This happens twice during the tour.
If you still need more Harry Potter in your life after the tour, check out these other Harry Potter locations.
Borough Market
After the Ultimate Harry Potter tour concluded I had a delicious lunch at Borough Market with the crew from Astor Museum. Borough Market is a great open air market with hundreds of food options for every taste. The best thing about this market is, while it's outside, it has a roof covering all the vendors. It's perfect for rainy London days.
For lunch I had fish and chips from Fish!Market. I feel like eating fish and chips in London is a must do experience. You won't be disappointed if you make that happen at Fish!Market. In my opinion, it's one of the best places to eat in London.
Borough Market is located very close by the Thames so all I had to do was cross the street and I was on the south side of the river.
Tower Bridge
My next stop was the Tower of London and Tower Bridge, which is a short 10 minute walk along the Thames past the HMS Belfast and to an amazing area to take photos of Tower Bridge
After taking more photos than I will ever need of the bridge, I walked over it taking even more photos. Tower bridge can be very busy so if you have a bicycle and you're riding across it please be careful of people on foot so no one gets hurt. Seriously though, I am most got hit by several bicycles were walking across the bridge.
Tower of London
Since I was using the Keetoo app, I headed over to the group ticket booth to get my printed ticket to enter the Tower of London. I queued up my Day Tripper pass on my phone, and was good to go after my short wait. From there I headed over to the entrance to begin my Tower of London experience.
Once you enter the Tower Of London, there is a store right when you enter called the Beefeater shop. Beefeaters, formally known as Yeoman Warders, have guarded the Tower of London since the time of Henry the VIII. The 37 men and women live and work at the tower and are drawn from the Armed Forces. Inside the shop, I highly recommend getting the audio tour for your visit.
Get the Audio Guide
As a must do Attraction in London, the Tower of London is full of history that should not be missed. The audio guide is full of useful information and I think adds to a visit to the tower. They are only £5 at the Beefeater shop.
Once you rented your audio guide, follow the directions on the screen and use the map you received at the Beefeater shop to help you find the locations of where the audio tours start.
One of the biggest attractions at the Tower of London are the Crown Jewels. There is often a very long line to get inside to see them. I got in line and listened to several of the tours on the audio guide while I was waiting. Many of the audio tours take place right in the courtyard around the White Tower where the line to see the Crown Jewels usually is.
I waited 30 minutes to see the Jewels and having the audio guide really helps pass the time. Please be aware that while you'll want to take photos of the Crown Jewels, pictures and video are not allowed inside.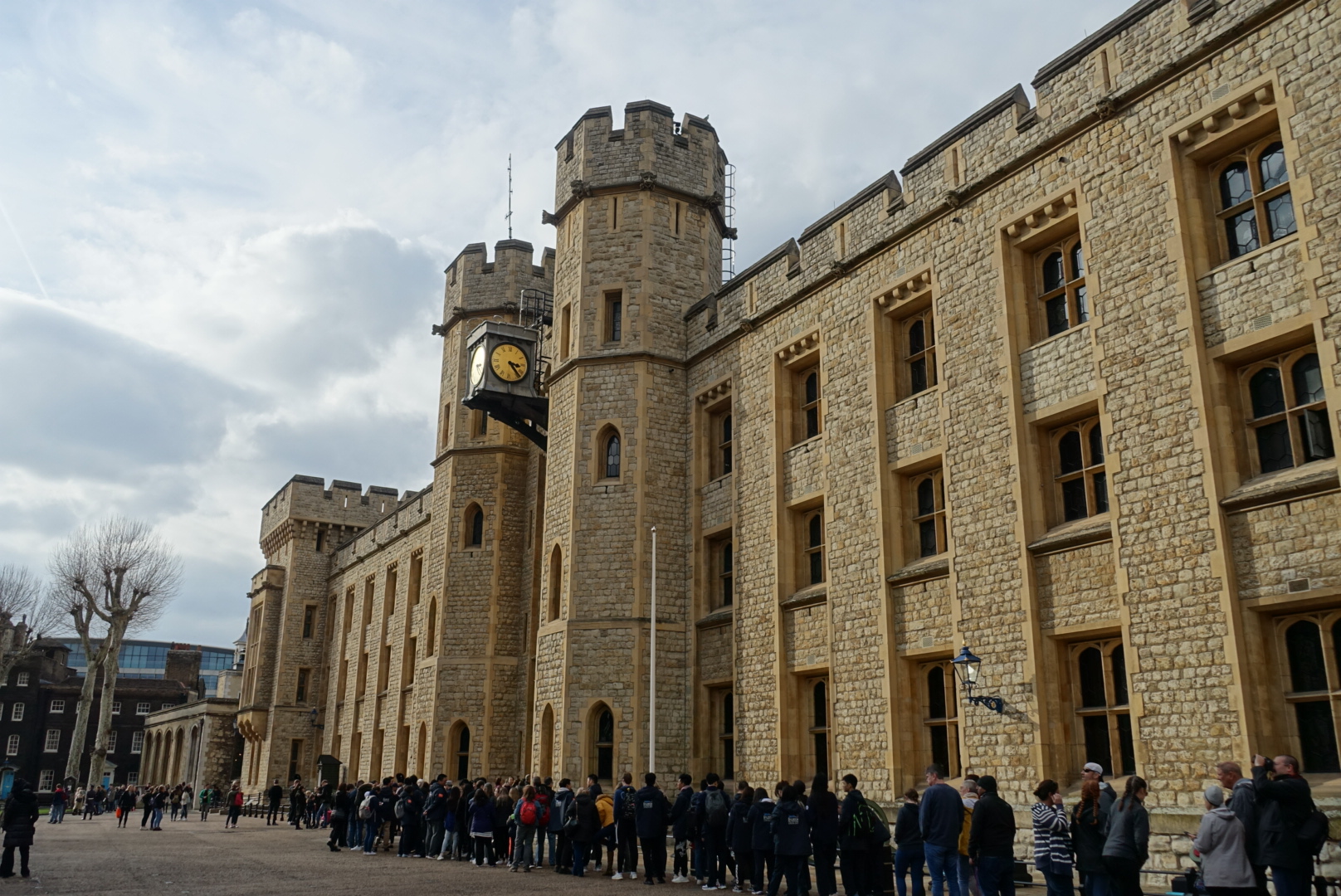 I was so excited to visit the Tower of London. Being a huge history buff it was amazing to be in a location where so many of the historical figures I know about once walked. Standing in the room were Anne Boleyn stayed before she was beheaded was one of the dorkiest moments I had while in London. I know it's super messed up to be excited about some like that, but I like walking in the prescience of history which is why the Tower of London was my favorite stop while I was in the city.
The White Tower
At the center of the Tower of London is the oldest standing structure within the complex, the White Tower. This was by far my favorite building and I spent a significant amount of time inside. There is a huge collection called the line of kings in which the armor belonging to the kings of England are displayed.
The only place in the Tower of London that I did not explore where the dungeons. While the long line to get inside did not deter me and I stood in it for several minutes, what made me get out of line was the thought of all those that were tortured within its wall. I know that this is a stark contrast between what I just said about Anne Boleyn. But being in a room where someone was held before death versus being inside the walls that were once filled with pain and suffering is different for me.
The idea that the dungeons at the Tower of London had the sole purpose of getting people to confess to crimes they did and sometimes didn't do, makes my skin crawl. Maybe the next time I go back to London I'll find the courage to step inside.
3 Day London Itinerary: The British Museum and Climbing the O2 Arena
Another late start, but that seems to be a trend with this trip, and I'm loving it! This morning I headed over to the British Museum – one of the best free museums in London – which is open daily at 10am is about a 2 minute walk from the hostel. On top of the short walk, the staff at Astor Museum gave me a trip to go to the rear entrance of the building, where groups usually enter, as there is very rarely a wait. Just like they said, I walked right in!
Tea at the British Museum
Be warned, the museum is always busy, especially on the weekends. Most people start on the first floor and make their way up. I like having as many of the galleries to myself as possible, so I headed to the top floor and worked my way down. I had several spaces all to myself for about an hour before the hordes of people filled the galleries. If you're going to add the British Museum to your London itinerary follow that advice!
The museum has a few tours offered throughout the day. Each morning, before the museum opens to the general public, Special Morning Tours are offered. Topics for the Special Morning Tours include: An Introduction to the British Museum, An Introduction to Ancient Egypt, and An Introduction to China. These tours require pre-booking and there is a fee. Click here for more information and to book your tour. In addition to the morning tours there are free talks and tours in specific galleries.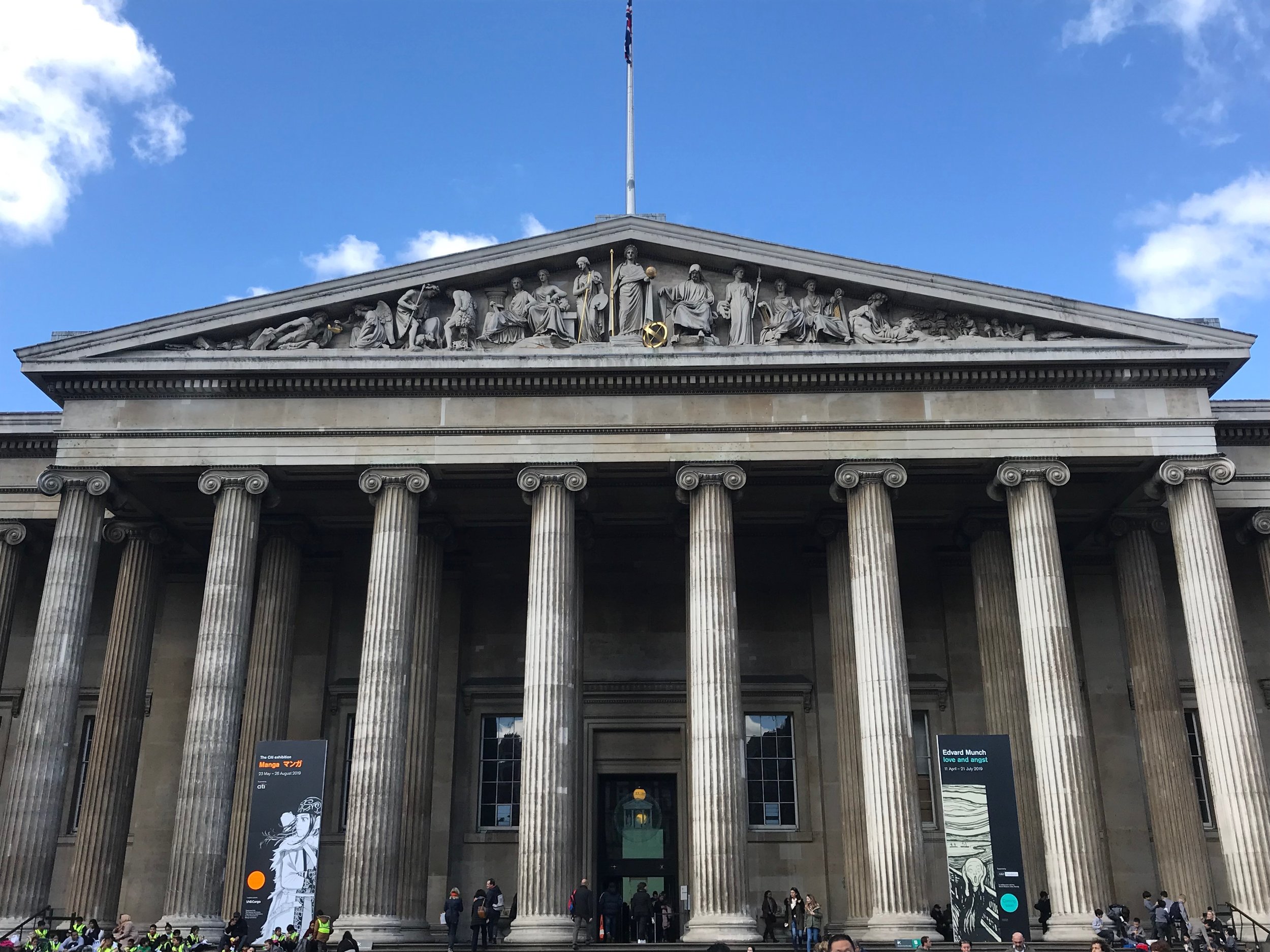 Some of my favorite artifacts in the museum are:
The Rosetta Stone
The Sculptures of the Parthenon
The Mosaics from Halicarnassus
The Portland Vase
The Medieval Galleon Clock
The Lewis Chessman
Ottoman Rob with Gold Thread
The Gold Cape
The Oxus Treasure
The Silver Egyptian Diadem
The Glazed Dragon Tiles
Make sure when exiting the British Museum, you go out the entrance! The front of the building is gorgeous and you'll want to snap a few photos.
Climbing the O2 Arena
From there I walked to the Holborn Underground station and connected to the Jubillee Line to head down to the O2 Arena.
The O2 Arena is a concert and event space with plenty of restaurants and shopping. It is located along the Thames River just off of the North Greenwich underground station. At just over 170 feet tall the O2 towers over the Greenwich area. I was there to climb to the top of it and I'm so glad I added this to my 3 day London itinerary
The entrance to Up at the O2 is on the left-hand side near the main entrance of the O2 Arena. I walked through the doors to smiling women behind the desk, checked in and sat in a waiting area with other climbers.
Once it was our time to go our guide gave us a brief explanation of how things were going to go and showed us an instructional video. Soon after we were given appropriate shoes , A vest (or jump suit depending on the weather) a full body harness, a safety contraption of some sort to attach to the harness, and a box to put our personal belongings in. The small box was placed in a larger container that would meet us on the opposite side of the arena after we completed our climb.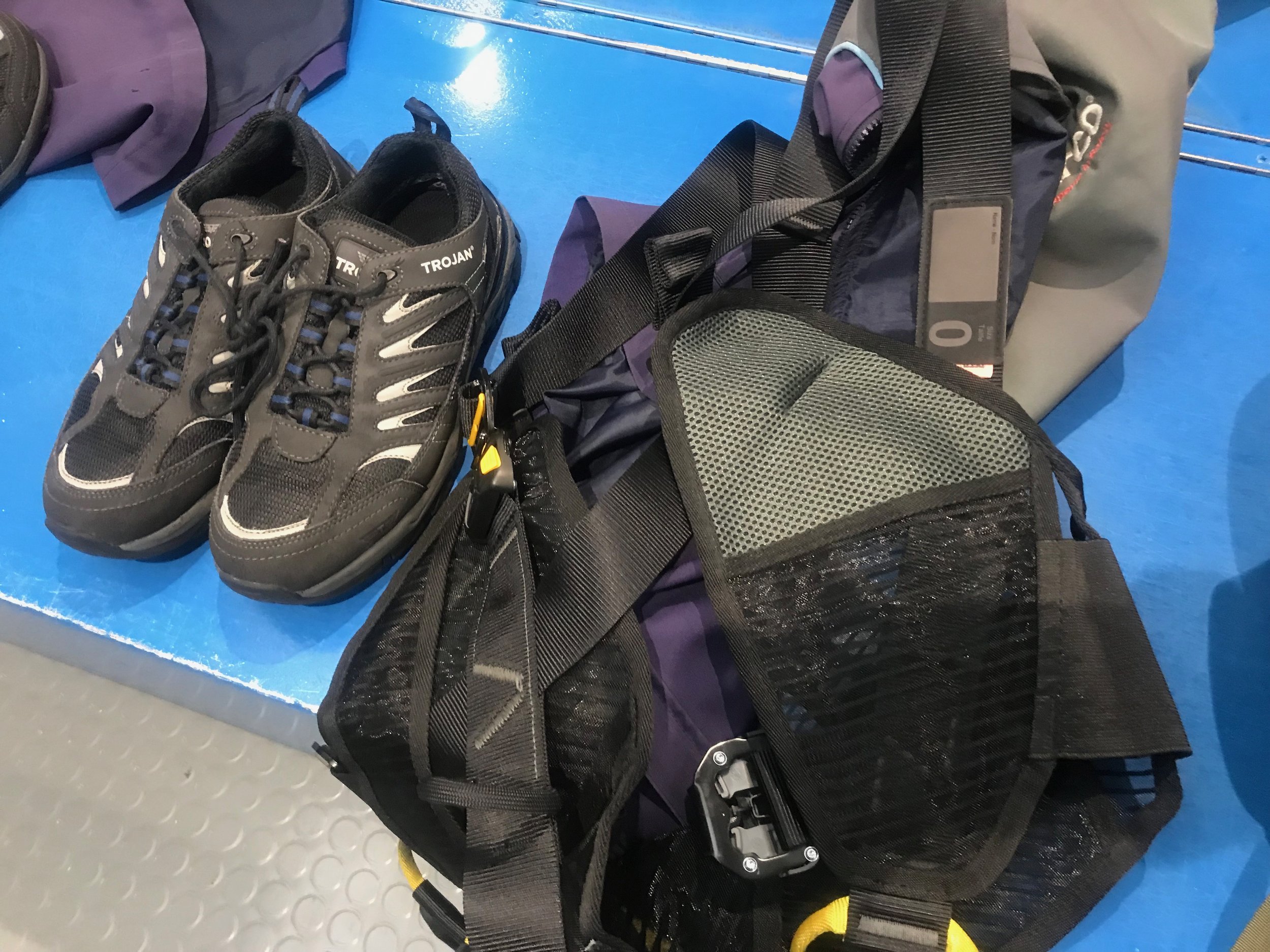 3 Days in London Itinerary
When we were outfitted with all of our gear, we headed it outside and entered a stairwell up to the platform. Each group took some photos, shot by the professional photographer in staff at Up at the O2. The photos were able to be purchased at the end of the climb for an additional fee.
I know I say this frequently, but I don't think it can be said enough – listen to your guide! It is a BIG pet peeve of mine when people don't listen to the guide. In the instance of my tour the guide specifically told us not to swing around the safety contraption that was hanging from our harnesses. They were extremely heavy and could definitely hurt someone if hit with one. What does an entire family of 4 – kids and adults do? You guessed it. The teenage boy in the family hit himself in the knee with it. He promptly stopped after it happened.
The Climb
Once everyone's photos were taken we began to climb, which was a much deeper incline than I had originally imagined. A little tip on this: Make sure your shoes fit right. My shoes were a little loose and climbing was…interesting at times when my heel would slip out of my shoe mid-step.
All that being said, the view on the way up was amazing! I felt like I got one of the most fantastic views in London.
No matter if you're climbing up or down, the safety mechanism hooking you to the wire cable can be difficult to move at certain times in the climb. I was assured that this happens to everyone and I got better at it as time went on.
A View from the Top
Upon arrival at the top there are placards surrounding the viewing platform with historical information on the Greenwich area and about London as well. I really enjoyed reading them because I learned a lot about the surrounding area as a result. You'll still have plenty of time to pose for photos and take in the view.
Going down was slightly more challenging than going up. You know those pictures where someone looks like they're being blown away but somehow your feet are still on the ground? Or if you've seen The Matrix, there's that scene where Neo is getting shot at and he bends backwards and somehow his feet are still on the floor, narrowly avoiding the bullets. That's kind of how I felt going down the side of the O2 Arena. Minus being nearly blown away or shot at.
It took a significant amount of balance and concentration to not slip and fall as you're almost going straight down. Remember to lean back and keep your knees bent, it will help you stay stabilized. If you are walking like you're a toddler wearing a very full diaper, you're probably doing it right.
Upon arrival to the opposite side, I took a photo in front of the, "I Conquered the O2," sign!
Click here to climb the O2 Arena.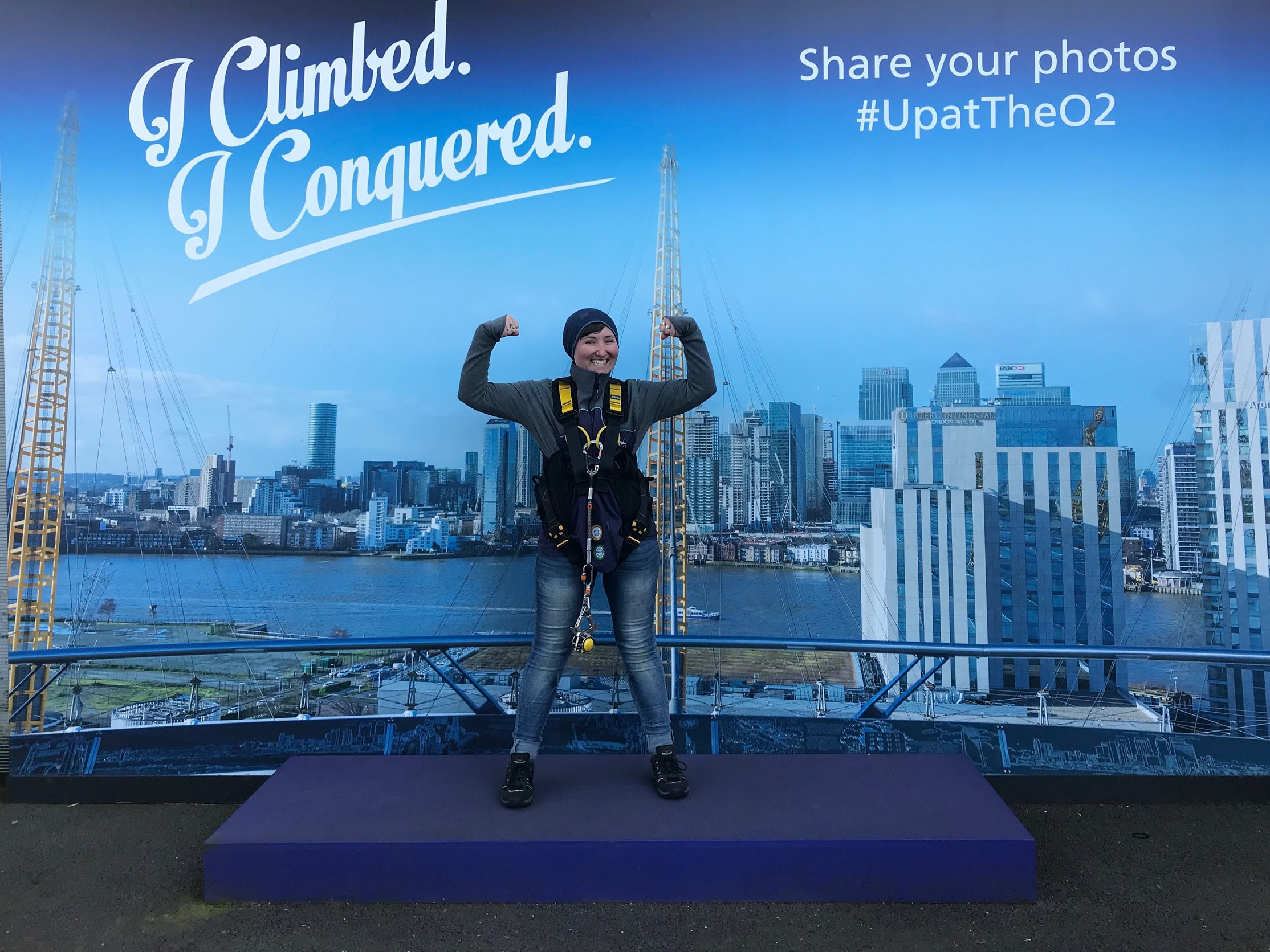 This activity is a great family-friendly thing to add to any London itinerary. However, if you don't like heights you should probably sit this one out. I also thought it was going to be a little more adventurous. But I'm very glad that I did it and would encourage anyone else to visit.
3 days in London Itinerary
There are so many things to do in London (including adventurous things), and this is just a small sampling. I spent a total of 7 days in the city, and still feel I haven't seen and experienced everything London has to offer.
I hope you enjoyed my 3 day London itinerary. Only have 1 day in London, click here for more.
What are some things you'd do on a 3 days in London itinerary? Let me know in the comments!
Love it? Pin it!