If I asked you to picture what makes Las Vegas a top tourist destination you would probably think about the bright neon signs, instagrammable photo spots, and the thrill of casino hopping, and you would be absolutely right to think that. Thousands of tourists come to Las Vegas each year to experience all that is Sin City. But don't let that fool you there is so much more to see and enjoy during your stay in Las Vegas, especially if you are into outdoor activities!
Outdoor Activities in Las Vegas
I`ll tell you about 3 destinations that might give a whole new meaning to your trip to Las Vegas. But a little bit of advice first: the sites I'm about to mention are a little bit away from Las Vegas proper. They're off the beaten path and because of that you'll need to rent a car. It's the only way you'll be able to see these beautiful locations without getting on a tour bus with 50 of your not so close friends.
Pin it for Later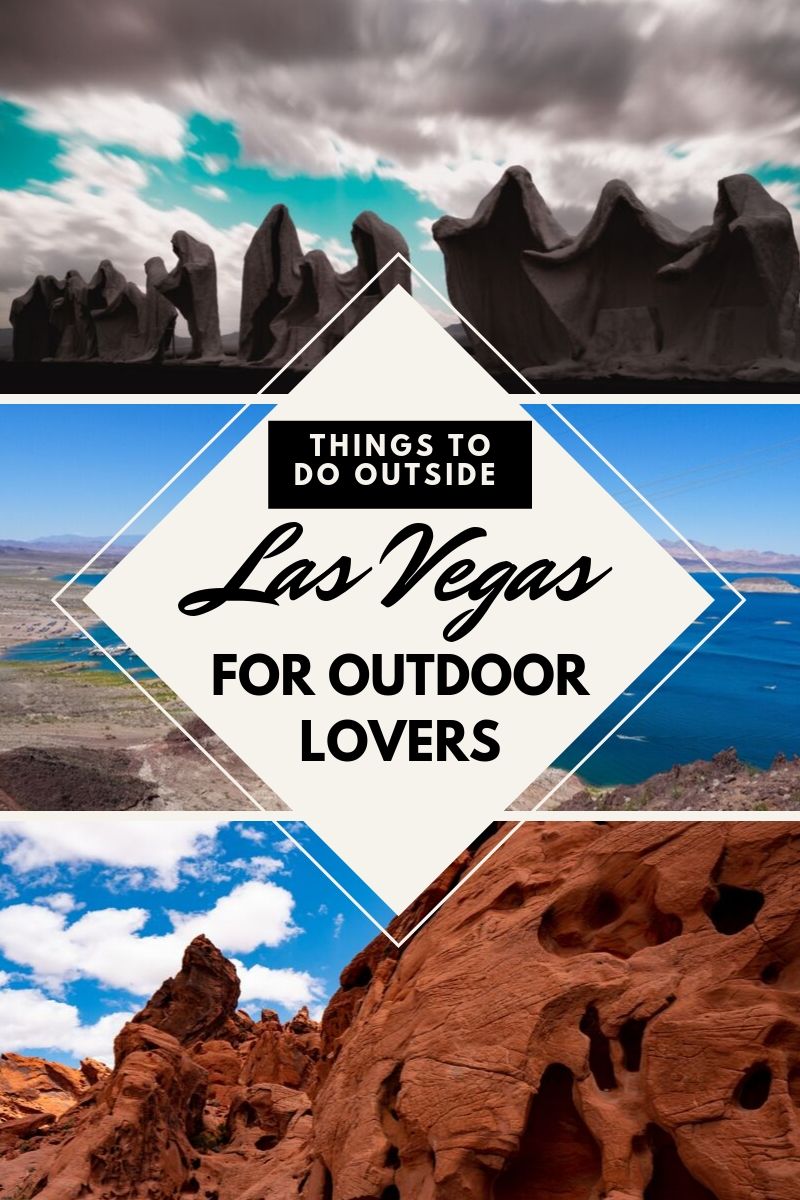 The Valley of Fire
If by any chance you happen to be really REALLY into photography, hiking, camping and geology, all at the same time, this must be what heaven looks like to you. The Valley of Fire state park consists of an outcrop of red rock that extends for 40,000 acres offering an outlandish landscape, for a memorable hike. The park is a little less than an hour drive away from Las Vegas. Take the freeway and look for the Valley of Fire Highway.
As a quick fun fact, I can tell you that the site was made millions of years ago as the result of desert dunes coalescing into this mysterious outcrop of red rocks, so in a way, the whole place is a giant fossil of a prehistoric landscape! And not only that, the place is dotted with fossils, as there are some petrified trees in the area, there are also ancient petroglyphs left here by people who occupied the land.
The state park itself counts with campgrounds and a visitor's center which has a small museum dedicated to the park's geology and history.
The park has a US 10$ entrance fee per vehicle and a US 20$ camping fee (+ 10 dollars for camping sites with utility hookups)
Lake Mead Recreational Area
It's definitely odd telling someone to pack a bathing suit on a trip to the middle of the Mojave Desert, but hey, do pack a bathing suit because believe it or not, there are a lot of water activities to do close to Las Vegas, and so I present to you: Lake Mead's recreational area. America's first and largest recreational area!
This man-made lake has all sorts of fun activities to do such as boating, fishing and camping, and even riding a jet ski. If you are not really into camping, there are also several hotels and motels to stay in, and if you are, the park provides services such as wireless internet.
The visitor's center is located four miles southeast of Boulder City, only a short drive from Las Vegas. If you want to cool off after testing your luck, then Lake Mead is there for you to enjoy.
Rhyolite Ghost Town
If you lean to more alternative destinations then there are other things to do around Las Vegas other than the aforementioned gambling, camping and water activities. If you like art and history then I got something special for you: Rhyolite ghost town.
Like many other ghost towns, Rhyolite was created in 1904 during a gold rush and then abandoned when the gold ran out by 1920, however, this town was made with more durable materials and so there are more things to see. The long-abandoned ruins give the site an eerily satisfying feel of desolation, making you feel as if you were seeing the ruins of a major city in an apocalyptic future. And to top the awesome oddness of the place the site has an open-air sculpture museum, the Goldwell Open Air Museum, which features some memorable sculptures such as a ghostly rendition of the Last Supper.
The site is a roughly two-hour car ride away from Las Vegas taking the Veterans Memorial Highway and then taking a turn at Gold Center, as I told you earlier renting a car may be a smart move as it will let you explore all of this attractions and maybe even more.
So let's recapitulate: if you are planning a trip to Las Vegas there are many things to see other than the casinos. Find yourself in a fossil landscape in the Valley of Fire, pack a bathing suit and have fun in Lake Mead, or just ready yourself for a haunting experience in Rhyolite, but whatever you do, don't miss the side of Las Vegas that's beyond the neon signs.
What other outdoor activities in Las Vegas should I add to this list? Let me know in the comments.
Love it? Pin It!