On my most recent adventure leading trips in Bavaria, I was staying with my friend Danielle who lives in Munich. One morning we had a conversation about my blog and how she thought I should write more about being eco-friendly while traveling and in everyday life. I try to keep my blog focused on women's adventure travel and this conversation made me realize I can (hopefully) help other travelers make positive changes to their lives when it comes to sustainable travel at home and on the road.
Upon arriving home my blogger friend Lauren, from JustinplusLauren, shared that Yellow Zebra Safaris had recently launched Conservation Holidays and knew I had to start sharing more about how we can all make a difference no matter where on the planet we are.
As silly as it might sounds small changes, when done by lots of people add up. Let's do some math (I know, I know – I'm terrible at math too, but I checked all these numbers…twice.)
If you, yes you, picked up 5 pieces of trash every day, that would be 35 pieces of trash every week. Which would end up being approximately (depending on the length of the month) 155 pieces of trash a month, and 1,860 pieces of trash a year. If you had a family of 4 that would end up being 7,440 pieces of trash for your family each year. Currently, I'm based out of the U.S. state of Vermont where 626,299 people live, and 1 of the smaller states in the U.S. If each of those people picked up 5 pieces of trash a day for a year that would be 1,164,916,140 pieces of trash a year. That is the simplest example of people doing small acts to help the planet.
Pin it for later!
Sustainability Tourism Practices I've added to my lifestyle
Believe it or not, I live a very simple lifestyle. Yes, I'm always on the road doing one thing or another, but I'm low maintenance and don't need too many things. Over the last 5 years I've done a massive overhaul of my life and the things I need in it versus the things I want. It takes effort everyday to make sure I'm purchasing things I need and not always what I want. Things don't create happiness, experiences do. I make sure I spend my money on experiences while I'm on the road and not things to take home with me.
Over the summer I went through everything I owned and donated a car full (I drive a RAV-4) of clothing, kitchen supplies, camping gear, and various other items to charity. Downsizing my life was one of the first steps in becoming more eco-friendly. Here are 5 simple changes I've made in my life at home and on the road to help the environment:
Green Tourism: Shampoo and Conditioner Bars
On my most recent trip to Japan and Germany I used a shampoo and conditioner bar for the first time. Not only did it allow me to bring fewer items in my toiletry bag, but I also didn't use any of the one use shampoo or conditioners while at any of my hotels.
Now that I'm home, I'll be finishing up the last bit of shampoo I have in my bottle and switching completely to bar soap for everything. While this only prevents me from adding 3 to 5 bottles to landfills each year as I don't go through that much shampoo, it is a small way I can help.
I've been using Friendly Soap Natural Shampoo Bar, and I love it! They have several scents and even a bar that can be used as shampoo, body soap, and laundry soap. This one is great for traveling! There are several other companies that sell shampoo and conditioner bars, but I like Friendly because they're a small company trying to make the world a little bit better. Their packaging 100% plastic free, all their products are cruelty free and vegan. Not all bar soaps are created equal.
Sustainable Travel: Reusable Utensils and Straws
Another way I cut down my plastic usage is by having my own reusable utensils and straw, not only when I travel, but at home as well. I keep them in my purse or backpack when I'm out and about, and use them as needed.
I'm still getting used to the idea that I have these in my bag and, I'll be honest, sometimes forget that I have them. I need to get better about that, but it's a work in progress and no where to go but up.
I use these metal reusable straws that come with a cleaning brush, (They can get a little yucky inside if you don't clean them properly!) and in the past, I used reuseable plastic straws. (these are a great option for kids so they're not chewing on metal straws). And for utensils, I have 2 different setups, 1 for traveling, and the other for camping. When 'I'm traveling I bring this bamboo utensil set with a knife, spoon, fork, and chopsticks. For camping, I only bring the sea to summit spork as it's light and I don't need a knife because I bring a pocket knife. Everything is extremely lightweight and doesn't take up that much room in my bag.
Sustainable Living: Use a Water Filter
Plastic water bottles drive me crazy. On average it will take a plastic water bottle 450 to fully decompose. This means that every plastic water bottle ever made, that wasn't recycled (and not many of them are), is still on the planet. Let that sink in for a minute.
A few years ago I started taking my Sawyer water filter with me whenever I travel. Previously, I had only taken it with me on the trail when I hike, but realized that I can make a real difference when I travel by bringing it with me. Every day I drink around 2 liters of water. When I was buying bottled water that was 2 large bottles each day, if not more in warmer regions. If I was gone for a week that was a least 14 large plastic bottles for a trip. I needed to do better.
Since using my water filter on all my trips I haven't purchased a bottle of water – other than an emergency bottle when I couldn't find a tap – in over 2 years. I refuse to be part of the problem when it comes to plastic water bottles, and highly encourage everyone to find a system that works for them when it comes to water filtration on the road.
Eat Local, Buy Local and support Sustainability
Eating and buying local are 2 extremely important ways to support sustainable travel. Eating local helps everyone in the region you're visiting from farmers to local eateries. I've had some of the most amazing meals in local restaurants while traveling. If I had just gone with a big name and eaten at a place everyone knows about my travel experiences wouldn't be as rich. Eating homemade pretzels in the middle of the Bavarian countryside and devouring tacos with handmade tortillas in Mexico are two instances of why I love eating local.
When it comes to buying local souvenirs in many places you'll be supporting a way of life that might otherwise not exist. My friend Elizabeth owns a tour company in Peru and brings visitors to her home village where they learn about weaving practices that her ancestors have been practicing for centuries. Now, her Mom and Aunts share those practices and sell items they've made by hand. Because travelers visit the village and purchase items this way of life is preserved and helps to support the village.
Green Tourism: Reusable Bags
In today's society there is no need for anyone to use a plastic bag. I feel like every time I go to an event someone is trying to give me a free reusable bag. Some of these are pretty large and while I use them at home when I go to the grocery store I have a smaller bag that I bring with me.
While traveling I put this bag in my backpack or purse just in case I end up buying souvenirs, snacks, or go grocery shopping. I also use this bag when I'm on planes as my personal item to stow under my seat. That way I have everything I need without anything extra weighing me down.
Responsible Tourism and Challenges with Sustainable Travel
My biggest challenge when it comes to the things I've implemented to make my lifestyle more sustainable is to remember to do them all. It's so easy to fall back on the way I used to do things, especially when I'm on the go for longer periods of time.
Our world, especially when you're traveling, is all about convenience. Unfortunately, convenience is often times bad for the environment. For me keeping in mind that everything I do effects the planet helps me to purchase things that aren't single use and consume less.
Adding to my Green Lifestyle
Green Travel: Offset my carbon emissions
Since I started traveling more in early 2019 I've been keeping track of my flight miles, so at the end of the year I can try and offset my carbon emissions.
First start by using this Carbon Calculator to calculate your carbon emissions. It will take a while, and you'll need to know plenty of information about yearly spending on meat, clothing, tech purchases, miles traveled via bus, train, car, and flights.
Once you've entered everything, make sure you take your time and be as honest as possible, you'll be taken to a page that will give you several options on how you can offset your carbon emissions, this is my page. Many of the projects include preventing deforestation and and community project around the world.
I will say that while this is a great way to make a difference in the world, after offsetting your carbon emissions it's important to look at how you can decrease your carbon footprint. One of my goals for 2020 is to look at what my carbon footprint is in 2019 and reduce it.
Sustainable Travel: Packing Lighter
While some of my friends call me the "Packing Queen," I know I can do better. My policy is if I can't carry it, it isn't coming. On a recent trip I tried a suitcase for the first time and hated it! I've already sold the suitcase and will not be purchasing another one.
I need to remind myself that:
Doing laundry on the road is a thing
I never wear everything I pack.
Packing less toiletries is a must.
I only need 1 sweatshirt.
Use more public transportation, bike, or walk
Using public transportation will not only help the environment but will help reduce the amount of money you'll be spending while traveling. Of course, please make sure to keep your wallet safe while using public transportation.
In the United States alone transportation accounts for 29% of greenhouse gas emissions. By using public transportation you'll be helping to reduce the amount of greenhouse gas emissions, especially if you take a subway or metro.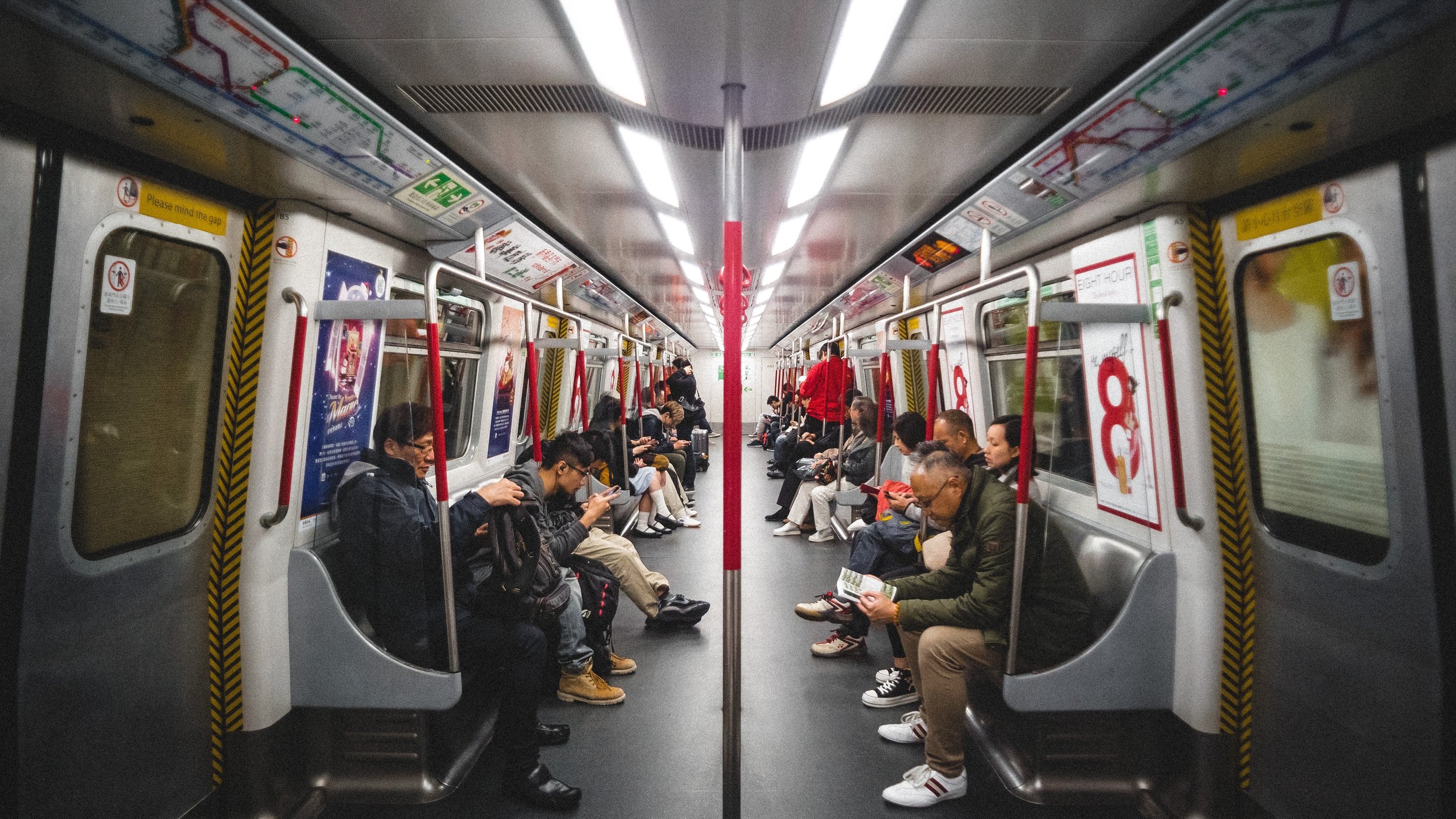 If you're not into public transit trying renting a bike or walking instead of jumping in an Uber or taxi. I know this isn't always possible or the safest option depending on the location, but keeping this in mind can make a big difference.
I've started doing the same thing when I'm on the road and while I still need to get better at it, I feel like I'm heading in the right direction.
What are some things you can do to make sustainable travel part of your lifestyle? Let me know in the comments.
Love it? Pin It!