Portland, Maine, not to be confused with it's quirky west coast namesake in Oregon, is full of historical charm with it's Old Port, cobblestone streets, and active waterfront. A salty odor of the ocean fills the air with smells from over 500 restaurants. Portland sits on a 21 square mile peninsula in Casco Bay with around 140 islands. A weekend in Portland Maine is not to be missed when visiting the New England area.
Weekend in Portland Maine
Places to stay in Portland, Maine: The Black Elephant Hostel
Portland can be an expensive place to find lodging, especially if you're planning on staying in the downtown area. There are plenty of options, but many of them, even the big name places like the Holiday Inn and The Westin are too costly for me. When planning your weekend trip, don't be afraid to book just outside the downtown or a little way outside the city. By doing so you can save a bunch of money.
During my time in Portland I stayed at the Black Elephant Hostel. Ya'll know how much I love living that hostel life! Not only is it the only hostel in Portland, according to my sources at Visit Portland, it is the only hostel in the entire state of Maine!
Location and Details
Located just a few blocks from the Old Port area, the Black Elephant Hostel calls Hampshire Street home. It's housed in an old building with a funky mural hugging the outside of the first floor. On their website it says they have limited on street parking, however upon my arrival that parking was full and was only 2 hour parking. I found that a little frustrating, and ended up putting my car in a parking garage that I found a bit pricey for a small city.
Hostel Decor
On the inside, guests will find an amazingly decorated common room with bright colors and shag rugs. I was a big fan of the paintings on the walls featuring characters from Wes Anderson movies – The Fantastic Mr. Fox, The Grand Budapest Hotel, and Moonrise Kingdom. With over 20 different types of wallpaper throughout the hostel, and the other little surprises (look up when going down the stairs) it's clear that great detail went into the interior design and overall vibe.
The only thing I found to be a bit of a let down was the lack of hostel events. I've never stayed at a hostel that didn't hold at least a few events throughout the week. With plenty of things to do, see, and no end to the delicious restaurants and lively bars in Portland, Maine I was surprised that the Black Elephant Hostel didn't have any events. Regardless, my stay there was seamless and affordable. I will definitely be staying there again the next time I'm in Portland.
A weekend in Portland Maine: Day 1 – Explore Portland's Old Port
Historic Workout or Walking Tour
Worries about skipping your morning workout while in Portland? Don't care about working out at all? Fear not my friends, as you'll be able to either do a Historic Workout or walking tour with Leigh. Several years ago she started the company to melt her love of history and physical fitness into one amazing job.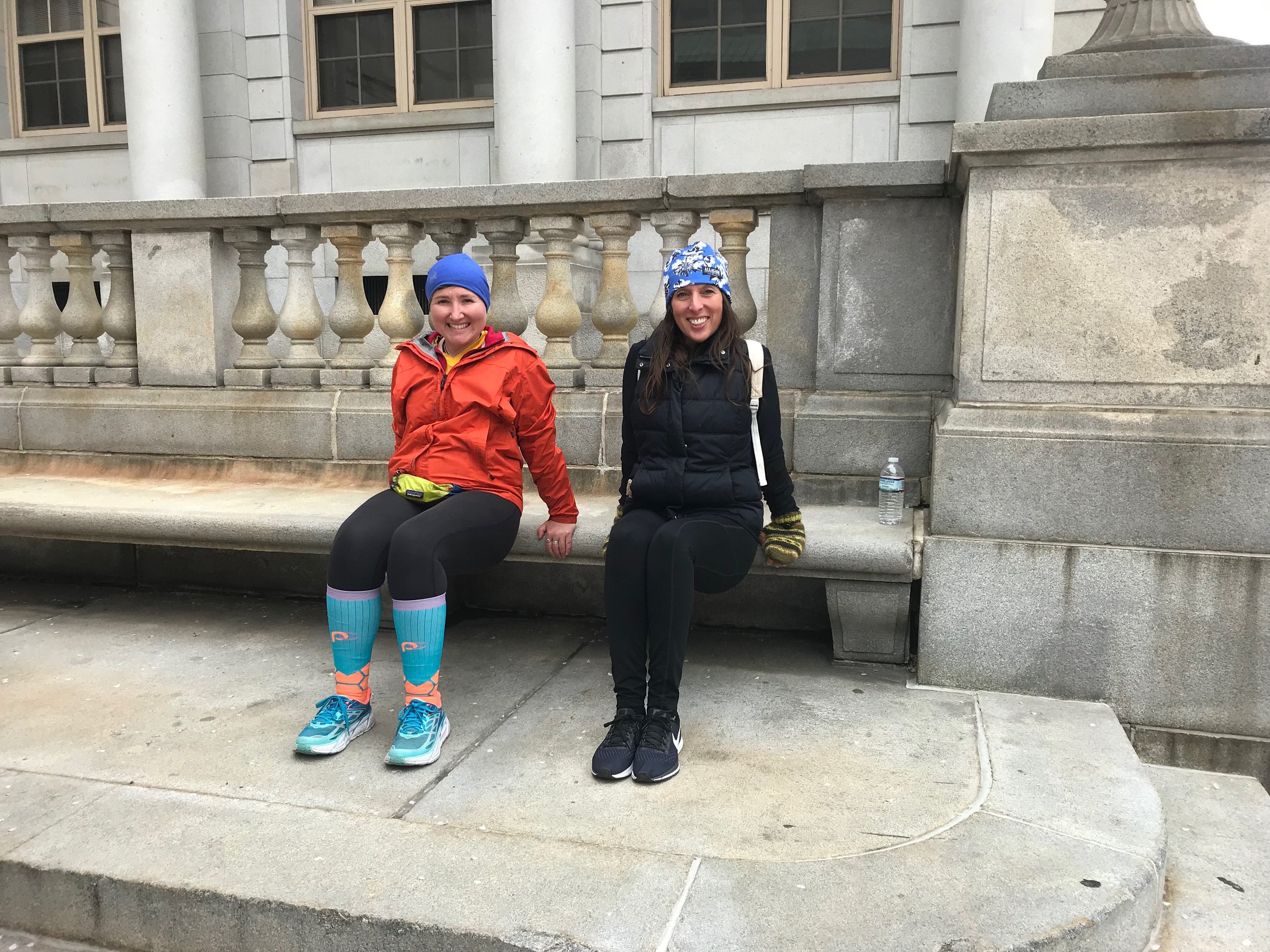 During my time with Leigh she took me all over the Old Port area of Portland sharing with me her deep love of her city. We not only stopped at historic buildings to learn about the history of them, Leigh also shared information about the architecture of important buildings like the Custom House and the courthouse. Leigh's workout kept my heart-rate up and targeted my arms, legs, and core. While I felt like I got an amazing workout, I wasn't super sore the next day or immediately afterward.
For those of you reading this, rolling your eyes, and saying, "There is no way I'm working out on my vacation!" remember that I mentioned she also does walking tours! I also read on her website that during the month of December she does evening holiday walking tours so visitors can experience a historical walking tour and the beauty that is Portland all light up with twinkling lights.
The historic walking tour is one of the most unique things you can do during a weekend in Portland, Maine
Wander Around the Old Port
Now that you have your bearings of the Old Port area thanks to Leigh, take time to walk around and explore. My first stop would be Holy Donut to fill your belly with one of the best donuts I've ever had. This tiny shop on Exchange Street isn't marked with a hanging sign with it's name, just a hanging wooden donut. If you think you've pasted it, like I did when I was following my phone's GPS, turn around and look in the shop windows and you'll see all the people waiting inside. Holy Donut has plenty of regular donuts – my favorite is the honey lavender – but they have gluten-free and vegan options as well.
Depending on the time of day when you head down to the docks you'll be able to watch the fisherman and lobster-man come in with the daily catch. Want to brush elbows with Maine's dockside heroes? They can be found in plenty of Old Port restaurants and bars. I learned of one place marked with an old Coca-Cola sign. I won't give you the address or even the street name because half the fun is finding it. However, upon arrival don't expect to enjoy an ice-cold Coke, as they only have Pepsi products.
Other places to try during a visit to Portland Maine:
Cabot Cheese
Even though Cabot is based out of Vermont, they always have plenty of delicious cheeses to sample.
Tour the Custom House
For quiet some time the Custom House was closed to visitors, but it was recently refurbished to it's 1897 splendor. Tours are offered on a limited basis, and may not be available during your visit.
Visit some local shops
When you arrive in Portland you'll fall in love with their cobblestone streets. Lining those streets are a diverse group of locally owned stores. Stop in and grab a fun souvenir to help you remember your trip.
Find Portland's Speakeasys
Portland, Maine is home to 2 speakeasys (as far as I know). They're both located in the Old Port area and each have a vibe all their own. No I will not tell you exactly where they are or how to find them. That's all part of the adventure! And don't try asking the locals either, they're pretty tight lipped about it all, which is the true spirit of a speakeasy.
Lincoln's
Lincoln's is a dark place to drink fill of plush couches and comfortable chairs. All their drinks are $5 – because Abraham Lincoln is on the $5 bill. I also realize he's on the penny, don't try and pay with one of those, they don't find the joke funny – I tried. The night I was there they had a comedy night with a small cover, of $5, for the 2 hour show. If you end up finding the hidden door that leads to Lincoln's remember to stop by the ATM beforehand as it is a cash only bar.
Blyth & Burrows
If you're lucky enough to find Lincoln's, on the other side of the block is Blyth & Burrows (on the same street as Holy Donut). This place itself isn't hidden, but they have a hidden bar within the restaurant. You can find the door through the main restaurant or go in through the back. Their mixed drinks are spectacular and the secret bar has a plenty of appetizers to fill your belly after a night of exploring and bar hopping.
A weekend in Portland Maine: Day 2 – A little Portland History and Maine Beer
I didn't get enough history about Portland with Leigh – which is hard to believe because she knows a TON – so I hopped on a tour with the Portland Fire Engine Company. I chose to do this tour because I'm just a big kid and the idea of riding on an old fashion fire engine seemed like something right up my alley.
Upon arrival everyone was handed a fire jacket, and there may have been fire hats too. I obviously took a photo because I'm always looking for an excuse to get dressed up. I think I looked pretty good all decked out with the truck.
If there is someone in your life that enjoys fire trucks, vintage vehicles, or short and sweet tours with plenty of information, you need to take this tour. The guide we had, I'm totally blanking on his name (please don't hate me) was great! He was all about the Dad jokes, which I enjoyed. Something that I thought set this tour apart from other historical tours I went on in Portland and in other cities, is the TV screen in the back of the fire truck. Usually when I travel I try to unplug and stay away from TV, but as a visual learner this really helped me to visualize the history of Portland. I found it extra helpful when we got to the waterfront area and the fog was like a big white blanket over Casco Bay and the islands. Book your Portland Vintage Fire Engine Tour today!
Maine Brew Bus
Who likes beer? Then you'll love this! The Maine Brew Bus is a bus that takes you around Portland (and Southern Maine) to some of the best breweries, wineries, and distilleries in the area. Boarding the Maine Brew Bus means you get a guide to teach you all about the adult beverages created in Southern Maine, a non-drinking driver to help you get around safely, and an amazing selection of beer, wine, and distilled drinks! In addition to their classic brewery, winery and distillery tours, they also offer a Portland Brewery Brunch Tour.
During my journey on the Maine Brew Bus we went to a brewery, a winery, and a distillery. Even though I would have been perfectly happy just going to breweries being a beer girl! However, it was great to see that Portland has a winery and distillery scene. Our 3 stops (in order) where:
Rising Tide Brewery Company
Obviously, Rising Tide was my personal favorite, because, beer. This brewery is owned by a husband and wife team and was inspired by the quote, "…a rising tide lifts all boats." Each beer contains local ingredients helping to support local farmers, and all of their beers are unfiltered and unpasteurized. My personal favorite was the Fort Gorges India Pale Ale.
Cellardoor Winery at the Point
This adorable winery and tasting room was way too classy for me when I first walked in. Then, upon speaking with staff, I found it to be completely unpretentious and welcoming! The wines I tasted where spectacular, not that I know much about wine. Of all their wines, I thought I'd enjoy the whites the most, but they surprised me! I left in love with and in possession of a bottle a red wine called Iron Gate. Try it you won't be disappointed.
Stroudwater Distillery
This stop was my least favorite as I'm not a fan of hard alcohol. However, no matter where I travel and what I do, I have vowed to try anything (OK almost anything). Straight, I didn't like anything. If mixed, I know I would have enjoyed it more. The highlight of Stroudwater was going out back of the tasting room and getting to sample a coffee infused liquor straight from the barrel!
Otto's Pizza
After getting your fill of beer from some of Portland's local breweries head to Otto's Pizza. When I was on the Maine Brew Bus my guide, Nate, told me to go to Otto's and try a slice or 2. He specifically recommended the mashed potato, bacon, and scallion pizza. For me, being the good Irish girl that I am, this pizza sounded like a dream come true. I love potatoes in all their forms, but especially when they're mashed!
When I posted about it on my Instagram stories, many of my followers thought it sounded disgusting. For those who choose not to try the pizza, you'll be missing out because it was delicious! A little insider tip for getting pizza at Otto's: order the pizza by the slice. Many of the locals I talked to told me their pizza by the slice has crispier crust than their whole pizzas. Otto's is one of the best places to eat during your weekend in Portland, Maine
Visit Portland Maine: Day 3 – Lighthouses and Lobsters
Drive or Bike to see Lighthouses
Out of all 50 U.S. States Maine has the longest coastline. While Maine is not home to the most lighthouses in the U.S., that title goes to Michigan, Portland does have 3 lighthouses that I think every visitor needs to see on a weekend in Portland Maine.
Bug Light
So nicknamed, it's real name is Portland Breakwater Lighthouse, because locals thought it was, "cute as a bug," Bug Light can be found in Bug Light Park in the eastern end of the Greenbelt Parkway. Bring a picnic, fly a kite and enjoy the views of Portland from this amazing public space.
Spring Point Ledge Light
This one was my personal favorite to visit! Located on the Southern Maine Community College in South Portland, the Spring Point Ledge Lighthouse gives visits amazing views of Portland and Casco Bay. The long rocky jetty allows visitors to walk all the way out to the lighthouse. If you choose to walk out there please use caution as some of the gaps between the rocks are large.
Portland Head Light
For those who have bikes, this will take you a while to get there, but it is completely worth it! Many Mainers say that this is the most photographed lighthouse in the U.S. I'm not sure how you would prove that, but it is completely gorgeous. While the lighthouse is actually located in Cape Elizabeth in Fort Williams Park, I'm still including it because it isn't too far. Take in the lighthouse from all it's angles, but please stay safe and don't descend down on to the rocks, many people have been injured doing so. Inside the old light keepers house is now a museum that is open seasonally. The museum showcases the history of the Portland Head Light displaying documents and artifacts.
Lucky Catch Cruises
When most people think of Maine, they think of lobster. And while I don't like lobster, I had to get a glimpse of what it was like to go lobster fishing because it's such a big part of life in Portland. Lucky Catch Cruises takes visitors to Portland, Maine out on a lobster boat and teaches them the daily routine of what it's like to be a lobsterman. It's a great way to end your weekend in Portland, Maine.
Once the boat left the dock each person aboard was given a bright orange apron to cover their clothes. Kate, who was giving out the aprons looked at me when I went to get one from her and said, "Nope, I'm giving you the pants." So I was given bright orange overalls instead. Definitely more my style.
Cruising Casco Bay
We cruised around Casco Bay a bit, then we stopped by a buoy and were immediately surrounded by seagulls. One of the visitors, with the guidance of Captain Brian, hauled up a trap with 2 crabs inside. Unfortunately, that's not exactly what we were looking for. Before we could head to another buoy, Kate had me dump out the bait bag in the water. Within seconds of the bait falling from the bag I was swarmed with seagulls. It was like a scene out of Alfred Hitchcock's The Birds.
Before I was able to recover myself, we were at another buoy and this time, we got a lobster. Captain Brian pulled a medium sized lobster from the trap and explained how to hold, measure, and identify the sex of the lobster. Unfortunately, it wasn't a keeper and we had to throw is back. At the next stop I got to a haul the trap up, and I'll tell ya, it was hard work. We caught a lobster in this one too! Sadly, it was also too small.
While we didn't catch any lobsters, the entire experience was fun and educational, with a dash of adventure, especially when the birds nearly attacked me. Lucky Catch was a great ending to a classic Maine weekend.
When you visit Portland Maine what do you do? Let me know in the comments!
Loved it? Pin it!