Spending a whole day at a Disney Park or Park Hopping can be overwhelming. I'm frequently asked," What's inside your Disney day bag?" Today I'll be dishing about what I put in my bag when I'm disneybounding my way through the parks. So make sure you have these 10 essentials to make your Disney vacation as magical as possible!
What's in your Disney Day Bag?
The Disney Day Bag
I often get the question, "Should I bring a backpack or fanny pack for Disney?" So, let's talk about bags. There are several ways you can go with on this. Such as: a small backpack, a medium-sized purse, or a Disney fanny pack.For backpacks, I recommend using this zip-up Spaceship Earth backpack. I found this on Etsy and if you're looking for some more adorably unique Disney Bags click here.
If you're more of a purse person, try out this Mickey Mouse cross body purse.No matter what purse you get make sure it's a cross body. If it's small enough on many of Disney's rides you don't even need to take your purse off, which is a plus cause you'll never lose it.
Or if you're a minimalist, like me, use a fanny pack or bum bag. I'm in love with this colorful Mouse Ear fanny pack. Make sure it's big enough to fit everything you need for the day.
Disney Face Mask
If you're headed to the happiest place on Earth you'll need to bring a Disney face mask! Due to COVID-19 all Disney parks require guests to wear masks. To keep up to date on what this policy looks like head over to the Walt Disney World website.
So if you've got to wear one you might as well make it match your Disney style! The amazing Etsy Shop Bobbin Around 4U is making ALL the Disney face masks! From Mickey to Disney Princesses to Toy Story and more, she's got you covered. Get it? Covered? Sorry, super bad joke.
Reusable water bottle
Going into a Disney Park without a water bottle is a rookie move. A bottle of water can run you around $3 and on a hot day you're either going to spend a fortune or get dehydrated. Neither one of these options sound like much fun to me, so bring your small reusable water bottle with you in your Disney day bag.
Camera/Phone
This one is a given because you don't want to miss a moment of Disney magic. One of the things I love about Disney is you never know when something exciting might happen. You'll be walking down Main Street USA and the Dapper Dans are singing or a spontaneous dance party breaks out in Tomorrowland. Be ready for it with your camera in your Disney day bag!
Insider Tip: not much of a photographer? Check out Memory Maker. It lets you download all of the photos Disney photographers take and photos from all your favorite rides.
Put a Battery Pack in your Disney Day Bag
While you're taking all those photos it would be a huge bummer if your phone or camera died just as the fireworks are getting started. I love my Anker charger. It lasts for several charges and has never let me down on a long day at Disney. I plug my phone in whenever I'm not using it to ensure it doesn't die. Next to my phone this is the most important thing in my Disney day bag.
Sunscreen
Nothing would ruin an amazing Disney vacation than forgetting your sunscreen. I'm a big fan of these tiny bottles from Sawyer Products. Not only is the sunscreen rated for UBA and UVB protection the tubes are nice and tiny for reapplication while on the go. Not matter if you're Disney day bag is a small backpack or a fanny pack, it fits perfectly inside.
Pin it for Later!
Mouse Ears
Is any trip to a Disney park complete without mouse ears? I've been going to Disney since the age of 3 and I can't say with 100% certainty the answer is no. You can get them in the park upon arrival or you can check out websites like Etsy to buy a pair of handmade ears inspired by your favorite Disney characters.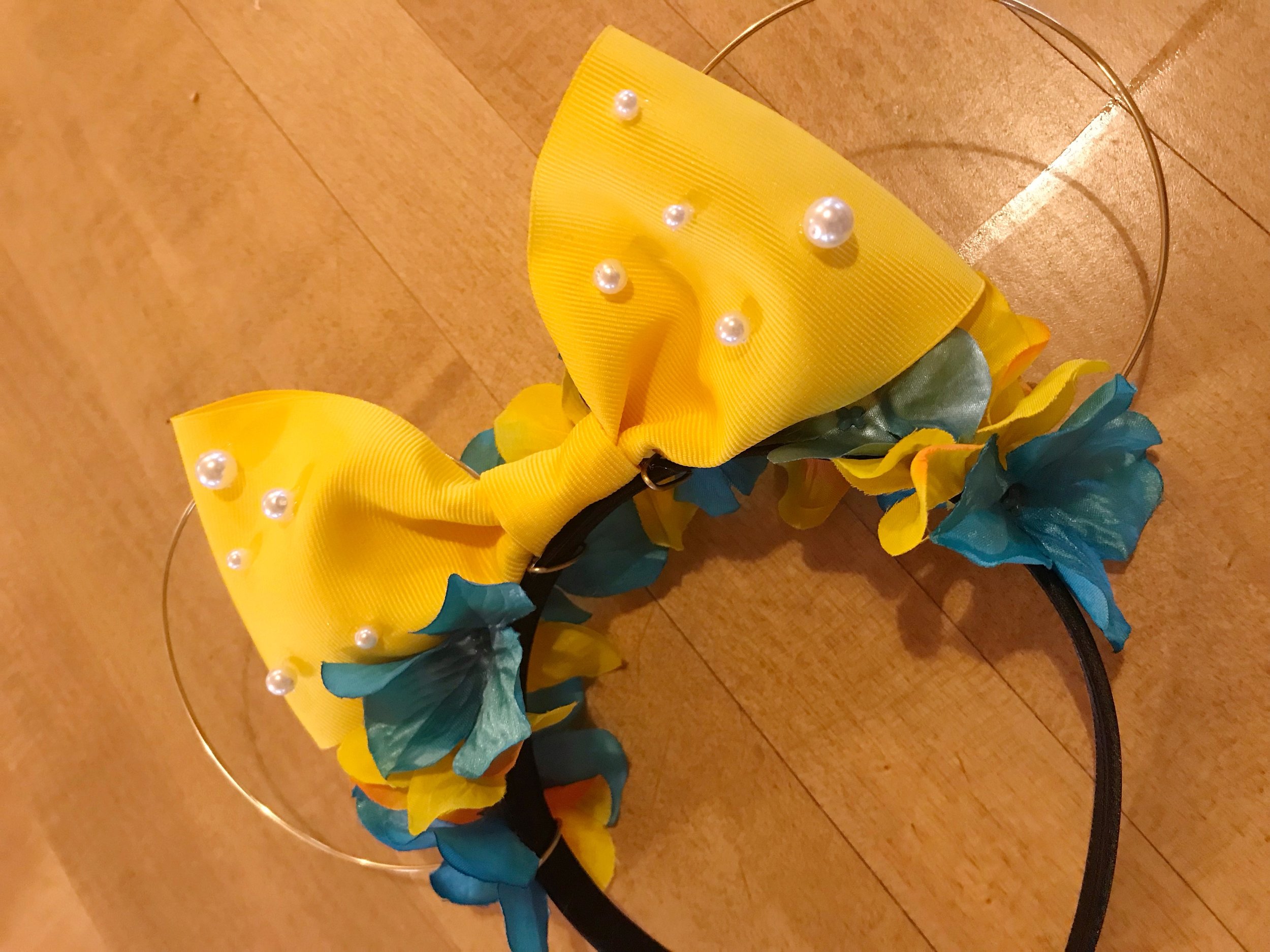 I make floral wire mouse ears in my spare time, like these super cute Flounder Mouse Ears. Check out my shop Small World Emporium for some fun designs. You can even contact me directly to order a custom pair!
Insider Tip: want to really make a statement in the parks? Put together a Disney Bound outfit. Disney Bound is a fun way to dress like your favorite Disney characters.
Put a Reusable Baggie in your Disney Day Bag
I never thought of this until I went on Kali River Rapids one day and got completely soaked. Unfortunately so did my phone. After a day or 2 in some rice my phone was OK, but it was a close call. Because I'm trying to rid my life of single use plastic baggies, I always carry reusable baggies with me in the parks now. It has kept my phone and battery charger safe so many times. Everyone needs a reusable baggie in their Disney day bag.
Sunglasses
Sunglasses should be in every park goers Disney day bag. I've come out of enough dark rides into the bright sunlight and completely regretted not having sunglasses. This is another item you can buy in the parks, and the stores have plenty of cute and fun Mickey Mouse themed pairs. If you're looking to save some cash, bring your own.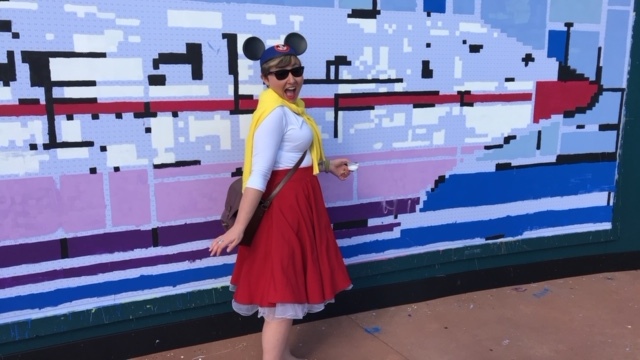 Insider Tip: Download the My Disney Experience App if you're headed to Walt Disney World and the Disneyland App if you're headed to Disneyland and Disney's California Adventure.
Poncho
If you're a frequent visitor to the Disney Parks, you should definitely get one of those amazing yellow Mickey Mouse ponchos. I love when it spontaneously rains at Walt Disney World and the park magically becomes a sea of yellow. However, if you're not into yellow or want to save to splurge on something else, bring a small poncho with you. You can usually find them at the dollar store. They're not the best quality, but they'll keep you dry. Even if the forecast doesn't call for rain, pack one in your Disney day bag anyway, just in case.
Advil or Tylenol
You never know how your body will react to a long day of magic. By the end of the day my feet tend to get sore and those turns on Space Mountain can take a toll on my neck. Having a few Advil or Tylenol on hand can save the day. And remember if you get a headache you're probably dehydrated so drink plenty of water with the Advil or Tylenol.
Insider Tip: Have kids? Using a stroller in the Park? Bring a brightly colored bandana or ribbon to tie on your stroller. In a sea of strollers outside a ride you'll want yours to stand out!
Hand Sanitizer
Last but definitely not least, no Disney day bag should be without hand sanitizer. With that many people chasing magic there are bound to be some not so great germs wandering around. Plus, can you resist walking by a cart selling Mickey Mouse shaped ice cream or a delicious churro? I know I can't. Get the tiny hand sanitizers with a jelly wrap carrier. That way you can attach it to the outside of your bag for easy access.
What else do you put in your Disney Day bag? Let me know in the comments.
Love it? Pin It!