Fanny packs are perfect for any Disney parks trip, but you can't just have any fanny pack. The Disney fanny pack you wear needs to match your personal Disney style or whatever Disneybound outfit you've created. But have no fear I've scoured the internet for you to find the most stylish Disney fanny packs out there.
No matter what fanny pack you end up choosing remember to make sure everything you need inside your Disney day bag will fit inside.
Disney Fanny Packs
Disney Fanny Pack: Mickey Mouse
Because "it all started with a Mouse," so will I. This Mickey Mouse double pocket fanny pack shows everyone's favorite mouse playing a bit of peek-a-boo. The secret second pocket is perfect for keeping cards and cash while the front pocket can hold your phone, camera, sunscreen, and other small objects you need for the park. This is a classic choice for a Disney fanny pack.
It adjusts to fit waist sizes 18-46 inches.
Disney Fanny Pack: Powerline
All my fellow 90's kids are going to LOVE this one! Get ready to stand out like Max with this Powerline fanny pack. This eye-catching bag has two zipper pockets and black glitter (but can also be made without glitter) so you're sure to make a statement – and impress the Roxanne in your life! The adjustable hip belt length of 40″.
Disney Waist Bag: LoungeFly Toy Story
If there's a snake in your boots you should probably round up this super cute LoungeFly Toy Story Woody fanny pack. Made with faux leather and demin this Disney fanny pack will be sure to compliment any Woody Disneybound especially if you're visiting Toy Story Land in Hollywood Studios.
Pin it for Later
Disney Hip Pack: Disney Princesses
Where are my Disney Princesses fans at? This Disney Princess fanny pack is sold on Etsy and features Belle, Jasmine, Tiana, Snow White, Aurora, Cinderella, Rapunzel, Mulan, and Ariel. The abstract design is fun and funky and would go great with modern Disneybound twist on any princess.
This fanny pack fits waist circumferences 39″ to 53.5″.
Animal Kingdom Safari Fanny Pack
Is Kilimanjaro Safaris your favorite ride at Animal Kingdom? If it is you might need this Jambo safari truck fanny pack to hit the Serengeti with! Not only this is absolutely adorable, but it can also be worn as a cross body purse. The belt is one length at 44", but can be swapped out for your own belt so that it works for any body size.
Star Wars Fanny Pack
Do you find yourself headed straight for Galaxies Edge when you're visiting Disenyland or Hollywood Studios? Maybe you're fluent in Wookie? If you are you'll want to throw this Star Wars fanny pack in your suitcase. Heck, wear it to the airport to keep your tickets, cards, and cash close at hand. The back panel is made to protect from wear and tear while exploring the galaxy and is super easy to clean. It also includes a back zipper, an inside zipper pocket, and 3 cardholders.
Disney Fanny Pack: Pin Trading Hip Pack
I love Disney pin trading, but with the lanyards I'm always afraid I'm going to loose a pin because one of the backs fell off on a ride or while walking around the parks. This Pin Trading Disney fanny pack will keep all your pins safe and you can still display them for trading.
This bag has three zippered compartments one in the bag for keeping cards and cash safe, a large middle compartment, and the small front see-through one to display your pins. The pin compartment has a removable insert to attach pins to so you don't ruin the bag. In my opinion, for pin collectors, this is the best fanny pack for Disney.
The waist strap fits up to a 57'" waist. The bag is handmade and at the moment only comes in black.
Disney Waist Bag: Donald Duck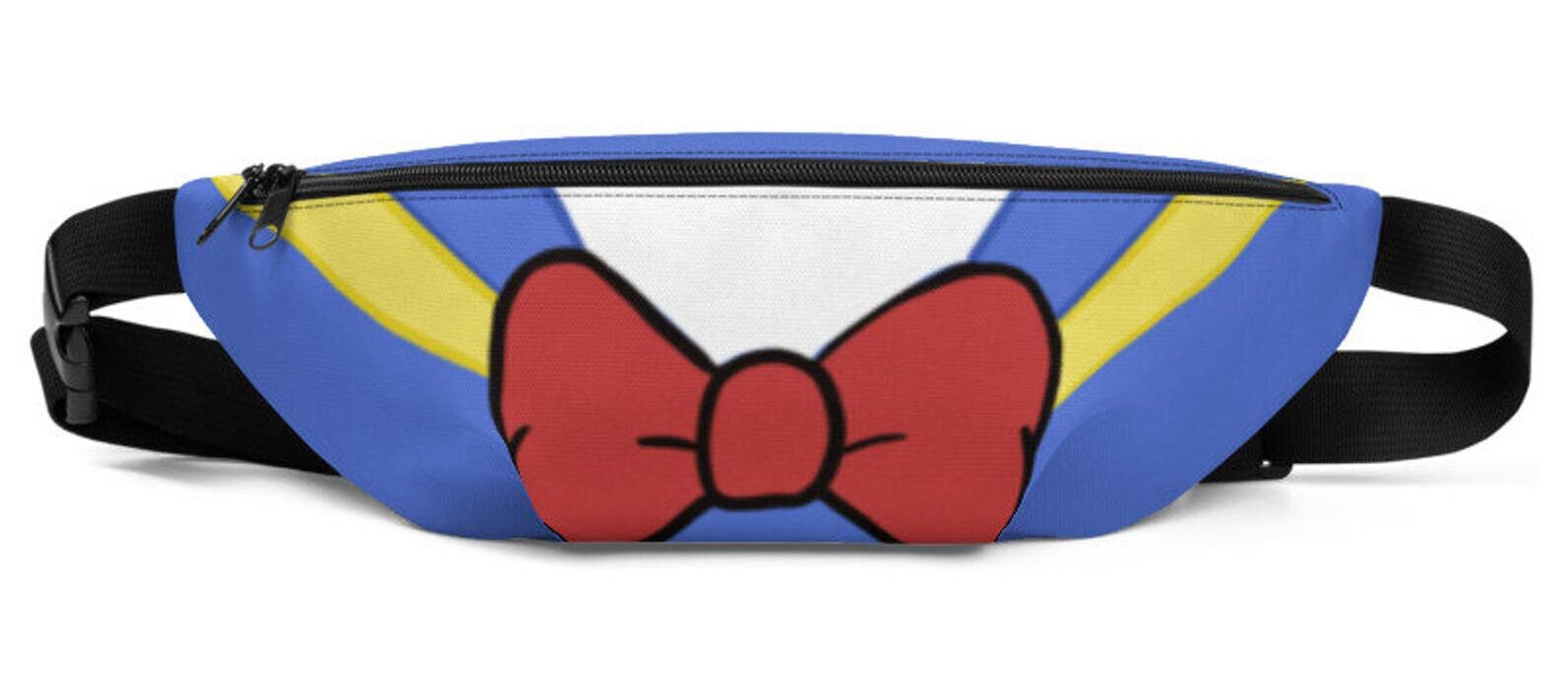 For those of you who follow me, you know Donald Duck is my favorite Disney character. There was no way I wasn't including a Donald fanny pack on this list.
Handmade and sold on Etsy, this Donald Duck Fanny Pack is one of the small waist packs on this list, but is perfect for kids who don't need to carry as much around the parks.
This Donald Duck Disney fanny pack comes in 2 sizes: Small/Medium – 27 ⅝ – 37 ¾ and Medium Large – 35 ⅜ – 52 ⅜
Disney Hip Pack: Spaceship Earth
If you're headed to Epcot to thank the Phoenicians (my personal favorite Disney park, well that and DisneySea) scoot on over to Etsy and get this Spaceship Earth-inspired Fanny Pack.
It looks just like Spaceship Earth and even comes in 2 different styles, including a backpack. (Which is also SUPER cute!) When checking out you can select the inside finish as well either as a galaxy of the oh-so-famous Disney Bubblegum Wall.
The waist strap comes in 2 sizes: small – 30'" and large – 45″.
Do you have a favorite Disney Fanny Pack? Let me know which one in the comments.
Love it? Pin it!