Cusco is one of the top destinations in Peru and a perfect place for your home base during a trip. As much as I love to travel, constantly moving from hotel to hotel can be exhausting. So here are 11 day trips from Cusco to add to your Peru itinerary.
Day trips from Cusco Peru: Take the Train to Machu Picchu
While hiking to Machu Picchu is one of the most popular ways to see this ancient site. For those who have a limited amount of time taking the train from Cusco to Machu Picchu is a great day trip. The trains in and out of Cusco have large windows. They're perfect for seeing the sights along the way to this wonder of the world.
Machu Picchu is one of the most indescribable places I've ever been. The powerful feeling I get when I'm there is nothing like I've ever felt before. Wandering along the paths and buildings at the site brings me back in time. Machu Picchu is full of stories that are waiting to be told.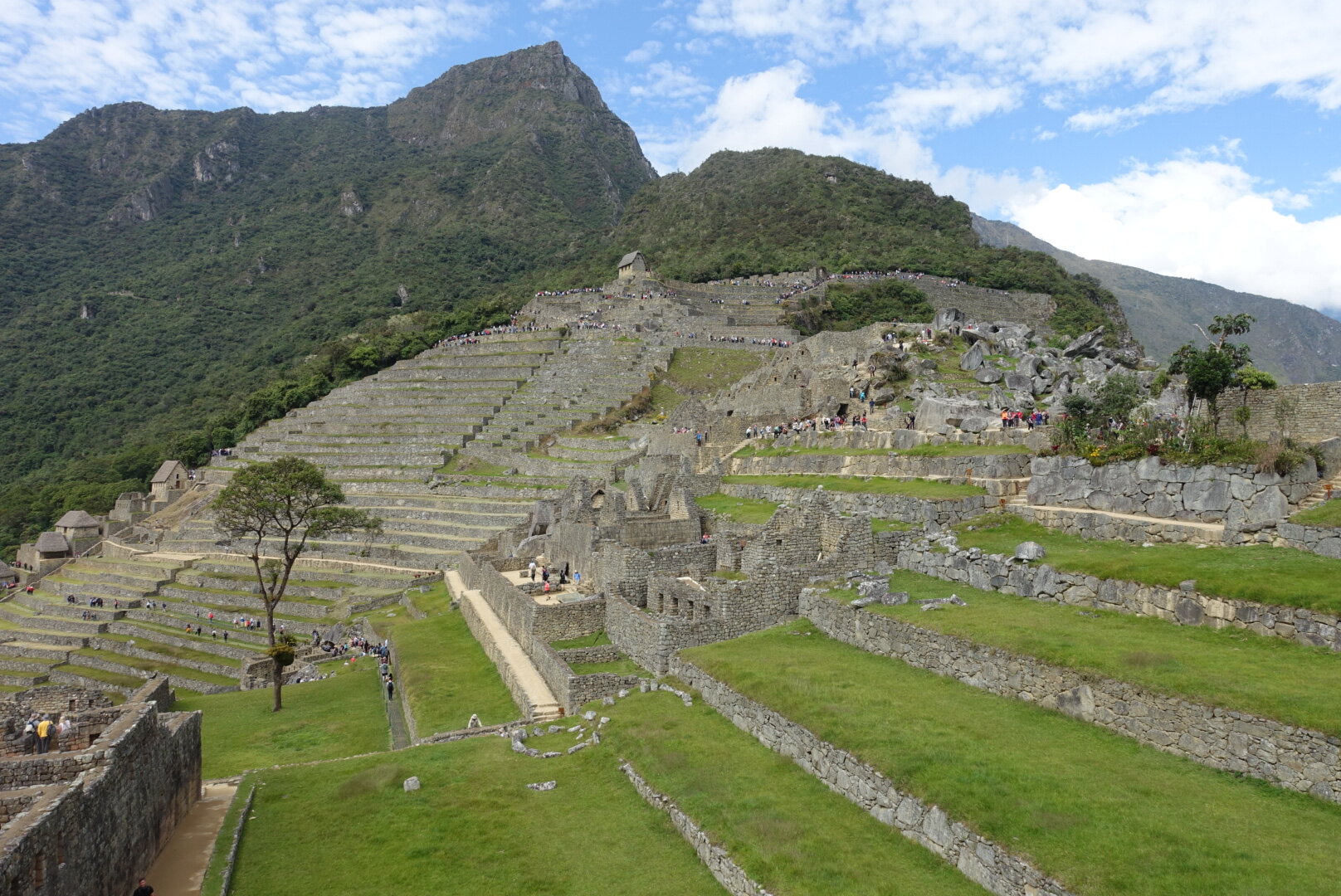 Day Trips from Cusco: Pisac
A day trip to Pisac from Cusco takes a short amount of travel time and a glimpse into real life in a small Peruvian village. Pisac has old world charm with its cobblestone streets and men and women in traditional dress. Take this trip on a Sunday to see the Pisac Sunday Market where families from all over the area make their weekly visit to the town to purchase and sell goods.
The crowning jewel of Pisac are the Pisac Ruins overlooking the village. A visit to the ruins should be done on foot climbing up the stairs from the village. This hike can be challenging so make sure to wear the proper shoes and being plenty of water. For those who don't want to hike you can grab a taxi in town. The ruins are well worth the visit and should not be missed.
Day Trips from Cusco: Rainbow Mountain Cusco
By now most people have heard of Rainbow Mountain, the extremely colorful mountains located in the high Andes of Peru. For this day trip – which can also be done over 2 days for a longer hike – you'll need to leave extremely early (think 3 or 4 am) from Cusco. Many tours, including the one I took, brought us to a small restaurant for breakfast on the way to the mountain, and we went there on the way back for lunch as well.
Located 3 1/2 hours from Cusco, Rainbow Mountain – it's actual name is Vinicunca Mountain – has become a very popular tourist destination. A minibus will take you to the base of the mountain. From there you'll need to hike for about 3 additional hours to reach Rainbow Mountain. Depending on the time of year, and how long it takes you to get to the summit it can be very crowded. The hike to completely worth the amazing views if you have good weather. My best advice is to try and plan your day trip from Cusco on a day when there is high probability for good weather.
Cusco Day Trips: Lares Valley
A day trip to the Lares Valley starts with an early day if you choose to do an organized tour or take an early morning bus. Regardless of how you get there you'll pass through the Sacred Valley, markets, Inca terraces, and plenty of small villages. It's an extremely enjoyable and diverse ride.
The Lares Valley resides at just over 10,600 feet above sea level and the area provides amazing views of the Andes. This remote area is completely off the beaten tourist path with fewer tourists and plenty of locals. You'll be able to see local women weaving in a traditional fashion. I highly recommend purchasing textiles from these women as buying things from the source helps to better support thee local communities.
The big draw to the Lares Valley are the Natural Thermal Baths. There are 4 baths in total ranging from 36 and 44 degrees Celsius. If you've been doing a lot of hiking this is definitely a day trip you should check out.
Pin it for Later!
Cusco Day Tours: Lake Humantay
This remote lake resides along the Salkantay Trek in the high Andes. If you're planning on hiking the Salkantay skip this day trip as you'll see it along the trek. However, if 4 days of hiking doesn't seem to be your style (even though I highly recommend jumping out of your comfort zone.) you can take a day trip to this gorgeous glacier lake in the clouds.
For this day trip from Cusco you'll need to go with a group tour as there isn't any public transportation to this area. You can book in advance or upon arrival to Cusco. Be warned as some companies will take very large groups, so ask about group size before booking.
Once the bus gets to the mountains you will need to do several hours of hiking to get to the lake as high altitude. Make sure you've spent a few days in Cusco before going to Humantay Lake to prevent altitude sickness.
Tours Cusco: Chonta Canyon
This day trip from Cusco is for all the bird and nature lovers out there. If you've ever wanted to see an Andean Condor in its natural habitat you need to take this trip. For many of the tours out there to this destination, stops at 2 Incan archeological sites – Quillarumiyoc and Tarawasi – are very common.
After seeing the archeological sites a hike takes you to an overlook to see the community of Chonta, the Salkantay and Humantay glacier. From there, spotting Andean Condors is possible and the chance to see these amazing creatures in flight is a real treat.
Cusco Day Trips: Moray and Maras via ATV
There are several ways to get to and see Moray and Maras. Bus tours head to these destinations daily. However, I highly recommend getting your adrenaline up by taking an ATV tour to the Moray archeological site and Maras salt mines.
ATVing through the Sacred Valley to Moray and Maras gives riders freedom and adventure. The Maras Salt Mines are nestled in the crook of the Sacred Valley. During my visit I walked along the sides of the salt pools observing local workers. At the site they produce some of the most delicious salt in the world. It is quiet and peaceful with spectacular views.
Moray, on the other hand is chock full of history. These Incan ruins usually aren't packed with tourists providing a break from the mass amounts of people visiting the area. Shaped like a Roman amphitheater, the full purpose of the ruins is unknown. However, the common theory is that it was used for agricultural research.
This day trip is a perfect pairing of adventure and history. You won't regret doing it.
Cusco Day Tours: Ollantaytambo
Ollantaytambo was once the gateway to the Amazonian corner of the Incan Empire. To enter the archeological site make sure you purchase a Cusco Tourist Ticket. The ticket can be used at several archeological sites in and around Cusco. This is one of the most visited sites outside of Cusco and can get crowded during the high tourist season. Just because it's crowded doesn't mean you shouldn miss it.
Getting one of the buses that leaves Cusco early in the morning will help to ensure (however nothing is foolproof) that you have some time at the site before it gets crowded.
Ollantaytambo is one of the larger historical sites in the area and is very well preserved. Make sure you climb all the way to the top where the fortress and temple complex reside. Those who make it to the top will be rewarded with views of the Sacred Valley.
Day Trips from Cusco: Zipline and via Ferrata Sacred Valley Tour
Ya'll know how much I love a good adventure. Set up in the side of a mountain in the Sacred Valley is a zipline and via ferrata. A via ferrata, which means iron way in Italian, is a mountain route with cables, ladders, and fixed anchors like wooden walkways and suspended bridges. Those interested in doing the zipline need to climb the via ferrata. Both provide spectacular views and plenty of adventure for those looking for a fun active day trip. Reservations need to be made in advance to enjoy this day trip from Cusco.
Additionally, if you want to make this day trip into an overnight, this is the location of the famous SkyLodge Adventure Suites. These capsules hanging from the side of a mountain provide complete views of the Sacred Valley. These are usually booked months in advance so reserve them early.
Tours Cusco: Chinchero
Chinchero holds a special place in my heart because it's the village my dear friend Elizabeth grew up in. She owns her own trekking and adventure tour company, Mountain Gods Peru, is a positive force in her community, and is an amazing ambassador for her country. I've visited Chinchero twice and both times I've found the people there to be some of the most loving and welcoming people I've ever met.
Chinchero is famous for their amazing weaving. If you're going to buy textiles while in Peru do it it Chinchero. Everything is made from start to finish in the village from raw wool to finished product. Purchasing textiles in the village ensures that this ancient art and tradition continue on.
In addition there are Incan ruins and a colonial Spanish church are located in the village. It's an amazing place to wander around and explore. You might even find yourself the lucky recipient a Peruvian hospitality.
Cusco Day Tours: Huchuy Qosqo
Also called Little Cusco, Huchuy Qosqo is location north of Cusco and is home to the original administrative and military center of Pisaq. This site in inaccessible by public road and requires all visitors to hike in. Because of this, fewer people visit the site making it less visited than some of the other archeological sites on this list of day trips from Cusco.
I recommend going on a group tour for this day trip from Cusco because of it's remote location and to get the history of this site as there isn't very many signs explaining the site. This trip is worth the travel time and will not disappoint.
What other day trips from cusco have you been on?
Let me know in the comments.
Love it? Pin it!