Sumo wrestling is the national sport of Japan, and an amazing cultural experience for anyone visiting the country. I was so excited to go see sumo when I was in Tokyo and couldn't believe my luck that there was a tournament while I was there. Here are a few things that will help you navigate all things sumo wrestling Tokyo.
Sumo Wrestling Tokyo
Where and When to watch Sumo in Tokyo
In Tokyo you can watch sumo at Ryōgoku Kokugikan, the sumo stadium. To get to the stadium take the JB Chuo-Sobu Line to Ryogoku Station. From the station it's just a 4 minute walk to the stadium. You can't miss it there will be thousands of other people heading in the same direction.
Just over 11,000 people can fit inside Ryōgoku Kokugikan for the tournaments. For the evening matches it gets packed!
There are 3 tournaments each year in Tokyo. They take place in every January, May, and September. You can see the exact dates on the official calendar, as well as the dates and locations of other tournaments in throughout Japan.
Pin it for Later!
Getting Sumo tickets in Tokyo
Getting tickets to a sumo tournament can be a chllanege, so don't be surprised if you have a difficult time getting them. They usually sell out well in advance of the tournament with floor seats selling out first. The best place to purchase tickets is the official website: http://sumo.pia.jp/en/ Tickets go on sale about a month in advance, so make sure you check the calendar to see when that is happening.
If you are unable to get tickets via the official website, resale websites can work too. We were lucky enough to get our tickets from viagogo.com about a week before we wanted to go. While we had a good experience not all resale sites work, so please use caution when purchasing tickets.
Keep in mind that weekend tickets are the most sought after, and will sell first no matter what website you get them from.
Floor Seats or Chair Seats?
This is the BIG question; Do you want floor seats that are close to the action or a chair that are further away?
Which seats you want are a personal decision. Floor seats can get your pretty close to the ring, but they are more expensive than the chair seats on the second level. The floor seats are exactly that; floor seats. You get a red cushion to sit on, so if you don't think you can sit cross-legged for several hours, than you should get the chair seats.
Chair seats reside on the second floor and are a bit more affordable. However, if you are on the taller side take note that the seats do not have much leg room and you may be squished. Some seats – the ones closer to the ring – have small tables the fold out so you can place your snack on it.
We sat in chair seats, because we got our tickets last minute and that's all the was left, and we were surrounded by both Japanese people and travelers. It was great being immersed in this experience with so many different kinds of people!
Typical Sumo Tournament Schedule
Below you'll find a typical sumo tournament schedule. While they can differ slightly these will be the averages times for each event:
8:00 AM: The stadium opens.
8:30 AM: The lowest division matches begin.
2:20 PM: Juryo entrance ceremony.
2:40 PM: Juryo matches begin.
3:45 PM: Makuuchi ring ceremony.
4:15 PM: Makuuchi matches begin.
6:00 PM: Competition ends, Bow-twirling ceremony.
When I attended the sumo tournament in Tokyo we arrived around 2 PM to see the end of the Juryo matches. This way we could get a feel for what we were seeing and be in our seats of the Makuuchi ring ceremony.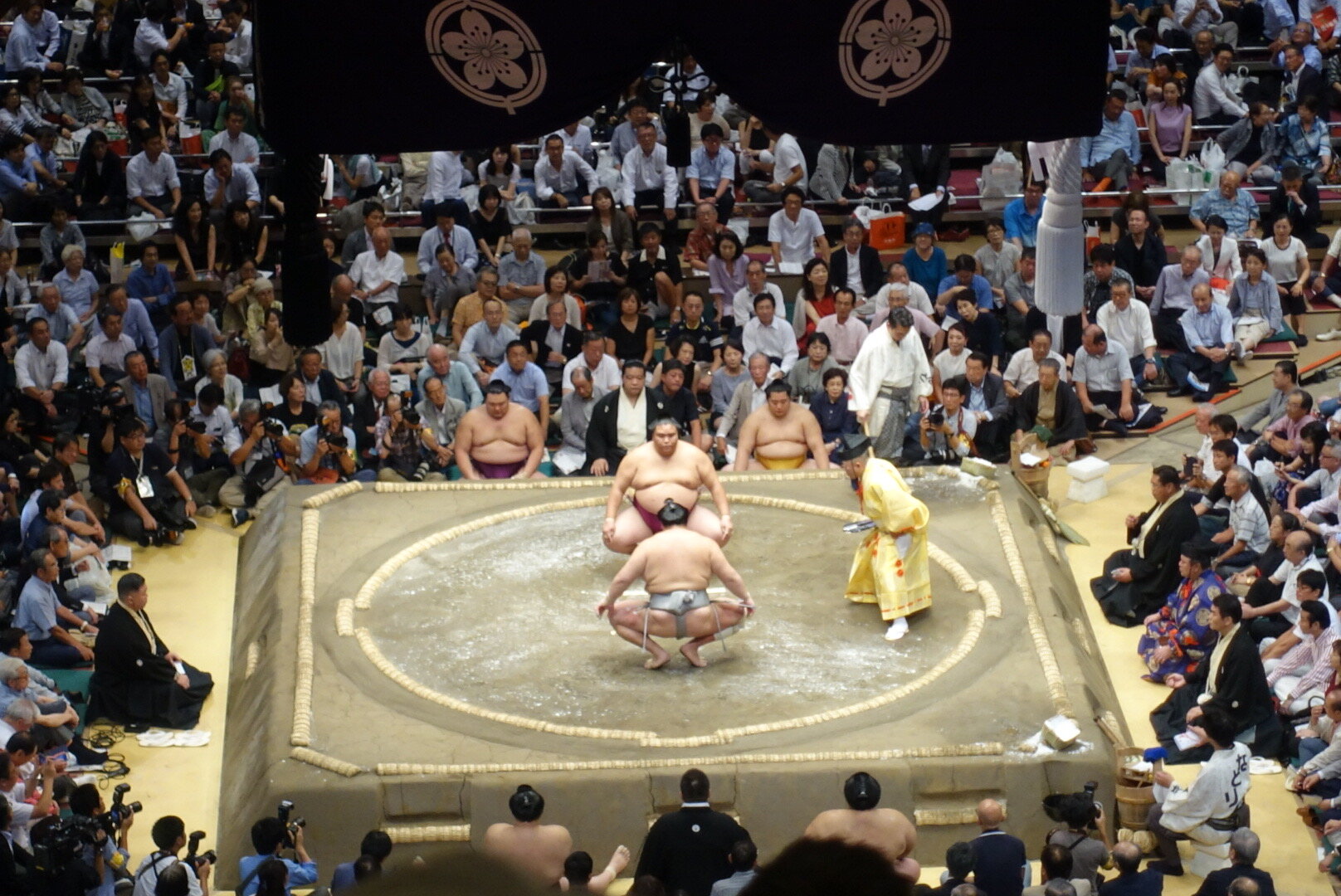 Morning Sumo Practice at a Sumo Stable
No able to schedule a trip to Tokyo during a tournament, but still, want to experience sumo? You can schedule a tour to an early morning sumo practice at a sumo stable. A stable is where the wrestlers live and train. With most tours, you'll get to experience the practice and with some, you'll get to meet the athletes afterward.
Have you experienced sumo wrestling Tokyo. how was it? Let me know in the comments!
Love it? Pin It!