What to do in Tokyo is a question so many people ask when planning a trip to Japan. There are so many things to do in Tokyo that it can be overwhelming. I know because I did the same thing recently, but I can tell you it's not as scary as you think it's going to be. Yes, the city is HUGE, but once you a find a few things you know you want to see it will be easy to find other activities and things to see close by.
Here are some of my favorite activities to do and things to see in Tokyo when it's not Cherry Blossom season.
What to do in Tokyo
What to do in Tokyo: Watch Sumo
A few times a year there are sumo tournaments in Tokyo at the Ryogoku Kokugikan sumo arena. During my first trip to Japan I was lucky enough to be in Tokyo during a tournament. Through the help of a friend and ticket resale website, www.viagogo.com, myself and 3 of my friends were able to go see our first sumo match.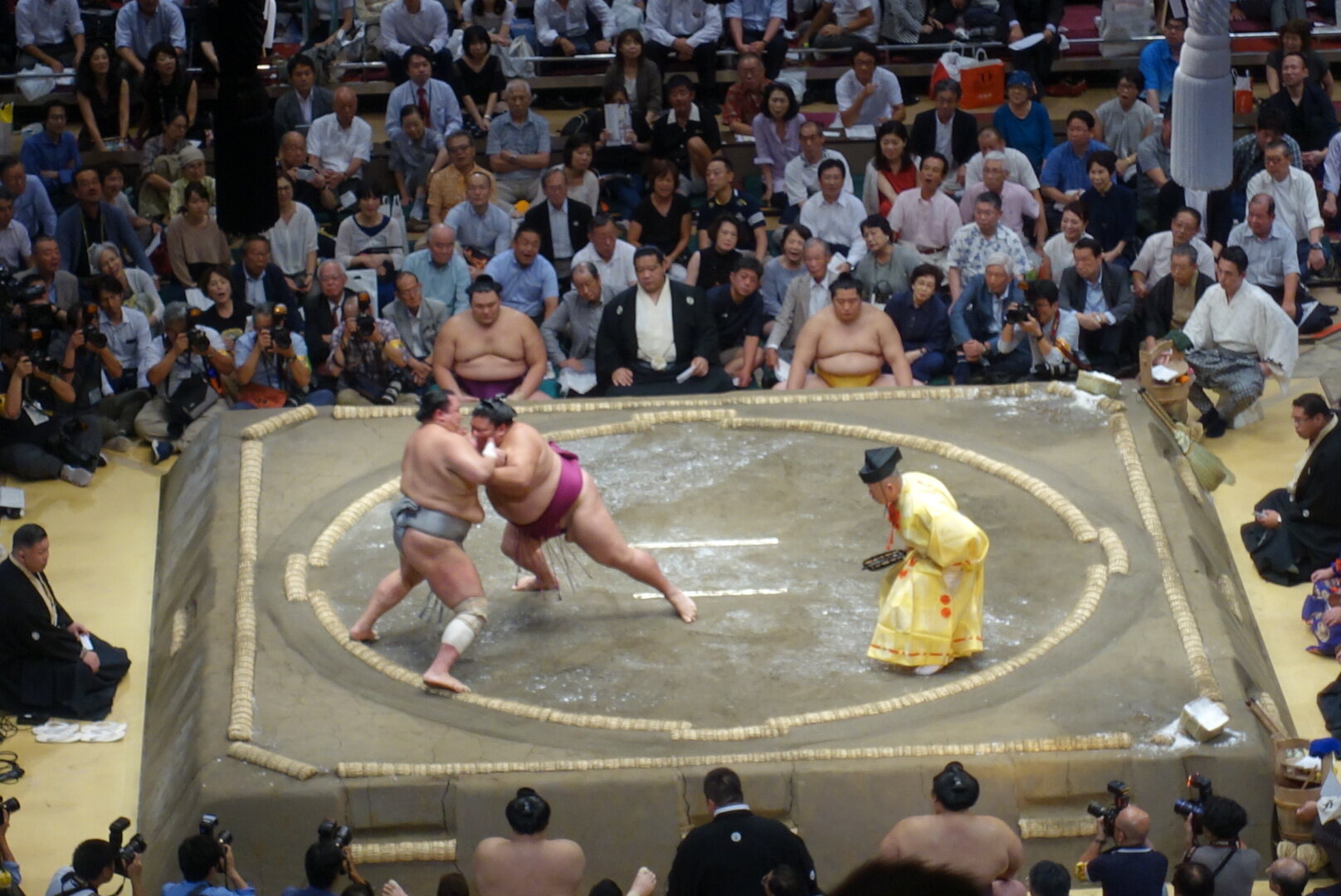 Going to watch a sumo tournament is one of the top things to do in Tokyo. When you first arrive you have no idea whats going on, but after a few matches you'll get the hang of what's suppose to happen. I will share with you that we checked out the sumo page on Japanistry to give us a little history and learn about the rules.
If you're in Tokyo during a sumo tournament you can still learn about and experience sumo by visiting a sumo stable. Sumo stables are the living and training facilities for sumo wrestlers. Each morning, and I'm talking early morning, the wrestlers practice and some stables allow visitors to come and observe. You can contact stables individually or join a tour that brings visitors to stables. You can join one of these sumo stable tours via viator.
For more information on how to get tickets, where to go, and what do to at a Sumo match check out my full blog post on Sumo in Tokyo.
Best Place to Stay in Tokyo: A Capsule Hotel
Capsule Hotels are a quintessential Japanese experience and with so many options in Tokyo why not stay in a capsule hotel while you're there. A capsule hotel doesn't provide it's guests with a room, but a small capsule to sleep in for the night. Some of them have fun themes like Book and Bed (with locations all over Tokyo) which is a perfect place to stay if you love books and reading and Nine Hours (which also has locations throughout Tokyo) which is extremely futuristic!
Most capsule hotels provide pajamas to sleep in and bathing products for showers like shampoo, conditioner, and soap. Be warned, not all capsule hotels are created equal, so do your research. Make sure the one you book provides lockers as they were originally designed for businessmen traveling light, and some do not have that service.
If you're looking for a good themed hotel in Tokyo you won't be disappointed either. There are plenty to choose from that will wow you!
Places to Visit in Tokyo: Tsukiji Fish Market
If you're an early riser than visiting the Tsukiji Fish Market is a must do in Tokyo. While the original wholesale Tsukiji Fish Market, also know as the inner market, has moved to a new location (as of October 2018 – which I didn't know when I visited.) and is now known as the Toyosu Market, the outer market is still worth visiting.
The outer market is full stalls selling fresh and processed seafood. Along the small lanes throughout the outer market there are also plenty of places to sit and eat. If you're into sushi this is one of the best places to get super fresh sushi in Tokyo.
Take your time walking around and taste some of the freshly cooked food. If you're looking for a food tour in Tokyo because you want to find some of the best places to eat and drink in the Tsukiji Outer Market check out this amazing tour with Get Your Guide.
Update: TeamLab Borderless is permanently closed.
If you're looking to escape the busy streets of Tokyo for a fantasy world full of lights and sound, head to TeamLab Borderless. This immersive art experience will make you feel like you're in a dream world. Each room is completely different from the next with projections on the wall and others on the floor that are interactive.
One of the rooms gives visitors coloring sheets they decorate with sea creatures on them. Then, once colored in, you scan them and they appear on the wall, swimming through the ocean scene projected there. There are places to climb, jump, and slide inside TeamLab Borderless.
One of my favorite parts of the experience is the tea house inside TeamLab Borderless, En Tea House. While the menu isn't huge, it's not the food and tea you come for, it's the way your tea and food interact with the table. I won't give anything away, but it has to do with blooming flowers.
TeamLab is an amazing art exhibit for all ages that should not be missing while in Tokyo. Get your TeamLab Borderless entry ticket here.
Cheap Things to do in Tokyo: Visit Sensō-ji
While Sensō-ji is one of Tokyo's busiest temples, it should not be missed. Some people will say that it is overrated. I think you should make up your own mind when you visit. One of the oldest Buddhist Temples in Tokyo, it was completed in 645 for goddess of Kannon, the goddess of Mercy.
To get to the temple visitors must pass through the outer gate, but before they do they need to walk through a shopping street called Nakamise. While walking through the shopping street make sure to stop and try some of the traditional Japanese snacks for sale. I recommend getting some dango (rice dumplings served on a stick with a sweet topping), castella (sponge cake), and anything else that looks tasty!
Sensō-ji is famed for it's Hozomon Gate and 5 story pagoda. Give yourself plenty of time here to walk around and explore every inch of this gorgeous temple.
What to do in Tokyo: DisneySea
Get your Disney fix at the only Disney park of it's kind in the world, DisneySea! You may or may not know, but I'm a Disney Fanatic. It's a goal of mine to visit every Disney park in the world. DisneySea is the first park outside of the US I visited and I'm completely blown away by how amazing it was.
The park has some of my favorite rides; Soaring, The Tower of Terror, Toy Story Mania, and Indiana Jones. As well as some great rides and attractions that are unique to DisneySea. My personal favorite was the 2-story Aladdin themed carousel, I mean I did get to ride the genie, which was super cool.
The entire park focuses on the sea (duh, it's in the name!) They have an area with a 20,000 leagues under the sea ride, you can visit Cape Cod, and ride a gondola like you're cruising down a Venice canal. There is even a big pirate ship on a lagoon, which Mount Prometheus looming over it all.
Whenever I go to a Disney park I DisneyBound, which is dressing like a Disney character in regular clothes. At the Tokyo Disney parks everyone dresses up in matching outfits. The monorail ride in there were 5 friends wearing black pants and suspenders with different brightly colored button up shirts. I saw a couple both dressed as Duffy the Tokyo Disney Bear. I love that no matter where in the world you go to a Disney park those of us that love them go all out when we visit!
To help you plan your visit check out my Ultimate Guide to DisneySea.
You can get your DisneySea or Disneyland Tokyo ticket here from Get Your Guide.
Tokyo Places to Visit: Vintage Shopping in Setagaya
I'm usually not much for shopping, but I really loved all the vintage clothing stores in Tokyo. There are many places to find them, but I adored the stores in Setagaya. It's a bit of a train ride out of the city center, but it's totally worth the ride. The prices are cheaper than the places I found in the heart of Tokyo, and they have a huge selection. With stores a plenty you'll find some real gems when you put some time and effort into it. I was lucky to have a few friends with me that helped me find an amazing outfit!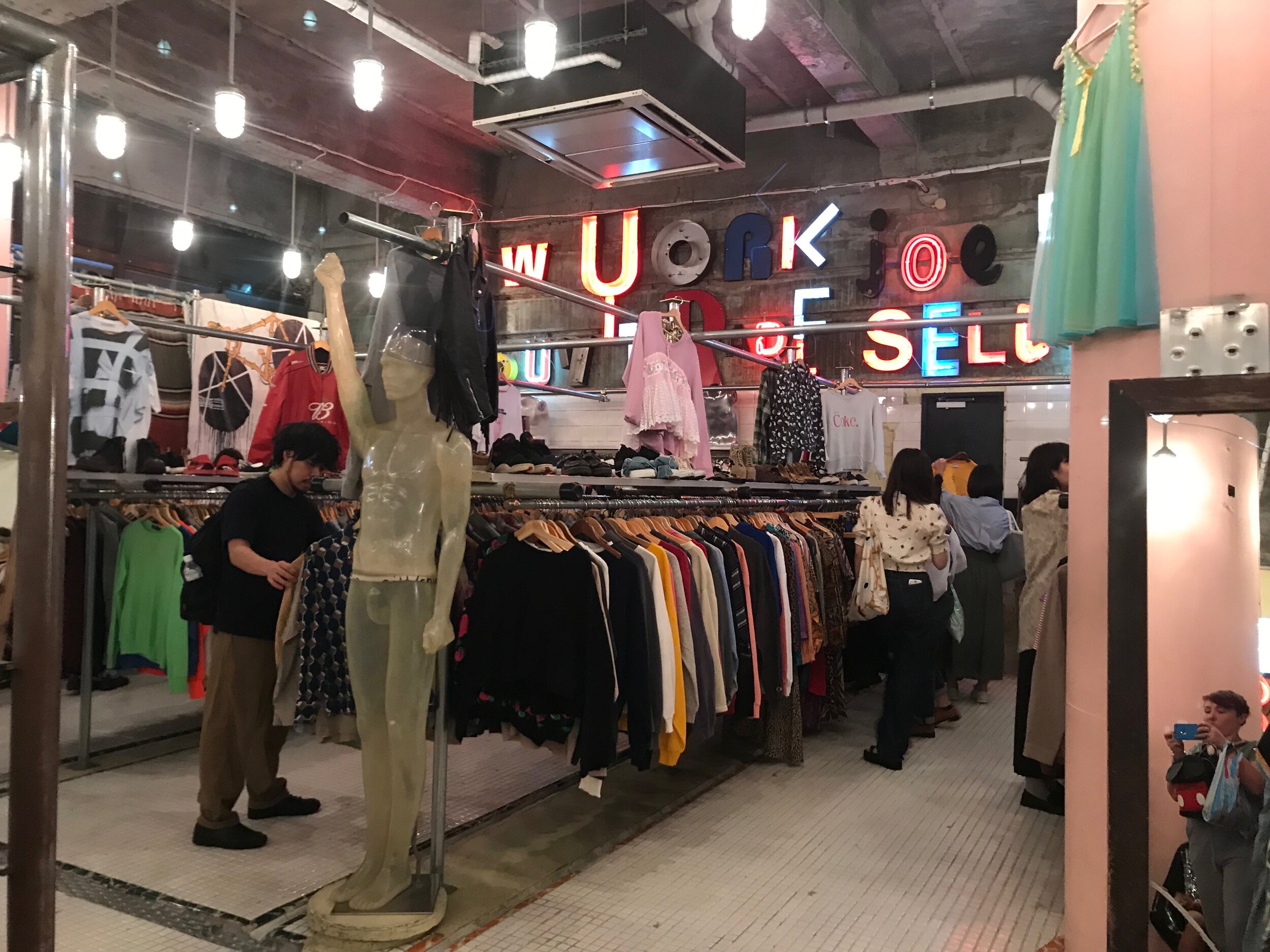 Cheap Things to do in Tokyo: Karaoke
Going to Tokyo and not doing karake should be a crime. Japan is the birthplace of karaoke, but it is completely different than any other place I've ever done it. When you go to a karaoke place, you get your very own room just for you and your friends! How awesome is that?
I did a trip with WHOA Travel (the company I work for check out the trips I'm leading for them and join me on a trip!) and the first night we did karaoke together. We were only going to do it for an hour and ended up doing nearly 4. I didn't get to my hotel room until 4 in the morning. Now that was a great night! I hope you go to Tokyo and have a night just as god as I did.
Explore Takeshita dori
Takeshita dori or Takeshita street is the home of Kawaii Culture, and the place that made me first fall in love with Japan. All things cute, young, and fashionable live here. I could spend an entire day on this street popping in and out of shops and restaurants.
When you go make sure to grab a crepe and some rain grilled cheese. The next time I go I'll be renting a Kawaii outfit to wear for the day and heading down to the Puri-Kura photo booths to take some adorable pics! I hope you enjoy exploring Takeshita street as much as I do.
If you want a guided tour is Takeshita Street check out this one on Get Your Guide.
Visit Gōtokuji the Cat Temple
Do you love cats? Me either, but I did love the Gōtokuji Cat Temple! This Buddhist temple is known as the birthplace of the maneki-neko (beckoning cat) and Japanese good luck charm.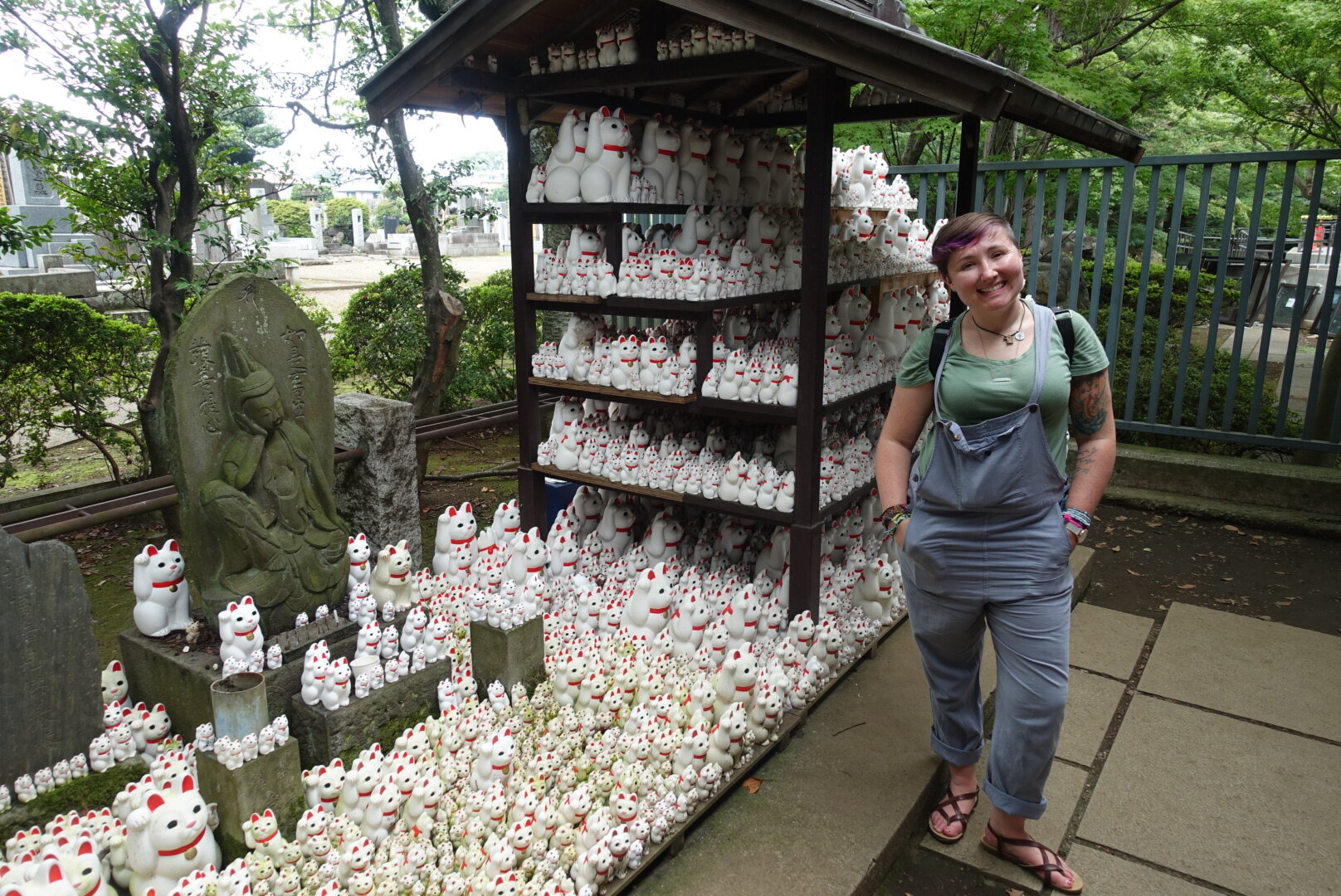 According to legend, a cat being cared for by a priest at the Gōtokuji Temple led a lord to safety during a terrible storm. From within the temple the cat beckoned the lord and his servants with a wave which is why all maneki-neko statues have one raised paw.
I didn't know what to expect when I visited and was surprised at how many luck cats I found there, and how peaceful the temple was. There were so few people there compared to many of Tokyo's other temples.
Love it? Pin it!