TeamLab Borderless Tokyo is an immersive art experience like no other. Entering TeamLab Borderless is like entering another realm. The best way to describe TeamLab Borderless is a combination of an art museum, music, gorgeous lights, and in some places an interactive science museum.
TeamLab Borderless Tokyo
About TeamLab Borderless in Tokyo?
TeamLab has a few museums like this including TeamLab Planets, which is also in Tokyo, but what IS TeamLab? TeamLab is a group of graphic designers, artists, engineers, programmers, animators, and architects. Collectively that work together to create interactive works of art.
Many of the rooms inside the museum are interactive from coloring your own sea creature and scanning it so it appears to be swimming on the walls to videos of water streaming across the floor that appears to splash when you step in it.
Read More: Things to do in Harajuku
How do I get to TeamLab Borderless in Tokyo?
Getting to TeamLab Borderless is really easy. Located in the MORI building in Odaiba. DO NOT get this confused with the Mori Art Museum in Roppongi.
Taking the train in the best way to get to TeamLab Borderless. Take the Yurikamome Line and get off at Aomi Station. From there it's a short 3 minute walk.
Upon exiting Aomi Station walk towards the giant ferris wheel and the Palette Town building. You'll walk through the Toyota City Showcase at Mega Web and walk underneath the ferris wheel to the entrance.
Another option is to take the bus to Tokyo Teleport Station.
What are the hours at TeamLab Borderless?
The operating hours of TeamLab Borderless are:
Weekdays 10:00 – 19:00
Sun, Sat & Holiday 10:00 – 21:00
From December 21st to January 5th due to special extension period, 10:00-21:00
Please note that the last entry into TeamLab Borderless is 1 hour before closing time. For those planning on going to the En Tea House, it opens an hour after the museum and the last order is 30 minutes before closing.
TeamLab Borderless is closed for maintenance on:
2nd & 4th Tuesdays of each month
November 7th and 26th
December 10th
January 14th and 21st
Where do I buy tickets for TeamLab Borderless?
I first learned about TeamLab Borderless on a facebook ad for Get Your Guide. When we arrived in Tokyo and decided to add it to our itinerary I ended up getting my tickets from Get Your Guide via their app. It only took a few minutes. I get tickets and do tour through their app all the time no matter where I travel to. When I purchased my ticket in September of 2019 the cost was approximately $30 USD.
Pin it for Later
En Tea House inside TeamLab Borderless
In addition to fully exploring all the rooms inside the museum make sure you bring a few extra yen to experience the En Tea House. While the menu is limited you're not there for the tea and snacks, it's the interactive food experience.
Each cup of tea or bowl of matcha ice cream interacts with the table. Upon placing the cup on the table a flower begins to bloom. When you pick up the cup the petals scatter all over the surface like they were picked up by the wind.
Depending on what you order a different flower will bloom and scatter itself all around you. Make sure you experience the En Tea House during your visit.
Tips for visiting TeamLab Borderless
Go Early
Being on time for things and most of the time early is a way of life in Japan. Make sure you get to TeamLab Borderless early as there is often a line at first, but once everyone is in it isn't too crowded earlier in the day. The longer it's open the more people are inside and it can get crazy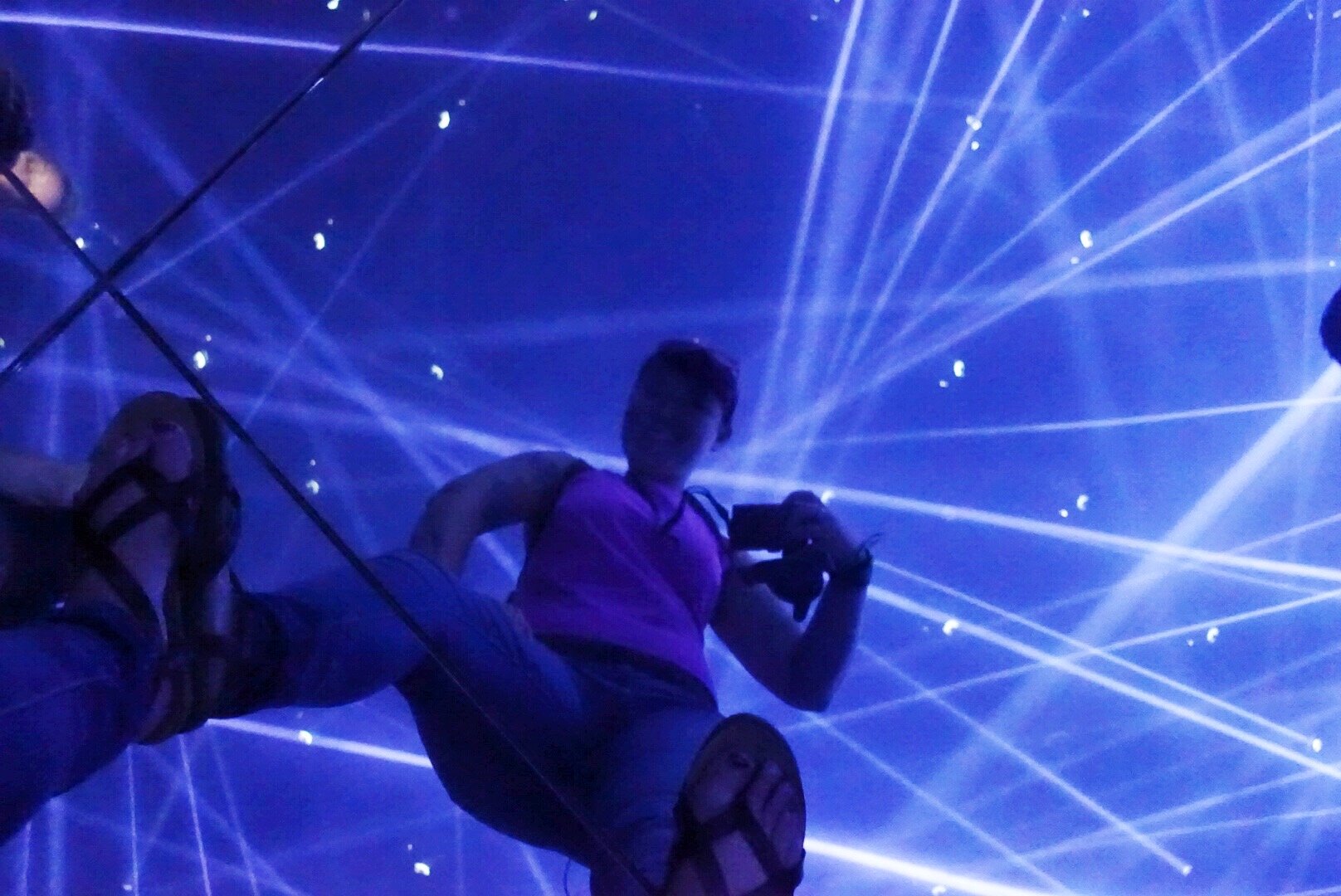 Head to the lamp room first
During my visit, I didn't get to go in the lamp room because by the time we made our way over there the wait to get inside was about an hour. While I wanted to go inside seeing it and a photo was not worth waiting an hour to me. If I ever go back I'll head to the lamp room first so I don't have to wait. It's a little difficult to find, so just ask someone that works there and they'll be more than happy to help you find it.
View this post on Instagram
Bring a portable phone charger
I took so many fun photos and videos while I was at TeamLab Borderless that I nearly ran out of power. Luckily I always bring my portable phone charger with me whenever I travel as it is one of my must have travel essentials. I always have my Anker portable charger with me. While it's on the larger side it holds at least 5 full charges on my iPhone and even more when it's in airplane mode. It helps me stay connected when I'm on the move and it saved me at TeamLab Borderless.
Get the TeamLab Borderless App
If you're like me and want to know more about the artwork make sure you download the TeamLab app which is available on both iPhone and Android.
The app helps visitors learn more about the artwork in each room. Plus in Crystal World, swipe up on a character, and the world contained inside of it will be released into the room.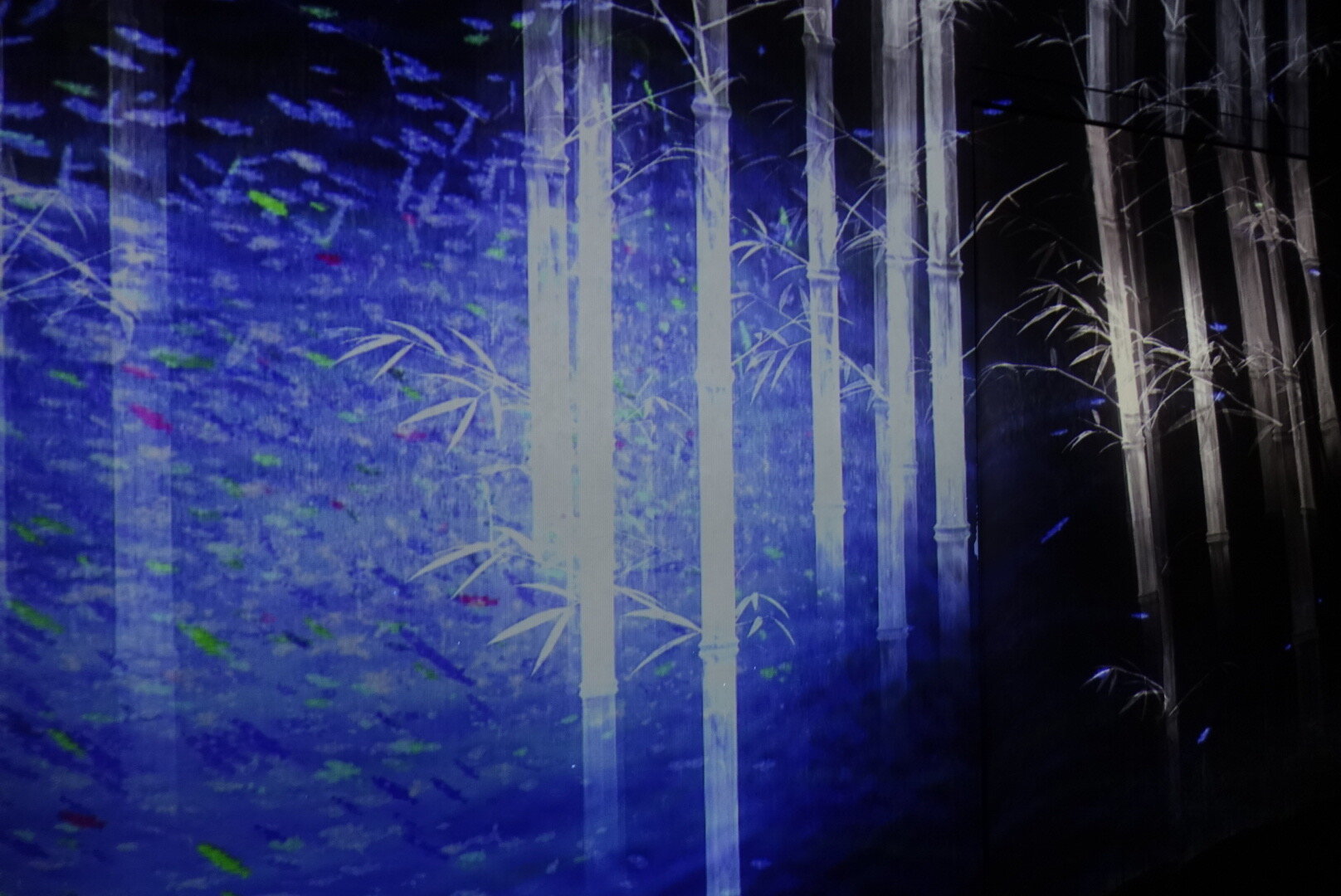 Things to leave at home during your visit to TeamLab Borderless
To create a more interactive experience for everyone there are certain things that are not allowed inside TeamLab Borderless. There are lockers located just outside the entrance for you to store large bags, lock your umbrellas, and park baby strollers.
Here is a full list of things that are not allowed inside TeamLab Borderless:
Tripods
Baby Strollers
Large Bags or other items 50 centimeters or longer
Umbrellas
Hazardous or smelly items
Fresh flowers
Drinks without caps and covers

Any items deemed hazardous by the staff
My friends and I spent over 2 hours inside and I could and have been there even longer. Make sure you plan enough time in your schedule to fully explore the entire museum.
What was your favorite room at TeamLab Borderless? Let me know in the comments.
Love it? Pin it!