Harajuku is my favorite neighborhood in Tokyo. It's like a feast for the eyes around every turn. There is so much to do and see you'll need a couple of days to fully explore the area. Here is a list of my favorite things to do in Harajuku.
Things to do in Harajuku
Harajuku Shopping: Shop at Daiso
When it comes to Harajuku shopping, Daiso is a store that has it all. Japan's largest chain of 100 Yen store (with over 3,00 stores) and has a location on Takeshita Dori in Harajuku.
The Harajuku location is 3 floors of pretty much anything you might need. They have snacks, beauty products, school supplies, and toys. Even is you're not into shopping for the sake of shopping like me, go inside anyway. It's an experience you can only have in Japan, mainly because 100 Yen stores don't exist in other countries. But seriously, go in and check it out.
Things to do in Harajuku: Visit Meiji Shrine
The Meiji Shrine is dedicated to the first Emperor of modern Japan Emperor Meiji and his consort, Empress Shoken. While the original shrine was destroyed during World War II the new structure was rebuilt in it's image. Located just a 10 minute walk from Harajuku station it is easy to get to and one of the best things to do in Harajuku when it comes to traditional Japanese culture.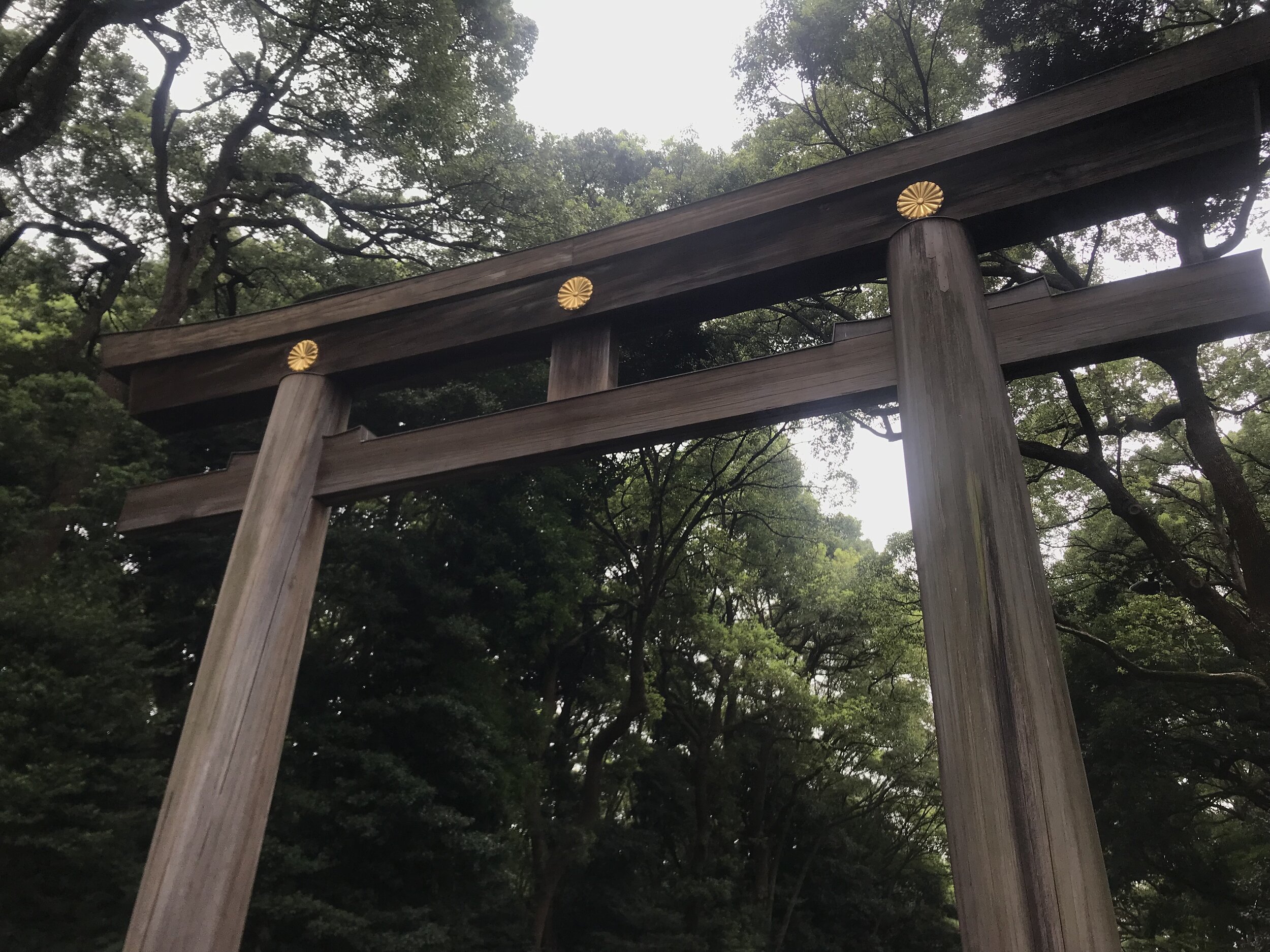 This Shinto Shrine is extremely peaceful and most of the grounds are free to enter. For those wanting to visit the inner garden, and you should, there is a small fee. If you're their in June the inner garden is a must see for all the irises that bloom there.
During the Japanese New Year from January 1st through the 3rd the Meiji Shrine is very busy with as many as 3 million people visiting to pray.
What to do in Harajuku: Takeshita dori
Takeshita dori is my favorite place in all of Harajuku, go ahead and judge me for it, but I love it. In the 90's it was the heart of Harajuku style street fashion, and while the street fashion can still be seen it's not as prominent since more box stores have com in.
If you have time, rent a Harajuku street fashion outfit to wear for the day. There are a couple of places to get them and a base rental can be as little as 1,000 Yen (give or take $10 USD) Doing this, in my opinion, is how Takeshita dori was meant to be experienced.
For those of you who hate crowds, this 400 meter long street can get pretty crazy. Avoid it on the weekends as that is when the most people come here.
Things to do in Harajuku: Experience Purikura
The ultimate teenager experience in Harajuku can be found on Takeshita dori in a very large basement. Don't worry, it's not as creepy as I just made that sound. Just look for the bright pink sign that says Purikura. Translated Purikura means print club, and it's a big photo booth where you take photos solo or with friends, edit them, and get mini printed stickers.
Japanese teenage girls love Purikura! When I was there I saw girls with stacks of 30 or more photo prints. So if you have a teenage girl you should probably bring her to experience it.
Here are a few tips to help you have more fun:
Make sure you have plenty of time. I only had about 15 minutes before I had to leave and didn't have enough time to do all the editing I wanted.
If you can't figure out the machine, like me, ask one of the teenagers to help. They know what they're doing.
Add filters, they're automatic like Snapchat filters.
Do post photo and filter edits like hearts and photo add ons.
See Tokyu Plaza
You can't miss the amazing entrance to Tokyu Plaze as it'a a set of escalators going through an amazingly gorgeous mirror cave. Don't worry it's not dark or scary, it's awesome. And if you just go up the escalator for the sweet photo I won't judge you.
Inside you'll find a HUGE shopping center with clothing of all styles and price ranges. Make sure you try some on, it's so much fun, and you can make you own 90's shopping movie montage.
In the basement you'll find a food paradise that can't be missed. This will not be your typical mall food court either. You'll find food of all kinds, hot and cold, entrees, snacks, and desserts. You will definitely be missing out if you don't check out this place.
Explore the Leforest Department Store
Leforest Department store was the first place I went in Harajuku, and MIND. BLOWN! It's not like any other deparmtent store I've ever been in. It's basically tons of tiny stores all in one place, so it's basically a mall where the stores are all connected. I may have tried on a ton of clothes and wanted to buy them all. I didn't end up buying anything cause I didn't have extra space in my suitcase.
Eat a Crepe
Looking for a yummy snack? Want that snack to be adorably instagrammable? Then it's time for a crepe from Santa Monica Crepes.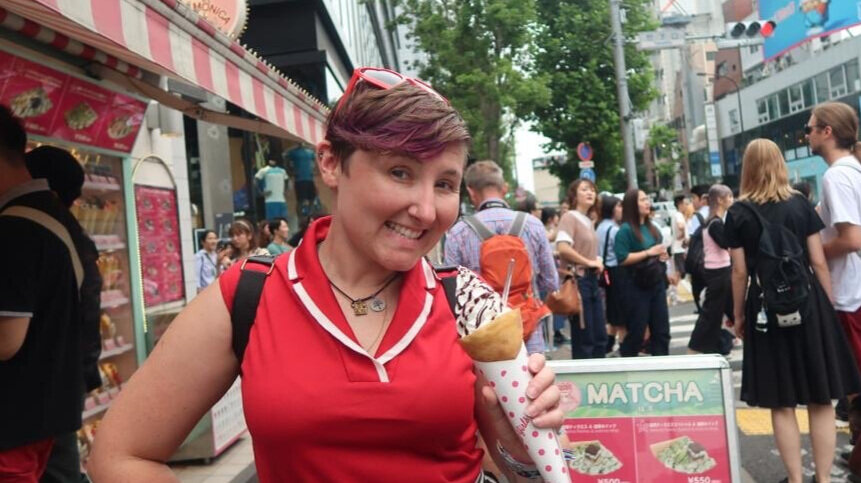 There are so many places to get crepes in Harajuku, but head to Santa Monica Crepes for my favorites. No matter where you get them you're pretty big so I suggest sharing with a friend.
I got one with chocolate (because chocolate makes my life better) and strawberries. However, I did see someone with a matcha crepe and lets just say the next time I go back that's what I'll be getting.
Hunt for Designer Clothes
Hidden in the back streets of Harajuku are stores where you can hunt for vintage designer clothes. From sparkly to down right weird they had it all. If you're interested in exploring make sure you end up at my favorite store Rag Tag.
While my wallet was in no way big enough to purchase anything and the one thing I tried on didn't fit my bum, it was so much fun to look through all the crazy fashion. Since majority of the cloths in the store I would wear if people weren't so judgy I feel like I need to move to Tokyo just so I can get more into fashion. Do you ever feel like that about the clothing in a specific destination? I didn't until I arrived in Japan.
What else should I add to this list? Let me know in the comments.
Love it? Pin It!