I've hiked the Salkantay Trek three times now and will be heading back again soon. This trek has stolen my heart. From the glaciers to the jungle, everything about this hike is perfection. National Geographic even named it the best way to hike to Machu Picchu, and they don't mess around. For anyone looking to get out of their comfort zone and be fully immersed in the wilds of Peru this is the hike for you. It's a happy medium between the Inca trail and Colca Canyon. I hope my Salkantay Trek photos do it justice and that it will inspire you to lace up you hiking boots and get out on this trail.
And if you're not into hiking there is plenty adventure to be found between Cusco and Machu Picchu
On the Trail
After a long early morning bus ride (we left before the sun came up!) to the trail head we finally arrived! We had an amazing lunch and got prepped and ready for the hike. The start of the trail is grassy and teaming with horses and mules. I wanted to take this one home with me or at least out on the adventure, but he had his own plans.
Llama or Alpaca
How do you tell the difference between a llama and an alpaca? Apparently, llamas walk all sexy. We saw these 3 lovely ladies early in the day. Unfortunately, we didn't see any more until we got to Machu Pichhu.
Switchbacks Galore
Yup, we hiked up all those switchbacks. It took us a while and it was tough, but we did it. And we didn't get run over by any of the horses that were passing by. From here you can see the trail that disappears into the distance. That's where we came from. Looking at this photo really puts hiking distance into perspective.
Almost to Camp
When you come around a bend in the trail and this is your view you know it's been a good day. No matter how many times I see this, I think it will always take my breath away. Not long after this photo was taken we arrived at our camp for the night.
Salkantay Glacier
At the end of day 1 on the Salkantay Trek we camped in the shadow of these beauty. The Salkantay glacier watched over us as we slept and was there to welcome up back on the trail the next morning as we headed up to Salkantay Pass. I sat on a rock for a while watching the clouds roll in and out. It was as if the mountain was breathing.
Salkantay Pass
Up, up, up we went! Our very first challenge on day 2 on the Salkantay Trek was making it to 4,630 meters and conquering Salkantay Pass! It was a long steep uphill climb, but we did it!
In it Together
One of the things I love most about working for WHOA Travel is the all female atmosphere. We're a unit conquering the terrain together. Not matter what comes our way we're in it together. The people I've met along the way have changed me for the better and taught me things about myself I didn't think where possible.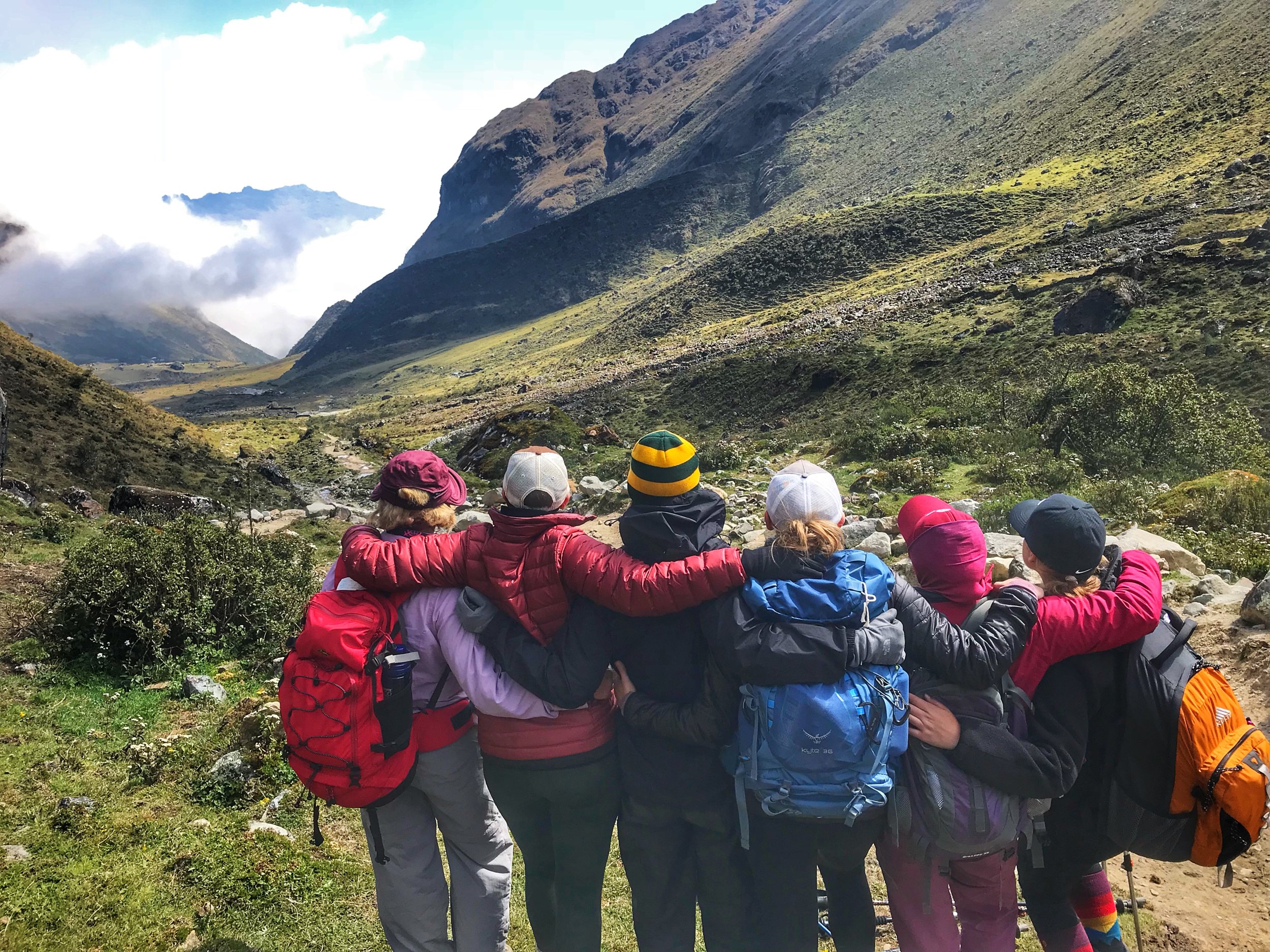 See ya later glaciers!
One of the things I love most about this hike is the different eco-systems we pass through. In 4 days we go from glaciers to jungle. So good-bye for now Salkantay glacier, see you next time!
Natural face paint
Our local guide extraordinaire, Elizabeth, owns and operates her company Mountain Gods Peru. She has a plethora of knowledge on Peruvian culture, history and local flora and fauna. In this photo you see her applying natural face paint. It is called Jariajri in the cochinilla family (a scale insect).
Yoga time!
You never know who you're going to meet in your travels. We were so lucky yo have Jana as part of your group. She's a yoga teacher and offered to lead a class for us all to stretch our muscles after 3 days on the trail. It felt so good!
Coffee Plantation
Our resting place on night 3 was Lucmabamba, a local coffee plantation. The owner, Freddy, took us on a tour where we picked the coffee, shelled, roasted, and then drank some. It was some seriously strong coffee, but ti was damn good.
Pachamanca
It doesn't get more Peruvian than this! Pachamanca is the Peruvian tradition of stacking vegetables and meat in layers and burying it in the ground with hot stones and cooking it for hours. My mouth was watering the entire time they were putting it together.
Trail Feast
After patiently waiting for a food to cook we sat down together for this amazing feast. Chicken, many different kinds of potatoes, beans, assorted vegetables, and a whole pineapple! It is safe to say that we were stuffed after this.
Swing over the Salkantay Trek
Around the halfway point of the final day of hiking, we came across a hut selling snacks and providing a bathroom stop. Just up the hill from the bathrooms we found this little swing. It costs 1 sol to take a swing and a photo, all on the honor system, but it was so worth it for this epic picture of me swinging over the valley! Would you do it?
First Look at Machu Picchu from the Salkantay Trek
After hiking up, up, up, we were rewarded with this spectacular view of the Andes mountains. The mist rolled in and out while we gazed in wonder at this view. At the center of the photo among the mountains in the foreground, you can catch a glimpse of Machu Picchu. It is difficult to see in the photo and in person, but anticipation starts to build for what we get to see the following day!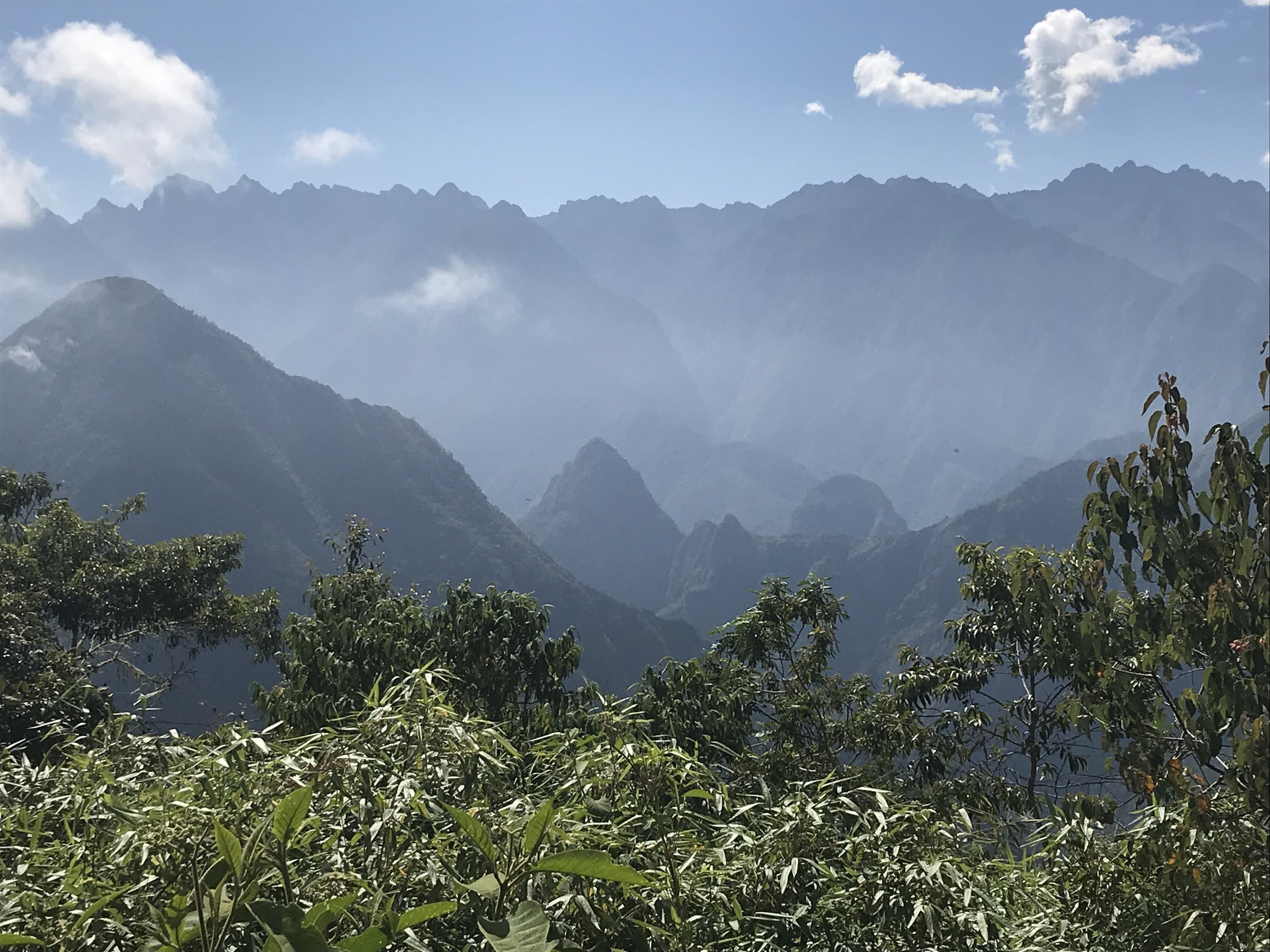 Suspension Bridge
After descending from the amazing views through the jungle we crossed this spectacular suspension bridge to the road that leads us to the train station. From there we took the train up to our hotel for the night before heading to Machu Picchu in the morning.
Machu Picchu
The Salkantay Trek ends in Aguas Calientes. This small town is known as the gateway to Machu Picchu. Every step is worth it for the visit to the thermal baths and for the magnificent views of Machu Picchu.
Love these Salkantay Trek Photos? Pin it for Later!