Going to the Disney parks is a blast, but getting all dolled up like your favorite Disney character in real life makes it even better. In this blog post I'll teach you all about how to Disney Bound, what it is, and give you some inspiration.
What is Disney Bound?
Disneybounding is when Disney fans put together outfits inspired by Disney characters and wear them in the Disney Parks. Learning how to Disneybound is easy.
Because children over age 14 and adults aren't permitted to wear costumes in any of the Disney Parks fans started Disneybounding. It is the perfect solution to the no costumes rule and allows everyone to have fun and be creative while paying homage to their favorite Disney characters. Plus, it's the perfect way to up your matching Disney shirt game!
Disneybounding is not cosplay as coplayers are still wearing a costume. Some people refer to Disneybounding as closet coplay as the outfits put together are created using every day clothing.
Pick a character to Disneybound
Do a little research on some Disney characters. They can be your favorite Disney character (Mine is Donald Duck!) or from your favorite Disney movie. No matter if you're a man or a woman you can be ANY character you want. I've seen men take inspiration from Disney Princesses and they have ROCK it! One time I saw a women at a Disney Park look amazing in her Mad Hatter Disneybound.
Create a color palate for your Disneybound character
Once you have is Disneybound character picked out make sure you are getting all the colors that character wears in your Disneybound outfit.
Some people will tell you to make sure the colors of your character are int he right place i.e. If your character wears a blue shirt make sure you have a blue shirt. If that's what you want to do, go for it, but if you have another creative idea on how to incorporate that color, GO FOR IT! Being creative is one of the most important aspects of Disneybounding
Go through your closet
Armed with your color palate, look through everything you have at home and see what you already have. The colors don't have to be exact, so don't be afraid to play with different shades and tones. Have a pattern that you think would work perfectly for your Disneybound character? Try it out. You might be surprised at how amazing it looks!
Visit thrift stores, consignment shops, the mall, or go online
I try and keep my costs low when it comes to Disney bounding by shopping for items and consignment shops and thrift stores first. Most of the time what I buy is a sold color or an item that I would wear normally and it ends up getting incorporated in my day to day wardrobe.
Accessories make the outfit
When to come to how to Disney Bound my best advice is no Disneybound is complete without accessories! When looking to add a little something special to your Disneybound outfit find ribbons, ties, belts, hats, scarves, gloves, and jewelry. I'm also a big fan of funky Mouse Ears inspried by my Disneybound character.
The accessories you use don't even need to be something the character wears all the time. I'm currently working on a Vanellope von Schweetz Disneybound and I'm making my own candy shaped hair pins to put in my hair along with a purse shaped like a race car.
Another great example is doing a Merida Disneybound and incorporating arrows and bears into my outfit. While Merida doesn't wear a bear it is a big part of her storyline and it will help bring your outfit to life.
Have fun Disneybounding!
Now you're ready to hit the Disney Parks and look amazing in your Disneybounding outfit. Have a blast!
Tips for How to Disney Bound
Here are a few tips to keep in mind when putting together your Disney bound outfits: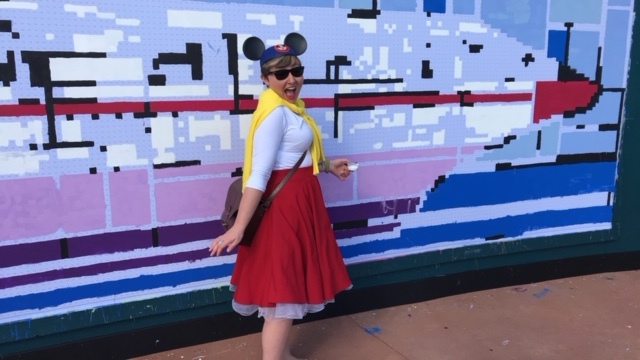 When learning how to Disney Bound start off by choosing solid colors to build your Disneybound outfit on, but add fun and funky accessories to complete the look.

When building a Disneybound outfit never take a character too literally. The shade of red doesn't need to match your character 100%. If the character wears a blue shirt don't be afraid to use that blue in a different part of your outfit. Is you're character a man? Mix it up and wear a dress instead.

The more creative you are the more fun you'll have!

Going to a Disney Park as a group? Pick a Disney movie and Disneybound those characters! Group Disneybounds are a blast!

It's all in the accessories! Think hats, jewelry, headbands, sunglasses, purses, and mouse ears! Something as simple as a necklace can bring an entire Disneybound outfit together.

Look in your closet first before you choose a character. You never know what pieces you already have to help you come up with some Disneybounding ideas.

Rock your Disneybound look with photos in front of a Disney Wall or 2.

Get excited to DIY! I make mouse ears for many of my Disneybound outfits. I've also created some fun t-shirts and jewelry. Homemade items can really bring something special to your Disneybound outfit.

Keep in mind the rules about costumes when it comes to the Disney Parks. Don't get too costumey with your Disneybound.
How to Disneybound: Disneybounding Ideas
When it comes to Disney bound I think the best part it putting together the look. To help inspire your next trip to the Disney Parks here are 8 different characters with plenty of ideas to help you have the BEST. DAY EVER!
Ariel Disneybounding Outfit
One of my personal favorites, Ariel, from The Little Mermaid, is always a fun Disneybound! Like I said earlier, don't be afraid to mix in some patterns, and for the perfect Little Mermaid Disneybound, Ariel's green fin needs to be a pattern! These mermaid leggings add color and a little sparkle to your Disneybound outfit. Add this mermaid shell shirt from TheBohipstian on Etsy and a pair of red sandals and you're almost ready to go.
To accessorize add this amazing Flounder purse and a dinglehooper or as us land creatures call it a fork bracelet. Not everyone likes to, but I'm a fan of wearing mouse ears with when I Disneybound. My Etsy shop, Small World Emporium is a fun hobby and side hustle. I made this adorable Little Mermaid Mouse Ears that I wore as a Disneybound on a recent trip to Disney World. I got so many compliments on my Ariel Disneybound!
Peter Pan Disneybound
Peter Pan has been a favorite story of mine since I was little. At Girl Scout Camp, my Camp Name is Rufio, from the Steven Spielberg movie, Hook. With a Peter Pan Disneybound there are many different ways you can Disneybound. I'd get an off white shirt and top it off with a green vest. On the bottom add a dark brown skater skirt and light brown shoes.
For a touch of classic Peter Pan red put a red bow in your hair and don't forget a pair of red feather earrings. To help ward off Captain Hook and Tick Tock Croc make sure you wear a clock necklace. To keep everything you need in your Disney day bag organized bring this Peter Pan book purse to complete the perfect Peter Pan Disneybound outfit.
How to Disney bound Belle
For a quick and easy Belle Disneybound just put on a yellow dress and red shoes. To spice it up add this amazingly beautiful and detailed Beauty and the Beast book purse. The next time I do a Disneybound of Belle I'm getting it for sure!
And it wouldn't be Belle if she didn't have a rose, so make sure you get a rose necklace. Top it off with a pair of Belle floral mouse ears, and you'll have a look that is fit for a Princess.
Alice in Wonderland Disneybound
I'm so excited about this Alice in Wonderland Disneybound. The things I've found for this are too cute! The base of Alice's look is her blue dress to make this Disneybound outfit fun and airy I found this light blue suspender skirt. Something fun that you can add to any Disneybound are Disney and Disney inspired t-shirt.
I found this Alice in Wonderland t-shirt (for this outfit you should get it in white) and many others on Etsy. Incorporating Disney shirts into Disneybound outfits can bring a little extra fun!
A pair of old school saddle shoes are a funky addition to the Alice in Wonderland outfit. It wouldn't be Alice without a black bow headband. The white rabbit is a classic part of the Alice's story, so wear some white rabbit earrings. Since Alice attends a Mad Tea Party and it's a classic Disney ride, get this tea cup purse with the drink tag on it.
Winnie the Pooh Disneybound outfit
Winnie the Pooh is one of the most simple Disney outfits I can think of. I did a Winnie the Pooh Disneybound when I went to DisneySea in Tokyo. Pooh and his friends from the hundred acre wood are great for Disneybounding as a group. For Pooh's look I headed to Etsy to find this fun Oh, Bother shirt.
Another great example of how a printed t-shirt can spice up a Disneybound outfit. Add a yellow skirt on the bottom and if you only want the basic, and you're good to go. If this is an outfit for a little kid, and I highly recommend getting kids into the group Disneybound, I wouldn't add anything else. For adults though complete this Winnie the Pooh Disneybound by adding a Lounge Fly Hunny Cross Body Bag, Winnie the Pooh Mouse Ears, and a pair of red sneakers.
How do you Disney Bound? Share your strategies and inspiration in the comments.