DisneySea located just outside of Tokyo is the only Disney Park of its kind in the world, which is why I made it one of my first stops when I visited Tokyo. To help you have the best day ever, I've put together this Ultimate Tokyo DisneySea Guide, enjoy!
Tokyo DisneySea Guide
How to get to DisneySea in Tokyo
If you're staying in Tokyo (more on places to stay in the next section) you'll need to take the train to Maihama Station. Maihama Station is the main entry point to all the Tokyo Disney parks. From there get on the Disney Resort Monorail to the parks. The monorail is not complimentary with your ticket like it is in other Disney Parks. At the ticket, kiosk get a round trip ticket (but don't lose it as I did), at the time of writing it cost me 260 yen. It takes about 10 minutes to get to DisneySea from Maihama Station.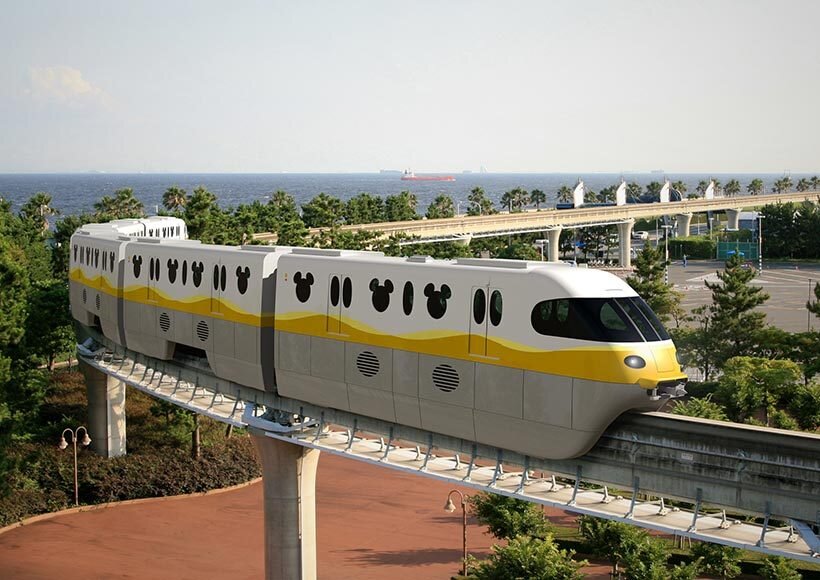 Where to stay near Tokyo Disney
At the Tokyo Disney Resort itself, there are 4 hotels on property: the Disney Ambassador Hotel, the Tokyo DisneySea Hotel MiraCosta, the Tokyo Disneyland Hotel, and the Tokyo Disneyland Celebration Hotel. Like all Disney Resorts, these hotels offer special benefits. Some of those benefits are:
Happy 15: Allowing entry into the parks 15 before regular park opening.
Multi-Day Passport Special: Allowing Guests to visit both Tokyo Disneyland and Tokyo DisneySea as they like from their very first day.
Guaranteed Park Admission: Allowing guaranteed admission to the Disney Parks even during periods of restricted admission and peak visiting days.
Park Transportation: Complimentary transportation to and from the parks.
While I love staying on property when visiting Disney parks, I know it's not financially possible for everyone. In the case of Tokyo Disney, I don't think it's worth it if you schedule your visit for a time when there are fewer people entering the parks. I stayed in Tokyo during my visit, but next time I'll be staying nearby the parks so don't have to wake up as early as I did.
Tokyo DisneySea Guide: Best time to go
This is a question every Disney goer to any Disney Park should ask before having your Best Day EVER! There are some times of year that can be extremely crowded. I personally try not to go to Disney during busy times so I can get the most out of my day. For Tokyo Disneyland and Tokyo DisneySea make sure to check a crowd calendar to see how long the projected waits will be the day of your visit. To be safe try to avoid holidays and school vacations. Weekends can also get crowded, so planning to go during a weekend will be your best bet.
As far as weather goes late-June through early-August are the worst times to visit if you have a difficult time with humidity. It also rains quite a bit during that time period. On the flip-side, December through February can be very cold with below-freezing temperatures and the possibility of snow. September to early-December usually has decent weather and the same goes for April and May.
In my opinion, the best times to visit Tokyo DisneySea are mid-May, early to mid-September, and early-November. During these times (not counting weekends) you should get great weather and smaller crowds.
Additionally, make sure you check for ride and attraction closures. You don't want to go when a ride you're really looking forward to will be closed.
Love my Tokyo DisneySea Guide? Pin it!
Tokyo DisneySea Tickets
There are several ways to get tickets to both DisneySea and Tokyo Disneyland. The first is to get them on-site before entering the park. This is what I did for my visit and while I did have to wait in line, it wasn't too bad of a wait.
For all the pre-planners out there the you can to to the Tokyo Disney website and purchase a Disney e-ticket. This ticket allows you to bypass the ticket counter and get right in line to enter the parks. However the ticket needs to be printed out. Unfortunately, the park does not allow you do scan it from your phone.
Additional places to purchase your DisneySea tickets are:
Disney Store locations in Tokyo
JR (Japan Rail) Ticket Windows
7-eleven Kiosks (I know this sounds weird, but it's true)
On-line retailers like Viator and Get Your Guide
DisneySea Hours of Operation
On most mornings DisneySea Tokyo opens at 8 am and closes at 10pm. However, there are exceptions to this depending on the time of year you visit the park. To make sure you are there at the right time make sure you check the DisneySea calendar.
DisneySea Map
DisneySea is always adding new and interesting rides, attractions, and restaurants. Here is the official DisneySea Map to help you plan your day.
DisneySea FastPass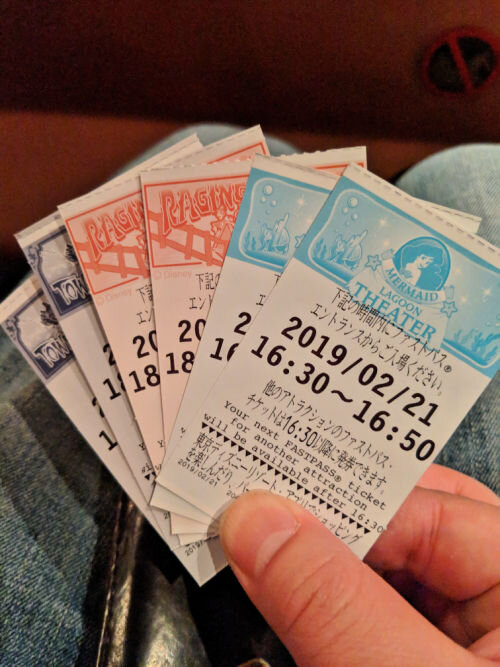 During my day at DisneySea we were able to get on every big ride we wanted to (with the exception of 2) because we used the FastPasses. I don't know if it was an off day, but for almost every ride we went to get a FastPass for we could almost walk right on AND it was a weekend! However, there was a 4 hour wait for Soaring, which has just opened at DisneySea, so don't expect to walk on every ride you want. However, here's how the DisneySea FastPass system works.
Step 1 Check the FastPass return time
If this time is within 2 hours of you receiving your previous FastPass or at the start of the FastPass you are currently holding you can get another FastPass. Keep this in mind for planning your day.
Step 2 Get a FastPass
Go to the attractions FastPass distribution center and scan your park ticket. The machine will print out a FastPass reminder and your actual FastPass will be loaded on to your park ticket.
Step 3 Check Your FastPass Return time
At the FastPass distribution center you'll receive a FastPass reminder. Keep your FastPass reminder so you don't forget your return time window. If you do not return to the attraction during the allotted time period the FastPass will become invalid and you will be denied entry to the attraction.
Step 4 Return to enjoy the attraction
During the FastPass return time window approach the attraction via the FastPass entrance and scan your park ticket. Your park ticket is the only thing that will allow you on to the ride. FastPass reminders are not used to enter the attraction.
Tokyo DisneySea Guide: The Best Rides
Below I've listed my top 5 rides at DisneySea Tokyo. Yes, they're all big rides and most of them are pretty fast. These are also my top picks for getting FastPasses (except for Indiana Jone which has single rider line you should utilize.)
Toy Story Mania
Located at the American waterfront, Toy Story Mania takes you on a gaming adventure with Woody, Buzz, and all of Andy's favorite toys.
Tower of Terror
Located at the American waterfront, the Tower of Terror is a thrill ride through a "restored" hotel with a surprise drop at the end.
Soaring: Fantastic Flight
Located in the Mediterranean Harbor, Soaring: Fantastic Flight takes visitors for the flight of their lives around the world and over some of the most beautiful destinations on the planet.
Indiana Jones Adventure: Temple of the Crystal Skull
Located in the Lost River Delta, the Indiana Jones Adventure takes your on a tour with Indy's friend Paco through the Temple of the Crystal Skull, but the guardian spirit isn't happy that you're there.
Journey to the Center of the Earth
Located at the Mysterious Island, Journey to the Center of the Earth takes you ona journey with the famed Captain Nemo who has discovered an unknown world deep underground.
Tokyo DisneySea Guide: Best Restaurants
DisneySea doesn't have a ton of table service restaurants. There are more take out snacks than anything. Here are 3 places I recommend you get a real meal at DisneySea.
The Teddy Roosevelt Lounge
Teddy Roosevelt is my favorite US President, so clearly this is my top pick! The lounge in located inside the S.S. Columbia on the C deck. They have a small menu of sandwiches and a bar. Sit at the bar for extra ambiance.
Magellan's
Located in the fortress this restaurant named after the famous explorer Ferdinand Magellan has amazing decor and food from around the world. Priority seating is recommended for this restaurant and starts at 9am each morning.
Zambini Brother's Ristorante
The Zambini Brother's have set up shop in the Mediterranean Harbor offering pasta, pizza, and all your Italian favorites. This restaurant is not table service, but there are plenty of tables to sit and enjoy your meal once you get it from the pick up window.
Tokyo DisneySea Guide: Tips
Here are a few additional Disneysea tips to help you have the BEST. DAY. EVER! If you need even more tips, check out my Tokyo DisneySea Tips blog post.
Check the Information Board upon entry to the park if you do no have the Tokyo Disney App. It gives up to date ride wait times and shows times.
On hot days bring a sun umbrella. I brought mine and it helped me to stay a little cooler.
Utilize the single rider lines at Indiana Jones and Raging Spirits.
Get a seat early for shows around the lagoon.
Make sure you visit all the areas around the lagoon, even the ones with no rides. Venice, Cape Cod, and Port Discovery aren't to be missed!
There are always characters wandering around the park, stop to say hi to them!
Have any more questions for my Tokyo DisneySea Guide? Ask me anything in the comments.
Love it? Pin it!