Whether you're preparing for a long road trip, a quick weekend getaway or an overseas flight, us parents have a tendency to over-stress about packing for kids.
What not to Pack for Kids
Guest Post by Lauren Covino-Smith
If you do a quick search online for "packing tips for children" literally hundreds of articles will pop up. Each one promising the best tips, fail-proof methods and must-have products. We tend to think if we over prepare for any and every situation, we'll be better off.
Talk about adding confusion to an already complicated process!
So as someone who has a "less is more" type mentality, I'd rather compile a list for you about what NOT to bother packing for kids when traveling.
And I can speak from the experience of packing everything on this list and MORE at one time or another. So trust me here…
What Not to Pack for Kids
Excessive "lovies"
Okay I totally get that your child has a favorite toy, special blankie or whatever. But limit each kid's security item to one only.
I had to learn this the hard way as we packed up last November for a weekend trip into Girona Spain. I couldn't bring myself to say "no" to any of the kids' favorite sleep-time toys. Which resulted in an entire carry-on bag dedicated solely to stuffed animals and lovies!
Yes I am a bit of a sucker, I'm aware.
Noisy toys/electronics
This one might seem kind of obvious especially for a long road trip where personal space is limited, but just in case you need specifics:
The rule of thumb should be that any toy or electronic without a headphone jack is allowed. And anything else is a hard NO. Family trips should never include the Baby Shark song on repeat for the entire aircraft to hear. Agreed?
Instead, try downloading these free car games, but of course they're not just good for the car.
Love it? Pin it!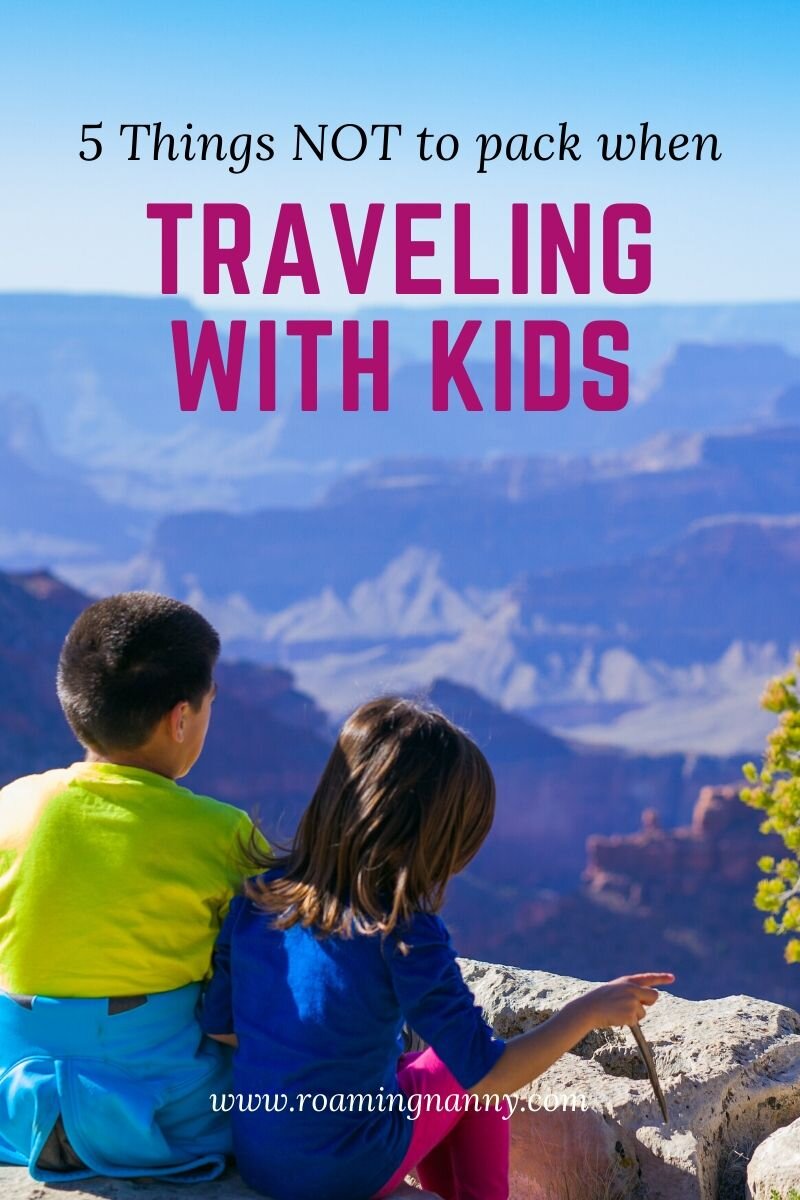 Sugary or salty snacks
Okay so I am guilty of this and immediately regretting it an hour after the snacks have been consumed.
Here in Barcelona, the grocery stores sell these adorable little cardboard boxes (think Chinese takeout box) filled with sweet treats. "They're just so darn cute and perfect for our next road trip!" I would foolishly say to myself as I let our 8, 6 and 3 year old each select one.
But purchasing these "adorable" salty and sweet goodie boxes resulted in three massive problems. First, the NON-STOP requests for when the treats could be eaten. Second, the aftermath of too much sugar consumption – and we all know what a disaster that can be! And third, the NON-STOP requests for water after munching on salty snacks.
Stick with healthy yet yummy picks that travel well. Some of our easy to pack travel snacks include sugar free licorice (which also help for carsick tummies), cheese sticks, dried mango/apricots or applesauce.
Too many outfits
Listen, I'm a woman and if there's one thing we understand it's the need for extras! Extra shoes, handbags, outfits. But when it comes to traveling with kids (especially on budget airlines where bag sizes are limited), plan each day accordingly.
Sure, it always helps to have spare socks, underwear, even pants if you're in the midst of potty training for example. But beyond that, don't plan for your children to have multiple wardrobe changes each day – this isn't the Grammys!
Plan for each day and pack each outfit as such. Trust me, it will make your life much easier and hassle-free especially when you arrive home and it's time for post-travel laundry!
Plastic Containers
Here's an opportunity to not only be practical and convenient but also environmentally conscious when packing for kids. Rather than pack snacks and toiletries in bulky plastic containers, let's consider some reusable options that won't take up tons of space in your suitcases.
I purchased from Amazon these amazing reusable silicone bags perfect for snacks. They are easy to clean and don't take up a ton of space. I also splurged and bought us a set of metal straws with cleaning pipe and metal utensils.
For toiletries, I have to pay homage to the amazing brand Friendly who offers shampoo in a soap bar form. Less space needed, no waste = happy mom, happy kiddos, happy planet.
—
About the author
Lauren Covino-Smith is a wife/mother and the creator of The Expat Chronicle, a travel and lifestyle blog about moving abroad, adjusting to a new culture and doing it all with three toddlers!
Her articles have been featured in The Expat Magazine, The Bonjour App, Blissphere Beauty and various other travel/expat blogs.
An American native, Lauren currently lives in Barcelona with her husband and three children where every day is truly an adventure. When she is not blogging, she can be found taking photos, sipping cappuccino or window shopping at her favorite interior design boutiques.
Her blog topics include travel tips, advice about life in Spain, raising expat kids and her family's journey. You can also find out what she's up to on Instagram and Facebook.
When packing for kids what do you leave at home? Let me know in the comments!
Love it? Pin it!