Boston is my favorite U.S. City. I've been obsessed with it since age 10 when my Girl Scout troop visited Boston and did an epic scavenger hunt along the Freedom Trail. I've grown a bit since then, and so has my love of this city. There is something for everyone in this fast-talking, history-rich, baseball-loving place. This 3 day Boston itinerary will help you to start your exploration!
Boston 3 Day Itinerary
Boston 3 Day Itinerary: Day 1 – Walkin' and Quackin'
Check-in mid-day at HI Boston. Check-in mid-day at HI Boston. Official check-in isn't until 4pm, but sometimes rooms are ready (our's was). If the room isn't ready, use the StoreMe app which allows users to store luggage in tons of verified locations around major cities across the U.S. They offer luggage and baggage storage in Boston! It's so easy when you arrive in the city and do not have to lug all those bags around.
Add HI Boston to your Boston 3 day Itinerary
Back to HI Boston, this hostel is fabulous! Everything was extremely clean, and I'm pretty sure the bathrooms were cleaner than mine. I feel like every time I turned around there was a member of the cleaning staff working. The decor was on point! 4 floors had rooms on them and each was represented by a different color: red, blue, green or orange. Those 4 colors designate 4 of the lines on the Boston subway system, the T.
If you're looking foran affordable and clean place to stay right in the heart of the city I highly recommend adding HI Boston to your Boston 3 day itinerary.
Fajitas and Ritas
After getting settled and organized, we walked down the street to my favorite restaurant in the city, Fajitas and Ritas! It is a place I go every time I visit Boston. In college, this was and still is my go-to place to meet up with friends in the city. I might love it for nostalgia purposes, but the Margs are amazing! There are creepy-cool murals and writing all over the walls and the servers are real Bostonians. Meaning, if you want someone to constantly smile at you and kiss your butt, don't go here. They get the job done and you usually don't have to wait very long for your food.
The Greenway
From there it's about a 10 minute walk to the southern end of the Rose Kennedy Greenway. Boston's ribbon of contemporary parks starts in Chinatown and snakes north ending by the Boston Public Market. Along the route you'll find the famous Dewey Square wall, outdoor markets during the warmer months, water features for the kids to play in, art displays, and even a carousel. If you were to walk from beginning to end it would only take 30 minutes, but with so much to see and do I'd give yourself a couple of hours. No need to rush!
We ended our time at the Greenway and turned back to head to the New England Aquarium. On this trip we didn't go in, but it is a great Aquarium and a perfect addition to any Boston itinerary, especially if you have kids! Instead, we hopped on a Boston Duck Tour.
Boston 3 Day Itinerary: Duck Tour
Growing up near Boston this was something I didn't feel like I needed to do, I knew my city. I'll be completely honest, I learned so much on this tour. The best part? The Duck Boats leave from 3 locations – New England Aquarium, Museum of Science, Prudential Center – and they explore a different part of the city.
Our ConDUCKtor was Sarah b. Goodwitch. She was spot on with the puns and had a vast knowledge of the city. History, movie locations, you name it, she was so on top of it!. The tour leaving the New England Aquarium passes by 32 sites – such as the Granary Burying Ground, Beacon Hill, and the Zakim Bunker Hill Bridge – around Boston. At each one, Sarah gave an explanation, history and usually some interesting facts you don't find in the history books.
The highlight of any Boston Duck Tour is taking to the Charles River! And because I'm a 10-year-old at heart, I was very excited when she invited anyone who was interested to come up, sit in the driver's seat, and drive the Duck. Yes, I drove a Duck and got the sticker – and photo – to prove it! Tours are run seasonally, usually April through November, check here to book and get scheduling details. For visitors, this is a must-add to any Boston itinerary.
After the tour, we took the 30-second walk to Legal Sea Food for dinner. A bit pricey, no matter what location, they have 13 in Boston alone. However, the seafood is always top-notch, and this is coming from a fresh seafood snob. I've never had a bad meal here. The New England Aquarium location is always pretty busy, especially on the weeks, so keep that in mind.
Boston 3 Day Itinerary: Day 2 – Love that Dirty Water!
We're early risers so we enjoyed the complimentary breakfast at HI Boston. The yummy waffles and fruit got me fueled up for our adventurous morning with Paddle Boston.
Paddle Boston
My boyfriend, Will, is all about the outdoors. He is in no way a city person, so when we travel to cities I plan lots of outdoorsy activities for us to do together. In this case renting a kayak from Paddle Boston: Charles River Canoe and Kayak was a no-brainer to add to our Boston itinerary. They have several locations, do rentals and have guided tours. We decided to go to the Cambridge: Kendell Square location. A quick ride on the T from HI Boston and a short walk we were there. So easy to find!
We made the decision to go with the double kayak so we could be together. Weellllllll…it wasn't the best choice. There is a reason double kayaks are called divorce boats. This is coming from 2 people who have above average experience in kayaks. We were all over the place! It wasn't windy and there is no current in the Charles River. Either get 2 kayaks or jump in a canoe instead.
The skyline was beyond gorgeous! We saw from the Zakim Bridge all the way to the Citco sign at Fenway Park. Paddling along the Esplanade and getting up close to the boats on the Cambridge side of the river (cause you know Will had to check out all the boats for some mythical future boat purchase he's going to make!). This was an easy paddle for all ages! The staff was friendly and helpful. Make sure you bring plenty of water, snacks, and sunscreen.
Boston 3 Day Itinerary: Museum of Science
After we dropped off the boats we walked along the riverside to the Museum of Science. This is one of the best Science Museums I have ever been to and should be on your Boston itinerary! The place is huge. My personal favorite was the Lightening Show. Yes, you read that right. Don't miss it, it's so much fun to watch, but get there early so you can get a seat. I recommend sitting on one of the higher floors for the best view.
The MOS always has rotating displays and plenty for things to do for the entire family. If you don't add this to your Boston 3 day itinerary you'll be missing out!
The biggest surprise about the MOS was the lunch we had there. I had a pulled pork sandwich that was delicious! Way to go Science Museum!
On the flip-side, I wish we hadn't spent the money to go into the butterfly garden they had there. If you've never been in a butterfly garden go. However, last summer we went to Magic Wings Butterfly Conservatory in South Deerfield, MA, and that was so amazing that it dwarfed the garden at the MOS in comparison.
Add Chinatown to your Boston Itinerary
We had a little downtime at the hostel then went out and wandered over to Chinatown. We found this sweet building covered with street art and went inside for dinner. The place was called China Pearl. The inside was your classic American Chinese food restaurant, but HUGE! They definitely do weddings and functions, and if they don't they should! Our servers brought our Dim Sum on a cart they we could choose from. It was spectacular.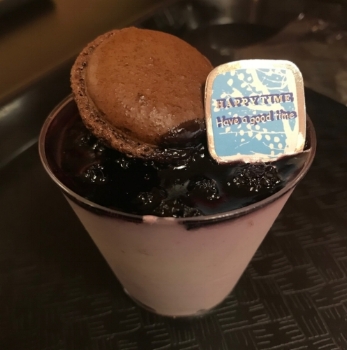 When we decided to find a bakery for dessert I don't think we thought we'd find something as yummy as 101 Bakery. A little hole in the wall place, you might just walk by, but oh so good! We got blueberry mousse, chocolate tiger cake, and tiramisu. Everything was delicious!
Boston 3 Day Itinerary: Day 3 – Peddle out of town
After breakfast, we walked over to Boston Common and Public Garden, which should be a part of any trip to Boston.
Boston Common and Gardens
The Common is America's oldest park established in 1634. George Washington and John Adams celebrated independence there and it was and continues to be the site of free speech and public rallies. Walking the Common is a trip through history. While exploring make sure to stop at a few of the sites listed below. Here is a map to help you get around.
The Swan Boats
Make Way for Ducklings Statues
George Washington's Statue – especially in the spring to see the tulips!
Get a view of the State House
The Frog Pond
Boston 3 day Itinerary: Biking
To get into the city we parked our car at Alewife Station to have easy access to our final activity of the weekend: Biking the Minuteman Bike Path. We brought our bikes from home and left them in the car, but there are several places in Boston and along the bike path to rent bikes. You can even bring your bike on the T during off-peak hours for no additional cost!
This bike path goes through the towns of Arlington, Lexington, and Bedford through areas where the American Revolution began in April of 1775. It's used by locals and tourists alike and has plenty of places to stop, park your bike and explore. Here is a map to help plan your biking adventure.
What are some of your favorite things to do or places to eat that need to be a part of every Boston 3 Day Itinerary? Share in the comments!
Pin it for Later!