Japan is one of the safest countries in the world making it a great place for solo female travelers. Here are some of the best destinations for solo travel in Japan:
Solo Travel Japan
Solo Female Travel in Japan: Okinawa
Submitted by Aaren of What Do You Sea
Ever dream of combining a trip to Hawai'i AND Japan all in one trip? Okinawa, Japan is the perfect balance of a tropical paradise with a unique branch of Japanese culture that will draw you back year after year as it has for me! It's a special, off-beat travel destination that is off the main tourist radar so get out here while it's still our little secret.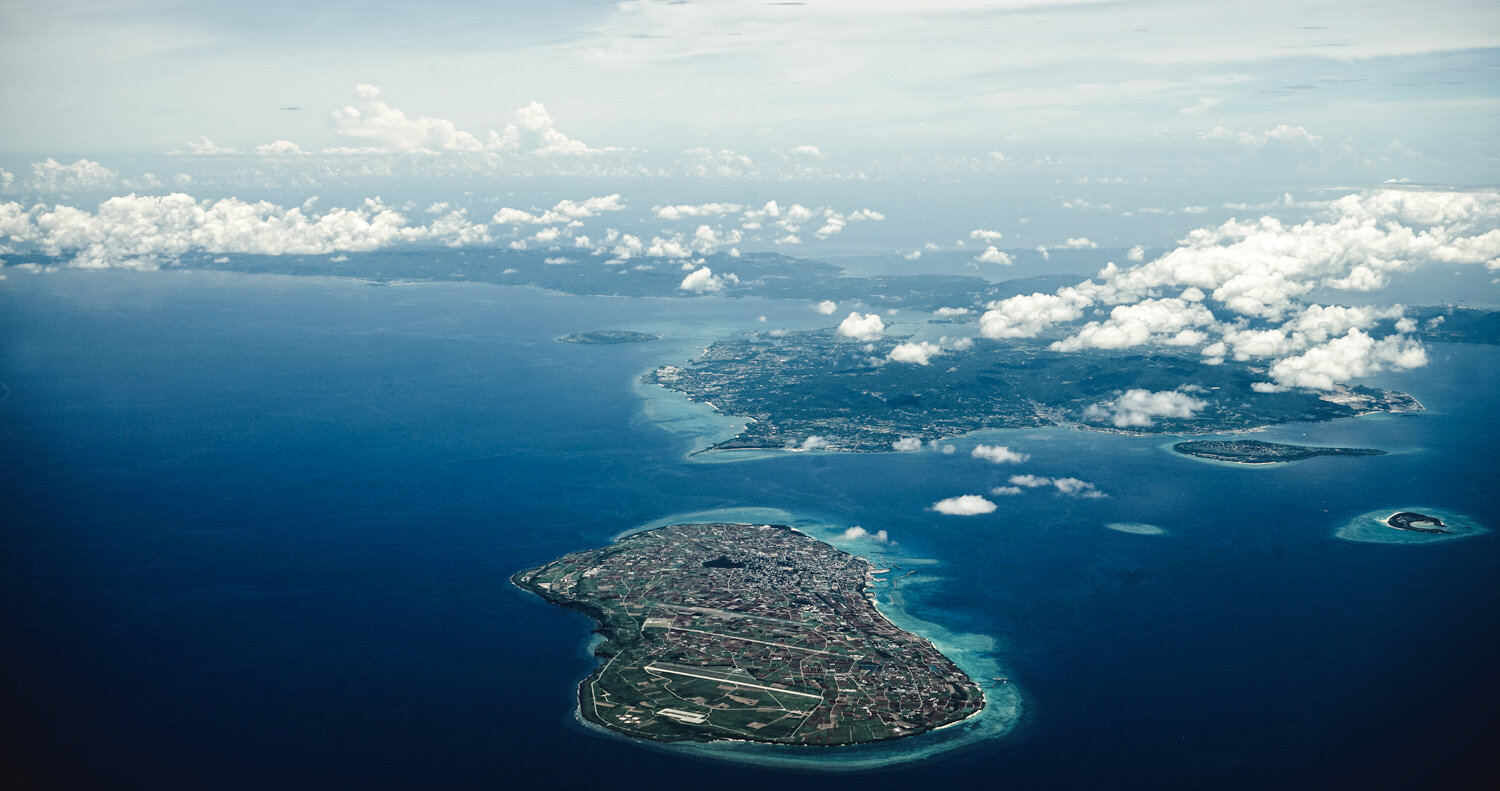 The country of Japan, in its entirety, is safe for all solo females, but what makes Okinawa so special is that there are multiple US Military Bases on the island. You can connect with them in case you need help, advice, or if you're looking to connect with fellow expats. This means that in the southern parts of the island near Naha and the surrounding areas are all English-friendly (mostly). There are always people around that can help you arrive at where you need to go. Plus, they may let you in on a few unknown beaches and other secret spots if you're lucky. And, of course, lest we forget that the Japanese are one of the most peaceful and joyous cultures in the world.
TakTak Falls
There are plenty of opportunities to explore this tropical oasis, but my favorite things to do, and the best things to do in Okinawa are visiting TakTak Falls, hiking Mt. Katsuudake, island hopping to Iriomote, Ishigaki, and Miyakojima Islands, eating at Kajinho, and grubbing out at all the other incredible eateries around the island. Seriously, the food is next level here so indulge as much as you can.
There is adventure around every INCH of this island, so take these recommendations, but also see what spots you can discover! The best place to stay for first-time visitors, hands down, is in the Nakagami District.
Nakagami District
In the Nakagami District, I recommend staying on the seawall. It's a beautiful, central location right on the ocean side with plenty of nightlife and tasty restaurants to start your trip off on the right foot. You can walk basically everywhere in the area so you won't have to worry about renting a car for the things that are close by. The best place to stay in the Nakagami District is at the Seawall Hostel, Mihama Beach House, and Condominium Mahalo!
Solo Travel Japan: Kyoto
Submitted by Mariza from Hoponworld
Kyoto is an excellent destination (especially in the Fall) for solo female travelers and has so many incredible things to do. From interesting historical sites and beautiful temples to sublime gardens and bustling markets, there's plenty to keep you busy.
Visiting a few of the grand temples (most of which are UNESCO sites) is obligatory on your visit, and perfect for a walking tour of Kyoto. Stop by Kiyomizu-dera, the Golden Pavilion, and the Silver Pavilion for a closer look at Japan's intricate culture and history. Afterward, head to Fushimi Inari-taisha to snap totally Instagram-worthy photos of the iconic red torii gates. Then make your way up to Inari Mountain for a bird's-eye view of the city – a firm favorite among sunset chasers and photographers.
Food in Kyoto
Those looking to satisfy their taste buds are in for a real treat too. Kyoto has a booming food scene, and Nishiki Market is the perfect starting point to sample some of the city's specialties. At night, head to Kyoto's historical hub; Gion. After exploring all the nooks and crannies, treat yourself to authentic Japanese food at one of the fancy eateries.
Kyoto is extremely safe (even at night), and you're likely not to run into any problems. However, as you cannot predict the future, practice the same caution you would anywhere else in our beautiful world.
Stay near the central station to easily navigate your way around town or even enjoy a few day trips from Kyoto.
Oh, and travel tip – Get the local tap-and-go card (ICOCA) to use on trains and purchase day bus passes so that you can see all the top spots without the headache of planning nitty-gritty details.
Pin it for Later
Solo Female Travel in Japan: Nara
submitted by Josy from A Walk and A Lark
Nara is one of the ancient capitals of Japan (before Kyoto), and one of the first places where Japanese culture started to flourish 1300 years ago. This means the city is dotted with ancient World Heritage Sites, stunning gardens, temples and shrines. The center of the city is quite small, so very easy to explore on foot, or with a bike. The city is very safe, so it is a great place to explore at sunrise or sunset. My favorite spot to visit for some peace is Nigatsu-do a gorgeous building behind the famous Todaiji temple.
Just be ready to meet the 10,000 deer who live within the city in Nara Park. If you buy shika-senbei (deer crackers) to feed them, they might bow for you…or they might just chase you and demand the crackers!
Food in Nara
Nara is also a fantastic place to try traditional food or shop for Japanese-y gifts in Nara-machi. You can see the famous mochi-makers on the main street of Sanjo-dori. I love exploring the back streets to find tasty food; Nara has fantastic soba (noodles), unagi (eel), kakinoha-zushi (sushi wrapped in persimmon leaves) as well as some cozy cafes, bakeries and izayaka-style restaurants. And make sure to take a walking tour to get your bearings.
There are several gorgeous places to stay in Nara. Look around JR Nara station for good western-style hotels, or in the backstreets of Naramachi for more traditional inns. If you fancy full-luxury, then look at Nara Hotel (奈良ホテル) just south of the park.
Solo Travel Japan: Koyasan
submitted by Clare of I Live 4 Travel
Koyasan is a great place to visit as a solo traveler. It is a very spiritual place as it is the headquarters of Shingon Buddhism and has many people visiting the shrines and temples and feels very safe to walk around on your own.
It is only a couple of hours from Osaka by train and very easy to get to by public transport.
When you visit you must stay in a Shukubo. This is a Buddhist temple and here you can experience a traditional Shojin Ryori Meal (a vegetarian meal that the monks eat). In many places you can also experience the morning prayer ceremony.
There is a lot to do in Koyasan, there are many beautiful temples and complexes to visit. Kongobuji Temple is the headquarters of Shingon-Shu Buddhism and is a beautiful wooden building with the largest rock garden in Japan.
The Dai Garan Complex is a place for the monks to gather and practice. It was built by Kobo Daishi in 816 though most of the buildings are not original and have rebuilt over the years because of many fires in the area. The Konpon Daito Pagoda is the most impressive building in the complex, standing 2 stories high and bright orange it definitely stands out.
You must also visit the Okunoin Cemetery which has over 200,000 gravestones and has the mausoleum of Kobo Dashi. It is a great place to visit during the day but is also beautiful and mysterious at night. If you are lucky you will also get to see a ceremony in the Hall of Lamps.
Solo Female Travel in Japan: Nagoya
Nagoya is Japan's 4th largest city by population but is often overlooked by travelers in favor of the golden triangle Tokyo, Osaka, and Kyoto.
But as a city, it has a lot to offer and it is a great destination for solo female travelers.
Nagoya has all the benefits of traveling as a solo female other places in Japan have. The fact that it is very safe to be out and about on your own helps.
Nagoya is a great city to visit if you are interested in Japanese history. With Nagoya Castle one of the best in the country and the Tokugawa Art Museum that has amazing old artifacts like books, tea ceremony utensils, and Noh theater masks.
If you would rather spend your time shopping you should check out the Osu Shopping Streets. A district rich in culture with the best shopping opportunities in Nagoya if you are looking for a bargain. High-end shopping can be found in the Sakae district.
In Nagoya, you will find delicious local cuisine and many places where you can enjoy them also on your own. Most restaurants in Japan don't blink an eye when people dine alone and Nagoya is no different. I recommend a visit to Hitsumabushi Ino for the delicious freshwater eel dish called Hitsumabushi. Or Yamamotoya to try Miso Nikomi Udon, Udon noodles stewed in a red Miso based broth.
As a solo female traveler, I recommend either to stay at one of the hostels where you can make new friends. For example Leo Star Hostel. Or you could stay at one of the capsule hotels with women's only floors like First Cabin TKP Nagoya Station. Of course, if you prefer a private hotel room, there are a lot of budget-friendly (and also luxury) hotel options available. I recommend Sanco Inn Nagoya Shinkansen-guchi Annex as a budget option and Nagoya Marriott Associa Hotel as a luxury option. Find more hotels around Nagoya Station here.
What are some other great destinations in Japan for solo female travelers? Let me know in the comments!
Love it? Pin it!