Nara was the capitol of Japan for over 70 years in the 6th century and to this day still retains the feel of ancient Japan. While today it is mostly known around the world for the famous Nara Deer (more on them later) there are other amazing things to do in Nara. Keep scrolling to find out what to do in Nara during your visit.
Best Things to do in Nara
Isuien and Yoshikien Gardens
If you're looking for an oasis of calm amongst Nara's deer-feeding masses, then head to Isuien and Yoshikien gardens. Just a short walk from Todai-ji temple, these two beautiful Japanese gardens sit side by side on a quiet back street just behind Nara Park. Both gardens are particularly beautiful in spring and autumn when they burst into color.
Isuien Gardens
The smaller of the two gardens, Isuien Garden consists of a front and back garden. In the front garden is a beautiful old tea house from where you can enjoy green tea with glorious views of the garden's pond. The back garden is a wonderfully tranquil haven. Stepping stones lead over a larger pond which is framed by perfectly manicured sloped lawns.
Yoshikien Gardens
Next door, the larger Yoshikien Garden is made up of three distinct gardens. In the Pond Garden another grand tea house sits overlooking a peaceful pond surrounded by Japanese flowers. Further on, the Moss Garden is exactly as its name suggests, blanketed by a carpet-like lawn of thick green moss. At the far end of Yoshikien is the Tea Ceremony Flower Garden, one of the most beautiful and tranquil spots in Nara.
To get to Isuien and Yoshikien Gardens, take a left along the first path immediately after the Tadaiji Museum and the Nandaiomon Gate. Once you reach the end of the path take another left turn and the entrances to both gardens will be straight ahead.
Entrance to Isuien Garden is ¥900 (at time of publishing), which also includes entry to the garden's small art museum. Volunteers also offer free guided tours of the garden in English. Entrance to Yoshikien Garden is free for overseas visitors though you will need to show a valid ID, such as a passport or a driving license.
Things to do in Nara – Nara Park
I think the first impression that most tourists have for Nara is the adorable deer that freely roam the lawns in the Nara Park. In fact, Nara Park is merely 800 meters away from the Kintetsu-Nara Station and you could already meet the deer once you walk along the Oomiya-Dori (the main street leading to Nara Park).
The Nara Deer
The deer have been living in the park for over 1,300 years ago. Legend has it, a god came to Kasuga Shrine in Nara riding on the back of a deer. Hence, they were considered a messenger of the gods and they have been protected and taken care of in Nara ever since. Today, the city has over 1,300 deer and they have become the city's mascots. It is a must-do for all tourists to observe and interact with these lovely creatures if they visit Nara.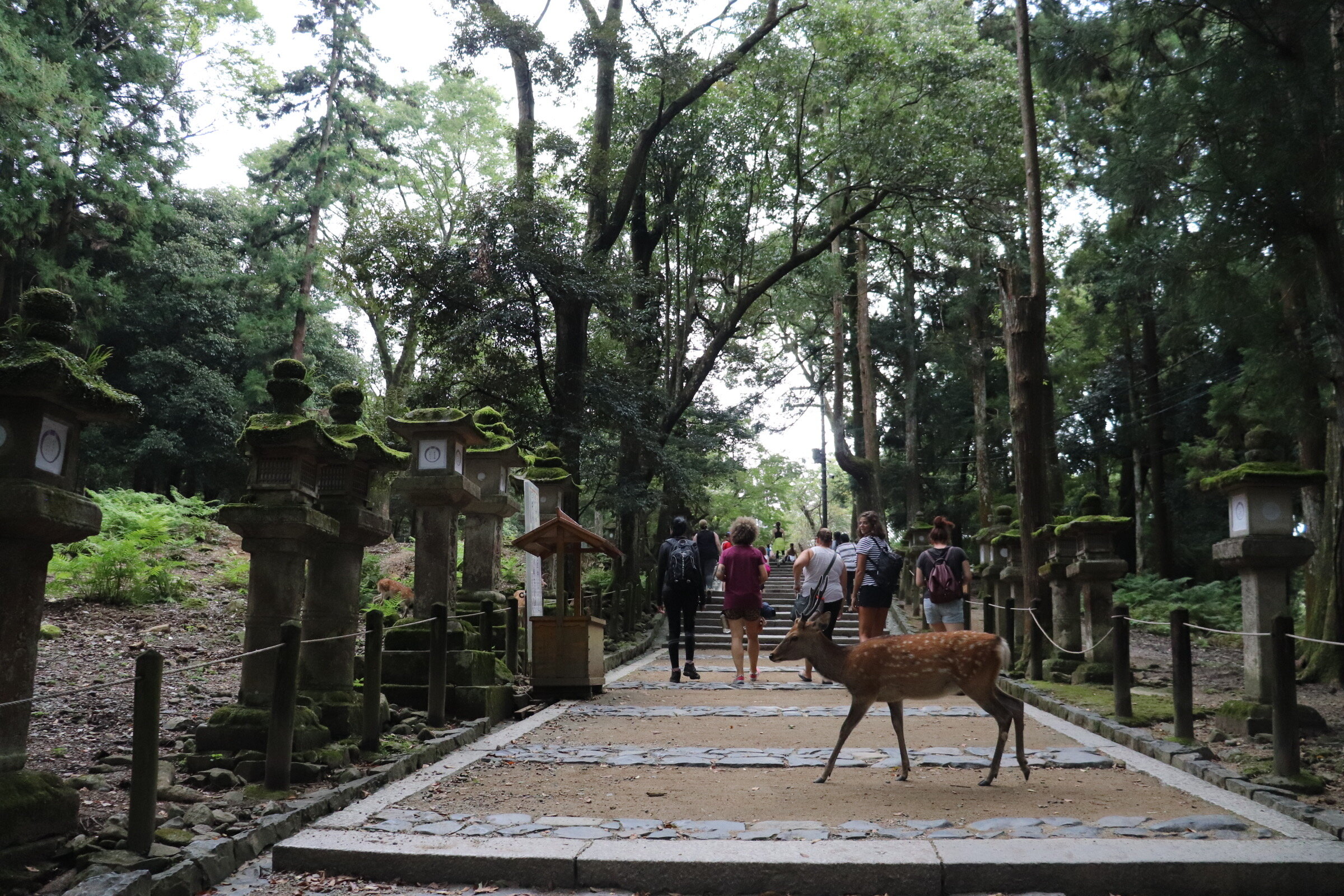 There are deer crackers available for sale by street vendors in many places in the park. They are mainly rice bran crackers and part of the proceedings for selling the crackers go to the protection and well-being of the deer. Note that deer in Nara are wild animals and they are not tame. They may bite and they may kick – stay alert and do not provoke them with aggressive acts. Besides feeding them crackers do not feed them anything else, random food may make them sick or suffer from food poisoning.
Pin it for Later!

What to do in Nara – Kasuga Taisha Shrine
This Shinto shrine is open from dawn to dusk and is a UNESCO World Heritage Site. It was first founded in the 8th century but was completely rebuilt every 20 years in keeping with Shinto tradition. Some of the buildings are used for temporary exhibitions and require an entrance fee of 500 yen, but other parts can be visited for free.
The shrine is located on the far eastern side of Nara Park and can be reached via a path lined with hundreds of stone lanterns covered in moss. Don't be surprised if you see a deer peeking around the lanterns at you. While it feels far removed from the city, it's still within walking distance of Nara's other major attractions as well as plenty of shops, hotels and restaurants. If you're here around lunchtime, you could walk to nearby Ramuna Café for some delicious vegan Japanese food.
More on Kasuga Taisha Shrine
However, I recommend that you visit in the morning instead, so that you can enjoy the shrine in peace before all the day trippers arrive, and also so you can experience the prayer service known as the chohai. Every day at 9 am, Shinto priests lead attendees in chanting the norito prayer, asking the spirits to grant peace and safety to the people of Japan. This tradition began after the Great Tohoku Earthquake of 2011.
Attending this ceremony was one of the highlights of my stay in Nara. There were only about a dozen attendees in total, and my husband and I were the only tourists. Foreigners are welcome to attend as long as they are respectful. The chohai is held inside the naoraiden (the Ceremony Hall), which is the building with paper sliding doors that's on your left after you enter the main gate. There is no fee to enter this area.
What to do in Nara – Kyoto Day Trip
Submitted by Sean Lau from Living Out Lau
When you are done bowing to deer at Nara Park and visiting some of the famous shrines and temples in the area, why not consider a day trip to other nearby cities. Kyoto, located only 1.5 hours away by train, is considered the cultural capital of Japan. Filled with some of the best temples such as Ginkaku-ji (Silver temple) and Kinkaku-ji (Golden temple), any Japanese culture lover will find himself or herself immediately in love with Kyoto – and kids love Kyoto too!. If you are not a fan of those two temples, guess what? There are 1,600 temples in Kyoto for you to choose from.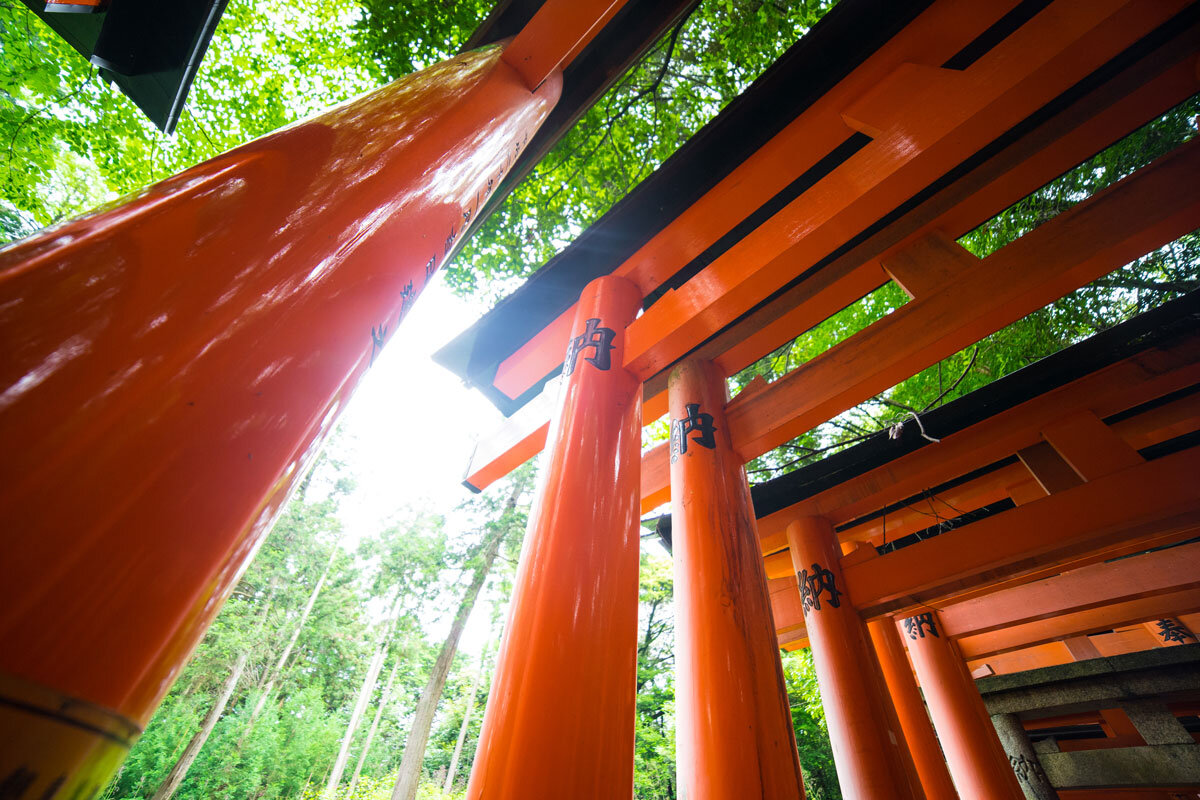 What to see in Kyoto
A visit to Kyoto would not be complete without seeing Fushimi Inari. Made famous by the movie The Last Samurai, Fushimi Inari is filled with more than 32,000 tori gates that lead up to a vantage point above the city. Another attraction you should not miss when visiting Kyoto is the Arashiyama Bamboo Forest. It is highly recommended that you visit the Arashiyama Bamboo Forest when it is not too busy, preferably at sunrise or sunset. That way you can feel the stillness of the place and enjoy it in peace. You can truly feel the zen of the place that way.
The last thing to see in Kyoto is definitely the Geishas. Geishas are traditional Japanese hostesses trained to entertain men. Nowadays, there are only a few and they are all located in Kyoto. If you are lucky enough, maybe you will see one of them walking down the moody streets of Kyoto! Don't leave Kyoto without trying some of the traditional Japanese food such as ramen!
Things to do in Nara – Day Trip to Osaka to Eat
Less than an hour west of Nara by train is Osaka, one of the best food cities in Japan. There are loads of activities to occupy an afternoon in Osaka. You can visit Osaka Castle and the surrounding gardens. It's also possible to take in a birds eye view over the city from one of the many observation towers in the, including the Umeda Sky Building.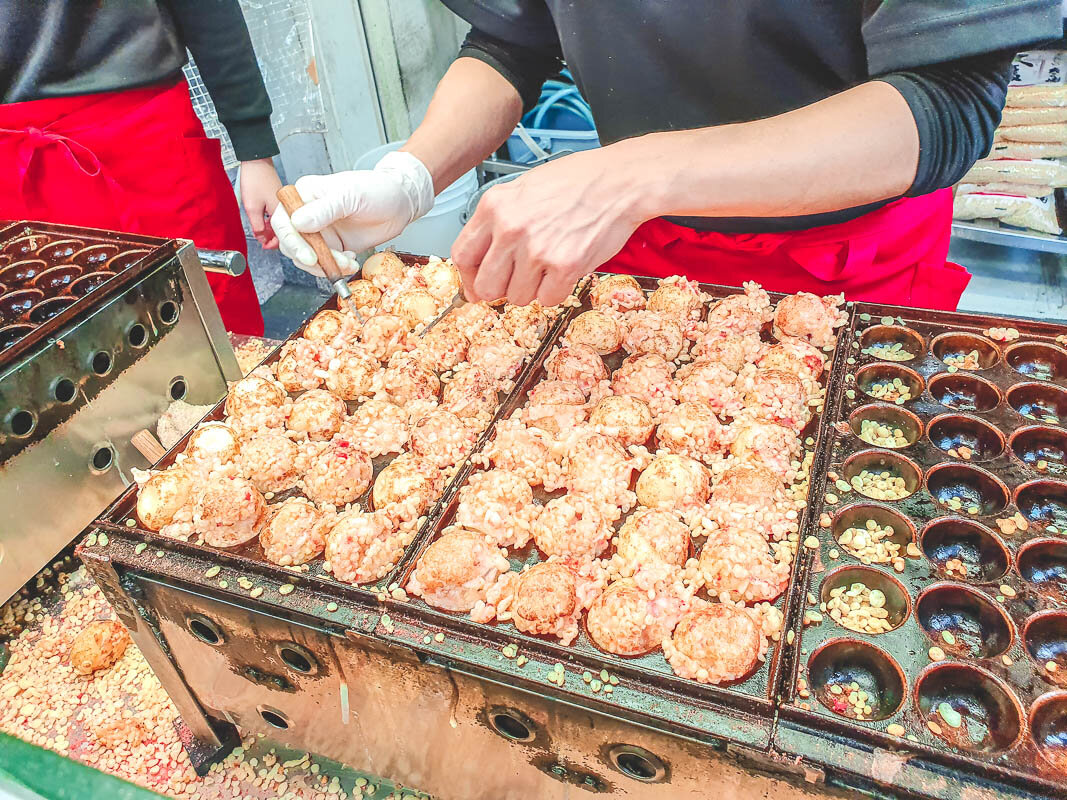 Where to Eat in Osaka
For food travelers, though, there is one perfect way to spend an afternoon on a day trip to Osaka and that is spending time in Dotonbori. Head directly to Dotonbori, which is located just north of Namba Station. This is one of the best street food destinations in Japan. It's a food street that runs parallel to the Dotonbori Canal. At night, the district is loaded with people and bright lights. During the day there are hundreds of restaurants to eat all of the local Osakan specialties. It's worth it to make the trip just to spend a day eating in Osaka.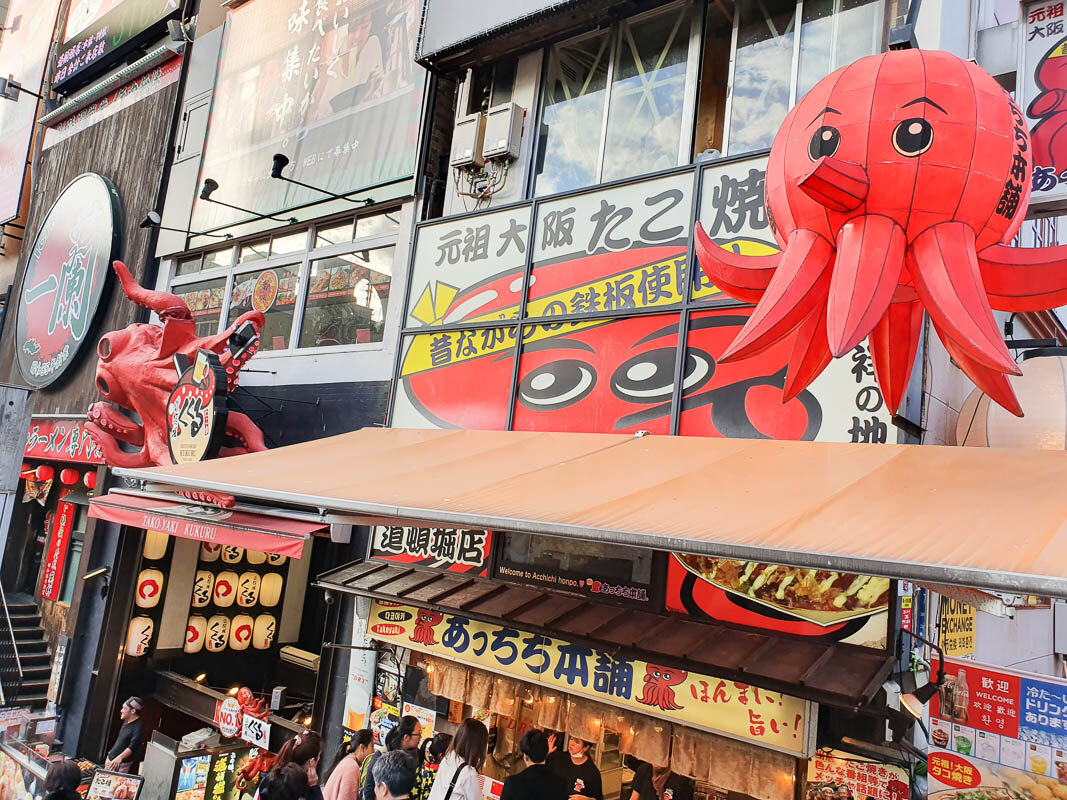 While there, try eating okonomiyaki (a Japanese pancake) and takoyaki (octopus balls). Or, try one of the many conveyor belt sushi restaurants lining the road. For a truly Osakan experience, try kushikatsu, or fried stuff on a stick. The most fun place to eat kushikatsu in Osaka is at Daruma, also known as Angry Chef. It's even possible to eat all of these tasty foods in one afternoon before heading back to Nara. It's the best way to spend a day in Osaka.
What to do in Nara – Kofuku-ji
Another UNESCO World Heritage Site to visit in Nara is Kofuku-ji. Built in 669 and moved to Nara in 710, Kofuku-ji was once the richest and most powerful temple in Japan. Through much of its existence, it was financially supported by the very powerful Fujiwara clan. It became a pawn in the struggles between the Fujiwaras and other families over control of the Emperor, resulting in its 150 buildings burning down several times over the years. Then in the1600s, the Fujiwaras' position declined, and the Shogun, in an attempt to reduce Buddhism's influence, stripped the temple of its wealth and power Only twelve buildings remain.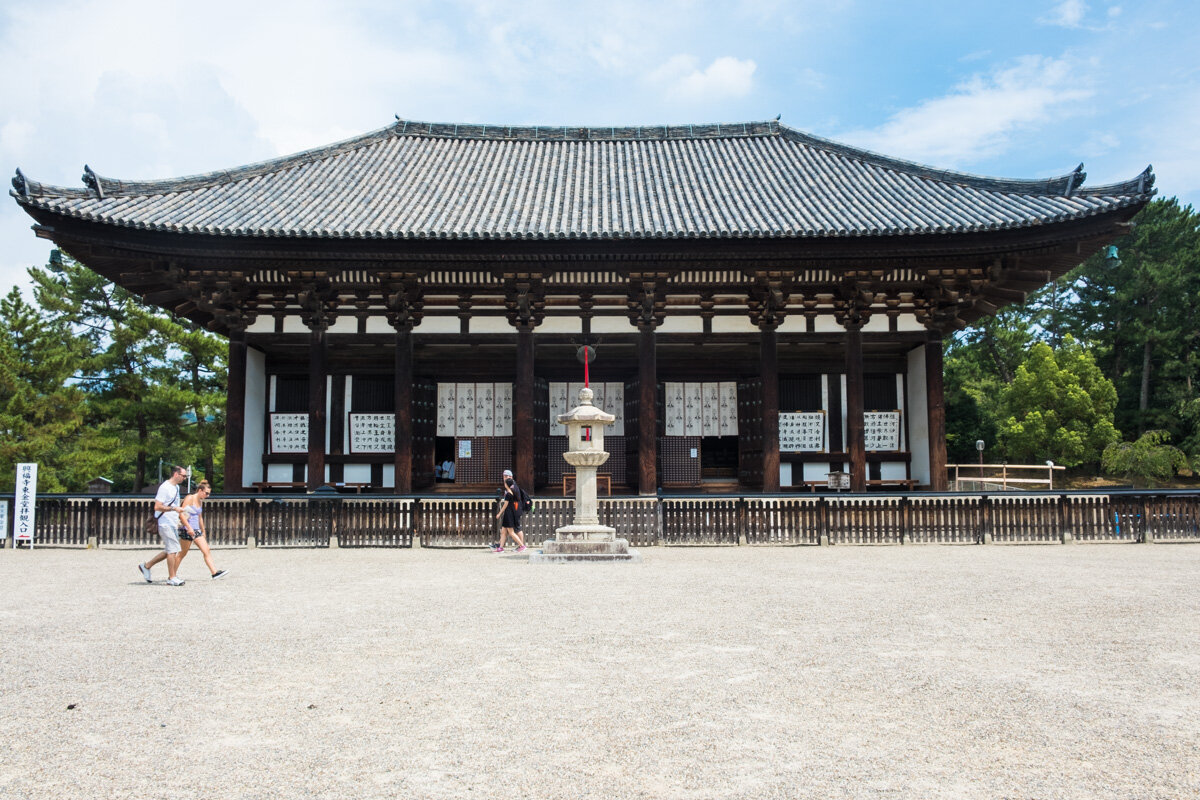 More on Kofuku-ji Temple
Kofokuji Temple is located only five minutes by foot from Kintetsu Train Station and twenty minutes from JR Nara Station. If you're taking the tourist loop bus, get off at Kencho-mae bus stop.
It's free to enter and wander around the temple grounds. There are several buildings including two halls (the Central Golden Hall and the Eastern Golden Hall), two pagodas including the tallest wooden pagoda in Japan, two octagonal halls, and a museum.
The one building you shouldn't miss is the National Treasury Museum. It's small, but it has some of the most beautiful works of Buddhist art that I've ever seen. The highlights for me were the Thousand-armed Kannon and the kabuki-like statues that had originally been in the Eastern Golden Hall.
The Central Golden Hall costs 500 yen, the Eastern Golden Hall is 300 yen and Treasure Museum 700 yen to enter. But you should buy a combination ticket for both the Eastern Golden Hall and museum at 900 yen. Opening times are 9:00 to 17:00.
Things to do in Nara – Todai-ji Temple
Submitted by Alexander Waltner from Gourmand Trotter
Todai-ji Temple in Nara is a large Buddhist Temple that was once one of the Seven Great Temples of Japan. It was built in 738 CE, and houses the largest bronze statue of Buddha Vairocana in the world. Known locally as Daibutsu.
It's listed as a World Heritage Site by UNESCO and is definitely one of the must-visit attractions in Nara. The Great Buddha Hall was rebuilt in 1709, after a fire had destroyed it. This is where you can admire the big statue of Buddha, which measures a total of 57 meters in length and 50 meters in width.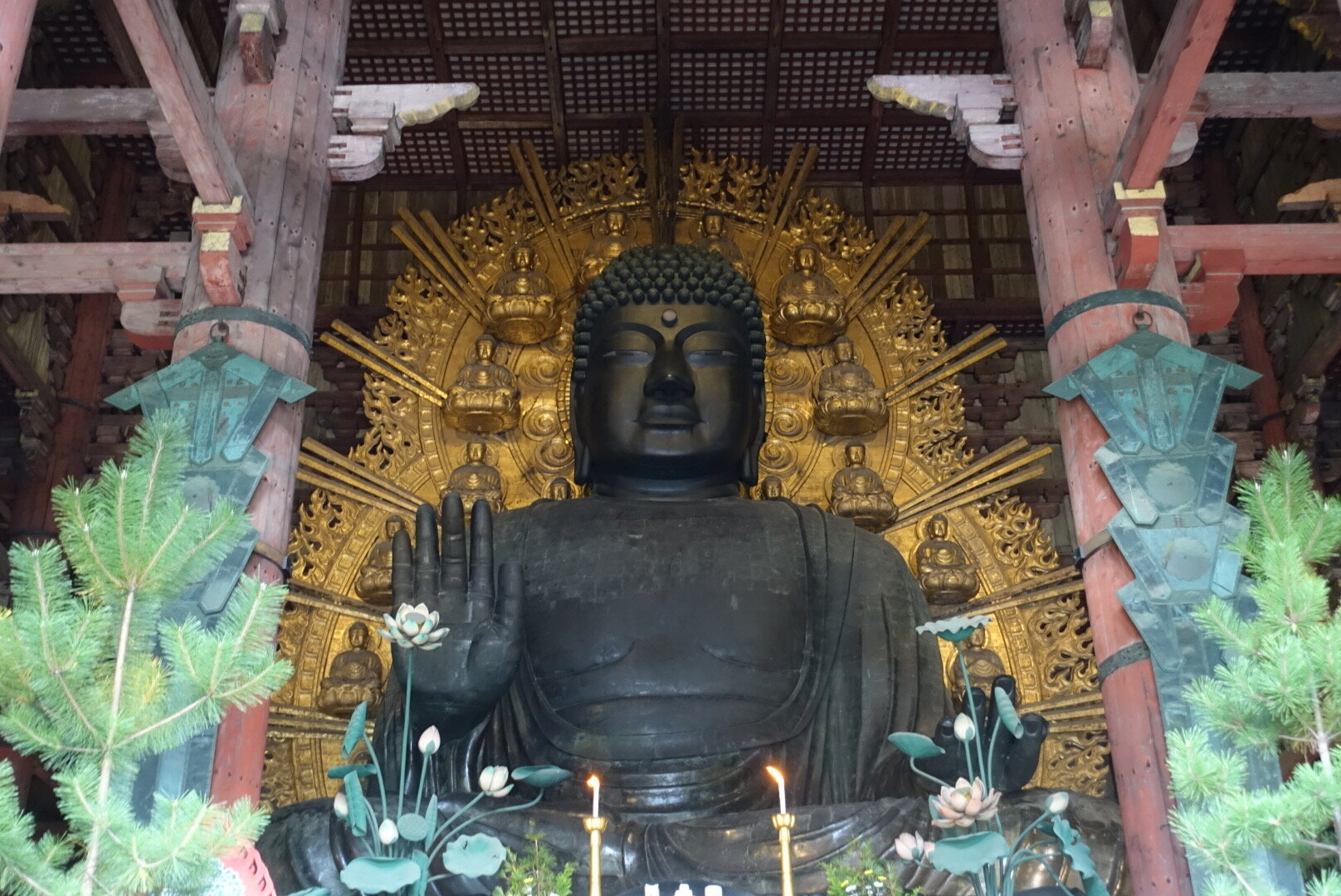 Until 1998, the Todai-ji temple was also the largest wooden building in the world. The temple is surrounded by gardens and various buildings that are seen today as a part of Todai-ji. There are 7 national treasures at Todai-ji, which of the following: Kon-dō (Daibutsuden), Nandaimon, Kaizan-dō, Shōrō, Hokke-dō (Sangatsu-dō), Nigatsu-dō, and Tegaimon. These are architectural masterworks that shouldn't be missed.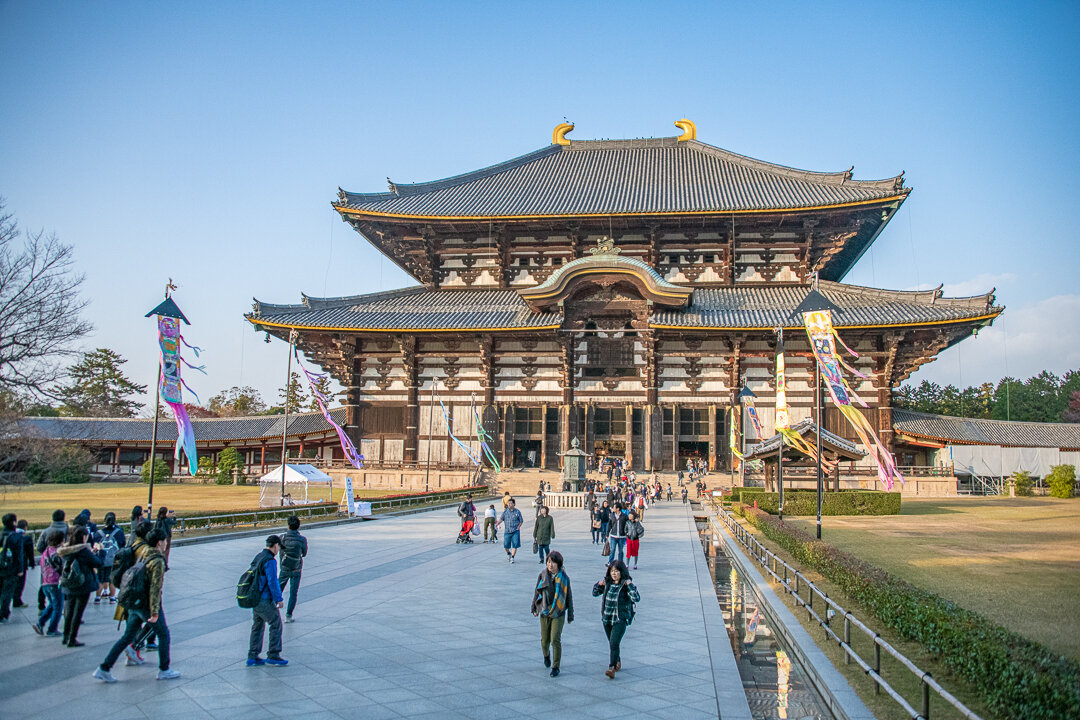 More on Todai-ji Temple
The Todai-ji temple is located adjacent to Nara Deer Park, and you can easily walk between the two. You'll also find that many deer are walking around the temple area as well, and they are seen as messengers of God.
It's better to visit the temple early in the morning if you want to avoid the crowds. Also, expect crowds during autumn color season as well as when the Cherry blossom is in bloom. The entrance fee of Todai-ji temple is a modest 500 Yen, which is roughly equivalent to 4-5 USD.
Love it? Pin it!