Buffalo New York is a city full of surprises. A city that isn't always thought of by travelers is rejuvenating itself and it's becoming a must-see New York destination. On a recent New York road trip I made a stop in this diverse city and fell in love with it. I'm counting the days until I can go back and explore it some more. Here are 7 things to do in Buffalo New York.
Best things to do in Buffalo New York
Take a FREE tour of City Hall
Buffalo City Hall is one of the most beautiful buildings in the entire city. Inside and out the building is styled in art-deco architecture.
Most weekdays – the schedule can change as the tours are run by volunteers – at 12pm there is a tour of City Hall. This is a free tour run by Preservation Buffalo Niagara. The tour gives the history of the building and the city. Meet in the main lobby of City Hall by the sign that says Tours.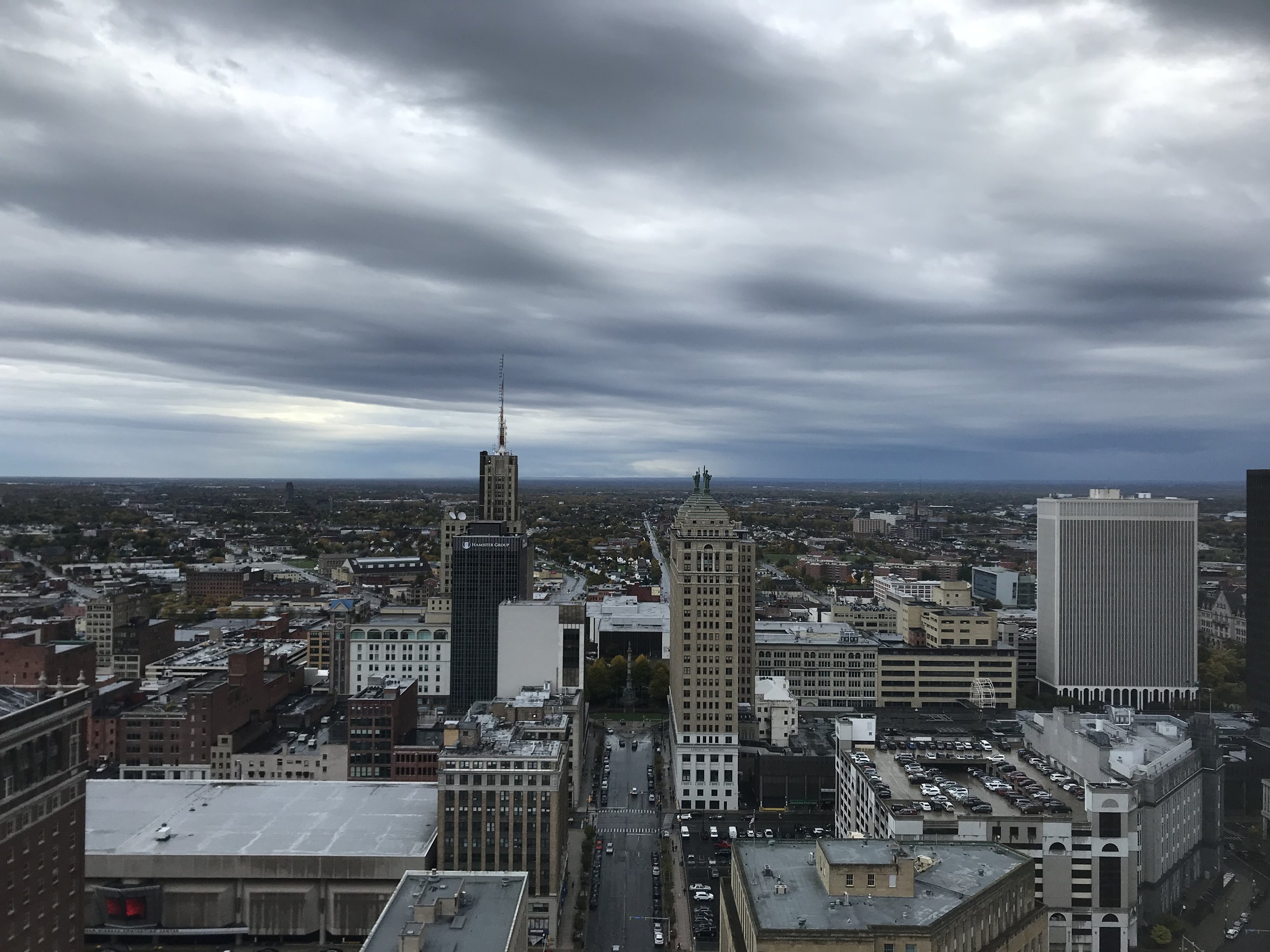 During the tour, you'll learn about the architecture of the main lobby, visit the Mayor's office, and see my favorite room, the city council chambers.
All tours end at the observation deck that gives you an amazing view of Buffalo. If you don't have time to do the tour you can still visit the observation deck at no charge making this one of the best free things to do in Buffalo.
Check the Preservation Buffalo Niagara Calendar for when this tour and a few others are happening during your visit to Buffalo.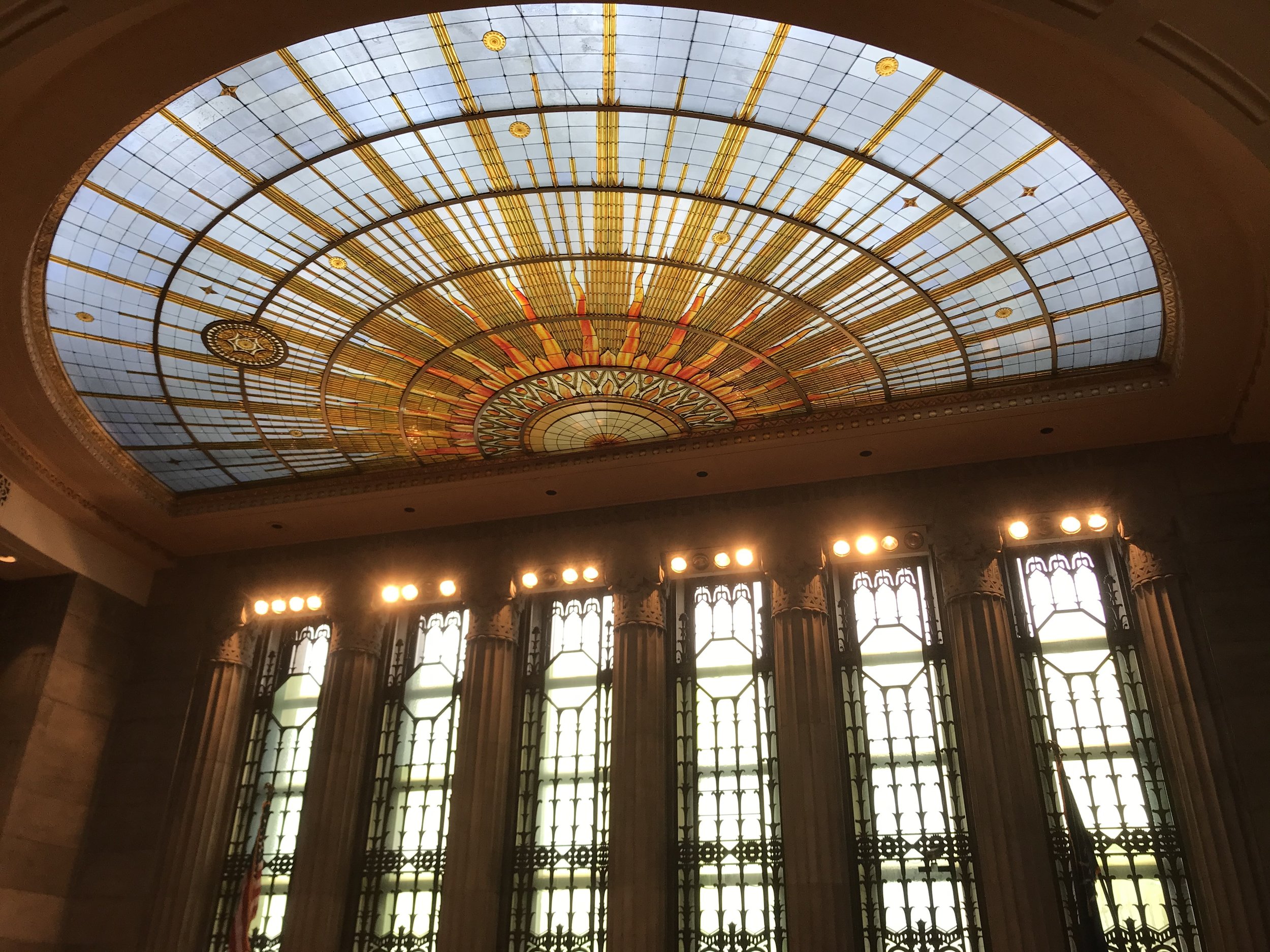 Pin it for Later
Buffalo at Night: Spend a night bar hopping
Buffalo has looooong winters and as such locals tend to go out, enjoy the city, eat and drink to make the winter not seem as long. As a result, there are a plethora of restaurants and bars to enjoy. Exploring some of the city's best restaurants and bars is one of the best things to do in Buffalo New York.
Since I knew a few amazing locals they took Will, my boyfriend, and I out on the town to see some of their favorite spots. We started the night at 6 pm and it ended with us dancing in the streets at 2 am. You could say we had an amazing night!
We started out at River Works, which I'll tell you more about later, having some sweet local beers. But my favorite stop of the evening was Mistua Chow's, a hipster 90's kid's dream. They have some of my favorite old school arcade games and plenty of pinball.
There are so many great bars in Buffalo that I'm planning a trip back during the summer to see even more of them. So much beer, so little time. I foresee plenty of crazy nights in Buffalo with these ladies in my future. After all, it's only a 5-hour drive from where I live, or I can take the Amtrak train.
Buffalo New York Activities: Visit the Buffalo Botanical Gardens
Whenever Will and I go on a trip we always look for Botanical Garden to explore because we both love plants. When I found out there was a Botanical Garden in Buffalo it was a no-brainer that we had to visit.
At the time of publishing, the Buffalo Botanical Garden is currently going through a multi-million dollar renovation, and it was still beautiful. I can't even imagine how amazing it's going to look when it's done. I will definitely be going back!
The garden is mostly inside so you can visit it any time of year. With flowers and plants from all over the planet walking from room to room is like taking a trip around the world.
Check their events calendar for the various shows they offer, yoga, workshops, and activities for kids. Don't miss this must-do Buffalo New York attraction!
Fun things to do in Buffalo New York: Hike to the Eternal Flame
The Buffalo New York area has a few hikes that are must dos while you visit. Hiking to the Eternal Flame is one of them.
The Eternal Flame hike is located in Chestnut Ridge Park. However, upon arrival to the area, if you're coming from Buffalo, do not park your car at the main entrance to Chestnut Ridge Park. There is a parking area a little ways bast the main entrance on the right hand side of the road. Look for the sign.
The hike itself is short at just under a mile. The trail is well marked with little signs with flames on them. You'll be walking through and near Shale Creek so if you're shoes aren't waterproof watch your step. It took us around 40 minutes to do the full loop. It's a great hike for people of all ages however there is a down hill at the start and since the trail is an out and back you'll have to back up that hill. Those with bad knees should use caution, and bring trekking poles.
When it comes to hikes, this is one you don't want to miss and is definitely one of the best things to do in Buffalo.
Do an Escape Room at Escape City Buffalo
Who's done an escape room? If you love puzzles and games, like I do, you NEED to go check one out. Will and I had never done one before and while in Buffalo we decided it was time and with my girls Holly and Amanda in on the fun we went for it.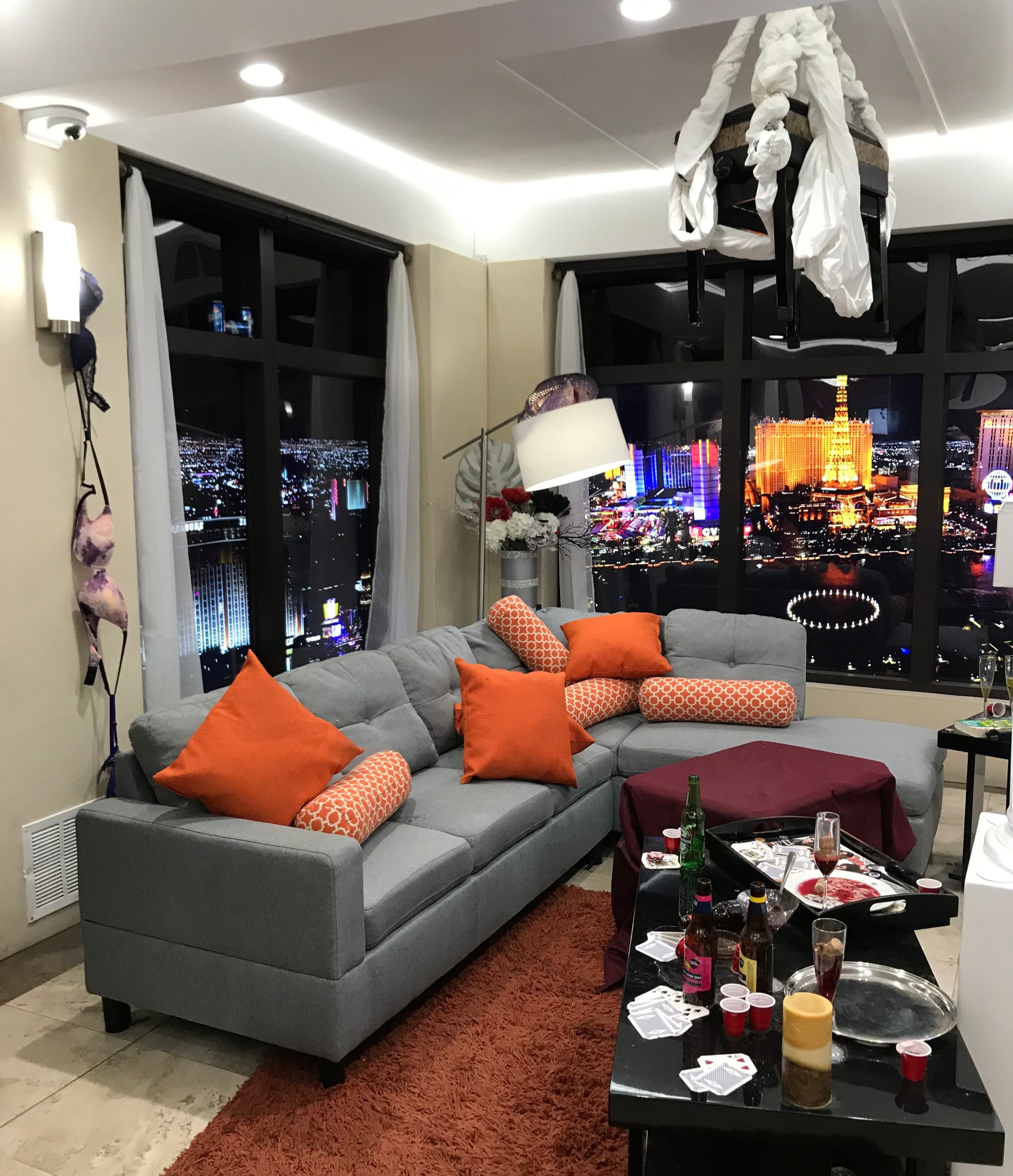 Escape City Buffalo is located just outside the city of Buffalo in Tonawanda. During my visit we did the 18+ escape room, The Hangover. I don't know what I expected, but this room was above and beyond my imagination.
I can't tell you too much about the room without giving things away, but there were bras, a tiger, a baby, and more adult things than I thought there would be. We laughed the entire time.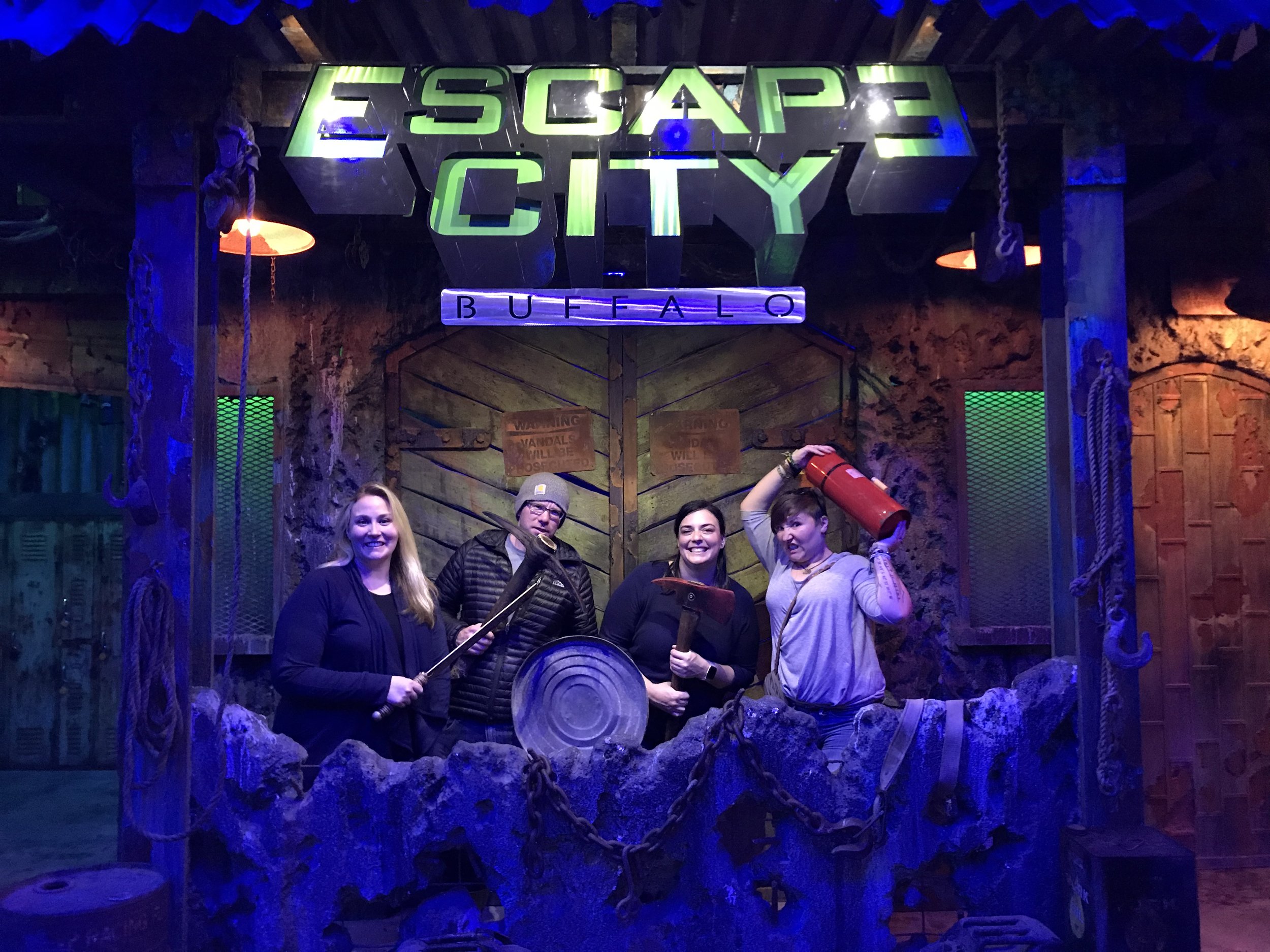 Escape City Buffalo is always changing up their rooms, so depending o when you're reading this The Hangover room may or may not still be there. However, if their other rooms are anything like the one I experienced, you won't be disappointed. They have space for 3 escape rooms at their location along with a function room for corporate events and birthday parties.
Unique things to do in Buffalo New York: Go to River Works
River Works, over the last few years, has become a must-visit destination in Buffalo, New York. It has rejuvenated a space along the Buffalo River into a space for the entire community and it's visitors.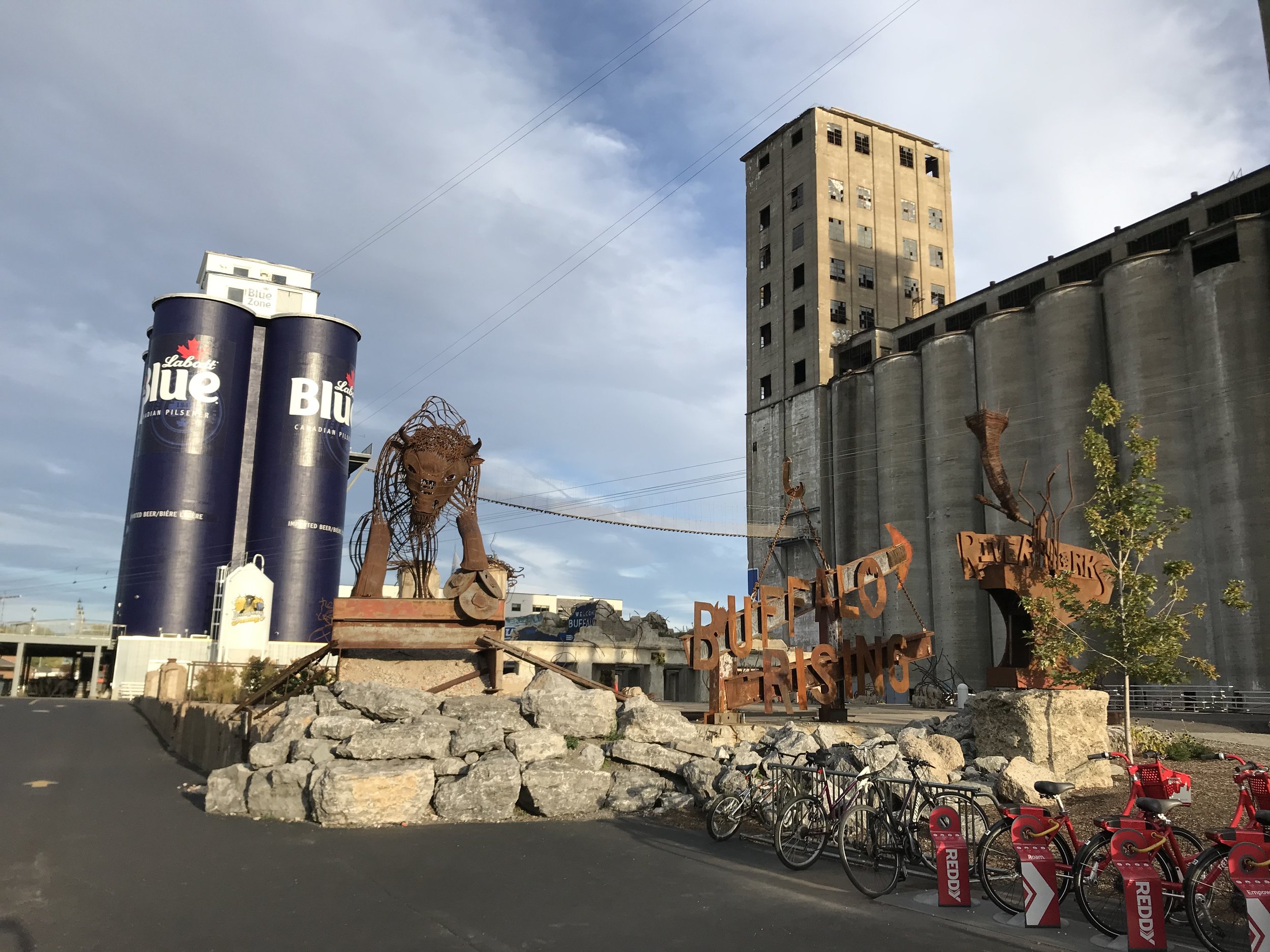 They have kayaks to rent, ziplining between silos painted as a 6-sack of Labatt Blue, ice skating, curling, sporting events, concerts, and an on-site brewery. There is so much fun to be had at River Works that I think it is one of the best things to do in Buffalo.
While I was there the local roller derby team was practicing, which made me love it even more.
Check out their event calendar to see what exciting activities they have coming up during your visit.
Buffalo Museum of Science
The Buffalo Museum of Science is one of the best museums in the city, and while I might be saying that because I'm a sucker for a science museum I was legitimately impressed by their collection. This dinosaur fossil alone makes it one of the best things to do in Buffalo New York.
A few of the exhibits I found spectacular are:
Buffalo in Space
The Artifact Hall
Rethink Extinct
I was unable to experience the Kellogg Observatory as we were not in town during it's evening operating hours. During my next visit, I'll make sure I'm in town when it's open.
They have free parking in their lot and are open 7 days a week. Check the Buffalo Museum of Science website for holiday closures and ticket prices.
What are some your favorite things to do in Buffalo new york? Let me know in the comments!
Love it? Pin it!