Amman, Jordan is the sprawling metropolis seen as the gateway to the Dead Sea, Petra, and Wadi Rum, but there is so much to do in the city itself. In existence since the Bronze Age, Amman has a storied past and bright future worth exploring. Here are 14 Things to do in Amman Jordan.
Things to do in Amman Jordan
The 6,000 seat amphitheater in the center of Amman dates back to the second century when the Romans ruled Amman. At that time it was known as Philadelphia. This amazing space was built on a severe angle right into the side of the hill to provide shade and amazing acoustics.
It is open most days from 8am-10pm, but you cannot always get inside the space as it is still used for Festivals. The Roman Amphitheater is a must see for any visit to Amman, so don't miss it!
Things to do in Amman: Discover Rainbow Street
Rainbow Street is like San Francisco miniaturized and transported to the Middle East, and may be one of my favorite things to do in Amman. Towards the end of the street and ever gives you hilly views! Lined with 1920s era villas made of limestone, shops and restaurants, it's a great place to head upon arrival. It's low key compared to the rest of the city, providing a great introduction to the area. The shops are great for buying gifts as many of them are filled with Jordanian handicrafts. From home furnishings to jewelry to baskets and textiles, this is the place to go!
Eat at Hashem Falafel
If you want to taste the best hummus of your life take the time to find Hashem Falafel. Seriously, the BEST hummus topped with the lightest olive oil I've ever had. AND the falafel and pita bread were cooked to perfection.
We were lucky enough to be there at a time when there was no wait. This was one of the most inexpensive meals I had the entire time I was in Jordan, plus we had leftovers, which we had for lunch the following day.
Of all the things to do in Amman, when it comes to food, make sure you go to Hashem Falafel. My mouth is watering just thinking about it!
Things to do in Amman: Smoke some Shisha
Shisha is flavored tobacco smoked through a hookah, which are usually very large. I'm a fan of the apple flavor, but you can also get cherry, vanilla, mint and so on. There are a lot of flavors. You can get shisha all over Jordan.
I spent St. Patrick's day 2017 in the desert of Wadi Rum drinking local craft beer and smoking shisha. There may or may not have been drunk Arabic dancing as well. That belly dancing class I took in college really paid off when I made friends with a group of Jordanian women who were impressed with my moves.
Anyway, It's very much part of the culture, so why not find a cafe, play some backgammon and if you can find a sweet rooftop, enjoy an Amman sunset.
Visit The Citadel
Sitting atop the highest hill in Amman is the ancient site of Rabbath-Ammon, now known as The Citadel. Dating back to the Bronze Age, this site has had many uses from a fortress to a space for politics and local commerce.
One of the big draws of this space are the ruins of the Temple of Hercules. Now only 2 standing pillars and the hand of a once colossal statue of Hercules himself are all that remains intact.
The Umayyad Palace, dating around 720 AD, is located behind the Archeological Museum. (Make sure you pop in here, while it is a bit dated, it's worth a look especially at some of some of the smaller finds from the site.) The Palace was once the home of the Governor of Amman, but was destroyed by an earthquake.
I could go on an on about how much I loved this site, but go see it, along with the best view of Amman, for yourself!
Eat Baklava at Jabri Restaurant
For those of you who don't know, baklava is a sweet dessert pastry made of layers of filo filled with chopped nuts and sweeten with honey. My mouth is watering just thinking about it! To get some seriously delicious baklava make sure you go to Jabri Restaurant. Try to get a seat out on the terrace if you can, it's usually pretty full. Take in the atmosphere and enjoy this little bit of heaven, you deserve it.
Things to do in Amman: Explore Al Balad
If you do one thing while you're in Amman make sure you visit Al Balad. It is the downtown area of the city and it is guaranteed to be a whirlwind! I spent one of my first nights in Jordan exploring Al Balad. During that time I was almost hit my a minimum of 1 car and 4 motorbikes, I ate the best hummus of my life at Hashem Falafel, purchased hibiscus tea to bring home, and tried some really funky roadside sugar cane drunk concoction.
In addition, I could have bought anything a heart could desire, spices, food, cloth, electronic, you name it they had it! I was a feast for the eyes; vibrant neon lights and people people everywhere. I could have sat at a cafe and people watched for hours. There is no better place to take it all that is Amman.
Things to do in Amman Jordan
Drink Delicious Mint Tea
If you don't drink mint tea during your visit, you'll be missing out. It will be served in the tiniest little glass and will be so hot it'll burn the roof of your mouth, so do your taste buds a favor and let it cool. The mint will be fresh and full of flavor just floating about in your glass. Savor every sip.
Photograph the Colorful Streets
The streets of Amman are always on the move. Filled with people in traditional dress, vehicles of all shapes and sizes fill the roads and there is color everywhere.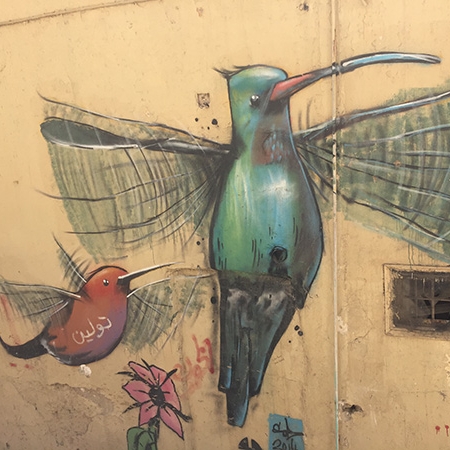 The pale colored walls of buildings are decorated with miraculous street art. And there are more and more painted staircases popping up all over the city.
Street Art in Jordan is still relatively new, but is growing in popularity. It makes a walk around this already colorful city even more spectacular.
While the museum has been under construction for some time now and a common complaint for many visitors is the museum hours change without notice, I would still recommend a visit. The museum houses some of the Dead Sea scrolls, which are worth seeing, along with several gorgeous Neolithic statues. It is difficult to predict when construction will be completed, but when the large building is finished there will be plenty of display space for the museum to display it's full collection and to grow.
Unfortunately, while I was in Jordan I was unable to make it to this Mosque. I had just come from Egypt and had visited several while in Cairo. The next time I head to Amman this will be at the top of my list.
If you do choose to visit this or any Mosque please make sure your arms and legs are fully covered and you have a scarf so you can cover your hair.
Enjoy a Camel Burger at the Q Restaurant
Yup, it's completely touristy. No, I don't care. I love burgers. I had also never seen a camel burger before or since my visit to Amman. Located on Rainbow Street, Q Restaurant has multiple floors and a laid back vibe. They have a sandwich board sign out front with camel burger in pretty big letters.
On a scale of 1 to 10 I give the burger a 6.5. It was tasty and the large freshly made bun is really what put it over the top. Also, would you look at those fries…A-MAZ-ING!
Eat all the Shawarma
On a recent trip I past a restaurant that said, "Shawarma," in large letters on the window. I was so excited I scared my boyfriend with my squeaks! I was then extremely disappointed that they were closed. That is how much I love shawarma!
Shawarma is thinly shaved meat – lamb, chicken, turkey, beer, veal – in a pita, and one of the most popular street foods in the world. Inspired by the Turkish, doner kabab – which I also love – it can also include vegetables, and various sauces.
It's a party for your taste buds, eat it!
Go to the Jordan Folklore Museum
While it's a small museum, located near the Roman Amphitheater near downtown Amman, it's worth a quick visit. I really enjoyed viewing the various clothing on display there. The cultures of the Reef, Bedu, and Madineh are represented by not only clothing, but everyday tools and utensils. Entrance into the Jordan Folklore Museum is included with the price of your Roman Amphitheater ticket, so get your monies worth and go.
If you liked Amman you'll love Marrakech!
Love it? Pin it!