The ancient city of Petra, Jordan is located approximately 3 hours from the capital city of Amman. While the Treasury is what comes to mind when thinking of the ancient city, there is so much more to see inside Petra Jordan. Here are some tips for your visit to Petra, a bucket list destination in Jordan. I hope your visit is as memorable as mine was.
Visit Petra
Interesting Facts about Petra
The Treasury at Petra is estimated to be over 2,000 years old.
Petra is home to over 800 tombs carved into stone.
The city is estimated to be established around 310 B.C. making it one of the oldest cities in the world.
Petra originates from the Greek word 'petros' which means rocks. In Arabic it is known as Al-Batra.
In 2007 Petra became one of the New Seven Wonders of the World.
Petra became a UNESCO World Heritage Site in 1985.
Best time to visit Petra
It can get extremely hot in Jordan, so finding the best time to visit Petra is important. During Jordan's summer just skip it if you can. However, during Spring (March to May) or Fall (September to November). the temperature is perfect – warm, but not hot – around 64-77°F.
Wear Comfortable Shoes when you visit Petra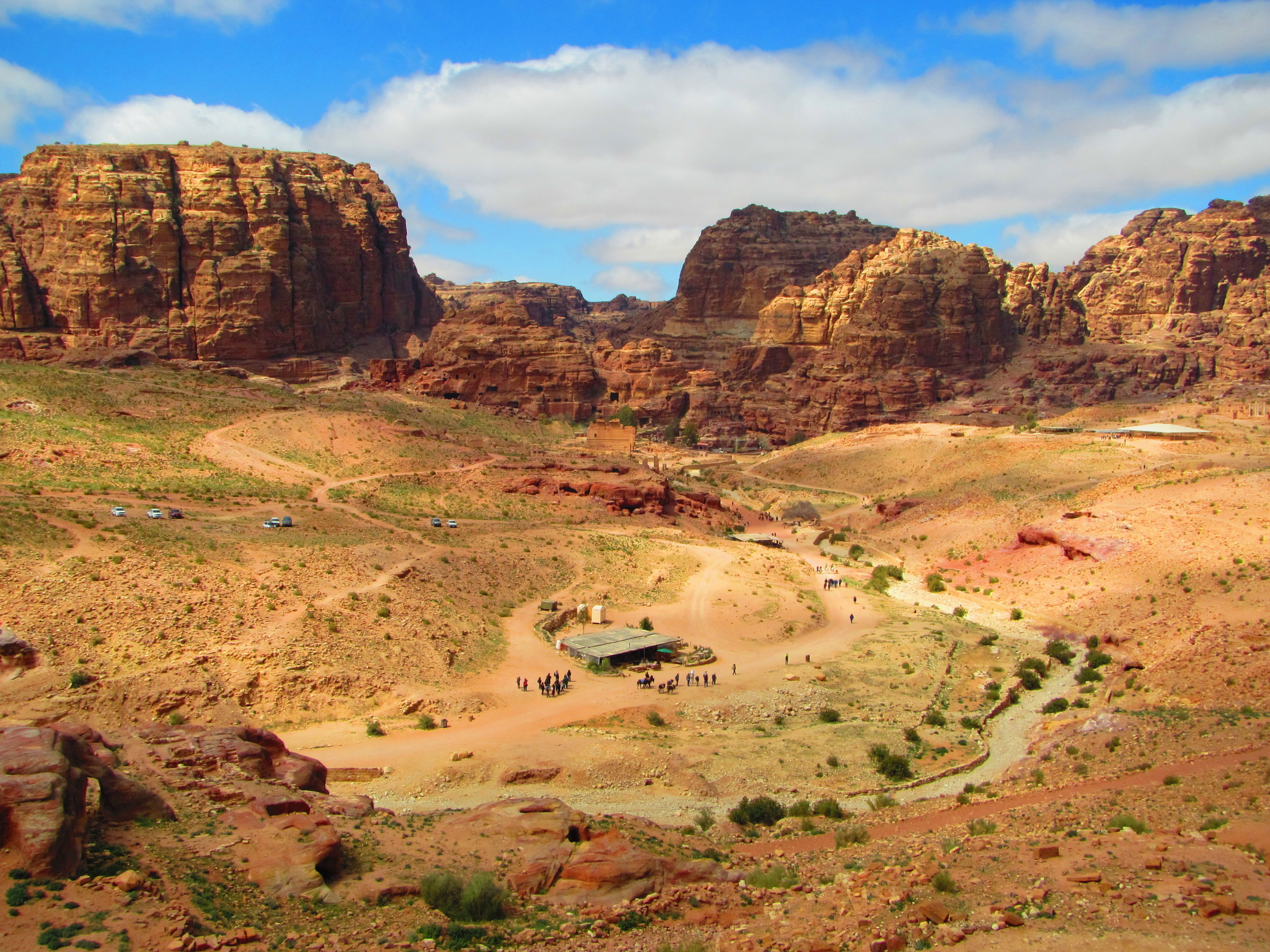 This should go without saying, but during my visit to Petra Jordan I saw too many people with improper footwear complaining there feet hurt. While walking through the Siq – the high walled canyon which leads to the Treasury – and on the main road through Petra the ground is even, when venturing off the main throughway the ground becomes uneven and rocky.
The inside of Petra is WAY bigger than you think it is
When I thought of Petra, the Treasury is the only things that came to mind. However, according to Zeidoun Al-Muheisen of Jordan's Yarmouk University, who has been excavating in Petra since 1979, only 15% of the site has been uncovered. Even that 15% is huge! Currently, the site is estimated to be around 60 square kilometers. That space spans through canyons and over craggy mountains.
Petra Tip: Bring Lots of Water and Snacks
Petra is located in the desert. I was there in March and it was still hot during the day, even though it was winter time. Staying hydrated will ensure you have a great time during your visit. Bring plenty of water with you, but know there are several places you can purchase water throughout the city.
The same goes for snacks. At some of the main spots – the Treasury, the monastery, along the main trail – there are vendors selling food. Because the site is so vast I recommend bringing food with you just in case you get hungry and you're not near a place to buy food.
Take a short tour when you visit Petra to get some History
Nabataeans have lived in Petra since 312 B.C. according to Al-Muheisen, that's over a Millennia of history! If you think you can get the most out of visiting Petra Jordan without knowing a thing about the place, I feel like you'd be missing out. Granted, I'm a history geek and want to know all about the places I visit.
You can get a guide in advance or you can hire someone upon arrival. A licensed private guide, hired at the Petra Visitors Center, will run you 50JD. Arranging a guide in advance on TripAdvisor can alleviate some stress during the trip, if you're a planner. While I did not go with him while I was there, Abdullah Nawafleh, is a private guide and comes highly recommended by friends of mine who visited recently and on TripAdvisor.
Should I do a day trip from Amman to Petra?
Yes, you can do a day trip to Petra from Amman. There are plenty of tour companies that will take you on a day trip to Petra. However, I personally feel that the time I had there was not enough and I was there the moment the gates opened until dinner time. It takes just under 3 hours to get from Amman to Petra. This means if you do a day trip to Petra, you'll be in the car for around 6 hours that day. If you're short on time and need to do a day trip to Petra from Amman. I highly recommend doing this Private tour to Petra.
Give yourself plenty of time when visiting Petra
I would recommend getting to the sight as early as possible when you plan your visit to Petra. It's cooler in the mornings and there are fewer people. According to the Visitors Center, which is open from 6 am to 6 pm in the summer and 6 am to 4 pm in the winter there is no official closing time, they just request that all visitors exit the area by sundown unless you are doing Petra by Night (more on that later).
Like I said earlier Petra is huge! Many people say they are satisfied with doing a day there, but I wish I had 2. There are so many trails to explore and I think I saw about half of what I really wanted to see in the day I was there. With that said, I love wandering around ruins of any kind.
Visit Petra: Petra Tours
For those of you who don't want to go it alone in Petra or don't want to plan, here are a few suggestions for tours to Petra:
Petra Tip: Approximate walking times and Distances in Petra
During your visit to Petra, you'll be doing plenty of walking. To help you plan your time accordingly, here are approximate distances and walking times.
Main Trail: 2.7 miles, 2-2.5 hours, difficulty level: easy
Al-Khubtha Trail: 1 mile, 2-2.5 hours, difficulty level: hard
High Place of Sacrifice Trail: 1.7 miles, 4-5 hours difficulty level: hard
Ad-Deir (Monastery) Trail: 3/4 mile with over 800 steps, 2.5-3 hours, difficulty level: hard
Umm al-Blyara Trail: 1.25 miles, 3-4 hours, difficulty level:hard
Jabel Haroun Trail: 2.8 miles, 5-6 hours, difficulty level: hard
Sabra Trail: 3.7 miles, 6-7 hours, difficulty level:moderate
Al-Madras Trail: .31 miles, 3/4-1 hour, difficulty level: moderate
Photos inside Petra Jordan
During your visit to Petra Jordan, photos are a MUST! There is so much to see and turst me you'll take a ton of pictures, I know I did. Whether you use your phone or a sophisticated high-tech camera, make sure you bring extra batteries. I didn't and halfway through the day my camera died. Luckily I always bring my little point and shoot just in case.
If you are able to change lens on your camera a wide angle lens will be very helpful in capturing the beauty of the area.
Do Petra by Night when visiting Petra
Petra by Night is a magical experience. You walk through the Siq, which is lined with illuminating paper bags. People are mostly silent during this walk making it seem other worldly.
Upon your arrival at the Treasury, you sit down in silence and are given a hot cup of tea. With the desert chill, your hands welcome the warmth. The area in front of the Treasury is dotted with flickering lights and enveloped with the stillness of the desert. You are then treated with traditional music that will have you closing your eyes and taking everything in. When the music stops lights turn on and the Treasury seems to glow.
Petra Tip: Be warned, there are a lot of people. If you are the type of person that can't block out the stupidity of others, you probably shouldn't got. On Trip Advisor, Petra by Night gets low reviews because of "Tourists". Some people are rude, yes, but that's the unfortunate truth everywhere you go. If you go with an open mind and heart, you will enjoy this experience.
Remember to dress warm as you will be sitting for some time, test out your camera without the flash to try and get the best photos you can, and bring a headlamp for the walk just in case. During my visit tri-pods where not allowed.
Love it? Pin It!