I am always on the lookout for 'solo friendly' travel destinations and can add yet another country to the list. Traveling in Croatia has ease of travel, a variety of nightlife, stunning scenery and plenty of things to do. And to top it all off it's a great place to do a European road trip.
Traveling Croatia Solo
My criteria for a solo travel destination includes:
Affordability
Opportunities for exploration
Cultural experiences both indoors and out
Preferable sunshine
Safety
Views.
My Croatia trip ticked all of those boxes so check out my solo guide to an unforgettable Adriatic visit.
Traveling Croatia: Zadar
Zadar was my gateway to the Dalmatian Coast and what a welcome I got. This stunning old town lies on a small peninsula. It is easily walkable and reveals laneways and ruins from bygone cultures that once ruled the area. If Byzantine, Venetian and Roman architecture is your thing then Croatia is going to be right up your alley.
Walking Tour and Cooking Class
A great way to get your bearings and explore the city is with a walking market tour and cooking class. The day starts with a coffee at Café Lovre and a stroll about the old town. Then, on to the local farmers market (which is souvenir free so it feels very authentic) to get supplies for your cooking class. The chef assisted meal you create and the fun had is a sure fire way to kick off your memorable Croatia trip.
My favorite thing about old town Zadar, aside from the affordable cocktails and minimal amount of mosquitos, is the sunset. The sun puts quite a 'show' on at the west side of the peninsula.
Pin it for Later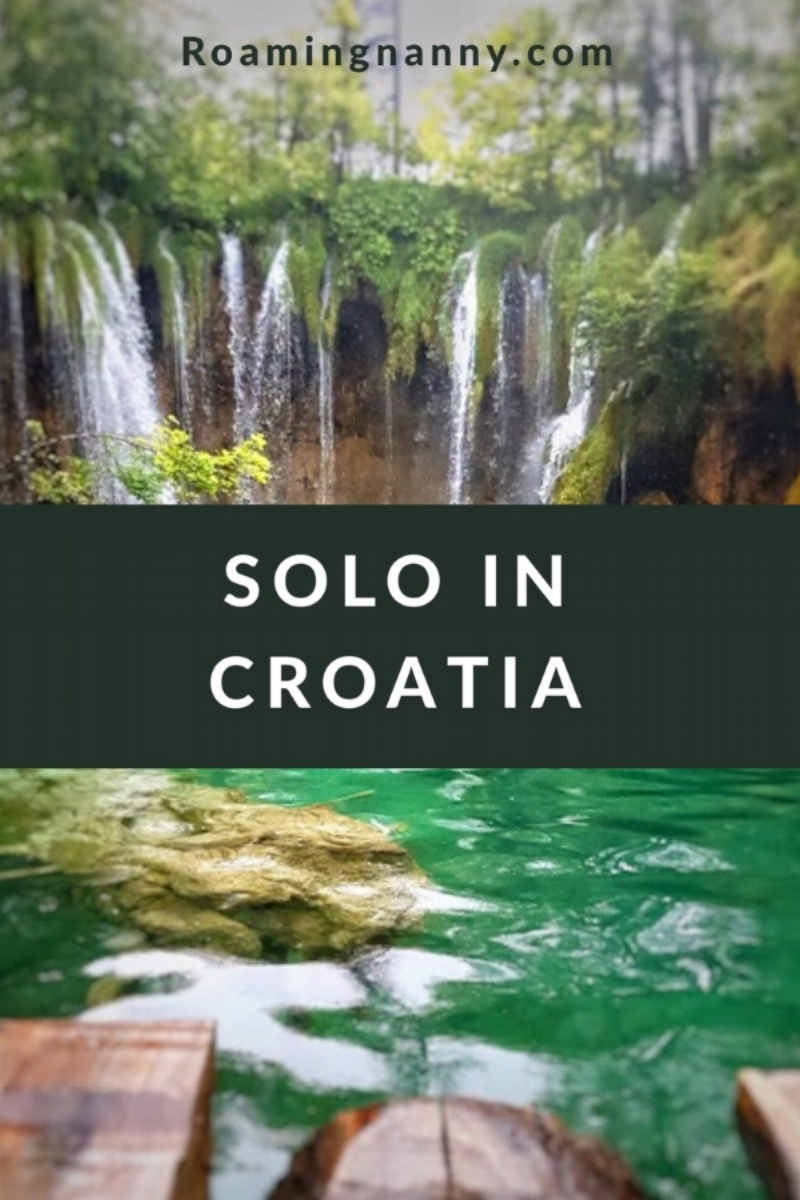 Sea Organ
As a way of jazzing up the concrete rebuild of the seafront, that been damaged during World War II, the architect Nikola Bašić designed the sea organ. Beneath the marble steps lie a network of polyethylene tubes and a cavity. This resonates with the wind and sea waves to make the sound of an organ playing.
Sitting by the splashing sea with a good book in hand is a great way to wait for the sunset. As the sun goes down the photovoltage solar module glass panels in the waterfront circle begin to light up. It reminded me of Santorini in that it is a popular gathering point for sunset watchers. But that doesn't detract from the beauty and symbiosis of humanmade art and nature. Once the show is over you can stroll away for a meal in one of the many local eateries dotted around the peninsula.
Traveling Croatia: Plitvice Lakes Day trip
I based myself in Zadar for two days so I could take an excursion to explore Plitvice Lakes National Park. Honestly, I am lazy and wanted to take the thought and hassle out of figuring out how to get there myself, so I went with a tour.
The tour I chose was a full day excursion to Plitvice including transfers, guide, and breakfast. It was a little pricey and getting a local bus there and no guide will reduce your costs.
I wanted to have the extra info the guide provided rather than looking things up myself, lazy. It was worth it though. The lakes are utterly stunning. I heard that on hot, peak season days it can feel like you are walking around a queue for a theme park ride. I was lucky going on a wet, rainy day. The crowds were greatly reduced then and the park nonetheless spectacular. Entry fee in high season is about €25 for an adult and low season it drops to about €8.
I recently saw a note on the official park website saying that due to the high volumes of visitors to the park they are running occasional closures to visitors. These closures happen between 10 am and 2 pm so try to get there before or after those times. Planning your trip is crucial as you don't want to miss out on seeing the incredibly beautiful lakes.
Getting to Split
Right so now it's time to move into the next stop on the train and it's Split, Croatia. I honestly knew zilch about this city before my trip so I was excited to see what was in store. My suggestion is to stock up at the local fruit and veg market, in Zadar, for lunch supplies. You'll need something to nibble on during your bus ride to destination number 2, Split.
Just to be safe, I pre booked my getbybus.com ticket a week or so in advance as I wanted to make sure I had a seat on the bus. Also, get to the bus station in plenty of time as these buses fill up fast and you don't want to be bumped to the next scheduled journey. I paid €15 for my ticket and travel times range from 2hrs 15- 3hours 3 minutes, depending on the time slot you choose.
The Buses
The buses are air-conditioned and comfortable but don't guarantee wi-fi, which might be something to consider if you thought you could work a little on the journey down.
Upon arrival Split bus station is right by the port and a short walk into the old town. I use Airbnb and booking.com a lot on my travels and find that browsing both gives me a wide choice of accommodation options. Zadar was a small, but cosy apartment via Airbnb and Split was a studio apartment just outside the old town walls. Both in great locations for exploring and not a far walk back at night. Not that safety was ever a worry.
Traveling Croatia: Split
Picturesque Split reminded me of Nice, in a way. The sunny, tree-lined promenade is flanked on one side by the inviting, lapping sea and on the other by bars and restaurants eager to offer shade from the heat and bustle. I spent 1 full day in Split and it was the perfect amount of time!
You can also discover Croatia by small ship cruising, which allows you to explore the historical town of Split before and after your cruise, giving you the opportunity to really immerse yourself in Croatian culture. What's more, because the ships are small, you'll be able to access parts of the country that larger cruise ships simply can't reach. So if you're looking for an authentic Croatian experience, small ship cruising is definitely the way to go.
Game of Thrones Filming Sites
I loved walking around inside the walled Diocletian Palace and meandering the narrow lanes. Plus, it being a Games of Thrones film location had me geeking out. I recommend climbing the Bell Tower of St Dominus to view the historic city. I'll say that the climb is not for the faint-hearted as there are steep steps at the beginning and open stairs up to the Belfry.
I had an unwelcome vertigo attack half way up so that was zero fun but the views at the top were worth the almost falling. Split is a great base for day trips to Krka, Mostar and Medjugorje, as well as Hvar and the islands. I had already checked Plitvice off my list so chose to skip Krka but while you can't swim in Plitvice you most certainly can in Krka.
Getting to Hvar
I opted for Hvar, which you can do as a day trip or as a base to island hop. Depending on your schedule I suggest staying out in Hvar or one of the islands to truly get the full experience. The beach time, sailing excursions, snorkeling and cave viewing more than makes it worth your while. Solo travel is made for doing whatever you want so make your Croatia trip all about you and go where your heart desires. And the islands want you to visit! I paid €15 for a ferry ticket one way to Hvar. Check the website here for details on prices.
Traveling Croatia: Hvar
I opted for a few days RnR on Hvar and used it as a base to explore the Pakleni islands. Heads up, Hvar is leg day workouts all day. The hills mean that you are entirely justified in ordering another cocktail or lavender ice cream. My Airbnb was about a 10-minute walk outside the old town and was so picturesque is was worth being a sweaty mess.
Day Trips
The port has many excursions and day trip offices to choose from. Go on a boat ride to see the incredible Blue Cave on Bisevo, or the island of Vis where Mamma Mia 2 was filmed. Going sea kayaking to the Pakleni islands and enjoying snorkeling and delicious seafood is a great idea too.
The delicious scent of lavender wafts about the old town from stalls selling sachets and trinkets of the dried flowers. If sunset beach bars are your jam take a stroll to Hula Hula Beach Bar. It's just a 10-minute walk outside the old town. While the drinks are overpriced the vibe is clubby and young.
Beaches
The beaches are stony and you do need to watch out for sea urchins when you are in the water as there are rocks everywhere but fear not there are stalls selling lilos and rubber shoes all over. Hvar is a yacht port so the people and boat watching is always worth it. And last but not least take a stroll up to the fort and while you can pay to get in I felt that the views were just as good just below the walls outside and a well earned cold one can be picked up from a stall on the walk up. Views and brews, friends.
Getting to Dubrovnik
When it's time to leave. the ferry to Dubrovnik from Hvar takes under 4 hours and costs about €30. Book your ticket in advance as the seats book up fast in high season and I suggest you get to the port at least 30 minutes before hand as the queue can get crazy long and you want a seat for the journey.
Traveling Croatia: Dubrovnik
Two days in this city is plenty in my opinion. Don't get me wrong. I loved it and would absolutely recommend a visit but the crowds inside a walled city do make for slightly claustrophobic vibes at times. Dubrovnik is a beautiful walled city (with plenty of beaches), the like of which I had never seen before so wandering is absolutely recommended.
I am a Game of Thrones geek so ya, I did the walking tour. While I don't think it is necessarily the best tour it sure was an interesting way to explore the old fort and locations around the city. I went with getyourguide.com and tickets are €20.
Walking the Walls
It is a small city so really a day will get you caught up. I wanted to walk the walls early so lined up at Ploce Gate at 7:45am. This entrance is way better as the crowds and cruise ship tours tend to start at Pile Gate. Tickets to walk the almost 2km walls costs about €20 but…sshhh… if you have a student card you get in for a much reduced price. It's not advertised but you can thank me later.
I loved the views out over the red slate roofs and the sparkle of the water is so inviting as the day heats up. So after your wall walk why not go for a sea kayak out to Lokum Island to cool down. I did the cable car ride as well but at 150kn, I felt it was a bit over priced. Yes, the views are panoramic but the restaurant prices up there are inflated so in my opinion, unless you have a burning interest in cable cars then enjoy the wall views and save your money.
The Croatian nightlife in all of the places I visited was buzzing until late and strolling around solo is not odd and once you see a bar, restaurant or pier seat you like dive right in and live your best Croatian life.
About the Author
My name is Ciara and when I'm not on my way to the airport on another trip I'm teaching elementary school kids about the world around them. I'm based in Ireland and love exploring my green isle as well as the lands beyond. For more travel guides and destinations ideas check out my website or my Instagram.
Where would you go if you were Traveling Croatia? Let me know in the comments.