I'm a big believer that adventure can be found right in your own backyard, but some destinations take an adventure to a whole new level. I've teamed up with some amazing female travel bloggers to bring you some of the best adventure travel destinations around the world.
Best Adventure Travel Destinations
Adventure Travel Destination: Patagonia, Chile & Argentina
Patagonia is an amazing adventure travel destination for its incredible hikes, dramatic landscape, and adventure activities. Located in the southern part of Chile and Argentina, Patagonia has activities for almost any type of adventure seekers.
For those who are into hiking, the famous multi-day hike W trek in Torres Del Paine in Chile and the beautiful day hike of Monte Fitz Roy in Argentina are not to be missed. Even if you are not into multi-day hikes, there are tons of beautiful day hikes that one can do to see amazing waterfalls and alpine lakes in Patagonia.
For those who want to explore the glaciers, Patagonia offers some of the world's largest glaciers. There are many glacier activities such as kayaking at Perito Moreno in Argentina, boat tours and viewing platforms. For those who are more adventurous, you can do a Big Ice or Mini trekking on Glacier Perito Moreno to fully explore the glaciers.
There are many mountaineering opportunities in Patagonia as well, with mountaineers climbing to the top of Monte Fitz Roy, the mountain range the logo of the sporting goods brand Patagonia is made after.
Even if you are not into hiking, trekking or kayaking, it's simply amazing to rent a car to drive around Torres del Paine and take in the breathtaking landscape, famed by the granite towers. You can also do horseback riding in Patagonia or venture down to Ushuaia (Argentina), the gateway to Antarctica. No matter what you do at Patagonia, you will be amazed by your experience.
Adventure Travel Destination: Kananaskis Country, Alberta, Canada
Banff gets all the attention but Kananaskis is the place to be if you're looking for adventure in Alberta, Canada. This region of the Rocky Mountains lies just one hour west of Calgary and is home to some of the best hiking, backpacking, mountain biking, horseback riding, and paddling opportunities around.
The region encompasses numerous provincial parks and recreation areas each offering up day-use areas, trail networks, and front- and back-country campgrounds. Try day hikes like the Galatea Creek Trail and the Upper Kananaskis Lake Loop for spectacular views or link up with other trails and make it a multi-day excursion. The sheer number of routes means that the possibilities are endless. Most trails also give hikers the chance to rock climb or scramble to access even better mountain vistas. Mountain bikers and horseback riders have plenty of opportunities for exploring the backcountry with many trails being designated for riders as well.
If paddling is your thing, check out the Kananaskis and Highwood rivers for adrenaline-inducing whitewater canoeing, kayaking, and rafting. Or put your paddle in one of the many pristine (and much calmer) alpine lakes. Some lakes, like Upper Kananaskis, provide access to backcountry campgrounds and make for fantastic canoe-camping experiences.
The fun doesn't have to end just because summer does. In the winter, adventurers get their fix with skiing, snowshoeing, dogsledding, and ice climbing. No matter what time of year, Kananaskis Country truly is an adventurer's paradise. The endless mountains, forests, rivers, and lakes mean there's something for everyone!
Adventure Travel Destination: Bali, Indonesia
If a wide variety of expected as well as unexpected adventurous activities are what your heart desires, Bali should be at the top of your list as one of the best adventure travel destinations around the world. Bali sets the bar really high as it seems nature goes the extra mile with all it has to offer adventure seekers.
When it comes to scuba diving, for example, you won't only be seeing plenty of fish and beautiful corals, Bali can surprise you with unusual discoveries such as underwater temples.
Hiking isn't just hiking anymore when it comes to Bali, when choosing to hike Mt Batur Volcano, for example, you can also add the experience of a thrilling ride in a 4×4 over the craters and old lava mountains followed by cooling down in the beautiful hot springs of Toya Devasya.
When you're not out chasing stunning waterfalls such as the Tegenungan Waterfall or taking a speed boat to go island hopping and diving or snorkeling at the nearby picturesque Gili Islands, there's a smorgasbord of some of the best water sports in the world to enjoy in Bali that can keep your adrenaline pumping. These include parasailing, surfing, rafting, sea walking, water jet packs and fly boarding, kite surfing, wake boarding, horseback riding and the fun inflatable banana boat or Flying Fish rides.
There's no doubt Bali has it all and more when it comes to adventurous activities. Best of all, Bali is one of the most affordable destinations to visit with all of these activities available at a lower cost than many other countries.
Adventure Travel Destination: Croatia
Submitted by Eniko from Travel Hacker Girl
Croatia is a real paradise for adventure lovers. Having an amazing coastline, there are many water sport activities you can take part in, like kayaking around the Elaphiti Islands, island hopping by on a sailboat, scuba diving or snorkeling.
Split and Dubrovnik are the two most popular cities along the coast and both offer sailing day trips to the nearby islands and kayaking adventures.
Omis is a lesser known town, with plenty to do. You can hike up to Starigrad Fortress for amazing views of the city, beach and the Cetina river. An even more exciting way to take in these gorgeous views is by going on a zip lining trip. During this 3-hour adventure, you will go down on 8 wires.
Omis is also a great destination for white water rafting. Rafting on the Cetina River is ideal for families with children as the experience is not too wild. There will be some canyoning elements as well along the way, which will make the trip even more fun. You can try rope swinging and cliff jumping. There is a beautiful waterfall along the way with a cave behind it. You can explore this cave from the inside, which is a really cool experience. Literally! The water temperature in there is really cold, but it is totally worth it for the atmosphere in there!
Adventure Travel Destination: Taupo, New Zealand
submitted by Lisa from Rebellious Tourist
On the edge of Lake Taupo, in the middle of New Zealand's North Island, it's easy to see why Taupo is an adventure traveler's dream destination. The lake is vast, with gorgeous views of Tongariro National Park's snow-capped mountains, and the friendly little town is surrounded by forests, rivers and unique geothermal terrain.
Hiking is an obvious one, but there are more unusual experiences to be had here too. Try fly fishing, 'water touch' bungy jumping, or kayaking to the hidden Māori rock carvings at Mine Bay – a 10m-high likeness of the Māori navigator Ngātoroirangi, accessible only by boat. Or for even more adrenaline, take a jet boat to the roaring base of Huka Falls, where 220,000 liters of water per second surge from a natural gorge into the Waikato River.
This is a hot spot for cyclists too, with great mountain biking trails criss-crossing the area's hills and forests. Taupo even hosts New Zealand's biggest mass participation cycling event – the annual Lake Taupo Cycle Challenge, which circles the lake. Don't underestimate the challenge – it can take anywhere between four and 10 hours.
The ultimate adventure, though, has to be skydiving. If you've ever considered it, Taupo is one of the best places in the world to take the leap. It's reputable, affordable, and the stunning scenery will distract you from the abject terror of voluntarily jumping out of a plane and hurtling to the ground at 200km/h for a full minute. Trust me, you're gonna love it.
Adventure Travel Destination: The Dolomites, Northern Italy
One of the best destinations for hiking is the Fanes-Senes-Braies Dolomite Nature Park. This awesome park is located near the town of San Vigilio di Marebbe in the Trentino-Alto Adige region of northern Italy.
San Vigilio makes a great base for exploring the park. If you have a car you can drive the 11km to Rifugio Pederü where some of the best trails begin. But there are also buses that run frequently in high season from San Vigilio to Pederü so, if you don't have a car, no problem.
There are 2 trailheads at Pederü. One leads to the Senes Alpe – the Senes Mountain Range – and one leads to the Fanes Alpe.
The Senes hike is a switchback slog in the beginning, but mellows out as you gain elevation and enter into the pine forest and high meadows. The views are stunning as you near the Senes Rifugio. I couldn't take my eyes off Croda Rossa. It's a magnificent peak!
The Fanes hike has some switchbacks as you head uphill, but it's not as intense as Senes. The terrain is rockier once you gain some elevation with some interesting glacial basins. When you reach Fanes Rifugio, you're in a lovely green valley with a small lake surrounded by peaks. It's beautiful!
Both trails continue on to lakes and higher peaks. And both trails have a wonderful network of mountain huts – refugio – so you can do longer treks if that's your thing, staying for a night or 2 in a hut.
The scenery is gorgeous no matter which Alpe you choose.
Fanes Senes Braies is the perfect destination for hikers as you can do short day hikes, long day hikes, or multi-day backpacking trips.
And let's face it, this is the Dolomites – and the Dolomites are amazing!
Adventure Travel Destination: Arizona, United States
Submitted by Allison from Dreams of Alpine
The state of Arizona is filled with some of the most classic hiking and backpacking trails in the entire United States. You could spend a few weeks exploring and road tripping around Arizona to hike some of its best trails, and still not see all that it has to offer. If you only have a couple of weeks, here are the hike I would recommend:
Starting in the Grand Canyon you could start with an epic challenge of hiking the Rim to Rim hike in one day, a 24 mile point-to-point hike that gives you the best tour of the Grand Canyon out of any other hikes in that area. It's like hiking into a lost world, and one of the best hikes in Arizona.
If you plan ahead accordingly and manage to grab hiking permits for Havasu Falls you could then spend 3-4 days backpacking this iconic desert wonderland trail. You'll stand in awe of the contrast between the 5 bright blue waterfalls and the dark red desert walls. It's a hike that should be on everyone's bucket list.
As you make your way South, stop for a day hike of Arizona's tallest peak, Humphrey's Peak, and experience Arizona from a new and beautiful perspective.
Then end your Arizona hiking adventures enjoying some of the best hikes in Sedona, and relaxing at one of Sedona's many well-known spas. The perfect end to an adventurous hiking vacation.
Adventure Travel Destination: Vietnam
submitted by Marie from Temples and Treehouses
Vietnam is an incredible destination for adventure travel, wherever your interests lie. For water sports, you can head to the tropical island of Phu Quoc in the south, which is surrounded by gorgeous coastline and smaller islands for snorkeling and scuba diving.
Further north is Ha Long Bay, a UNESCO World Heritage Site. You can take a boat trip through some of the most incredible islands and karst rock formations in the world, and kayak through lagoons. It's touristy, but still genuinely breathtaking, and definitely one of the top places to visit in Vietnam.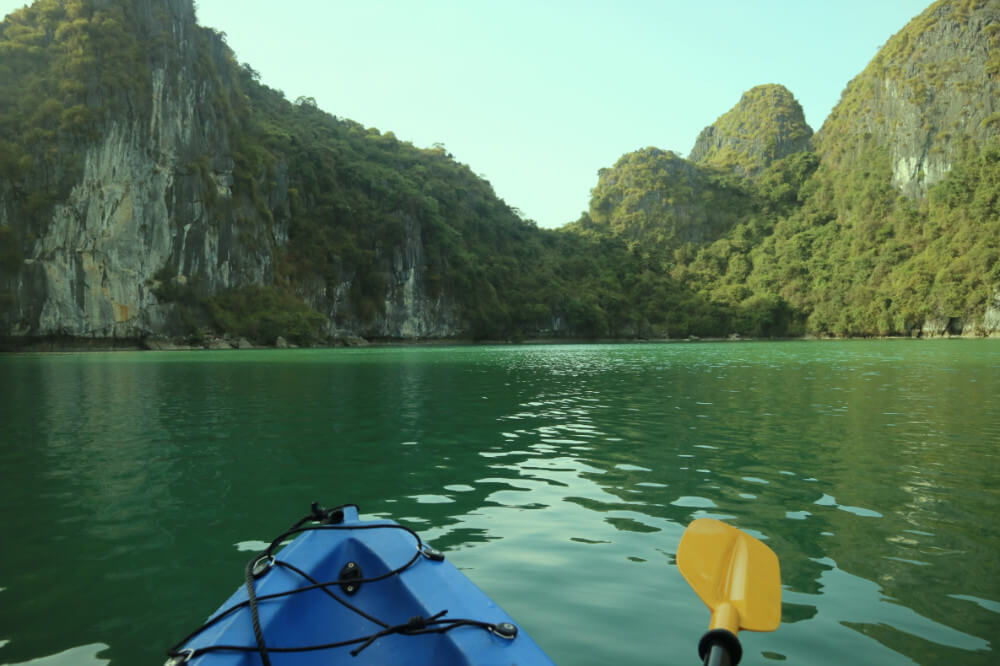 If you like trekking through the wilderness, Sapa in the mountainous north of Vietnam is famous for its incredible green rice terraces and stunning views. You can go on multi-day hikes and stay overnight in hill tribe villages.
Looking for something a little different? Da Lat in central Vietnam features winding mountain passes that are perfect for motorbike touring, and this region is famous for easy rider motorcycle trips and tours. If you're super adventurous you can ride a bike yourself, sometimes on multi-day trips. If you're not confident riding a motorbike though, you can still take a back-of-the-motorbike day tour, with a guide who will drive you to some of the top spots in the area.
Adventure Travel Destination: Bonaire
Bonaire is well known as the Shore Scuba Dive Capital of the World. The little island is listed as top 5 worldwide destinations for diving from shore and it is constantly featured in the top 3 Caribbean locations in may categories in Scuba Diving Magazine's Reader's choice.
Even the car license plates feature the slogan "divers' paradise"!
There are 86 diving sites on Bonaire and Klein Bonaire, more than half of them allow diving from shore. Nicely marked with yellow stones with the name written in black, they are easy to be spotted from the road so you'll find your way even if you are here for the first time. You just need to park your car next to the beach, put on your costume and dive into the sea. It can't get easier than this! No need for more planning, long boat rides or crowded spots with many divers in one place.
Of course there are diving sites accessible from boat, but the option to dive from shore is amazing and allows for lots of flexibility. Caribbean blue waters host a large variety of marine creatures. There are over 350 fish species around Bonaire and 57 different coral types, soft or stony. Large tarpons, turtles and barracudas are common here. Together with colorful fish, seahorses, crabs and many others.
Plus you have Hilma Hooker, the famous cargo ship found involved in drug-smuggling and sunk by the authorities and turned into a popular diving location. There is also Salt Pier, where soft corrals and sponges embrace the supporting pillars.
In Bonaire you'll find a fascinating underwater world waiting to be discovered.
Adventure Travel Destination: Chile
Submitted by Priyanka from On my Canvas
Everyone's definition of an adventure is different. While some might think of river rafting as an adventure others like to chase wildlife and click high-resolution pictures. Hiking and climbing mountains have made my adrenaline gush since childhood.
On my recent trip to Chile, I saw icy volcanoes as the backdrop to cities all over Chile. Even though evacuation signs at every street told the wayfarers what to do if a volcano erupted, I took a fancy to these snowy beasts that looked invincible from a distance. In my opinion, the mountains are what make Chile the best adventure travel destination in the world.
Before traveling to Chile, I didn't even know that climbing a volcano could be a thing. But travel companies flashing boards "Climb the Volcano with us and have an adventure of a lifetime" fringed the narrow and wide roads all over the length of Chile. When I was in Pucon, a city which the Lonely Planet refers to as the Mecca for adventurers, I decided to hike Volcano Villarrica. The fact that this volcano is an active volcano didn't deter me.
am glad that I went for the hike irrespective of my insecurities about making to the top of the 2,800-meter active volcano. The day started tough, and I struggled to walk uphill on rocky terrain in heavy trekkingshoes. And the higher we went, the steeper the ascent became. Though I didn't give up, I wished for the trek to finish with every step that I took.
After trudging uphill for about five hours, I reached the summit. When I looked down from the top of the crater fuming out sulfur fumes, I couldn't believe that I had gone so high just in a few hours. The other two volcanoes standing at a distance made the views incredible.
Hiking the volcano Villarrica is a must do activity for all the adventure lovers out there. Have you been to Pucon? If not, you might want to climb this volcano and see for yourself what this hike can do to your adrenaline.
What is your favorite Adventure Travel Destination? Did it make the list?
Love it? Pin it!