Argentina is arguably the best country in South America, and has some of the most beautiful places to discover. This collection of the best places to visit in Argentina was put together with help from some amazing female travel bloggers. True them when they say a destination is worth visiting, they know what they're talking about.
Best Places to Visit in Argentina
El Calafate and Perito Moreno Glacier in Patagonia
submitted by Fiona from Passport and Piano
El Calafate is situated on the southern border of Lake Argentino in Patagonia and is one of the best places to visit in Argentina. It's a popular tourist destination and the gateway to Los Glaciares National Park. The small town is not too dissimilar to the Alpine villages of Europe and Switzerland, with wooden houses and a multitude of expensive outdoor clothing shops.
There are several things to do in and around town including the Glaciarium Museum which has a wealth of information on the geological formation of glaciers or for some winter fun you can ride a snowmobile or ski at the mountain park. For more detailed information about the best things to do in El Calafate click here.
The main reason it is one of the best places to visit in Argentina is to see one of Patagonia's best-known attractions El Perito Moreno Glacier. The glacier is one of the 7 natural wonders of the world and a UNESCO world heritage site. Its imposing structure stretches far beyond what your eye can see, and its turquoise and blue shades are just stunning.
To get to this magnificent glacier, you can easily hire a car and drive yourself. It takes a couple of hours to reach the entrance of the National Park, but the route along the main highway is straightforward. However, there are plenty of guided tours to book in town if you prefer.
Viewing the glacier is incredible, but in addition to the walkways and viewing platforms at the visitor's center, there are several other ways to experience the splendor of Perito Moreno. Ice hiking is one option or if you prefer something less strenuous you could take a boat ride which takes you even closer to the glacier.
Los Glaciares National park also has some spectacular hikes, and I'd highly recommend exploring the ones around Mount Fitz Roy or El Chalten while in the area.
Best Places to Visit in Argentina: The Jujuy Province
submitted by Julie from Why Not Ju
One of my absolute favorite destinations in South America is the province of Jujuy. It's located in the north of Argentina and borders to both Bolivia and Chile. The entire province is located above 1260 meters altitude and Jujuys highest peak is almost 6000 meters above the ocean. Jujuy has a large range of diverse climates, from deserts to mountains and humid jungles.
The area also has a population with a strong connection to their cultural heritage and traditions. Therefore, Jujuy is one of the best places to visit in Argentina to learn about the indigenous heritage and try delicious traditional food.
The province of Jujuy has several towns and sights worth visiting. A few are; Purmamarca, a small town famous for the colorful red-toned mountains that surround it, its proximity to the Salt flat, Salinas Grandes and the lakes around where you can spot Flamingos.
The town of Tilcara has beautiful hiking trails as well as a pre-Inca fortification right outside the city center. To get to the beautiful mountain of 14 colors, Serranía de Hornocal, go to Humahuaca. The city also has a beautiful little church and a memorial for the North Argentinean Army who fought in the National Independence War.
If you travel a few hours further north you will get to the town of Iruya where there is said to be condors in and around the town.
Jujuy still doesn't see much tourism in comparison to other destinations in Argentina like Buenos Aries, Patagonia, and Salta. Still, if you have the chance, don't miss out of this beautiful corner and one of the best places to visit in Argentina!
best places to visit in Argentina: Ruta de los 7 Lagos
submitted by Erin from Sol Salute
Argentina is a country filled with stunning landscapes and breathtaking drives. And one of these beautiful road trips weaves through the many lakes of Patagonia's lake district. This is the Ruta de los 7 Lagos (the 7 Lakes Route).
There are 7 official lakes that border the highway between the small mountain towns of San Martin de los Andes and Villa la Angostura (just north of Bariloche). You can spend a couple of hours driving this route or dedicate an entire day to it if you're willing to take a few detours to some beautiful "unofficial" lakes such as Lago Hermoso and Lago Traful.
If you're even more adventurous, you can bike this route over the course of a few days. There are restaurants and campsites at a number of lakes offering tranquil, panoramic views.
It's ideal to rent a car to have the most freedom to explore the lake region. The highway here is paved, well-maintained and easy to drive. The smaller roads that lead to other lakes are dirt roads but in good condition as well.
However, if you'd prefer not to drive or a rental car isn't in your budget, there are day trips departing from Bariloche that include photo stops at all of the lakes and time in both Villa la Angostura and San Martin de los Andes. Whether you drive yourself, take a tour, or spend days biking the lakes, you will be grateful you ventured to this beautiful portion of northern Patagonia.
Best Places to Visit in Argentina: El Bolson
submitted by Or from My Path In The World
Located only two hours away by bus from Bariloche, El Bolson is a little hippie town with a unique atmosphere which is also a base for many day or half-day trips. Most of the people who visit this place are Argentinian, so it's a great way to get off the beaten path.
El Bolson itself doesn't offer a whole lot to do and see, but if there's one thing to check out, it's the street fair taking place every Tuesday, Thursday, Saturday, and Sunday. It's the perfect place to buy handcrafted and unique items, eat some street food, and enjoy live music.
Outside the town, there are quite a few places that make this of one the best places to visit in Argentina. If you're looking for an offbeat experience, head to El Bosque Tallado (The Carved Forest), a burned down forest turned into a magnificent display of wood sculptures. For a more relaxed experience, visit Lake Puelo or Lake Epuyen and enjoy some time soaking up the sun.
My personal favorite experience, however, is El Cajon del Azul hike. It's full of ascends and descends, so it can be quite challenging, but I promise it's worth it.
Getting to the most tranquil and scenic corner next to the turquoise Azul River is the best reward you can get after hiking for a few hours. Depending on how adventurous you are, there are several other hikes and treks you can take in this area.
Best Places to Visit in Argentina: Mount Fitz Roy
submitted by Claudia from My Adventures Across The World
There is little doubt that Mount Fitz Roy is one of the unmissable places to see in Argentina. This mighty mountain in the heart of Patagonia and located at the border between Argentina and Chile, is best accessed from the tiny village of El Chalten – which was in fact founded in 1985 with a view of keeping an eye on it, as it was contested by the two countries.
Hiking to Laguna de Los Tres is the best way to get a full view of Mount Fitz Roy in all its glory. There are two access points to the trail. One is at about 12 km from El Chalten, at a place called Hostaria el Pilar, and from there you walk to the lagoon and all the way to town.
The other is at the northern side of town: you walk to the lagoon and then back on the same trail (the trail starting at the Hostaria actually joins this one).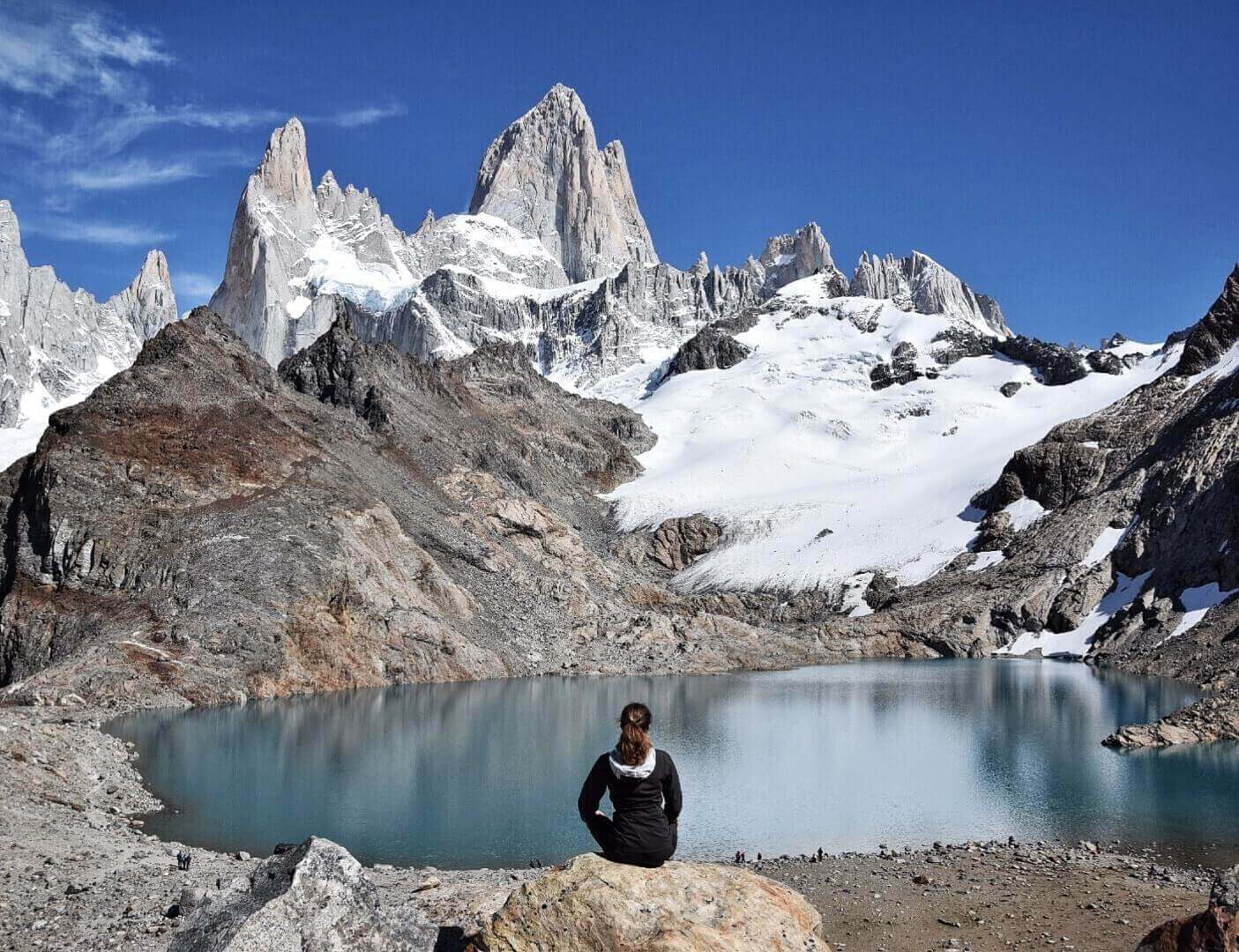 The hike is about 24 km long (on both trails) and while most of it is fairly easy and on good terrain, once you get past the Campamento Poincenot and across the river, the real challenge begins. A sign at the bottom of this part of the trail warns hikers that the 1 km up (and then back down) to the lagoon is very strenuous. In fact, there is a 40% incline and the trail is mostly on uneven rocks. It takes about 1 hour to walk up to the lagoon, and another to walk back down.
Once at the lagoon, the views are simply breathtaking and you'll see why this is one of the best places to visit in Argentina.
Best Places to Visit in Argentina: Bariloche
submitted by Andrea from One Savvy Wanderer
A trip to Argentina is not complete without visiting Bariloche, located in the Patagonia region, along the Argentina-Chile border. Known for its beautiful lakes and the best skiing in South America, Bariloche is top destination in Argentina year-round.
Visitors who enjoy the outdoors will especially love Bariloche as there are numerous places to go trekking and other activities, like fishing and sailing, can be experienced on one of the lakes in the area.
Even if skiing, trekking or fishing is not your thing, there is still a lot of things to do in Bariloche. In fact, this cute little city is the chocolate capital of Argentina, so there are chocolate shops everywhere in Centro (downtown) Bariloche.
Be sure to stop into the shops to get free samples, and if you go to one of the large chocolate shops like Rapanui or del Turista, you can even enjoy delicious gelato!
To fully experience the beauty that is the Bariloche-region, travelers should plan to visit some of the popular viewpoints in the area.
Punto Panoramico is free to visit and gives visitors a breath-taking view that includes the famous Llao-Llao Resort. Cerro Campanario and Cero Otto are two other popular viewpoints and visitors can either trek to the top or pay for a chair lift / gondola to ascend the mountain.
Best Places to Visit in Argentina: Tigre
If you are looking for somewhere close to Buenos Aires to visit, take an outing to Tigre. Tigre, an Argentinean town only 45 – 60 minutes from Buenos Aires, makes a great day trip. A train runs directly from the Retiro or Belgrano neighborhoods of Buenos Aires to the center of Tigre. The train leaves frequently, but if you prefer you can also drive or take a taxi to Tigre.
Located along the Tigre Delta the town has a tropical feel. One of the best things to do is to take a boat cruise along the Luján River.
Even better is to go kayaking on the river during the day or at night. I did a unique night kayaking adventure that included a grill-out half-way through. If you prefer staying on land, take a walk on Paseo Victoria, a wonderful biking and walking path alongside the river.
Make sure to check out Puerto de frutas, the town's old fruit harbor. It is now a waterfront market with craft stalls and restaurants. If you want to learn more about Argentinians favorite drink, head to the mate museum. The mate museum is just one of the museums you can visit in Tigre. There is also an art museum, naval history museum and a museum on the reconquest of Tigre.
Best Places to Visit in Argentina: Iguazu Falls
submitted by Margatria from The Wildlife Diaries
Consisting of up to 300 individual falls and straddling two countries, Iguazu Falls are a spectacular force of nature, and one of the best places to visit in Argentina. They formed where Iguazu River plunges over the edge of the Paraná Plateau, that was blasted out by an enormous volcanic eruption more than 130 million years ago.
Today, the falls lie on the border of Brazil and Argentina, with 20% of the falls flowing on the Brazilian side and 80% on the Argentine. So plan at least one full day to explore the falls in Argentina.
The closest city to the falls is Puerto Iguazu from where it is a short bus or taxi ride to Parque Nacional Iguazu where the falls are located. Once in the park, there is a slow tourist train that carts visitors between the different points of interest.
There are three main areas to explore: the Devil's throat, the Upper Circuit, and the Lower Circuit. The Devil's Throat is the best place to experience the unyielding force of the falls – more than half of the river's flow goes through this narrow chasm. But don't rush to visit it first thing in the morning – it gets better light in the second half of the day. Instead, spend the morning exploring the trails of the Upper and Lower Circuits.
You can spend as little as 1 hour or as much as half a day on each of the circuits, depending on how much time you have up your sleeve. The Upper Circuit offers magnificent views of the falls in the context of the surrounding landscape. While the Lower Circuit brings you closer to the falls themselves.
And for a truly up-close and personal experience, head to the Devil's Throat where you will be standing right on top of the falls with over a million liters of water tumbling off a cliff underneath your feet.
What destinations do you think are the Best Places to Visit in Argentina? Let me know in the comments!
Love it? Pin It!