When you think about tourist destinations to visit around the US, a million places might come to mind, but maybe not Atlanta, Geogria. With so many wonderful places to see all around the US, it's just natural that some places get out-shined, and don't get the attention they deserve. But there a plenty of fun things to do in Atlanta Georgia you don't want to miss.
Things to do in Atlanta Georgia
That, I think, is the case with Atlanta. Sad as it can be, not a lot of people see this city as a place to visit for something other than work. And it's not because there is nothing to see in Atlanta. Trust me, there is plenty to do, see, and plenty of great places to stay in this bustling metropolis.
So come on! Let's check out a city that deserves a visit and I'm sure you'll be surprised at what you'll be able to discover.
Getting around Atlanta Georgia
As with most destinations, you have to be able to find a form of transport that allows you get to the places you want to see in the most effient way possible. In the case of a city scape such as Atlanta visitors have 2 options, rent a car or take public transportation.
Renting a car allows you to make your own itinerary and has other benefits, as you don't depend on the schedules and limitations of the public transport. It will also be easier to get outside the city and explore more.
Public transportation in Atlanta can get a little confusing, as in most cities for those who are new to the area. If you're not going to leave the city this will be the best option for you as it is relatively low cost ($2.50 per ride as of the writing of this post). Just be aware that traveling during rush hour can become difficult with cramped buses and trains.
Love it? Pin it!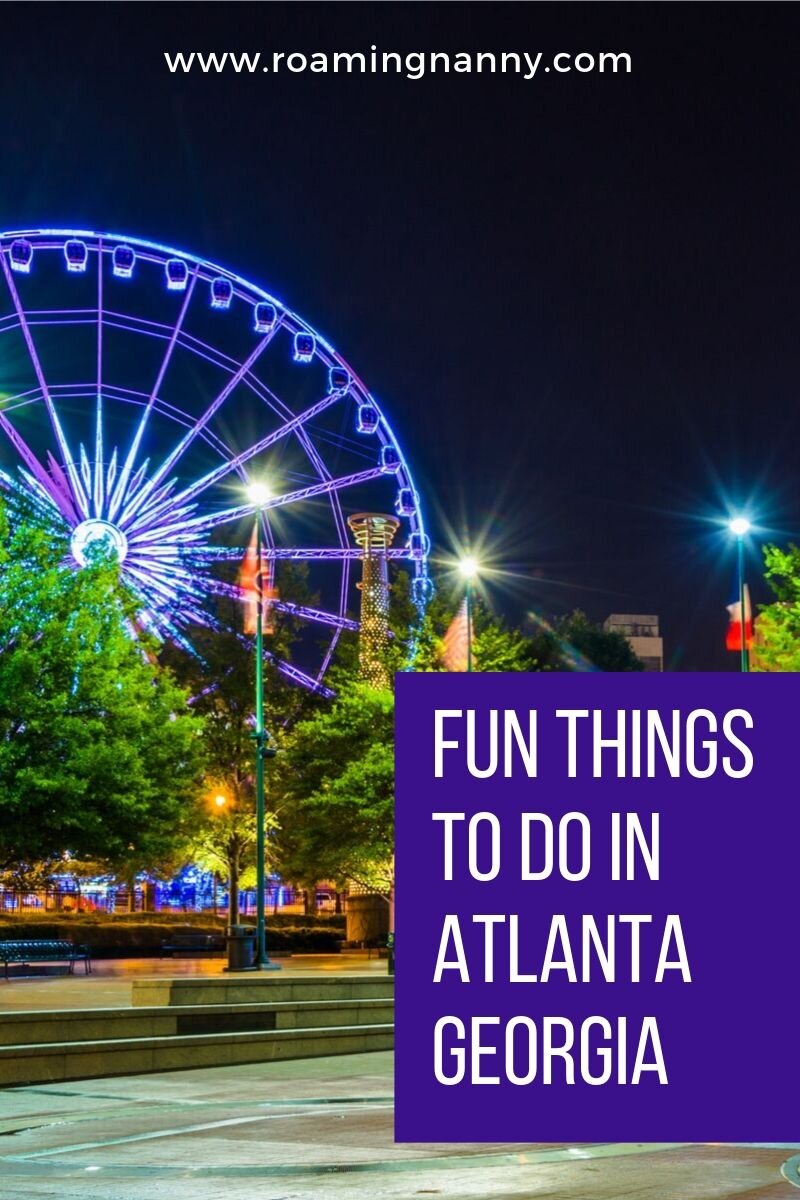 Things to see in Atlanta Georgia
The attractions we are going to discuss here are distributed all around the city, but some of them are clustered in the downtown area, so plan accordingly, you may want to reserve a day to do all the activities in the downtown area and other days to explore other parts of the city.
1. The World of Coca-Cola
The World of Coca-cola is an interactive museum dedicated to America's most iconic soda. It's located at 121 Baker street and it's right next to other places of interest such as the Georgia Aquarium (More on this later). The Museum has a decent sized parking lot, so if you have a car finding parking shouldn't be a problem.
The place itself has everything from a 4-D theater to a tasting room where you can sample Coke brand sodas from around the world. There is also tons and tons of memorabilia, old and new, from one of the biggest brands in the world. Perhaps some people may find it a little bit tacky but if you like eccentric museums I think you are going to enjoy it a lot. And hey, if you enjoy sodas and you are going to visit Atlanta (known as the birthplace of Coca-Cola) you might as well book a little time to indulge your inner soda lover.
2. Georgia Aquarium
The Georgia Aquarium is the biggest aquarium in the western hemisphere, and it's a non-profit committed to inspiring awareness about oceans and aquatic life worldwide. It's located right next to the world of Coca-Cola so if you visit one you might as well visit them both.
The aquarium contains many exhibits that features all types of aquatic creatures from African penguins, to American alligators and even enormous whale sharks. The Aquarium also has a dolphin and sea lion show that kids love. And to think Atlanta is nowhere near the sea! (How did they get all those sea creatures there?!?)
3. The Vortex
This next one is not for the kids, but if you're 21 and find yourself in Atlanta take this opportunity to taste the best burgers in the city. I'm talking about The Vortex, a bar that also serves incredible burgers. There are two locations; The Vortex Midtown in 878 Peach Tree Street and the other, The Vortex Little 5 Points on 438 Moreland Avenue. While the Midtown location does not have parking, the Little 5 points does have adjacent parking, any space in the lot designated with a sign, is free parking for costumers while they dine.
The Vortex offers incredible burgers, and a wide selection of beers with a grungy atmosphere that makes the whole experience unique. This is one of the main attractions in Atlanta as restaurants go, if you are into bars you just can't miss this one.
4. The Walking Dead Tour
If you are like me, then probably the first time you saw Atlanta on popular media was with the hit tv series "The Walking Dead", and if you think that Atlanta is not going to cash in on that, then you are delightfully wrong.
Photo courtesy of Walking Dead Studio Tours
A roughly 1-hour drive away from Atlanta on 600 Chestlehurst Road you can find the Walking Dead Studios where you can get a two-hour tour of the sets of this popular series.
The studio is a bit far off so do have that in mind, but not worries there are many options for renting cars. In the tour you'll see many of the sets on which the tv series came to life. It as a great experience no matter if you are a fan of the series or not. And I can't stand zombies, so I'm not a fan of the show.
Visit Atlanta Georgia
So there you go, a few of the best things to do in Atlanta, and this is only an appetizer of what you might find in this wonderful city. Give Atlanta a chance, you never know, maybe you'll find Atlanta to be your new favorite city!
What are some fun things to do in Atlanta that you love?
Let me know in the comments!
Love it? Pin it!