Japan is one of the most popular tourist destinations in the world for a reason. It is among the safest countries in the world to visit. Plus, it has a range of fantastic natural and man-made wonders and cities to visit. These reasons, and so many more, make Japan with kids a no brainer.
Holidays in Japan are the ideal way for children to explore a new culture. They can see some beautiful new destinations in a safe and friendly environment.
I've put together a list of the best way for you to spend time in Japan with kids.
Japan with Kids: Spend time at Tokyo Disney
The ideal way for you and your young children to spend time together is Disneyland Tokyo. As well as spending time with Mickey and friends, there are many exciting family-friendly rides and attractions for the whole family to enjoy. From the Western River Railroad to the Jungle Cruise, you and your children will enjoy memories that last a lifetime.
Pin it for Later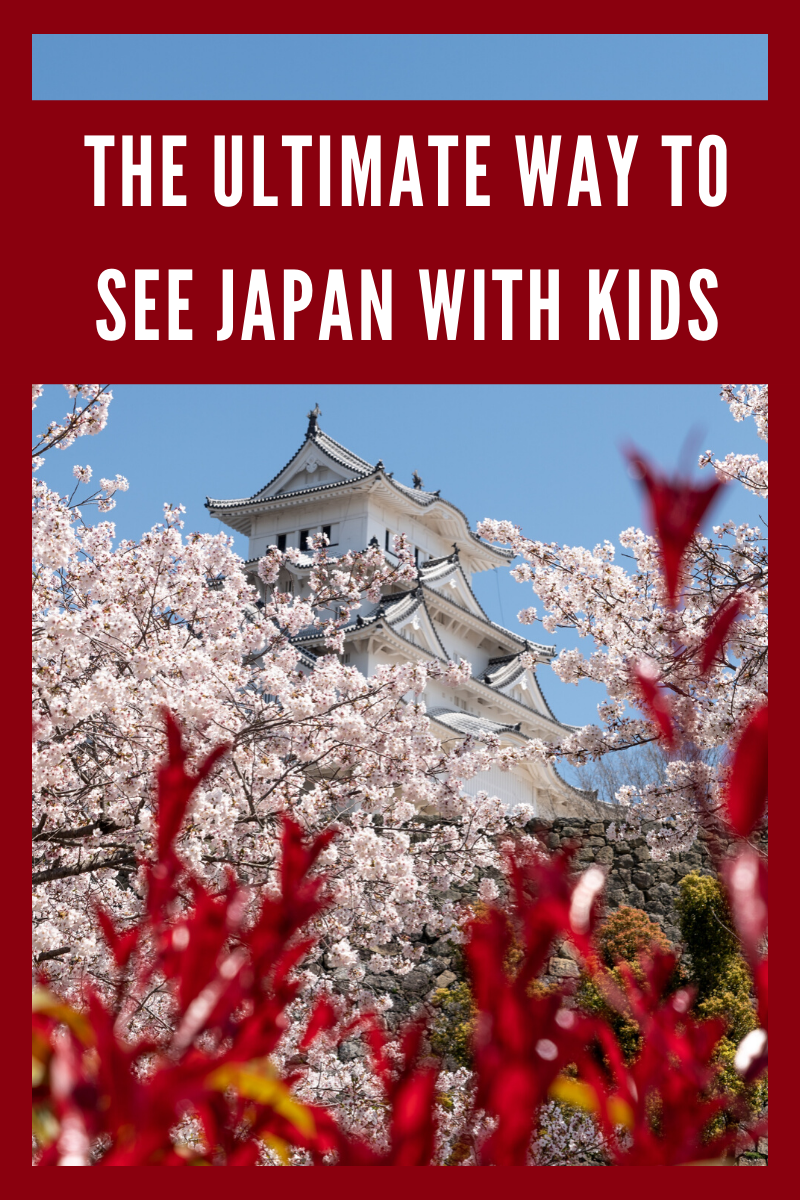 Visit Japan with Kids: See Himeji Castle
The largest castle in Japan, Himeji Castle dates back centuries, adding to its mystery. Built on a hilltop overlooking Himeji, the castle provides children with a fascinating insight into Japanese history and architecture. And it's also a World Heritage Site. It has a range of over eighty buildings, with plenty for the whole family to explore and enjoy. Himeji Castle is the perfect way to immerse yourself in Japanese history.
Family Trip to Japan: Ride the Bullet Train
For over fifty years, Japan's railway network been has had some of the fastest trains in the world. Helping tourists and citizens travel around the country at record speeds. Children under the age of six often qualify for free tickets. Making the bullet train an ideal way to travel between cities. Japan has thriving businesses in the major cities, so you'll want to avoid going between peak rush hour times.
Japan with Kids: Marvel at Mount Fuji
One of the most iconic images of Japan, the snow-covered peak of the country's tallest mountain is a must-see destination for young and old alike. Reaching a peak of 3,776 meters, Mount Fuji is one of the most beautiful natural wonders in the world and a great way to introduce and show young children a fantastic mountain, possibly for the first time.
Family Trip to Japan: Visit the Snow Monkeys
Among the most popular animals to see in Japan are the Japanese Macaques – or, as they are more popularly known, "Snow Monkeys". In the winter months, a visit to Jigokudani Snow Monkey Park is an ideal way for young children to get up close and personal with these amazing animals in their natural environment. The picturesque snow-covered surroundings will provide children with a magical experience. Snow monkeys also enjoy time in the hot springs, giving you a unique opportunity to photograph these majestic animals.
What other activities would you fo in Japan with Kids? Let me know in the comments!
Love it? Pin it!