The closest airport to my house is Albany, NY. I LOVE that the TSA security line is always short, drop off and pick up is easy and quick, and it's small and simple to navigate. With that said, because it's small I usually have to take 3 flights to get anywhere and that can suck. I've become the master of packing light and carrying all my long flight essentials in one bag. Whether you're going on a trip or traveling long term, the items listed below should help with those long haul flights we all love to hate.
Long Flight Essentials
The Perfect bag for Long Flights
First off, let's start with the bag itself! I'm a lover of Gregory Backpacks (This is the new version of my bag – they don't make mine anymore.). I use 2 main bags during my trips and this old school Gregory has been traveling with me since 2012. It fits perfectly under airplane seats so you can always have access to your bag. I always use backpacks and love this one because it's super comfortable and easy to carry around, especially if you're running through an airport to catch a connecting flight. I have some friends that sweat by anti-theft backpacks too. I've never had any issues, but depending on where you're going anti-theft bags are definitely something to think about.
Travel Scarf
I always have a scarf on me. You never know when you're going to need one. A few years ago I fell in love with the amazing scarves from Waypoint Goods! They have gorgeous designs and everything is crafted with care and the traveler in mind.
The pocket is big enough to hold my phone, headphones, passport (in a sweet passport case) and some cash and/or credit cards. It's super easy when going through security to tuck your passport and boarding passes into the pocket. And to top it all off they look great!
Long Flight Essentials: Portable Charger
Every traveler needs a portable charger. I've had this Anker Portable Charger for years now and it's perfect! It lasted me 12 days while hiking to Everest Base Camp, was perfect for camping in the Galapagos Islands, and kept me fully changed at Disney!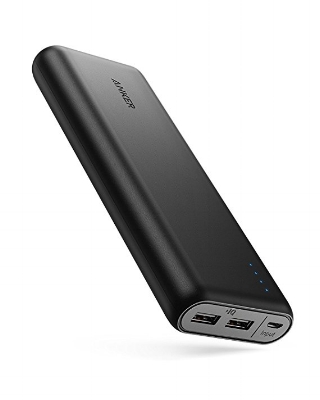 If it can get me through all that, it can get me through any flight or long layover where I can't seem to find a place to charge my phone.
Nalgene Water Bottle
This one is a no brainer. They make the best water bottles. Period. One time I accidentally ran one over with my car and it survived. I own about 5 Nalgene water bottles, and won't be buying anything else.
Packable Sleeping Pad
Raise your hand if you've ever been exhausted and stuck in the airport because of a delayed or just want to take a nap or lay down. I see that you're all raising your hands, and don't worry I've been there too. Which is why I always have a sleeping pad in my pack. The Sea to Summit ultralight sleeping pad fits perfectly in the side pocket of my pack, only takes a few minutes to blow up or deflate, and is super comfy!
Earbuds for In-Flight Entertainment
I'm a sucker for in-flight entertainment! No really, I love sitting down and being surprised at all the movies and TV shows I can watch. On my way to Kathmandu last month I binge watched season 4 of Gotham. To really enjoy it you need some good earbuds. I use the JVC Gumy Earbuds. They're lightweight and if you fall asleep with them in your ears they don't hurt. I know cause I tend to doze off on flights all the time, so I'm pretty sure they made these just for me.
A Good Book
I always have a book, yes, an actual book. If I need to take a break from the screen or I've run out of things to watch, it's perfect. Currently, I'm reading A House in the Sky: A Memior by Amanda Lindhout. Back in March I attended Women's Travel Fest and was privileged enough to hear Amanda speak about surviving being abducted and held prisoner in Somalia for 460 days. Her story is nothing short of amazing. I'm about halfway through and it's currently in my bag waiting to be finished on my way to Peru.
Long Flight Essentials: Compression Socks
And to round off this list, PRO Compression: Marathon Socks. No, I don't plan on running a marathon while in the air – although that could be kind of cool – but these socks travel with me everywhere. My feet tend to swell while on long flights and these babies really help. I also wear them when I run and hike to keep my legs from aching. They're really comfy and come in all kids of fun colors.
What are your long flight essentials? Let me know in the comments.
Pin it for later!