I've participated in polar bear plunges for charity, but never thought I'd end up doing a polar plunge in Antarctica. When I signed up to head to Antarctica doing a polar plunge never even crossed my mind. It wasn't until I had looked at a trip log that I realized it was a possibility and should have been on my travel bucket list all along.
Polar Plunge Antarctica
What is a Polar Plunge?
A polar plunge is when you jump or run into freezing cold water. Often times this is done as part of a fundraiser. In Vermont, the Special Olympics does a polar plunge each winter to raise funds. I've done it several times.
However, when I went to Antarctica I was up for the ultimate polar plunge. And a cold water drip I'll never forget!
My Antarctic Polar Plunge
Once I found out about it I was totally game! The thought of possibly swimming with penguins – unfortunately, that didn't happen – seemed so amazing. So an Antarctic polar plunge was something I wasn't going to miss.
Then someone mentioned that if the water is cold enough you can go into full cardiac arrest. Doesn't that sound fun? I rethought it for a bit, but then decided to go with my gut and say "carpe diem!"
I hope you decide the same thing. It was one of my favorite parts of the trip, next to camping in Antarctica. Here are some tips to help you on your Antarctica polar plunge adventure.
Antarctic Polar Plunge Tip #1: Wear as few clothes as possible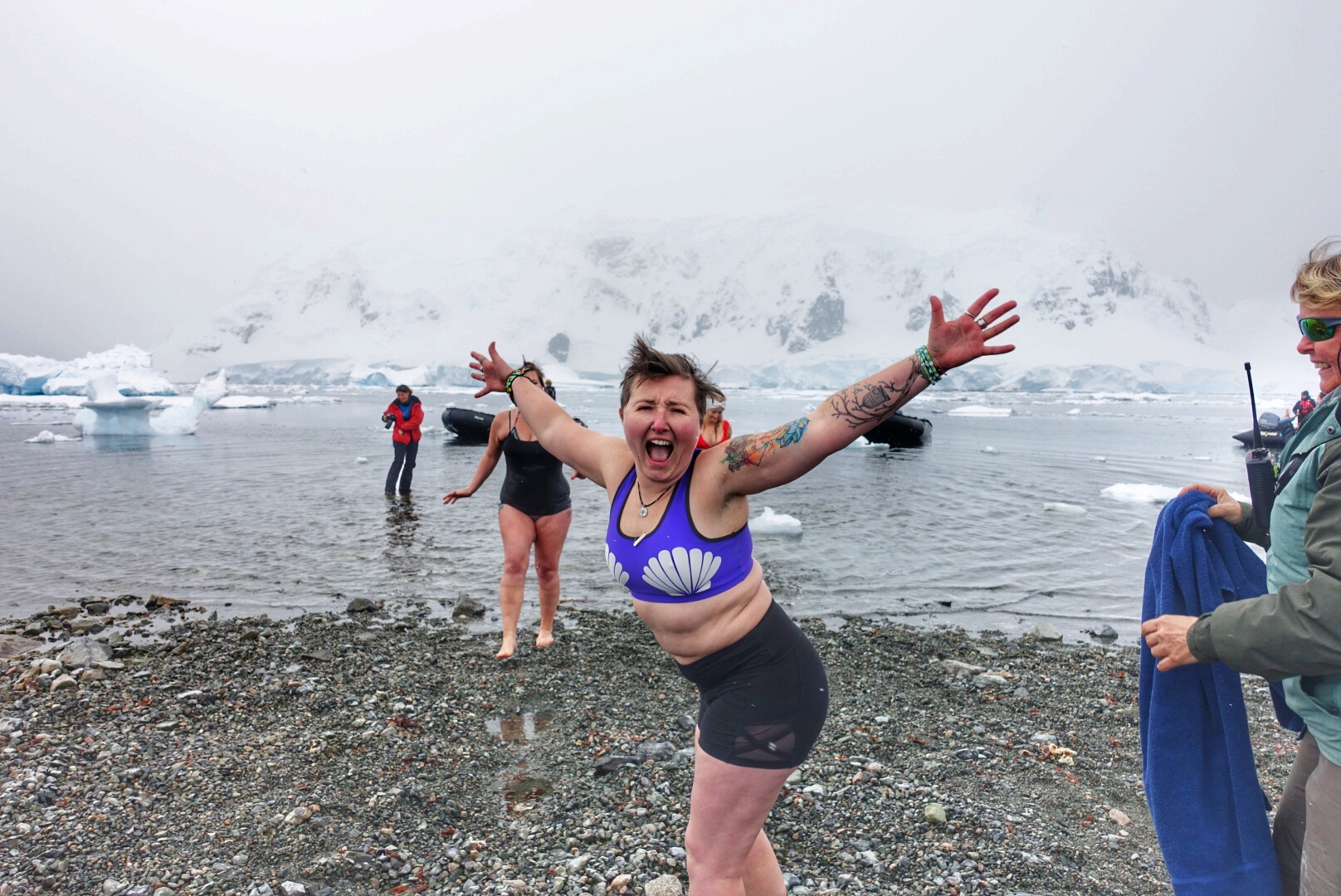 I realize wearing less clothing in a place notorious for cold weather seems like to dumbest thing you've ever heard, but hear me out. The less clothing you have on the less freezing cold water will be in direct contact with your skin. It will also to be less clothing to take off later on.
The hardest part of this Antarctica polar plunge tip is taking off all your layers. In a previous post about Antarctica, I talked all about layers and how they'll be your best friend. In this case, they'll be the BFF you wont want to live without. As you slowly, and reluctantly, strip off one layer after another, you'll get colder and colder. However, when you get out of the water you'll be happy when the shirt you're not wearing doesn't feel like millions of little needles piercing your skin.
You're probably asking, "Then what the hell should I wear, Retha?"
When I took the plunge into the icy Antarctica waters I was in a sports bra and short shorts. Both easily removable and as small as possible. In the group I was with there were a few people that went in wearing nothing at all! Another valid choice.
Pin it for Later
Antarctic Polar Plunge Tip #2: Wear Shoes
I wish more than anything I had shoes to wear in the water. I didn't have any sandals or flip-flops – because who brings those to Antarctica? – to wear and it sucked.
Instead, I tried wearing my super thick wool socks. This didn't work one bit. My feet, more than the rest of my body was what I thought was going to instantly freeze and fall off of my body.
A pair of Keene sandals would be the best bet for shoes. Easy off and on, and with how hot the ship was most of the time – especially in the rooms – they would dry in no time.
Antarctic Polar Plunge Tip #3: Don't overthink it
Yes, easier said than done.
Get prepped with all your layers off and don't wait around, just go on in. Luckily, the ladies of Girl Love Travel (GLT) that were with me on the trip were all girl bosses and nobody chickened out. After we all were back on the ship I was talking with one of the expedition team members and he told me that there are usually not as many people on the ship that participate in the Antarctic polar plunge and there are always a few people that say they'll do it, but wimp out.
Antarctic Polar Plunge Tip #4: Run Fast
Antarctica Polar Plunge. Photo Credit: Esther Kokmeijer
The fast you get in the water, the fast you'll get out of it.
When I was ready to go in, my friend Felicity was too, so we went in together. We started off holding hands, but I started running and she just strolled in. That worked for her, but as soon as my feet hit the freezing cold water, I wanted to get out as fast as possible.
So, just go for it, pick up a little speed on land and head into the waters of Antarctica. The water was pretty shallow, so be careful doing a diving like motion into the water. Getting your face smashed on a rock will probably ruin the experience for you…but it would make for a good story. "This one time in Antarctica…"
Antarctic Polar Plunge Tip #5: Have warm clothes waiting on shore
Before I ran in I layed out all my easy to put on clothes on the rocks, so they were ready to throw back on when I got out of the water. Included in the pile was:
A pair of fleece pants
A zip-up puffy vest
A big puffy down jacket
A pair of thick wool socks
A hat
A pair of gloves
Antarctic Polar Plunge Tip #6: Take off all your wet clothes
Upon existing the icy Antarctic water after the polar plunge, there wasn't a damn thing that could have kept me from keeping those clothes on.
I ran out of the water, straight over to my pile of warm clothes and began to strip. Later on at the bar that night a fellow GLTer said, "I saw Retha's boobs today; It was a good day!" And I'll tell you that wasn't other only thing people saw on the beach that day…
I had a little towel to help cover-up and dry off and immediately put my warm clothes on. Within 5 minutes I was super warm, sitting on a zodiac boat waiting to head back to the ship.
Antarctic Polar Plunge Tip #7: Have a hot drink
Warming yourself up from the inside out always helps to get rid of a chill.
My plan upon arrival to the ship was to go straight to the lounge, where there was a hot chocolate machine, and get a nice hot cup.
To my surprise the hospitality crew was waiting for us with rum and hot chocolate, or rum in your hot chocolate. Choose your own adventure on that one.
Antarctic Polar Plunge Tip #8: DO IT!
While it seems crazy, just do the Antarctica polar plunge. How many times to most people visit Antarctica? I know I'll probably never be going back (that price tag, ugh.) So suck it up and get in the water! a polar plunge is one of the best things to do in Antarctica, so make sure you check it off your bucket list!
Would you take the Plunge? Let me know in the comments!
Love it? Pin it!