Vermont is a destination for all seasons and with so many things to do, there is not shortage of fun to be had. While I didn't grow up in Vermont – and will never be considered a true Vermonter because of it – it has a very special place in my heart. When I first moved to Vermont I felt like I was living in the woods of British Columbia, Canada surrounded by mountains and trees. But I found that Vermont had a character all it's own, one that I'm so glad to call home.
Things to do in Vermont
Winter, Spring, Summer or call there are so many amazing things to do in Vermont that will take your breath away or make you smile ear to ear or both. Here they, organized by season. I hope you find your next adventure.
Things to do in Vermont in the Winter
Go snowshoeing at Grafton Trails and Outdoor Center
Snowshoeing on it's own can provide an adventurer with a winter wonderland and quiet tranquility, but a Grafton Trails and Outdoor Center in Grafton, Vermont their winter Wine and Cheese hikes add something even more special to this classic winter activity. The Wine and Cheese tours happen every Saturday throughout the winter with extra events during the holiday season. For more information and pricing visit the Grafton Trail and Outdoor Center website.
Skiing (or snowboarding) of course!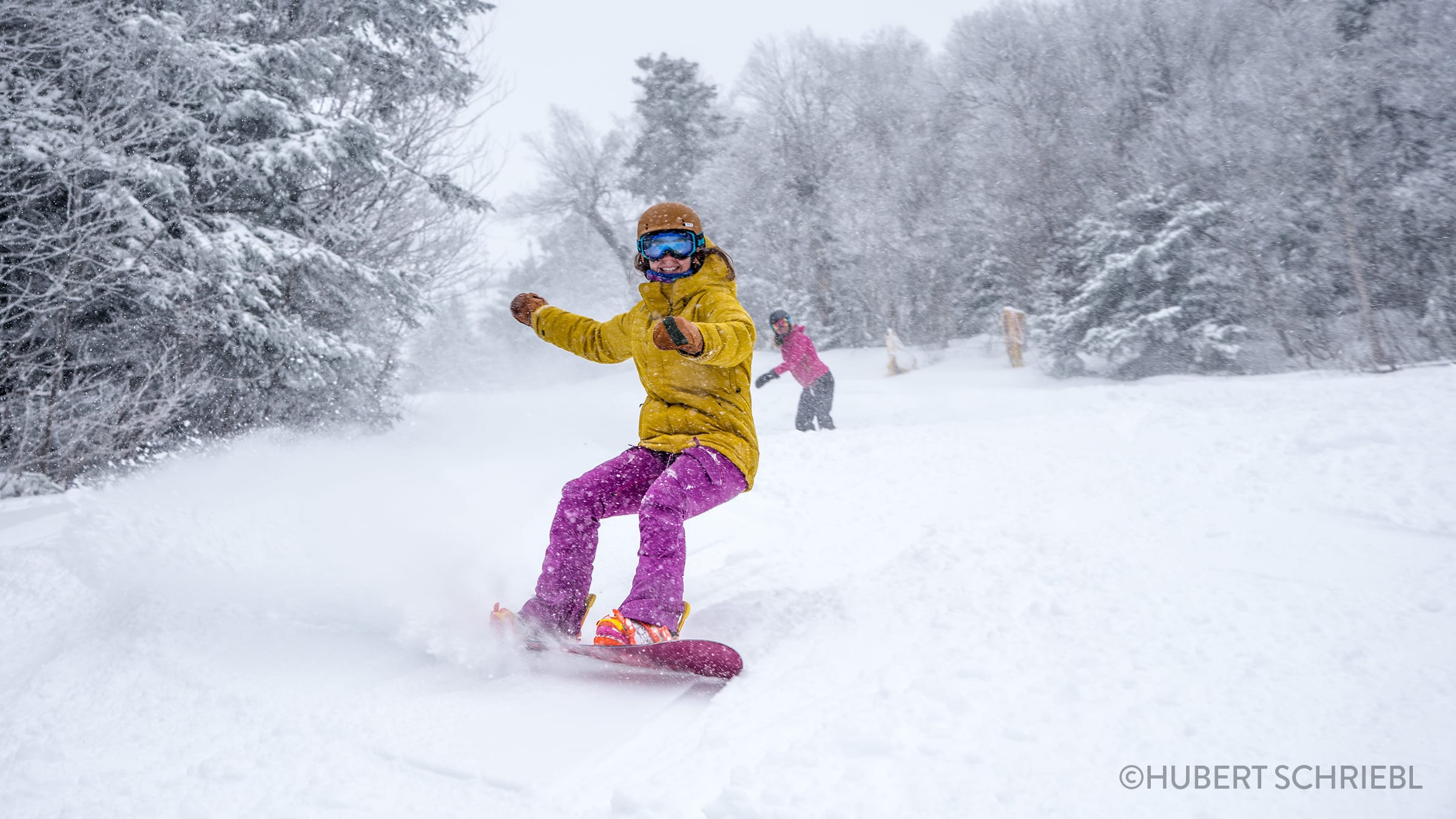 With over 20 ski mountains and resorts scattered across the state skiing (or snowboarding) is one of the top things to do in Vermont. From family mountains like Bromley and Sugarbush to mountains with big thrills like Killington and Stowe you'll have no problem finding the perfect place to ski for your experience level.
Photo Credit: Hubert Schriebl, Stratton Mountain Resort
Go Dog sledding
Rushing through the forest with a team a trained dogs leading the way is a Vermont experience you'll never forget. Over at Eden Dogsledding you'll get to meet the UnChained Gang, International Sprint Race Champions. Their musher and owner, Jim Blair, will share an educational hands on tour. Eden Dogsledding prides themselves on their ethical operation and treatment of their sled team.
Play in or attend the Vermont Pond Hockey Championships
Every winter at the Lake Morey Resort in Fairlee, Vermont the snow gets cleared off the ice for the Vermont Pond Hockey Championships. Players come from near and far to lace up their skates for this fun fulled weekend. Whether you're skating or spectating this is an event for all ages.
Visit Northshire Bookstore
If you're a book lover this will be one of the top things to do in Vermont for you. This bookstore is on the list of official Vermont attractions. When I first moved here I didn't understand why. After I visited, it all made sense. With 3 floors of books for every reader, this store has it all. I'm a big fan of the extensive travel section, and the attached cafe, The Next Chapter.
See and stay at the Von Trapp Family Lodge
When the Von Trapp family fled Nazi occupied Austria, they ended up settling in the Green Mountains of Vermont. The Von Trapp Family Lodge has an on-site brewery, cross country skiing, snowboarding, a fitness center and spa. Tours sharing the Von Trapp Family story are available and you can pay your respects to Maria who was laid to rest in a small graveyard near the lodge.
Go Snowtubing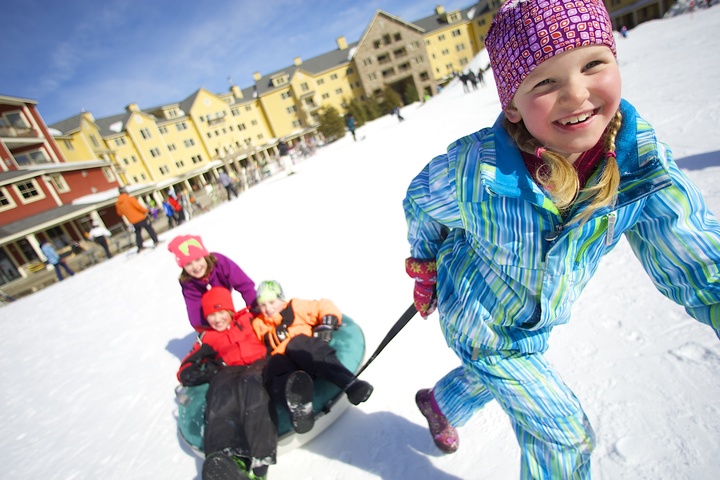 I'm not a big skier or snowboarder. It gets really messy; all my gear ends up flying from my body and strewn about the mountain. Snowtubing is more my style. I was Nannying for a family during their visit to Okemo Mountain Resort and I took the kids tubing. Their tubing park, located at Jackson Gore Lodge, has multiple lanes so we raced down the hill. They even have big tubes so adults with small children can ride together.
Photo Credit: Marlaina Wang, Okemo Mountain Resort
Take a sleigh ride
A sleigh ride can be a fun family affair or a romantic evening activity for 2. No matter where you visit in Vermont a sleigh ride is one thing you can do almost anywhere in the state. Even if you're in an area with less snow than you'd like many businesses will offer carriage rides as an alternative. I'd recommend asking your hotel or inn for more information on a local business.
Go ice skating in an old Quarry
Nestled in the little village of Dorset, Vermont lays an old stone quarry dug deep into the Earth. During the summer the cave the quarry is in is filled with water and can be difficult to explore. However, when the temperature drops the water freezes and becomes the perfect place to go ice skating. *ice skating on ice that is not fully frozen is very dangerous and can result in injury or death. Please take caution.
Go snowmobiling
One of the most exhilarating things to do in Vermont during the winter is snowmobiling! Snowmobiling can usually be done from December to early April, depending on snowfall and melt. Snowmobile Vermont is a great company with 4 locations throughout the state – Killington, Mount Snow, Okemo, and Stowe. Their guided tours are sure to provide an amazing alternative to waiting in line at a chair lift and still provide you with spectacular views.
Splash into the Pump House Water park
If you're looking to make a splash, dive into the Pump House at Jay Peak. Try your hand at surfing on the double barrel flow rider. Thrill seekers should try out La Chute. Going 45 miles per hour and doing a full 360 degree loop is not for the faint of heart. How those not ready for Le Chute, kick back and relax on Big River.
Photo Credit: Jay Peak
Go ice fishing
If you love fish, you don't have to wait until the ice thaws, one of the best things to do in Vermont during the winter is ice fishing. Grab your layers, patience and a guide from Vermont Guided Ice Fishing and hit the ice. All the equipment you'll need is provided. Make sure you show up dressed warm with a Vermont fishing license.
Visit the Vermont Ski & Snowboard Museum
Vermont is known as America's Winter Playground and for good reason. The Vermont Ski & Snowboard Museum, located in Stowe inside a beautiful old white church, strives to display and preserve the history of skiing and riding in Vermont. The museum has around 8,000 artifacts in it's collection including 400 pairs of skis! Click here for more information on the Ski & Snowboard Museum.
Ride the Elf Express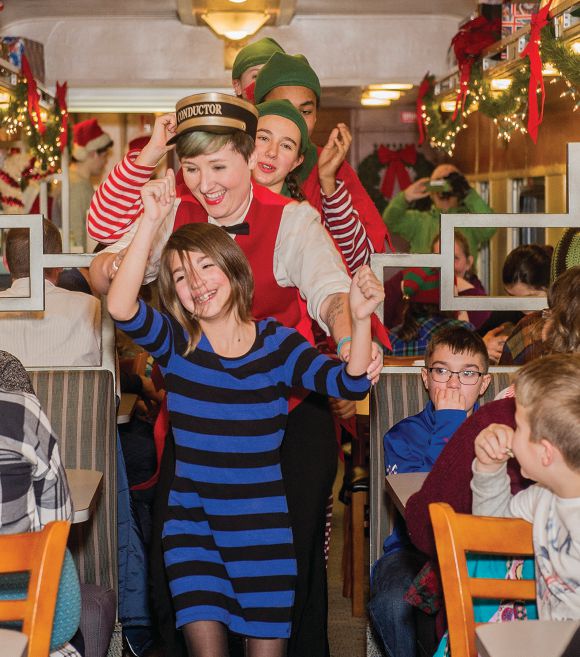 Every December the Manchester Lion's Club hosts its biggest fundraiser of the year, The Elf Express. People from all over hop on board for a magical hour with singing and dancing Elves, hot chocolate, Christmas carols, and a visit from Santa himself. This is a must-have experience for the whole family!
Try Fat Biking
Fat biking came about because of the need for more flotation over ice and snow. In winter, fat biking gets visitors and Vermonters alike outside and on to the trails! For bike rentals, guide/tour information, and to learn more about fat biking visit Fat Bike Vermont.
Things to do in Vermont in the Spring
Montshire Museum of Science
The Montshire Museum is full of fun, hands-on science exhibits. A full day at the museum is a blast for kids and adults. The first floor houses their permanent exhibits which consist of bubbles and some local aquatic wildlife. The second floor holds rotating exhibits. Some of my personal favorites have been seeing the inside of toys and how they're made, and a TON of puzzle and brainteasers. As temperatures start to warm up head outside on their nature trails. The best time to visit the museum is during a non-school vacation weekday.
New England Maple Museum
We love maple syrup in Vermont. You will not find a family-owned restaurant that gives fake maple syrup to their guests. It just isn't done. At the New England Maple Museum, you can learn about the process of making maple syrup and of course, taste some. Plus their gift shop has plenty of options for delicious gifts to take back home.
Vermont Institute of Natural Science
Get up close with some of Vermont's most beautiful creatures at Vermont Institute of Natural Science's (VINS) live raptor programs. Their falcons, eagles and owls can also be visited at their enclosures and are especially interesting during feed times. Their newest exhibit coming in late 2019 will be a forest canopy walk!
Visit Hildene, the Lincoln Family Home
Perched atop a hill overlooking the Battenkill Valley visitors will find the history home of Robert Lincoln, son of President Abraham Lincoln. The beautifully preserved home is the centerpiece of gardens, hiking tails, and my personal favorite a goat dairy. While Hildene's ticket prices are a bit high, be prepared to spend the day exploring all this historical gem has to offer.
The Vermont Teddy Bear Factory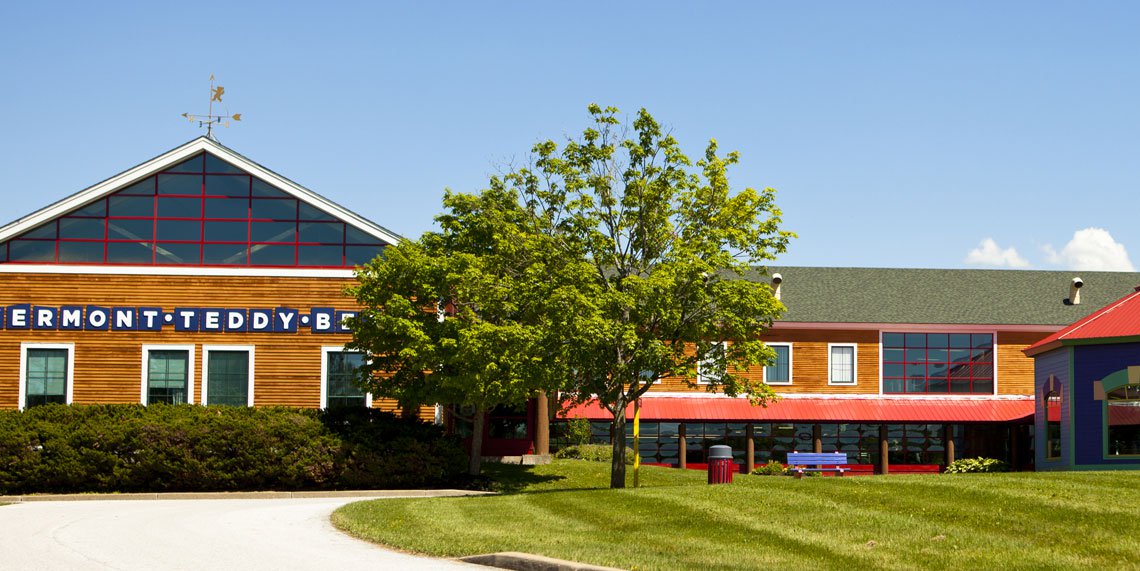 Everyone loves Teddy Bears! Come see how Vermont's favorite bears are made at the Vermont Teddy Bear Company. Located south of Burlington in Shelburne, Vermont, this factory makes the most hand crafted teddy bears in the United States. About an hour is required for the tour and checking out the shop and grounds.
Photo Credit: Vermont Teddy Bear Company
See the World's Tallest Filing Cabinet
Every state has some kind of weird sculpture to be proud of. In Vermont we have the world's tallest filing cabinet. It's tall, it's weird, it's in Burlington. Go find it.
Ben & Jerry's Factory Tour & Flavor Graveyard
We can all agree that Ben & Jerry's makes amazing ice cream. Factory tours are offered year round and run every 30 minutes. After the tour I challenge you to try and finish the ultimate Ben & Jerry's treat, the Vermonster – 20 scoops of ice cream, hot fudge, banana, cookies and brownies. Once you finish your sundae head outside to the Flavor Graveyard located just up the hill where flavors are laid to rest.
Visit Wilson Castle
The only castle in Vermont lays to the east of the Green Mountains in Proctor, Vermont. Built in the 19th century this 3 story former home sits on 115 acres. Wilson Castle is now a hotel that hosts weddings and does the occasional ghost tour.
Drink your way along Vermont's Beer Trail
The state of Vermont has the most breweries, per capita, in the United States. As a beer lover and having lived in Vermont for the past 5 years, I think we make some pretty amazing beer in our tiny state. With over 50 breweries from big names like Long Trail and Magic Hat to regional favorites like Switchback and Otter Creek, beer lovers are bound to find something they love. The Vermont Brewers Association takes great pride in their beer and sharing it with visitors. Beer trails can be found all over the state, so pick and designated driver and get drinking!
Photo Credit: Switchback Brewing Co.
New England Center for Circus Arts
With students of all ages the New England Center for the Circus Arts in Brattleboro, Vermont is a truly unique thing to do in Vermont. Use can catch them during the summer performing at the Strolling of the Heifers (more on that later). Or you can attend a performance or workshop. Think juggling, trapeze, and aerial skills. They ever have keep long retreats and opportunities to come in and give the circus arts a try.
Take a cooking class at The Essex
Discover your culinary genius at The Essex, Vermont's Culinary Resort and Spa. At The Essex' Cook Academy guests will get a hand-on small group experience (with a maximum of 8 students) right in the kitchen. Whether you're a natural chef or tend to have your meals cooked for you, it doesn't matter come join in on the fun! Most courses consist of preparing 3 or 4 course meals and are perfect for the whole family.
Spend the night in a yurt at Maple Wind Farm
Can't make it all the way to Mongolia? Then come to Vermont and stay at Maple Wind Farm in a Mongolian style yurt. Set back away from the farm and about a half a mile hike in you'll find your yurt surrounded by the gorgeous views of Camels Hump State Park. This is the perfect place to disconnect from the world and reconnect with nature.
North Branch Nature Center
Located in the smallest state capital in the United States – Montpelier – the North Branch Nature Center (NBNC) has worked hard for 22 years to get Vermonters and visitors in touch with the natural world. NBNC hosts countless programs for all ages. Guests can learn about owl banding, biodiversity, and birding.
Fairbanks Museum and Planetarium
This hidden gem is one of my favorite things to do in Vermont, and is worth the drive all the way north to St. Johnsbury. The Fairbanks Museum and Planetarium is the home of more than 30,000 pieces including natural science specimens, historical artifacts, photographs and documents, and ethnological treasures. The planetarium is the only public planetarium in the state of Vermont offering full dome shows lasting approximately 30 minutes.
See a concert at Higher Ground
You never know who's going to stop by higher Ground in Burlington and rock the house. It's an excellent venue for discovering new music as ticket prices average only $20 each. That's a great (and inexpensive) night out!
Things to do in Vermont in the Summer
Shelburne Farms
Shelburne Farms in a fully functioning farm with 1,400 acres to explore. A visit – or a stay at the on site inn – is full of learning and exploration This might be one of the best things to do in Vermont for the day. Take a walk on the hiking trails or visit the animals at the barn. There are 4 tours offer mid-May through mid-October: the Sun to Cheese tour, the House and Formal Gardens tour at the Inn, the Historic Horse Barn tour, and the Daily Property tours.
Attend the Strolling of the Heifers
Only in Vermont is there a festival inspired by a cow parade. You read that right. Every summer in Brattleboro, Vermont, a parade is held where cows get all dolled up and walk down the street. The parade is followed by fair food, an arts and crafts fair, and goat races. One of the first times I attend the festival I met Bernie Sanders!
Miniature Castles of South Hero
About a 25 minute drive from Burlington is South Hero and home to the most adorable miniature stone castles. The passion project of immigrant gardener Harry Barber. Each of the castles is unique and some are even wired for electricity! Many of the castles can be seen from the roadside. Please know that many of the castles are located on private property, so respect the privacy of locals if you choose to venture out and find the castles.
Find adventure for the whole family at Bromley Mountain
Bromley is the only ski mountain in Vermont that has more visitors in the summer than they do in the winter. Bromley's Adventure park has a rock climbing wall, mini golf course, mini bummer boats, and trampolines, and that's just to start. They also have the oldest alpine slide in the United States – don't worry they've made some updates – and a high ropes adventure park. There are a few other surprises at Bromley, too, but I'll let you discover those when you visit.
The Nature Museum at Grafton
Does crawling through an underground bear den or digging for fossils sound good to you? Then head to the Nature Museum in Grafton. Summer is the perfect time to head into their wildlife garden to observe the local honeybees collecting nectar to bring back to the hive. Make sure bring your hiking shoes and a picnic to enjoy!
Go to the Bondville Fair
While Bondville fair isn't' very big, what it lacks in size it makes up for in heart and affordability. This fair is the longest operating country fair in the United States. In 2018 it celebrated it's 221st year! Every year I bring some preserves and vegetables I've grown to the floral hall. In 2017 my pickles won best in preserves! With all the fair food you can eat, a tractor pull, and carnival rides it's fun for the whole family. Most years Friday admission before 5pm is just $5 and includes carnival rides!
Hike Mount Equinox
Mount Equinox is the tallest mountain in southern Vermont at 3,848 feet. It takes, on average, 3 hours to reach the summit hiking at a moderate pace. The trailhead is located at the end of West Union street located behind Burr & Burton Academy in Manchester, Vermont. Make sure you bring plenty of water and trekking poles. It can get steep in some sections, so use caution, and make sure you check the trail map near the parking lot for trail information. At the summit on a clear day you'll get an amazing view of the Battenkill Valley and the Green Mountains. I'd bring a picnic lunch to enjoy at the summit.
Ride the Kingdom Trails in Lyndonville
Grab your mountain bike and enjoy the Kingdom Trails. Known as some of the best mountain biking in Vermont, Kingdom Trails has trails for all skill levels and abilities. When you purchase your pass, staff members will assist in highlighting trails that will make for the best possible biking experience. Trails are usually open May to October pending ice melt and mud.
Try to spot Champ on Lake Champlain
Deep in the depths of Lake Champlain lives Champ, Vermont's friendly lake monster. If you set out on the lake on a bright summer's day you just might spot him. Whether you go sailing, take the ferry across to Fort Ticonderoga, or rent a kayak, you're sure to enjoy the beauty of the lake region of Vermont.
Swim in Dorset Quarry
You'll know it's summertime in Vermont when you drive by Dorset Quarry and people are splashing and floating about. Get their early as parking in limited, and make sure you bring a trash bag as you need to bring everything home with you. The Quarry is located on private property and the owners allow everyone to use it, so please respect their property and don't be an ass and ruin this amazing summer hangout for everyone. Now the only question is, will you jump in?
Rock of Ages Granite Quarry
When you think of things to do in Vermont, you don't think of something big. But the Rock of Ages Granite Quarry is the largest operating deep-hole, dimension granite quarry in the world at around 600 feet deep. Guided tours of the Quarry are offered May 25 – October 15 Monday – Saturday. I'd recommend taking a tour during the week to see the Quarry is action as workers have Saturdays off. Tours last approximately 40 minutes and are offered for visitors ages 6 years old and up.
Hike Camels Hump
Camel's Hump State Park in located in Waterbury Vermont and might be one of the most famous hikes in the state. Being Vermont's 3rd highest peak at 4,083 feet, it gets it's fair share of foot traffic, so get their early to ensure you get a parking spot at the trailhead. There are 2 trails to the summit: The Monroe Trail in Duxbury and the Burrows Trail in Huntington. Make sure you know which trail you're hiking so you decend the correct trail and don't end up onthe opposite side of the mountain from your vehicle. This is a full day activity, so bring sufficient food and water. Happy Hiking!
Float down the Battenkill River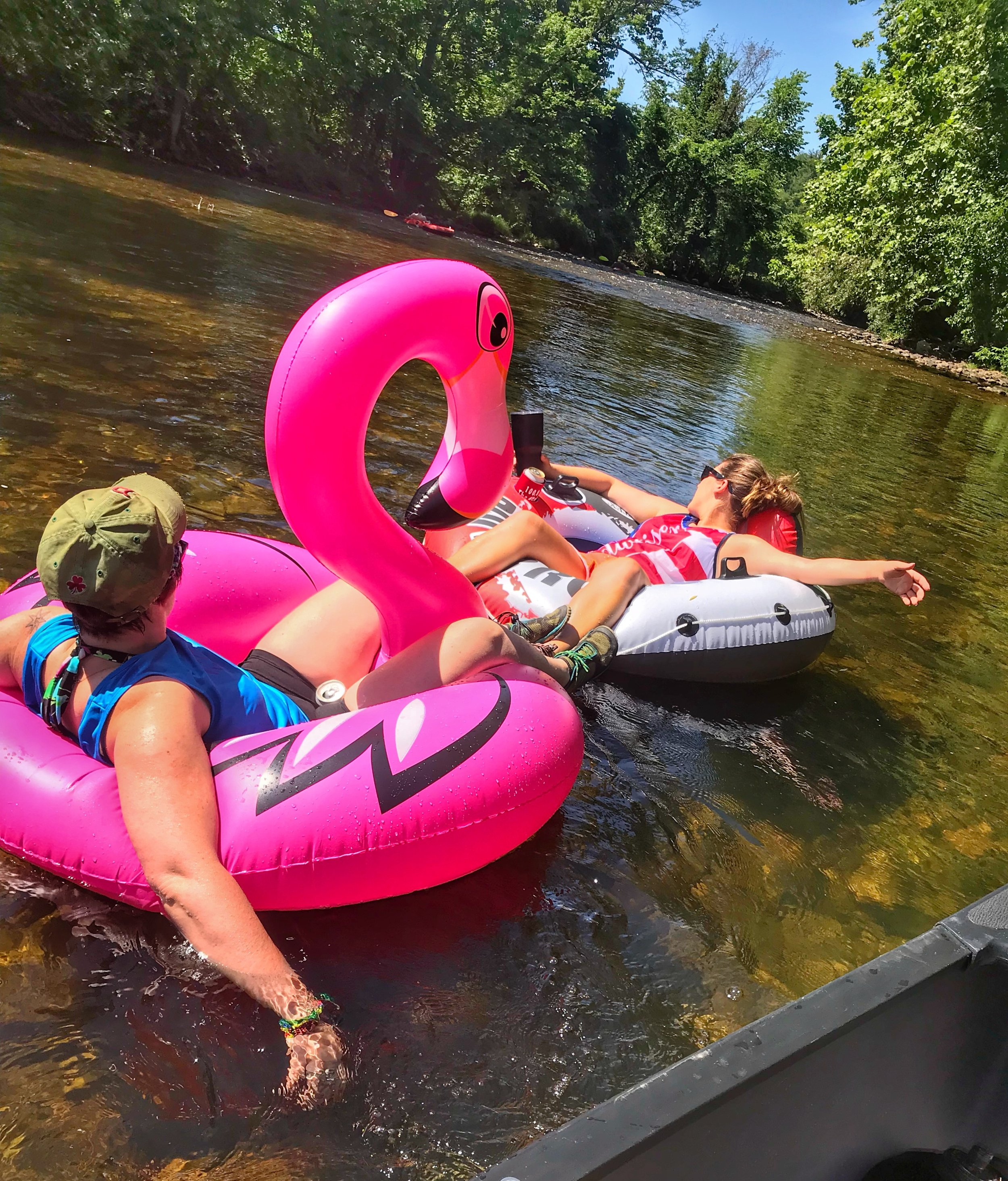 The Battenkill River flows through the valley between the Green Mountains of Vermont and New York's Taconic Mountains. If you live in the area, you've most likely grabbed a tube and hopped in the river. Last summer I spent 6 hours floating down the river, but you can make your day on the Battenkill as long or as short as you'd like. If you're adventurous, just go for it, but for those who don't want to buy a tube and need transport contact Battenkill Valley Outdoors. They've been canoeing, kayaking, and tubing on the Battenkill River for over 40 years. They're the experts. Happy tubing!
Take a stroll on Church Street
Church Street in downtown Burlington, is the place to be during the summer months. With performers and festivals in mass, along with shops and restaurants with outside setting, Church Street is one of the best things to do in Vermont during the summer. You never know what you'll discover there.
Paddle the Lamoille with Vermont canoe and kayak
Offering both self guided and guided tours of the Lamoille River, Vermont Canoe and Kayak's 10+ years of expertise strives to provide the best outdoor experience possible. A day on the river will leave adventurers of all ages relaxed and smiling. They also offer Stand-up Paddle board yoga if you need some extra relaxation time.
Things to do in Vermont in the Fall
Ride the Green Mountain Railroad
For 5 weeks each Fall the Green Mountain Railroad runs fall foliage rides 5 days a week in Chester, Vermont. With 3 different rides including a dinner train, a cocktails on the rails train, and Chester to summit train every traveler can find a ride that is right for them. Prices vary and the rides fill up fast so book in advance.
The Great Vermont Corn Maze
The largest corn maze in New England resides in Danville, Vermont. One of the best things to do in Vermont in the Fall, the Great Vermont Corn Maze covers 24 acres and can take 2+ hours to complete without the assistance of clues. Each year the maze has a new theme! In addition to the maze itself there is a kid's area with barnyard golf, a play place, and friendly goats! Make sure you head there in the early Fall before they take the maze down to prep for the following year.
Photo Credit: Great Vermont Corn Maze
Hike around Lake Willoughby
Lake Willoughy is around 300 feet deep and have a mountain on each side – Mount Hor and Mount Pisgah. Being one of the most scenic lakes in Vermont you may or may not run into anyone on the hiking trials. Mount Pisgah is the more challenging of the two hikes because of how steep is can get, but offers amazing views of the White Mountains of New Hampshire. To get to the trial drive to the northern side of the lake and look for the parking lot on 5A, if you've seen the lake you've gone too far. Mount Hor is more family friendly hike with a gorgeous lookout over Lake Willoughby. Parking for Mount Hor can be found on the southern tip of the lake. *While hiking in Vermont during the Fall please remember to hear orange as it is hunting season.
Find a Covered Bridge or 4
Is a trip to Vermont in the Fall ever complete without seeing a covered bridge? It's not surprise that with over 100 covered bridges Vermont has the most covered bridges than any other state in the US. Some are well maintained and cars can still cross, others are only for foot traffic. One of the best ways to discover the back roads of Vermont is to go searching for covered bridges. This comprehensive map created by photographer James Walsh will help you in your search.
The Norman Rockwell Museum of Vermont
In Vermont Norman Rockwell is kind of a big deal. People in my area of Vermont knew him and were subject in his paintings. At the little family owned restaurant down the street from my hosue "The babysitter" waits tables with a cheery smile on her face. The Norman Rockwell Museum of Vermont in Rutland have over 2,500 pieces on display ranging from paintings to magazine covers. The museum is located at the crossroads of Vermont route 4, 2 miles east of route 7.
Go Apple Picking
Early fall is the best time to go apple picking in Vermont. The weather is starting to cool off and the leaves are beginning to change. Mad Tom Orchard in East Dorset, Vermont is where I go every year for apples to make apple jam. Owned by Syllvia and Tom Smith since 1999 and planted in the 1940s Mad Tom Orchard offers 14 different types of apples. Drive down the long dirt road to get there and park where all the other cars are, you can't miss it. Make sure you grab a little red wagon so you don't have to haul all your apples back to the barn to get weighed. They also sell apple cider and yummy apple cider donuts.
Rent a Cabin at Merck Forest & Farmland Center
At Merck Forest, a 3,200 acres educational nature reserve and farmland center, not only can you enjoy 30 miles of hiking trails and visit the farm animals, but you can stay overnight in a cabin. Cabins vary in size and location, but are warm and cozy because of their wood stove. This is not an AirBnB, but a rustic camping experience in the woods of Vermont. I've camped their twice myself, once with the Girl Scout troop I worked with and another for a romantic getaway with my boyfriend. Visit the Merck Forest website for more information on the cabins and reservations. *While hiking in Vermont during the Fall please remember to hear orange as it is hunting season.
Marsh-Billings-Rockefeller National Historical Park
High on a hill in Woodstock, Vermont lays the March-Billings-Rockerfeller Mansion. Built in 1805, the brick mansion has seen drastic renovations and changes to both the house and grounds in it's 200 plus years of life. Now the Mansion is a National Historical Park and be toured by visitors. Take a walk along the trails to feel the crunch of leafs beneath your feet, surrounded by the small of Fall. Most of the trail are wide and easy to navigate. Stop by the visitors center for a map. *While hiking in Vermont during the Fall please remember to hear orange as it is hunting season.
Lake Champlain Maritime Museum
Starting with just a little stone schoolhouse the Lake Champlain Maritime Museum is now a collection of over 12 buildings. Guests are welcome to join in hands on learning experiences, tour the exhibits or join in on a tour.
Play an organ at the Estey Organ Museum
This seasonally operated museum in Brattleboro, Vermont is a surprising homage to the locally made Estey Organs. The factory closed it's doors in 1960, but the Estey Organ Museum's is dedicated to perserving "the history and heritage of the Estey Organ Company of Brattleboro, Vermont, makers of reed organs, pump organs, melodeons, and pipe organs." While hours of operation are limited, the best part of this interesting thing to do in Vermont is playing the organs. All guests are encouraged to bring music and play the organs on display.
Hike Mount Mansfield
Mount Mansfield in the tallest mountain in Vermont standing at 4,395 feet. This is a must do hike in Vermont, but be warned it can get crowded. Each your nearly 40,000 people hike it's trails. I recommend hiking the Sunset Ridge trail. for more of the hike you will be above treeline and as a result should not be used during inclement weather. *While hiking in Vermont during the Fall please remember to hear orange as it is hunting season.
Go to the Peru Fair
The sleepy little of Peru, Vermont sits atop the Green Mountain range, and every fall it comes alive with the arrival of the Peru Fair. The tiny downtown fills up with vendors and delicious fair food. For 38 years the Peru Fair floods the streets for 1 Saturday at the end of September. Park your car at the Bromley Mountain parking lot and take the bus over to downtown Peru, there is limited parking on site.
Ride Stowe Mountain Resort's Gondola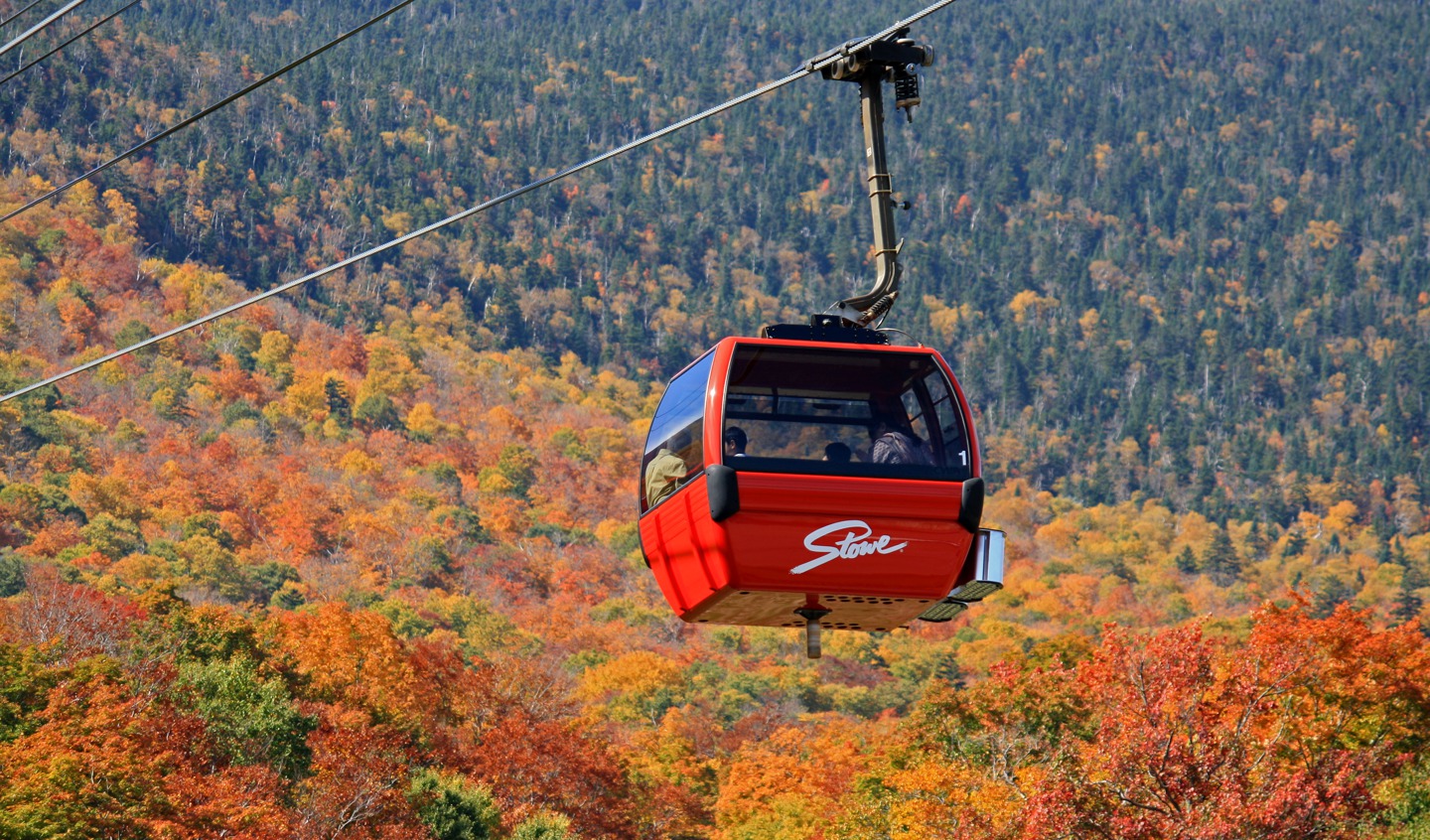 One of the most iconic things to do in Vermont is take a gondola ride to the top of a mountain. Stowe Mountain's Gondola is the perfect activity to take the in views from atop the Green Mountains. The ride up itself is an adventure, but the hiking trails at the top and a visit to the Cliff House Restaurant will round on the experience. Fall in Vermont is my favorite time of year and the explosion of colors you'll see from the top won't disappoint.
Paddle Grout Pond int he Green Mountain National Forest
While is it a bit of an adventure to get there, the remoteness adds to how amazing the area is. Along the dirt roads of the Green Mountain National Forest, you'll see signs for Grout Pond. Bring everything you'll need for the day including food, water, and a full tank of gas as it is at least an hour drive to the nearest store. The pond itself is lined with primitive campsites. Some of the sites have lean-tos and tent platforms. The pond is big enough to make you feel secluded even when the campsites are full. This is the best place to camp in the fall in southern Vermont. Please, leave no trace and carry out all your trash.
Go horseback riding
Experience the beauty of Vermont in the Fall from the horseback ad D-N-D Stables in East Burke, Vermont. Open to all experience levels, D-N-D Stables will show beginners the ropes and provide those who have ridden before with an actual riding experience. Small groups ensure that riders get to know their hosts, and with several trails returning riders will get new experiences each visit.
What are your favorite things to do in Vermont? Let me know in the comments.
Love It? Pin it!