Fall Foliage in Manchester Vermont is not to be missed!. From September to October – and if you're lucky into November too – the leaves change from green to reds, oranges and yellows. The mountains explode with color, the leaves spiral down from the trees, and a crisp yet earthy smell fills the air. Vermont Fall Foliage is the reason I live in Vermont. Let me show you why.
Vermont Fall Foliage
Where to stay in Manchester, Vermont during Fall Foliage
There are plenty of places to stay throughout Vermont during Foliage. When it comes to picking a place to base your trip out of or to drive through on a New England fall road trip, I would choose Manchester, here's why. First off it's not as busy as Stowe, Brattleboro or Burlington. I don't know about you, but I like as few people as possible when it comes to a vacation. Manchester as a good balance and doesn't feel too overcrowded. Secondly, there are plenty of fun things to do, great places to stay and delicious food to eat!
Here are a few places to stay in the Manchester area I recommend:
Pin this Vermont Fall Foliage post for Later
Manchester Hiking to see the Vermont Fall Foliage
We love to hike in Vermont and because of that we have plenty of trails to choose from. The Long Trail runs the length of Vermont from the Massachusetts border in the south to the Canadian border in the north. There is a parking area near the intersection of routes 11 and 30. If you head north on the trail you'll summit Bromley Mountain with lovely views of the area. This hike is all uphill, but is worth it in the end. Bring a picnic lunch to enjoy at the summit.
Another area to hike is the Equinox Preservation Trust located behind Burr & Burton Academy in Manchester Village. Trail difficulty varies from a challenging summit of Mount Equinox to a mostly flat trip around Equinox Pond. No matter what trail you choose you'll be rewarded with loads of color with several views to choose from. Here is a downloadable map to help you plan your hike. Parking is limited, so get there early and don't park on the road.
There are 3 Vermont State Parks far from Manchester, Vermont. Each offers beautiful hikes and quiet serenity. My personal favorites are Emerald Lake State Park and Jamaica State Park. In Jamaica State Park there is a gorgeous waterfall hike that cannot be missed when visiting Vermont in the Fall
Enjoy a Cider Donut or 2 during Vermont Fall Foliage
You know it's Fall when the smell of cider donuts fills the air. You can get them almost anywhere, but you don't want any cider donut, you want the best one. Look no further than the Equinox Valley Nursery. They'll have a sign out front if the donuts are hot. If you see it stop in, you won't regret it. In addition, you'll find an assortment of other delicious treats, wagon rides and a great selection of pumpkins.
Taste a Vermont classic, a Maple Creemee
In Vermont we don't have soft serve ice cream, we have creemees. And as the state that produces the most maple syrup in the country, we love maple-flavored everything! You haven't visited our state during Vermont Fall Foliage unless you've had a maple creemee.
A true maple creemee has real Vermont maple syrup in it. Dutton's Farm Stand in Manchester boils their own maple syrup right on site and adds it to their creemees. You can't get more farm to table then that.
Vermont Fall Foliage: Drive up Skyline Drive
Skyline Drive is a privately owned toll road that takes you up to the summit of Mount Equinox.
At the 3,848 foot summit you'll be rewarded with a nearly 360 degree vista. From the to you'll have views of the Green, White, Adirondack, Taconic, and Berkshire mountain ranges. Along the drive there are several overlooks and places to pull off and have a picnic, so bring a delicious lunch! This is one of the Best Things to do in Manchester, Vermont!
Here is a coupon directly from their website giving you $2 off.
Visit Hildene: The Lincoln Family Home
Built in 1905 by Robert Lincoln, son of Abraham Lincoln, this Georgian Revival mansion sits above the Battenkill Valley with views of the Green Mountains. With walking trails, a restored Pullman Car, a goat dairy, and a formal and kitchen garden, Hildene is so much more than a historic home. On nice days you can even see a bright red Franklin Roadster parked outside the house.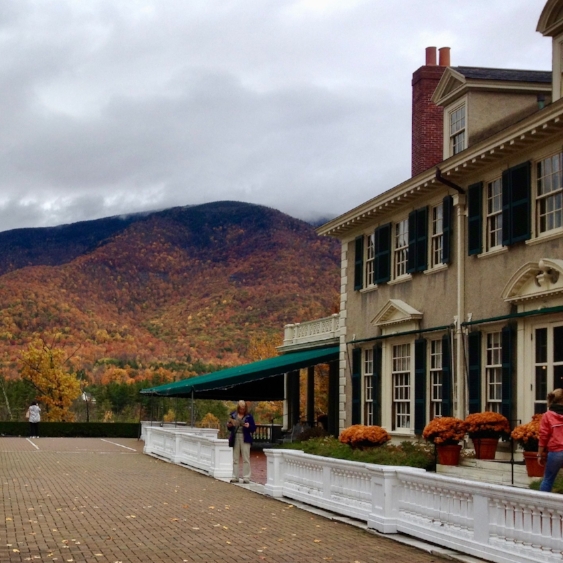 Of everything on property, the goat dairy is my favorite. You can see all the adorable goats – some of them might want to be your friend – and you can buy the cheese at the museum store! You should buy some chevre at the store along with some crackers and an apple, bring a blanket and head behind the Welcome center to the Apple Tree Allee and have a little picnic.
The cost of admission is: Adults $23, Children $6, Children under 6 are free.
Vermont Fall Foliage: Go Apple Picking
If you're looking for a fun activity for the whole family and some delicious souvenirs, head over to Mad Tom Orchard in Dorset, Vermont. I take my Nanny Kids there every Fall. We grab one of the little red wagons provided by the orchard and go for a walk through the orchard. I usually end up with one of the kids on my shoulders so we can reach the best apples all the way at the top.
Mad Tom Orchard has been owned and operated by Sylvia and Tom Smith since 1999. They have 12 different kinds of apples: McIntosh, Cortland, Gingergold, Zestar, Sansa, Gala, Honeycrisp, Macoun, Empire, Golden Delicious, Northern Spy, and Jonagold. Varieties vary depending on when you visit. Check their website for more information.
Oh! And on your way out don't forget to grab a gallon or half gallon of apple cider!
Explore the Biggest Corn Maze in Southern Vermont
Visiting Hathaway Farm's corn maze has become a Fall tradition for my boyfriend and I, we've been going since 2014. Located about 45 minutes from downtown Manchester, Vermont, Hathaway Farm is one of the best corn mazes I've ever been to and was voted the #2 corn maze for families by Kidventurous.
The maze, covering 12 acres, gets a new theme and is redesigned each year. Past themes have included, Under the Sea and Music. The 2018 theme is Man's Best Friend. Not only do you find your way out of the maze, you can add a little extra fun by search for hole punches hidden throughout the maze. If you find all of them, you get a free entry ticket to the maze the following year. We haven't found them all yet, but maybe this year!
In addition to the maze they have a mini maze and games for the kids, snack bar, hayrides, and a livestock barn. They're also open late for Moonlight Madness.
Eat Pancakes with Real Maple Syrup
This one can be done any time of year, but no trip to Vermont is complete without enjoying some real maple syrup on top of a stack of fluffy pancakes. Right in downtown Manchester is Up for Breakfast, one of the best restaurants in Manchester VT. They are open at 7am every day for breakfast and lunch. Get there pretty early though, it's a small place and they are always busy, especially on weekends.
What did you love about Vermont Fall Foliage? Let me know in the comments.
Love it? Pin it!