In a couple of months we'll all be over the snow and cold that is winter. Now is the time to book that winter getaway to warmer temperatures. Here are some of the best beaches to beat the winter blues.
Best Beaches
Monkey Beach, Halong Bay, Vietnam
Submitted by Penny from Globe Trove
One of the most prominent memories that I have of Halong Bay was at the end of our day cruise. We were due to make our last stop on an island called Monkey island. I had heard mixed reviews about the place. Some said it wasn't great. Others raved about it. The main attractions on Monkey island are the monkeys. You can even take a hike to the top of a hill on the island for a glimpse of the bay around. That however wasn't what captured my attention. What I truly enjoyed was the time we spent on the beach in Monkey island. As I said, it was the last part of our cruise. Now don't get me wrong… The beach is not populated and the only people that visit it come by boat during the day. Its white, clean and pretty but the best part was the view of Halong bay all around it.
I think the best part about it was when the sun set in the evening. The colorful sky was reflected in the water all around us. It was gorgeous and probably one of the highlights of the cruise.
Hiriketiya Beach, Sri Lanka
If you're dreaming of golden sand, shimmering blue water and plenty of palm trees swaying in the breeze then you are dreaming of Hiriketiya on the south coast of Sri Lanka. Whilst the majority of beaches on the south coast are just off the noisy main road, Hiriketiya is tucked away down the end of a 1km long dirt track. This means fewer people, less noise and the feeling you're finding somewhere really special.
This gorgeous crescent beach is not as famous as some of its neighbors so it's still easy to find a patch of paradise all to yourself, despite it being pretty small. The water is incredibly clear and if you are lucky you can even see turtles bobbing up and down on the surface. There are enough waves for a little body boarding but calm enough to enjoy swimming too.
The atmosphere is low key and there are plenty of places to stay beside the beach without it having a developed feel. You'll be spoiled for choice with great restaurants, our favorite was seeking out the ones serving freshly caught mahi mahi. Hiriketiya is the kind of place you come for a couple of nights but end up staying a fortnight!
Ft. Lauderdale Beach, Florida, USA
Submitted by Nadia from Travarela


Many people from all over the world flock to south Florida in the winter to escape the harsh weather that flurries through many other parts of the world. In fact, the Florida winter season can almost look like an identical scene from a summer day. Both tourists and locals alike make their way out to the beach to enjoy the best of what south Florida has to offer: sunshine! Ft. Lauderdale beach provides peace and relaxation without making you feel like you are in the middle of nowhere.
The cool winter waters of the Atlantic won't be too harsh during the winter months to enter. You will still see plenty of people entering and making a splash! There's not only sun and sand, but plenty of upscale restaurants, nightlife, shops, and even dive bars for those daring to enter. After spending the day lounging by the water, make time to relax at the nearby beach bars like Park and Ocean or Lulu's Bait Shack. Both are on the very casual side and are kid-friendly. Think: swim suit, shorts, and sandy toes.
If adventure is more of your thing, Ft. Lauderdale beach offers many water sport rentals. If kayaking or paddle boarding interests you, Hugh Taylor Birch State Park would be right up your alley for rentals. For the adrenaline junkies, there are also jet ski rentals and parasail rentals all along the shore.
Railay Beach, Krabi, Thailand
Submitted by Nadia from Nomadic Nerd
Thailand is my favorite country and the beach I love is actually one that's a little less well known – Railay Beach, Krabi! I was there last year for the first time and I'm itching to go back – although be careful, there are some jellyfish in the waters (I got stung, lol). Railay is only accessible by boat, but it's incredibly easy to find your way from Ao Nang Beach (the main beach in Krabi). What I love about Railay is how secluded it is, and because Krabi isn't as popular as Phuket or Koh Phi Phi, it's not so busy! There are a number of things to do, for example, I went on a Kayak tour around the different bays at sunset, which was just gorgeous. You could also go Stand Up Paddle Boarding, or just lie on the beach and relax.
Food and Shopping are far from lacking too, so you can easily spend the whole day there quite comfortably. I highly recommend getting a banana and nutella pancake, they are to die for. There are also options to stay at Railay itself, however I chose not to in order to access the main areas more easily, nightlife is better there.
Elafonisi Beach, Crete, Greece
If you're looking for a truly surreal beach experience, the pink sands of Elafonisi on the island of Crete in Greece should be near the top of your list. Sitting on the southwestern corner of the island, you'll drive an hour and a half south from the western city of Chania where the breeze is warm and smells of olive oil.
The first thing you'll notice when you arrive at Elafonisi Beach is that there are no large hotels, no businesses. In spite of the huge number of tourists that this beach attracts, it retains an essence of raw nature unspoiled by commerce. The area surrounding the beach is completely natural; parking is wherever you can find a spot between the sand dunes. Amenities such as restrooms and snack stands are in plenty, clean yet understated.
The beach is laid out in the shape of a large park rather than a straight coastline. To the west, a large sandy bay is perfect for wading knee-deep. To the east, a more typical shoreline, with smooth sand but the occasional boulder of stone. In between, a large tidal pool delightfully warmed by the sun, and perfect for lounging or for children to play. Grab a cabana for 8 Euros a day to stay out of the strong Mediterranean sun and let the day pass without a care!
Shoal Bay, Anguilla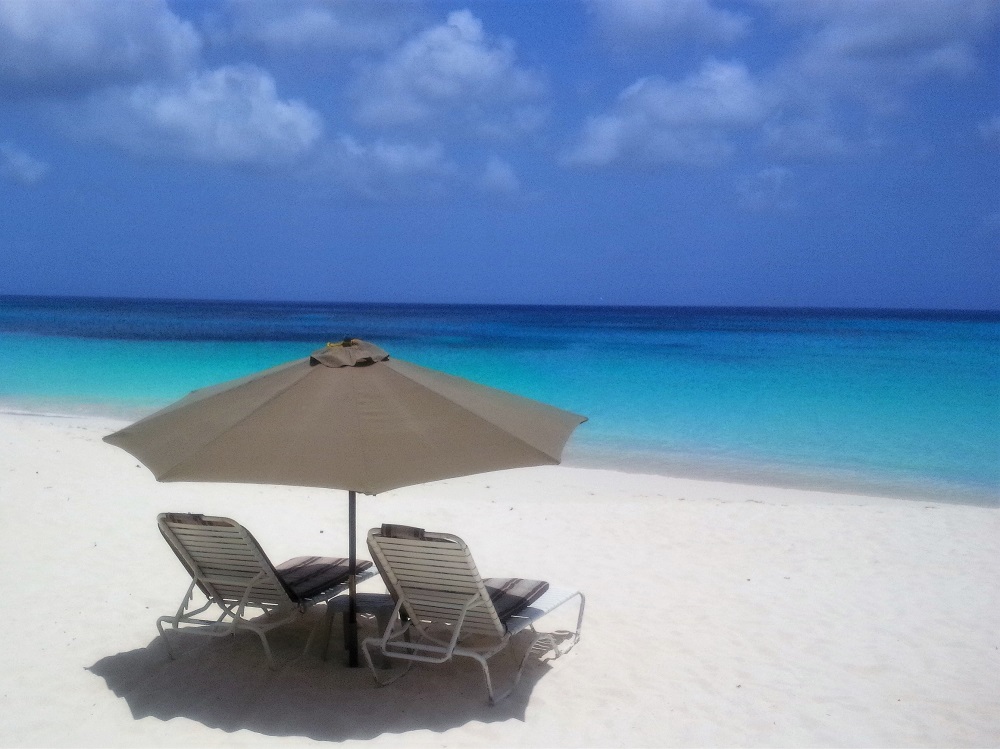 Just the sight of Shoal Bay in Anguilla is sure to help you beat the winter blues! Shoal Bay has the whitest sand and clearest water I have ever seen. The sand was so fine and soft, perfect for walking along the 2 mile stretch of beach. The water's so clear you don't need even need to stick your head in the water to see the fish. Shoal Bay is ideal for snorkeling, kayaking, or swimming since the water is calm, A float could be fun too.
Shoal Bay has several restaurants, beach bars, and hotels. I enjoyed the lunch we had but found the food and drinks to be a bit overpriced. If you are on a budget, it's a good idea to bring your own. A picnic on the beach could be romantic!
Peak season is from December to April because the weather is perfect. Don't worry. though, this beach is so big, it won't ever feel too crowded. Shoal Bay is located on the northern coast of Anguilla, which is a short ferry ride from St. Martin. You can visit as a day trip or stay for a week and see some of Anguilla's other beaches.
Pin it for Later