Greece is full of some of the most beautiful travel destinations in Europe. From spectacular islands and coastlines to archeological sites from the root of western civilization Greece will delight any traveler. Here are 5 top places to visit in Greece
Best Places to Visit in Greece
Athens
Every trip to Greece should start with Athens. The birthplace of democracy, Athens is a city you can spend an entire week in and not feel that you've seen it all. Some of the highlights in Athens include the Acropolis, the National Archaeological Museum, the Parthenon, the Ancient Agora and the Theatre of Dionysos. The attractions can be seen over the course of 2 or 3 days. Athens in a great city to travel in Greece with Voyage Privé.
Make sure you also stroll through the neighborhoods of Monastiraki and Plaka. They are full of colorful buildings and adorable cafes that will leave you wanting to explore more of Athen's neighborhoods.
If you're into desserts make sure you check out Little Kook. This cafe is always decorated for the holidays. It is considered by travelers as one of the most instagrammable places in Athens.
Pin it for Later!
Mykonos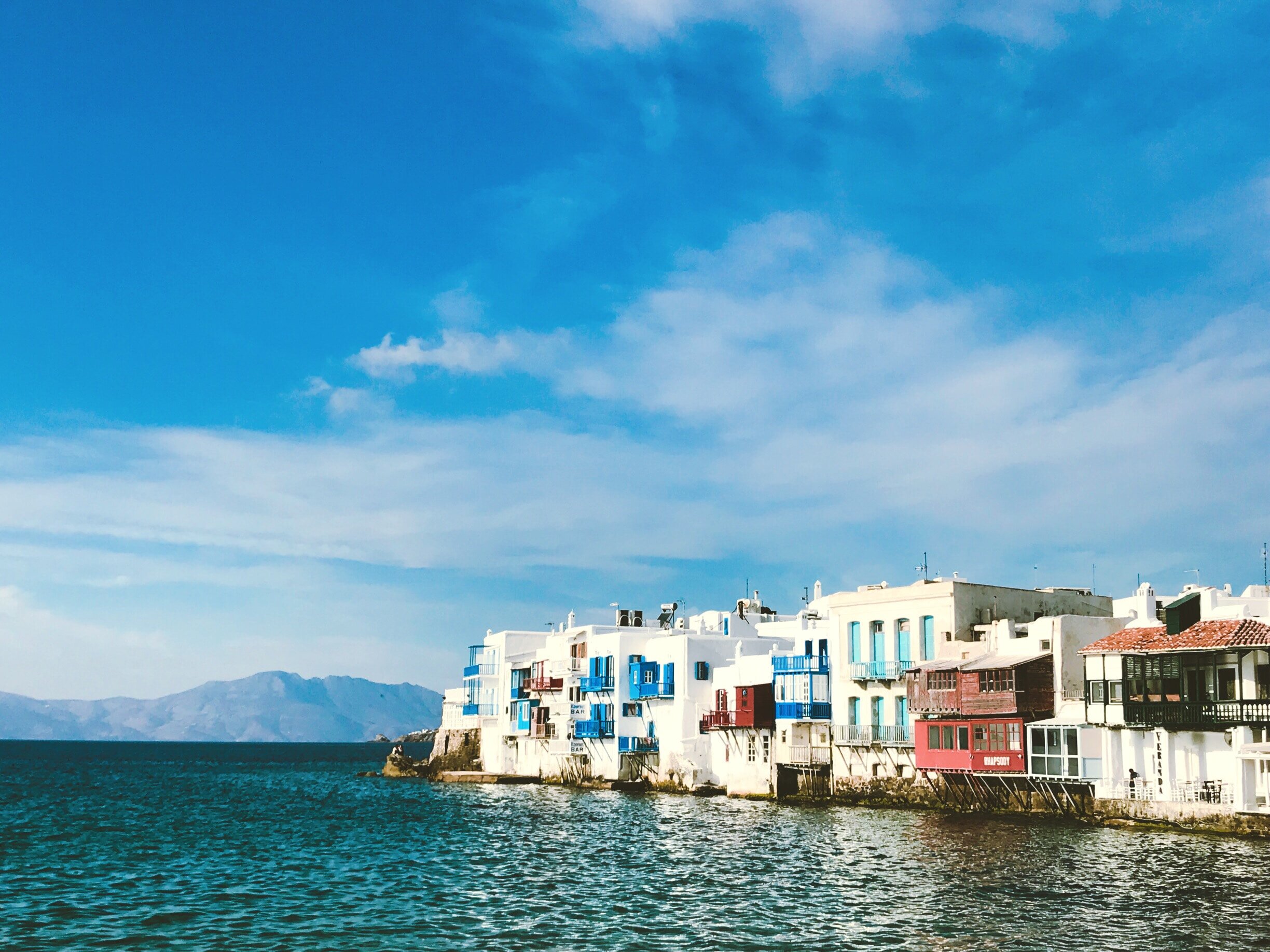 If you love wandering around maze-like streets, nightlife and a little bit of glamor, Mykonos is the island for you. Mykonos is an amazing blend of cosmopolitan life and old-world tradition.
Some of the best things to do in Mykonos Town are: Paraprtiani – One of the most beautiful whitewashed churches you'll find on the island – gorgeous sandy beaches (and there are plenty of them!), and you might get a few celebrity sightings in as well. While you're there don't forget to try some of their famous seafood and take in some music and dancing.
What makes Mkyonos such a popular destination is how easily accessible it is. The island is equipped with an airport and is connected by ferry to Athens, Rafina, and Piraeus.
Meteora
If you're looking to explore another world during your trip to Greece make sure you stop in Meteora. Located in central Greece the area is scattered with gorgeous cliffs that rise more than 1,200 feet over the quaint villages of Kalambaka and Kastraki.
While the cliffs are amazing, what visitors really come to this part of Greece to see are the monasteries that are perched atop the cliffs. While not all the monasteries are open to visitors, the one that are can only be visited on foot by hiking up flights of stone steps. Those that put in the time and effort to climb up to the monasteries (that date as far back as the 14th century) will be rewards not only with spectacular views of the surrounding area, but with silence, flickering candles, and religious icons oozing with history.
Best Places to Visit in Greece: Santorini
Of all the islands in Greece, if you only have time to visit one make sure it's Santorini as it is one of the best islands in Greece. Accessible by an airport and ferry Santorini is easily accessible by mainland Greece.
Known for their whitewashed cube shaped buildings and blue domed roofs sitting atop cliffs overlooking the Mediterranean sea. The most famous cliff-top towns are Fira and Oia. Both places are perfect for getting lost on back streets and mingling with locals.
If you can, book a night in one of the many boutique hotels with swim through infinity pools for the ultimate romantic getaway.
The beaches on the south and eat coasts of Santorini have black volcanic sand and are perfect for swimming. There are plenty of wine and food tours to check out, and don't forget to hike the caldera path between Fira and Oia. One of the must-see attractions on the island is the Minoan settlement of Akrotiri. It was covered in lava after a volcanic eruption.
Delphi
One of the most popular archeological sites in Greece, Delphi is located just a few hours outside of Athens nestled in the hillside of Mount Parnassus.
Delphi is dedicated to the god Apollo and holds great significance to the Greeks. It was the seat of Pythia, the oracle. People from all over the empire came to Delphi to consult her on important decisions.
You can visit the site solo or with a tour. Some must see spots in Delphi include the Athenian Treasury, the Hippodrome, and the Temple of Apollo.
What are some of the other Best Places to Visit in Greece? Let me know in the comments!
Love it? Pin It!