While London is a must visit destination in the U.K. (I recommend spending a least 3 days in London) exploring outside of the city will make you fall in love with this country even more. I've teamed up with a few of my favorite travel bloggers to help you find the best day trips from London.
Best Day Trips from London
Cambridge
Submitted by Katy Clarke from Untold Morsels
Cambridge is one of the best day trips from London. With just an hour on the train ride from Kings Cross station. The pretty city is home to the world famous university of the same name, cobbled streets and a peaceful river.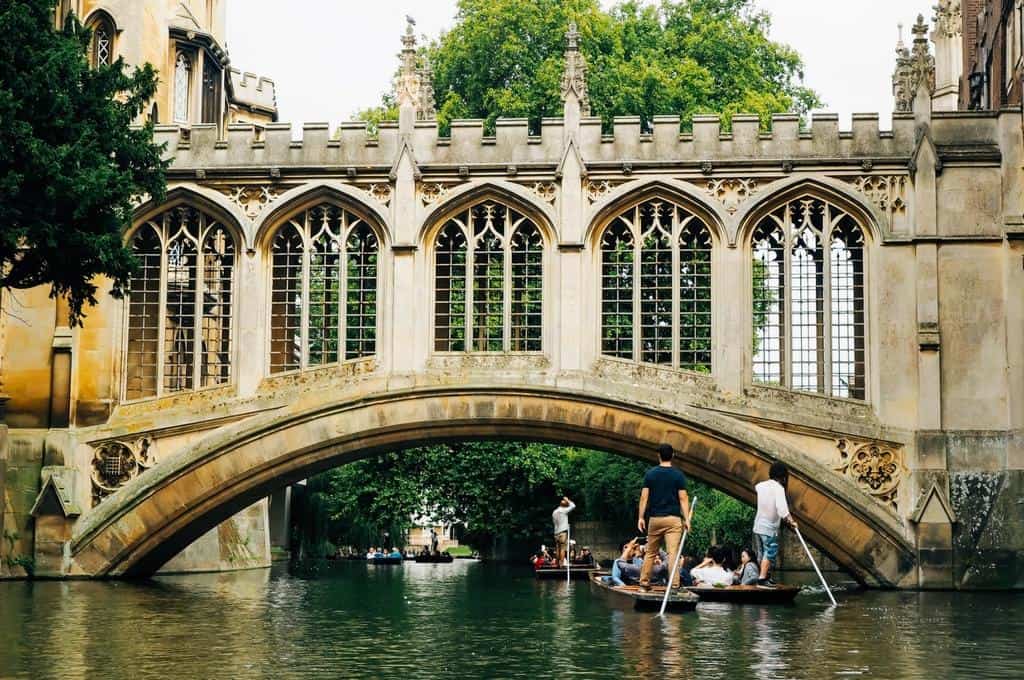 Founded in the Middle Ages, Cambridge University is at the heart of the city. You can easily spend a day exploring the historic colleges along the River Cam. Visitor favorites include St John's, Trinity and King's College because of their history and stunning architecture. Apart from their beauty, the colleges are famous for their prestigious alumni including Charles Darwin and Sir Isaac Newton. Imagine how many discoveries were made within those walls.
Most of the colleges sit on the banks of the River Cam in an area known as 'The Backs'. There you can join a punt tour and hear stories of the university, Cambridge and its famous inhabitants as you glide under the Bridge of Sighs. Along the way you will see Kings College Chapel. It was completed with the patronage of King Henry VIII in the 16th century. Make sure to step inside the chapel after your punt tour as this gothic masterpiece with soaring stained glass windows is one of the most beautiful churches in England.
When you get hungry you might also like to stop at The Anchor, one of the picturesque pubs on the river. After that, you will still have time to explore the pretty old town center. With its cobbled streets and market square before catching the train back to London.
For more information on and to book a day trip to Cambridge from London click here.
London Day Trips: The Cotswolds
If you're looking to get away from the hustle and bustle of London, look no further than the Cotswolds! The Cotswolds are an area of the English countryside covering six different counties. These little towns are famous for their quaint, stone houses and thatched roofs. Make for a perfect day trip from London or a great weekend glamping getaway. The best way to get to and around the Cotswolds is by renting a car for the day. Read on for a perfect one day itinerary!
First, start off at Bibury. It's about 2 hours away from London, and where the famous Arlington Row is. Arlington Row is supposedly the one of the most photographed streets in England and is famous for being postcard-perfect. However, it's accordingly usually very crowded, so for good photos come early or late!
After you've finished snapping tons of photos of Arlington Row, head to Bourton-on-the-water! It's a bustling little town full of canals (hence the name on-the-water); some even call it the Venice of the Cotswolds. Stone bridges span gorgeous canals full of ducks while vintage shops and crooked stone cafes reside next to the water. It's absolutely picturesque. This is a great spot to grab lunch and a souvenir.
Head next to Lower Slaughter, which is not quite as big or touristy as Bourton-on-the-water but not as small as Bibury either, and far more peaceful than either. It's built on the River Eye, and at the end of the village you can find a 19th-century water mill. At the end of the river there's also a small craft shop and tea room that I recommend looking around. Here you can buy some souvenirs or novelty items, or get a quick cup of tea before heading back to London.
For more information and to book a day trip to the Cotswolds from London, click here.
Pin it for later!
Best day trips from London: Dorking
Dorking is a small market town in the Surrey Hills, an area of Outstanding Natural Beauty about 25 miles south of central London making it a perfect day trip.
Dorking is accessible by car and train. By road, it's just a few miles south of junction 9 of the M25. As for train, the town boasts three train stations that connect it with both London Waterloo and London Victoria (with stops at Clapham Junction, Vauxhall and other stations). The train stations also offer direct services to Reading, Guildford and Gatwick Airport. Handily, the train station is under a mile on foot from the town centre and there are pavements all the way.
The town center is very historic, and offers an array of interesting buildings that house many independent shops and restaurants. There are also loads of traditional pubs and a Michelin starred restaurant. Our favorite shops are The Dorking Butchery, the fantastic antique shops on West Street and the friendly bicycle shop also on West Street. In terms of restaurants, if you want something special then Sorrell (which is the Michelin starred restaurant I mentioned) is your place. Alternatively, the Queen's Head gastro-pub is very popular and I like The Old House too.
If you like to be active, why not head to Denbies Vineyard (also walk-able from the mainline train station). Footpaths criss-cross the vineyards and they offer a range of tours. Box Hill is also close to the train station. It's owned by the National Trust and there are some lovely walking routes, with fantastic views. It's also very popular with road cyclists, as Box Hill was a big feature on the 2012 Olympics road race.
In short, Dorking offers a proper countryside experience very close to London. Give it a go!
Best Day Trips from London: Oxford
Oxford, nicknamed the city of dreaming spires, is home to the oldest English speaking University in the world. There are frequent train and bus services from London to Oxford. The transit time via train is one hour, and via bus one hour and forty minutes.
The best way to get quickly oriented with Oxford is to take a walking tour. You will be able to learn about the history of Oxford and tour the various University colleges. Additionally, you will also cover the highlights of Oxford such as the Covered Market, Bodleian Library, Radcliffe Square, The Oxford Castle, The Bridge of Sighs, and the Sheldonian Theatre. Then you can take a specialized city tour that focuses on Harry Potter, Literature, Architecture, etc.
Oxford is also home to numerous world class museums such as the Museum of the History of Science and the Oxford University Museum of Natural History, and they are definitely worth a visit.
If you are visiting Oxford during the summer, a popular experience is to go Punting. You can rent a punt at the Cherwell Boathouse.
There are also a number of cultural offerings available, so if you have time, try and squeeze in a play, lecture, or art exhibition into your day trip. There are numerous places to eat in Oxford, so for our recommendation we are going to look at places that have a bit of history behind them. Three places that I recommend are the Grand Cafe located on the site of the oldest coffee house in England, the Kings Arms, the oldest pub in Oxford, or the Turf Tavern a popular haunt of students and tourists.
Oxford, with so much beauty and culture to experience, is a fascinating town to visit. I honestly feel one day will not do it justice, but it still makes a great day trip from London is you're short on time.
For more information on and to book a day trip to Oxford (plus Warwick Castle and Stratford-upon-Avon) from London click here.
Day Trips from London: Windsor Castle
Submitted by Anisa Alhilali from 2 Traveling Texans
If you are interested in history, architecture, and art, then consider visiting Windsor England. It's home to Windsor Castle, where Queen Elizabeth likes to spend her weekends and where Prince Harry and Megan Markle got married. Add that to the fact that it only takes an hour on the train from London's Waterloo station and Windsor makes a great day trip from London.
Plan to spend most of your day exploring Windsor Castle, one of the most beautiful Castles near London, as there is a lot to see. As you can imagine, it's very popular so get your tickets in advance to avoid the long lines. Arrive early to catch the changing of the guard at 11 am. The audio tour (included in your admission price) is informative and will guide you through the Castle including Queen Mary's Dollhouse, the State Apartments, and St. George's Chapel.
Opposite the castle you will find Windsor Royal Shopping, which is an old Victorian train station that is now filled with shops and restaurants. It's nice they still kept many original features including the Jubilee arch, the cobbled stones, and Queen Victoria's Royal Waiting Room. If you still have time left, before you head back to London, walk across the bridge and admire the picturesque town of Eton.
For more information on and to book a day trip to Windsor Castle from London click here.
London Day Trips: Stonehenge
Submitted by LeAnna Brown from Economical Excursionists
Some people see it as a tourist trap, others see it as a structure and sign from aliens, but regardless of your view of Stonehenge, it's typically a must-see when visiting London and make the perfect day trip. If you are trying to save money while visiting London, going to see Stonehenge doesn't need to be all that pricey, either. A great way to cut costs is to avoid the tours and just DIY it on your own. You can rent a car for relatively cheap and be to the ancient site in less than 2 hours. Alternatively, you can also take public transportation and get there pretty quickly as well.
Once there, you can even forego the high cost of entrance and instead, get a guide book, like Rick Steves, and read all about it from the side of the road, while still taking phenomenal pictures! Since the stones are roped off inside anyway, preventing you from getting close, you actually aren't missing a ton by doing it all yourself. (Unless you find one of the special tours that get you inside.)
If you prefer the comfort of someone else taking care of all your travel details, there are plenty of daily tours that leave London and even make other stops, like to Bath, to round out a full day trip from London of sight-seeing.
For more information on and to book a day trip to Stonehenge from London click here.
Day Trip from London: Paris
Submitted by Natasha Lequepeys for And Then I Met Yoko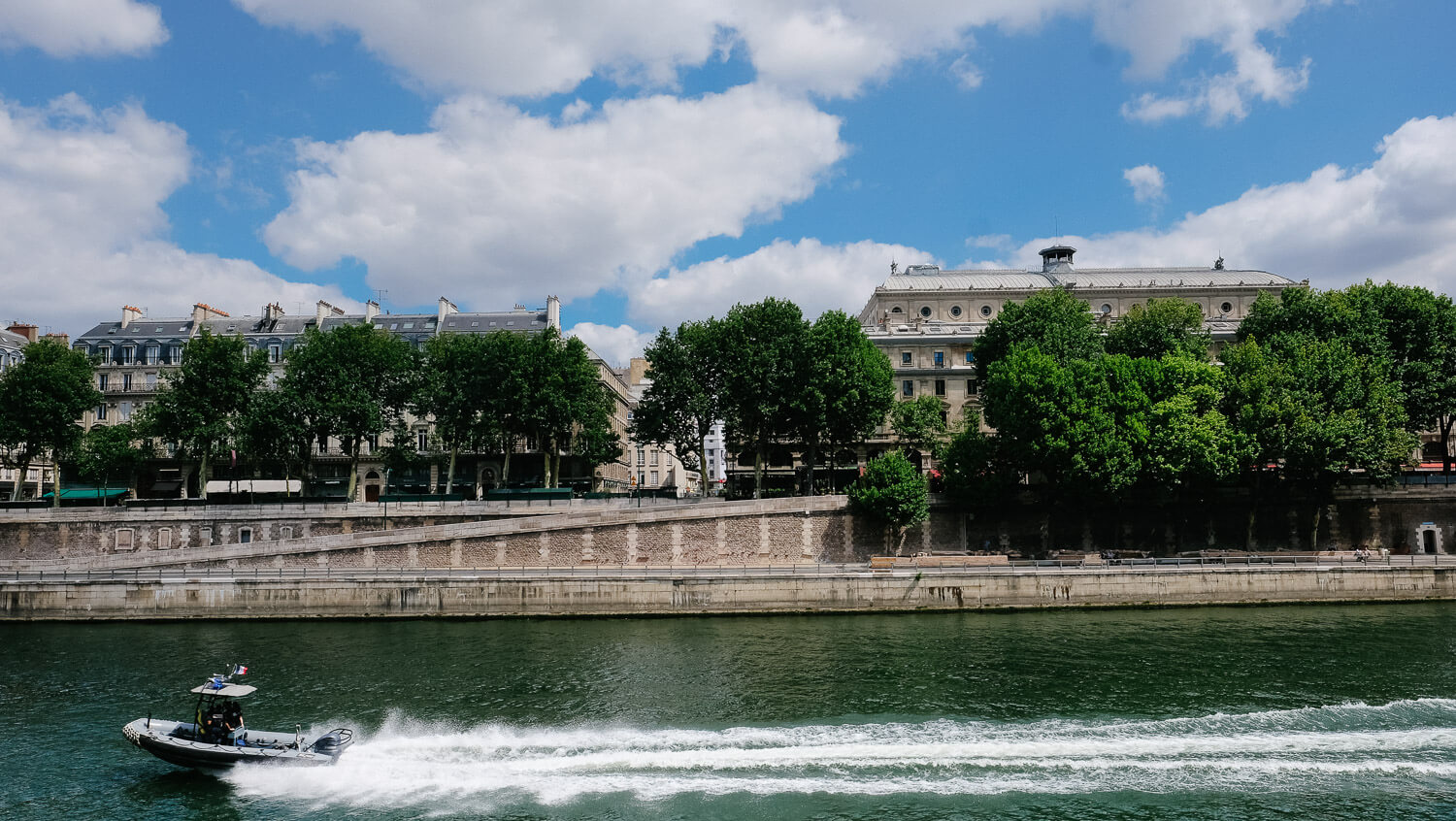 In 1994 the Channel Tunnel opened, creating an easy link between the great cities of London and Paris. Now in just over 2 hours you can get from one country to another.
Paris is a great day trip from London because culturally it's different from the rest of England. Though they're both metropolitan cities, Paris has some of the most beautiful architecture in the world. Unlike London, which builds modern buildings among old, Paris has done a fantastic job of retaining just the old. There are no large skyscrapers in the city center, you truly feel like you've gone back in time.
A trip to Paris is also a great opportunity to enjoy classic French food and pastries. Stepping a few blocks outside of the main tourist attractions will land you in quaint French bistros where you can eat on the patio and do as the French – face the street and people watch.
My recommendation for one day in Paris is to walk as much as possible. Start on the Right bank with the Champs-Élysées and the Arc de Triomphe then walk towards the Louvre passing the Place de la Concorde. Keep on walking along the Seine River Bank, crossing over the Île Saint-Louis onto the Left Bank. From there you can follow the river to Les Invalides, admiring the opulent Pont Alexandre III and finish your day at the Eiffel Tower. Sounds like a perfect day in Paris to me.
Enjoy a full itinerary and map of Paris here.
For more information on and to book a Day trip to Paris click here.
Top Day trips from London: Brighton
When summertime hits London, and the tube is simply too stuffy, it's time for a day trip, and where better than the seaside city of Brighton? With frequent trains out of Victoria or Blackfriars, you can be ambling down the hill to the iconic Brighton Pier in less than an hour. If you're a keen cyclist, you can even take part in the annual London to Brighton Bike Ride, 54 strenuous miles, to raise money for the British Heart Foundation.
Once you've reached Brighton you'll be spoilt for choice of what to do and most importantly where to eat. Well-known attractions include the Palace Pier, with the hauntingly beautiful charred West Pier in the background. Whilst it's nostalgic to take a stroll down the pier, grab a cone of chips and lose money on the slot machines, I prefer a visit to the Royal Pavilion. This quirky museum was built as a seaside pleasure palace by King George IV and blends regency architecture with luxurious Indian and Chinese influences.
The Royal Pavilion is located on the edge of the famous 'Brighton Lanes.' These historic alleyways are full of unique shops, independent restaurants and cafes. My personal favorites include visiting the absolutely bonkers Choccywoccydoodah chocolate shop, grabbing a coffee at Marwood and dinner at Ristorante Donatello. I have been visiting this Italian restaurant with my parents for 27 years, and seen the set menu steadily rise from the original £3.50 to its current price. Those from London will be amazed; a choice of starter and any pizza or pasta for the bargain of £10.75, with gargantuan portions. Take a look at the display of photographs on the wall of previous visitors and see if you can find Tony Blair and Katie Price (not in the same photo obviously).
Have you been on any of these day trips? Which one was your favorite? Let me know in the comments.
Love it? Pin It!