Many visitors to Walt Disney World in Florida head straight for the parks. Those people are missing out. This is so much to do and see all over the Disney Property. Here are over 51 things to do at Disney World, other than the parks! These activities vary in cost, some are complimentary for those staying on property and others have an additional cost. Some of these activities could add so much for your trip and keep the cost of your Disney World vacation down.
Things to do at Disney World
Things to do at Disney World other than the Parks: Resorts
See the animals at Animal Kingdom Lodge
Around the Animal Kingdom Lodge various African animals can be viewed. For those not staying at a Disney Resort, just tell security that you're there to see the animals and they'll usually give you a parking pass for a few hours. You'll get to see zebras, flamingos, giraffes, to name a few. After dark there will be Cast Members with night vision goggles for nighttime viewing of the animals!
Enter a drawing for the "Sketch Artist of the Day" at Art of Animation
Every day Art of Animation holds a "Sketch Artist of the Day" contest. Have your little artist enter their drawing at the front desk by 4pm. Didn't bring anything to draw with? No worries, after the front desk staff and they'll be grand to provide you with some. Who knows what kind of Disney Magic the winner will get to experience!
Roast some Marshmallows
The following Disney Resorts in Orlando offer nightly (check with resort to be sure) camp fires. At the campfires free marshmallows and roasting sticks are offered.
Animal Kingdom Lodge
Animal Kingdom Villas – Kidani Village
Bay Lake Tower Resort
Beach Club Resort
Boardwalk Inn
Caribbean Beach Resort
Contemporary Resort
Coronado Springs Resort
Old Key West Resort
Polynesian Village Resort
Port Orleans Resort – French Quarter
Port Orleans Resort – Riverside
Saratoga Springs Resort & Spa
Wilderness Lodge
The Cabins at Disney's Fort Wilderness Resort
The Campsites at Disney's Fort Wilderness Resort
See the Edible Holiday Carousel at the Beach and Yacht Club Villas
Every holiday season for the last 18 years there has been a life-sized edible carousel spinning around at the Beach and Yacht Club Villas. Fingers crossed they go for year 19 in 2019!
Things to do at Disney World: Take a Tour of a Disney Resort
Some of the Walt Disney World Resorts offer FREE tours! Unfortunately, they are only for resort guests. While the tours are free they can require a reservation depending on the time of year of your visit. Call the resort you're staying at directly to see if they have a tour and to make a reservation.
Visit the horses and watch the blacksmith work at Fort Wilderness
Open from 8 am to 3:30pm daily, visitors can walk through the stables and visit Cinderella's horses and the horses that can be seen on Main Street USA. The blacksmith is on hand making and putting horseshoes on the animals. There are over 5 different kinds of horses at the Tri-Circle-D Ranch. Animals lovers will have a ball here!
Check out Chip & Dale's free campfire sing-a-long at Fort Wilderness Campground
Taking a campfire and marshmallows to the next level, Fort Wilderness Campground holds a free sing-a-long every night near the Meadow Trading Post. Check with the campground for specific times but it usually occurs at 7pm in the Fall and Winter and 8pm during the Spring and Summer. After the sing-a-long and marshmallow roasting Chip and Dale to a meet and greet and sign autographs. Seating is limited so bring a chair of blanket. No reservations are required for this event.
Do the Monorail Pub Crawl
For a magical night of cocktails and themed lounges hop on the monorail for the monorail pub crawl. The 5 stops on my list provide romantic atmosphere, amazing views, and if you time it right some fireworks viewing. I recommend doing the pub crawl in the following order.
Mizner's Lounge at the Grand Floridian Resort
The Wave Lounge at the Contemporary Resort
California Grill at the Contemporary Resort
Tambu Lounge at the Polynesian
Trader Sam's Grog Grotto at the Polynesian
Want to add an additional stop? Take the boat over to the Wilderness Lodge and get a drink at the Territory Lounge and at Geyser Point Bar & Grill.
If you're not staying at the Disney Resorts please make sure you organize a designated driver or use Uber, and please drink responsibly.
Grand Floridian Resort music and A Princess Waltz
If you've never seen in lobby of the Grand Floridian you're missing out. It is one of the most locations on the Disney Property – It's also one of the most relaxing. In the afternoons music is played on the grand piano on the first floor and a small orchestra on the second floor. You'll get to hear some classical music mixed with everyone's favorite Disney classics. If you're there at just the right time – usually 3:30 pm – you'll get to see Cinderella descend the grand staircase with Prince Charming and dance together.
Go on a hidden Mickey Hunt at Wilderness Lodge
Wilderness Lodge is the only location on Disney property where you can go on a Hidden Mickey Hunt. For those of you who don't know, a hidden mickey is simply the outline of Mickey's head, you know the shape right? Imagineers, Disney's Engineers hide them all over the Disney Parks! If you head to the front desk at the Wilderness Lodge they'll give you all the information you need for a fun afternoon exploring the resort.
Things to do at Disney World: The Night Time Water Parade
When Disney's Polynesian Resort opened in 1971 they held a water-light parade for it's dedication. It has been running since then because of it's popularity. Check with the hotels on time but approximate times are:
Polynesian Village Resort, 9:00 pm
Grand Floridian Resort & Spa, 9:15 pm
Wilderness Lodge, 9:30 pm
Fort Wilderness Campground, 9:45 pm
Contemporary Resort 10:00 pm
Stroll Around the Pop Century Resort
The Pop Century Resort as so many amazing things to see and take photos of. These are great to get your Instagram fix or to find a spot or 5 to take some fun family photos.
Things to do at Disney World: Meet Mickey & Minnie at the Contemporary Resort
During the Holiday Season, a GIANT Christmas tree is erected in the lobby and you can meet Mickey and Minnie all dressed up for the Holidays! Usually, the lines aren't too long and it's a rare chance to meet the pair together. Call the Contemporary for times.
The day you go meet Mickey and Minnie at the Contemporary, use the monorail and head to the Magic Kingdom. Of all the WDW parks the Magic Kingdom at Christmas time and extra magical!
Try Hula Dancing at the Polynesian
To really get into the Polynesian spirit take a hula dancing class! You'll learn a variety of dances and chants from different locations around the world. Contact the front desk for times and reservation information.
Things to do at Disney World other than the Parks: Disney Springs
Food Trucks and Entertainment
Stop by the Exposition Park for an amazing line-up of food trucks and entertainment. With this spot you never know what will be going on. The Disney Springs website says there could be anything from bands, DJs, to free-style rappers. Stop in and check it out.
Things to do at Disney World: Eat at the Rain forest Cafe
If you're looking for a fun place to eat with the kids you can't go wrong at the Rain Forest Café. There are animals around every corner and you're sure to get caught up in an in-house thunder storm! (Don't worry you won't get wet.) Check out the menu here and be sure you make a reservation on the Disney App.
Things to do at Disney World: Catch a show at the House of Blues
The House of Blues is always rocking and you never know who is going to be playing. Names big and small have graced the stage. Before you head into the show stop by their attached restaurant for some down home cooking a beer glass full of hoppy goodness. For more information on the menu or concert calendar visit the House of Blues website.
Take in the view from the Aerophile Helium Balloon
If you're looking for the best view of Disney Springs, you'll find it aboard the Aerophile, 400 feet in the air. This custom made, just for Disney, balloon is the largest tethered helium balloon in the world! On a clear day you, and up to 28 friends, can see over 10-miles away!
Things to do at Disney World: Go shopping at the World of Disney
When I was a kid this was the best Disney store ever. They just redid it and it's even bigger then it was before! This is THE place to go to grab souvenirs or maybe even a little something for yourself.
Indulge your sweet tooth at Amorette's Patisserie
Baking up something for the whole family Amorette's not only is delicious, but you can watch the chefs decorate the cakes and other goodies then you visit. Want to celebrate a special occasion? You can pre-order cakes too! Check out the menu here.
Get bowled over at Splitsville Luxury Lanes
This isn't your Dad's bowling alley. They have it all. Bowling, billiards, food and live entertainment. You can even book a party there. For more information or to reserve a lane (cause who wants to waste a single minute at Disney!?) click here.
Watch a movie at AMC
Like anything at Disney this theater takes going to the movies to a whole new level. Enter the Fork & Screen dine-in theater. This is a fun night or afternoon out. Cause who doesn't love dinner and a movie? Reserve your seat today!
Go to the Lego Store
Get building at the Lego Store! With a bunch of hands on building experiences in and out of the store you'll be there for a while if you have kids – or if I'm going with you! Surrounding the store you'll also find some great Lego sculptures from Disney and Marvel characters to the Lake Buena Vista monster who has lived in the lake for quiet a while now.
Meet the Cocoa Cola Bear at the Coke store
If you've never been to a Coke Store stop by and see what the buzz is all about. Take a photo with the Cocoa-Cola Polar Bear and head up to the Rooftop Beverage Bar and try Cocoa-Cola Products from all over the world. For more information about the store, click here.
The Edison Live Entertainment
After 10pm The Edison becomes the place to go for guests 21 years old and over. This Gatsby-style entertainment destination busts with the house band, The Pearl Street Players alongside aerialists and burlesque dancers. So order a cocktail and let the night take you by surprise.
Ride the Marketplace Carousel
I love carousels and always have, not so much for the ride as for the artistry and skill that goes into crafting them. The Martketplace Carousel was imported from Italy where it was hand carved and painted. With over 570 mini lightbulbs and hand-painted murals this moving work of art doesn't disappoint.
Experience Virtual Reality at The Void
Virtual Reality is the cool thing right now and kids love it! At The Void they're always changing up when is offered for experiences, so check the Disney Springs website for updates. At the time of publishing there were 2 experiences: Star Wars and Wreck-it Ralph.
Belly up to Jock Lindsey's Hangar Bar
As a BIG Indiana Jones fan I had to include this place. Remember Jock? He flew Indiana Jones out of the jungle at the beginning of the Raiders of the Lost Ark? Well this is his place! It's pinned as an airplane hanger turned bar. The atmosphere is fun and there are little touches that will inspire any adventurer. Here's the menu.
Cruise Lake Buena Vista in a Amphicar or Italian Water Taxi
I've always wanted to do this, but never have. The little Amphicars look like so much fun! Something special you can do with the Italian water taxis is have a sunset champagne cruise or a wine tasting. Call (407) 939-2628 to find out more.
Things to do at Disney World other than the Parks: Quick and Easy
Do some pin trading
Disney Pin Trading can happen anywhere on Disney Property – or off! If you see a fellow guest or Cast Member with pins, just ask to trade. You might find that diamond in the rough you're looking for.
Ride the Monorail
How often, in real life, do you get to ride a monorail? For me that answer is never. The monorail is my favorite mode of transportation at Walt Disney World. Grab a friend, hope on the monorail and get off and explore at every stop, it's my favorite Walt Disney World things to do!
Celebrate!
What are you celebrating at the Disney Parks? Stop by the front desk of any resort and ask for a celebration pin. You can rock the pin for your entire trip, you never know what kind of Disney Magic can happen because of it. Happy Celebrating!
Things to do at Disney World: Volunteer for Give Kids the World
Give Kids the World is a non-profit organization that provides vacations, free of charge, to children with life threatening illnesses. On your next Disney trip take a little time out to make someone else's day extra special! Find out more about Give Kids the World here.
Visit the Resort Arcade
A few dollars and a visit to the resort arcade can be a special treat – I know if was for me as a kid – and doesn't take up too much time.
Coin Press Machines
No matter where you go at Walt Disney World, you'll
Things to do at Disney World other than the Parks: Even More Fun
Mini Golf
I'm not big on golfing, but mini golfing I can get behind! Walt Disney World is home to 2 18-hole mini golf courses. Fantasia Gardens and Fairways and Winter Summerland Miniature Golf is a great break from the parks and fun for the whole family. There is no dress code for these courses, but watch out for the broomsticks, you might get wet!
Things to do at Disney World: Hit the target with some Archery
Want to be like Merida and hit the target every time? It probably won't happen at first, cause practice makes perfect, but with class sizes of up to 10 people, you'll get one on one instruction to help you be the best archer possible. Located at the Bike Barn at Disney's Fort Wilderness Resort, 90-minute classes will have you shooting targets in no time. Call (407) 939-7529 to make your reservation.
Try your hand at Golfing
The Walt Disney World Resort offers 4 golf experiences ranging in difficulty from 9-hole to championship courses.
There is a dress code for all golfers, click the links above for more information. Reservations are encouraged, but not always necessary depending on the time of year you're visiting.
Pixar Play Zone
Do the kids need a fun night to themselves so the parents can have their own fun? Look no further than Pixar Play Zone at the Contemporary Resort. They'll get to hang out with characters from Toy Story and the Incredibles while doing fun and engaging activities. Plus dinner and dessert are included. Click here for more information and to make reservations.
Things to do at Disney World: Rent a motorized boat
Whether you're looking for some quiet time out on the water or the perfect view of the Magic Kingdom fireworks away from any other guests, renting a motorized boat at Walt Disney World is a lovely experience. Guests must be 18+ to rent a boat. Click here for more information.
Visit the Disney wilderness Preserve
Around 20 miles south of Orlando is the Disney Wilderness Preserve. You'll get to see native Floridian plants and animals. They have a 2 1/2 mile trail for visitors to hike and explore. For more information and to check on opening and closing times check out the Disney Wilderness Preserve's website.
Go fishing
Whether it's dockside fishing or a guided excursion, Disney has you covered. For dock side fishing, poles can be rented at the Fishin' Hole at Ol' Man Island located at Disney's Port Orleans Resort, Riverside. If you're looking for an excursion, you can go out for 2 or 4 hours. Trips are available at the following Resorts:
Fort Wilderness Resort & Campground
Caribbean Beach Resort
Contemporary Resort
Grand Floridian Resort & Spa
Old Key West Resort
Polynesian Village Resort
Port Orleans Resort – Riverside
Wilderness Lodge
Yacht Club Resort
Rent a Bike
With miles of biking trails get the whole family outside for some fun. Bikes are avialble to adult and children's sizes and can even come with training wheels. All bikes come with complimentary helmets and child seats. Reservations are not accepted.
There are 8 locations around the Walt Disney World Resort to rent bikes. They are:
Caribbean Beach Resort
Old Key West Resort
Disney's Port Orleans Resort – French Quarter
Port Orleans Resort – Riverside
Saratoga Springs Resort & Spa
Wilderness Lodge
The Cabins at Disney's Fort Wilderness Resort
The Campsites at Disney's Fort Wilderness Resort
For more information on bike rentals click here.
Things to do at Disney World: Go Horseback Riding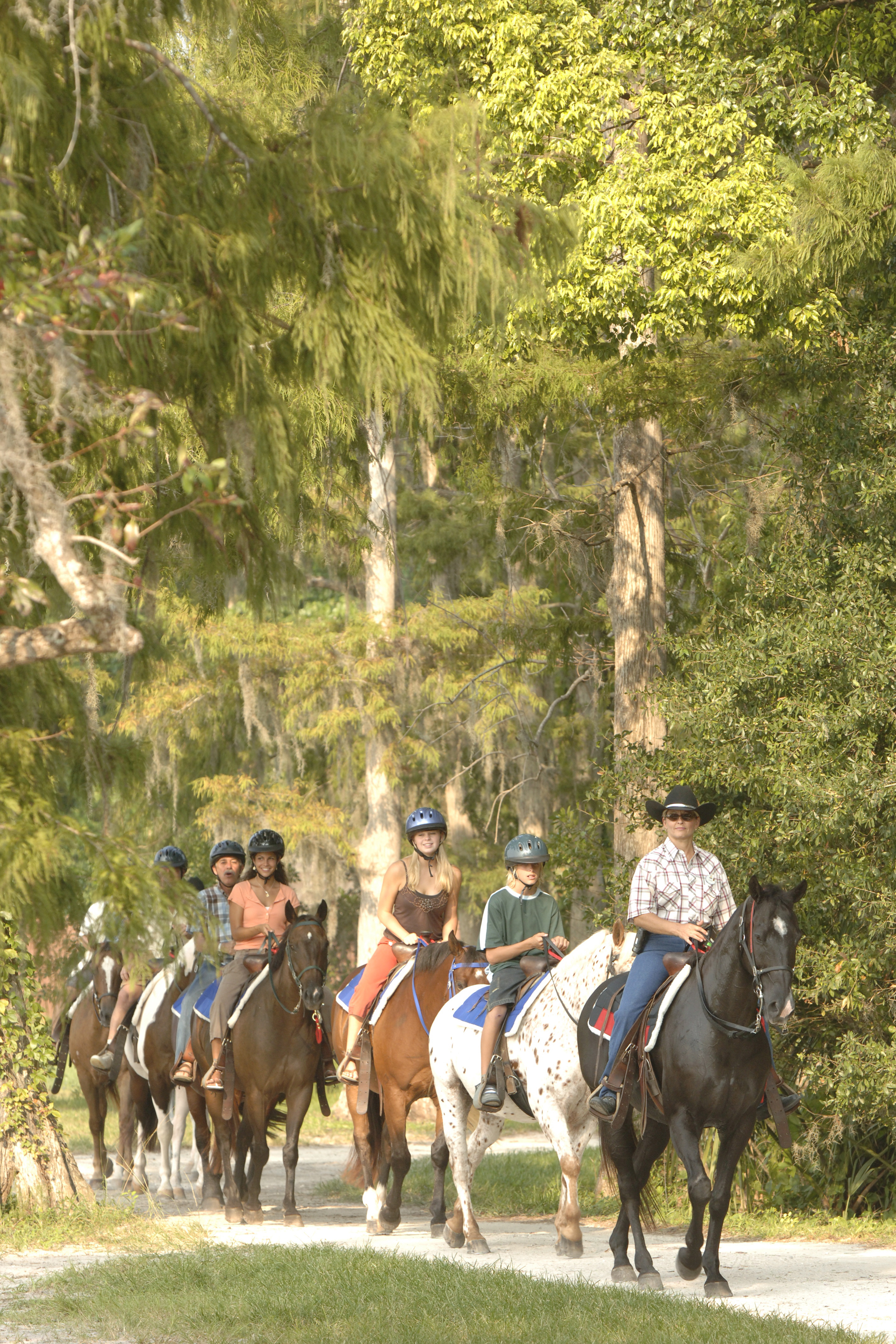 Taking a trail ride is a relaxing way to enjoy some natural Florida habitat. Trail rides last approximately 45 minutes and are for guests 9 years of age and older. Reservations are highly recommended. Call (407) 939-7529 to make yours today.
Learn to Surf
Typhoon Lagoon, one of Disney's water parks, offers surf lessons right in their wave pool. Don't worry you won't crash into anyone else because your surf lesson happens before the park opens! For 3 hours you'll get to enjoy the wave pool all to yourself. Space is limited and reservations way in advance are required. Find out more here.
Things to do at Disney World: Get the Keys to the Kingdom
I have never done this, but it's on my Walt Disney World bucket list. Get behind the scenes access to the Magic Kingdom with access to the tunnels beneath the park! The 5 hour tour will give guests a glimpse of how some of the Magic Kingdom's classic rides come to life and includes a special lunch. Park admission is needed for this tour. Click here to find out more and to make a reservation for the Keys to the Kingdom tour.
Walk around the Boardwalk
Disney's Boardwalk is located just outside the World Showcase entrance of Epcot. With restaurants and entertainment opportunities it's a great place to spend an afternoon. Grab some ice cream a beeches and cream and rent a Surrey bike to ride with the whole family! Please note that parking is limited at the Boardwalk Inn for those driving to the area. If you're staying a Disney Resort, take Disney transportation.
Rent a Canoe or Kayak
Enjoy the calm waters of the Fort Wilderness Resort area in a canoe or kayak. What I love most about these rentals is, you don't need a reservation. To start your adventure head to the Meadow Recreation Area.
Things to do at Disney World: Water Parks
I guess you can consider this a Disney Park, but they're not a traditional Disney Theme Parks so they're being included in this list. With 2 water parks to visit you'll never get bored! Between the two parks, Typhoon Lagoon and Blizzard Beach, there are over 100 acres of park fun including one of the tallest free fall water slides in the world. The water parks tend to be closed for refurbishment during the winter months so check the Disney website to make sure they're open during your visit.
Visit ESPN's Wide World of Sports Complex
ESPN's Wide World of Sports Complex plays host to countless sports competitions every year. But one of the coolest things to do there is watch the Atlanta Brave's Spring Training. For the schedule and to buy tickets visit the Atlanta Braves website.
What are your favorite things to do at Disney? Did I leave any of your favorite things to do at Disney World out?
Loved it? Pin it!