For someone who lives in a small cabin in the Green Mountains of Vermont, it might surprise you that I'm a social creature. I thrive off of human interaction: sharing stories, giving and getting amazing hugs, laughing so loud with a group of friends that the people around you won't stop giving you dirty looks. When I found out I had the day off when Wanderlust Yoga Festival was going to be at Stratton Mountain, 20 minutes from house, I was so in!
It was my first time going and I'm already counting down the days until next year. Here are a few things I learned along the way. I hope they'll help you have a great time!
What to bring to Wanderlust Yoga Festival
This isn't going to be a packing list for the weekend. This is going to be a what you should put in your bag for the day so you don't have to go back to your room/tent/whatever lodging you have and you can make the most out of every minute.
Here's a brief list of what I brought with me for my day at the festival:
Yoga mat
Yoga socks, yoga gloves, strap, or any other accessories your body needs
Rain jacket
Sweatshirt
Snacks
Sunscreen
Reusable water bottle
Portable charger
Tip: There are filtered water fill stations everywhere!
Try something new
How do you know if you don't like something if you've never done it? There are so many different classes, workshops, and experiences offered at Wanderlust Yoga Festival. Go through the schedule and sign up for something you've never done before! Try aerial yoga or meditation.
For me this was AcroYoga Flying Therapeutics with Daniel Scott and Lauren Matters. I've looked at the photos on Instagram with both skepticism and envy. Be honest, you probably have too. Not knowing how I could possibly hold up another person and being realistic with how graceful I am, I signed up anyway!
Arriving to a partner class without a partner is a bit nerve-wracking, but I ended up paired up with a lovely woman around my age from Boston. We were both beginners, which made me feel great. It took the two of us a little bit to figure things out – she was taller then me, balancing is a challenge with any type of yoga – but overall we ended up being a great match. I learned that good communication is key for AcroYoga and you just need to take things slow.
I'm glad that I didn't have someone to attend this class with and that I met someone new. Now I need to find a partner to do this with at home. Any takers?
Tip: Make sure you have plenty of spending money. There are so many amazing vendors! I got a pair of hand sewn leggings from the amazing Yogavated!
All shapes and sizes
Just like all of us that do yoga, the classes and workshops at Wanderlust Yoga Festival come in all shapes and sizes. Big and small, beginner to advanced, there's a class for everyone. My aerial yoga class had around 20 people in it and we had plenty of space to move because of the setup, and it was outside! My biggest classes – Rebel, Rebel with Chelsey Korus and music from DJ Taz Rashid – took place in a giant tent.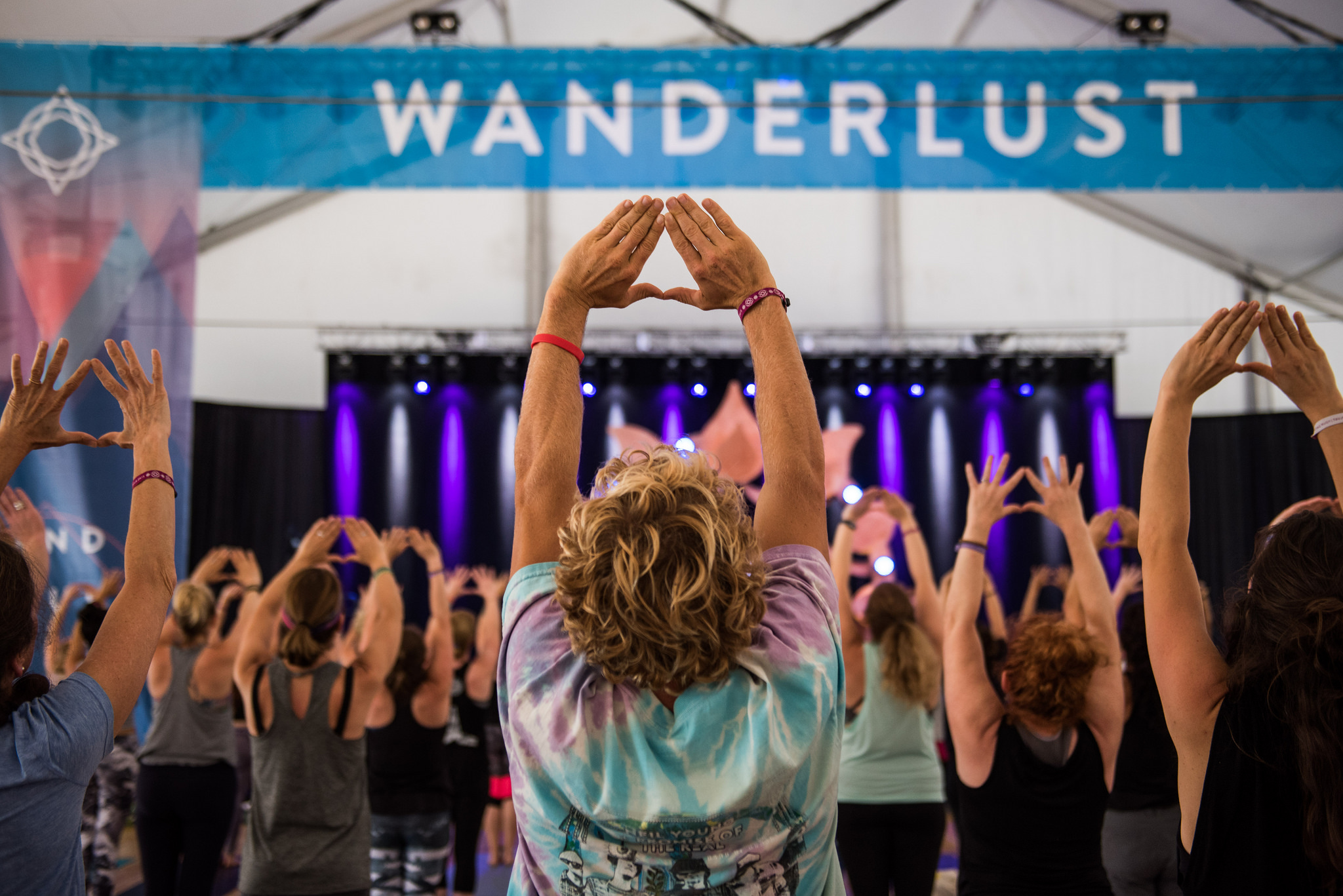 Photo by Ali Kaukus for Wanderlust Festival
First off, I've never taken a class with it's own DJ so that was new and different, and I'm pretty sure there were over 150 people in that tent, with room to spare. It's important to know that my personal bubble is nonexistent, so this class wasn't a challenge for me.
However, if you feel like you need space to be comfortable during your practice, large classes like this one might not be for you. I was all up in my neighbor's space when my poses required shifting to the left or the right. On the other hand, step out of your comfort zone and go to a class like this. It was an incredible experience and Chelsey really kicked our butts!
Tip: In all my classes there where stickers on the floor. They mark off mat placement for classes. The top center of your mat should line up with a sticker.
Take it Easy at Wanderlust Yoga Festival
I was only able to attend the festival for the day and I was incredibly sore by the end of it. If I had done 3 classes a day for 4 days I'd probably die. While Death by Yoga would look amazing on a gravestone, I'd highly suggest you spread out the intense classes.
Photo by Chris Eckert for Wanderlust Festival
Take a break from yoga and take a hike, go mountain biking, join in on some meditation, or simply grab a hammock hang out and people watch.
There is always something to do or see at Wanderlust. Remember the Festival's mission is, "to help you find your true north — to cultivate your best self." Can you really do that if all you do is go, go, go? Slow down, rest your muscles and enjoy yourself.
Tip: There will be vendors lining the walkways at the festival. Many of them will be handing out swag. I encourage everyone to be responsible and only take things you plan on using. Waste is a big issue in our country and we can all help in small ways.
Have you been to Wanderlust Yoga Festival? What other tips do you have? Share them in the comments.
Pin it for Later!