The island of Cozumel Mexico is just a short ferry ride from Playa Del Carmen located off the Yucatán peninsula. It is commonly known as a crew ship destination. I recently spent some time there without taking a cruise and I can tell you it is so much more. Gorgeous isla Cozumel Mexico has plenty to do both above and below the water. Here is the perfect 3 day Cozumel itinerary.
Cozumel Itinerary
How to get to Cozumel
Before planning your full Cozumel itinerary start by figuring out how you're going to get to the island.
Getting to Cozumel is pretty simple. You can fly into the small Cozumel International airport. It only has one terminal so it's extremely easy to navigate.
Upon arrival, all passengers exit the plane, walk across the tarmac, and immediately hop into the passport control line. It did take a while to get through the line. It was my first introduction that everything moves a little slower on the island.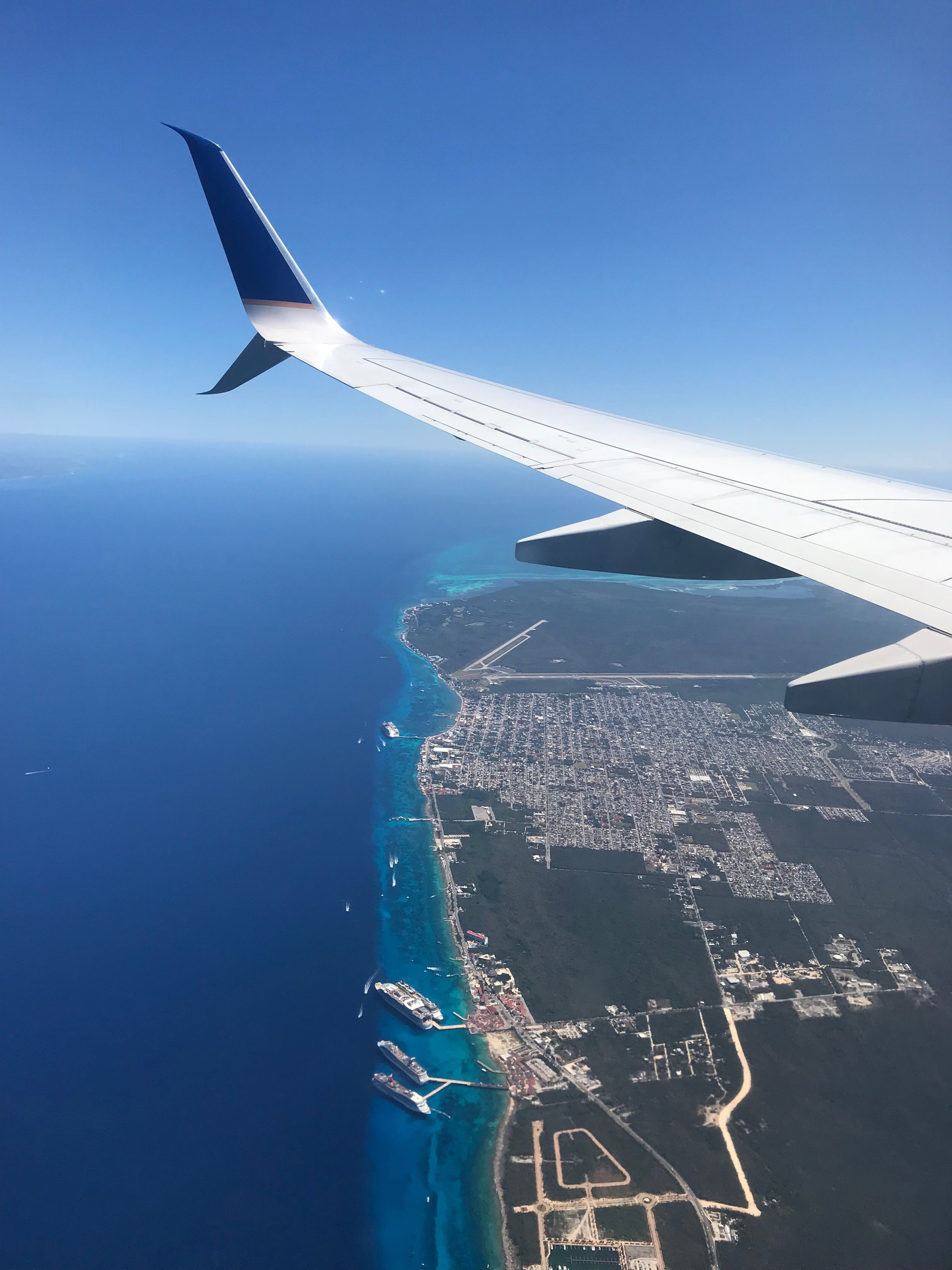 For those coming from mainland Mexico, take the short ferry ride from Playa Del Carmen. Passenger ferries dock in San Miguel, the only town on the island. The ferry from Playa takes around 20 minutes, and depending on the weather can be a rocky ride. Please be aware that during bad weather ferries can be delayed or canceled.
Cozumel is also frequented by cruise ships. There are 2 cruise ship docks on the island.
Where to stay in Cozumel
There is no shortage of places to stay on the island of Cozumel. Most of the places to stay are big resorts. While the resorts have almost anything you could want for a luxury beach vacation, I say skip them. When I travel I try to stay in a place owned by someone that lives in the location I'm visiting. That is how I found Amigos Hostel Cozumel. Located approximately a 15 minute walk from the center of San Miguel, Amigos Hostel Cozumel is a quiet oasis in a busy little town.
The owner, and one of the few female business owners in a Cozumel, Kathy greeted me upon arrival. Not only did she give me a tour of the hostel, she gave me a map of San Miguel and plenty of information. Info like on where ATMs, grocery stores, and other important locations around town visitors should know about.
Amigos Hostel Cozumel
I enjoy staying in hostels because I'm an extremely social creature. However, I also really value silence. If like me you enjoy both of these things Amigos Hostel Cozumel is perfect for you. It is not a party hostel, but there are plenty of fun, friendly travelers that stay there for great conversation and to share a beer with after a long day of exploring the island.
Keep in mind that no matter what hostel you stay at pack light as hostel lockers aren't the biggest. Luckily, packing for a trip to Mexico usually doesn't involve that many clothes as you'll probably be at the beach or on the water most of the time you're in Cozumel.
I personally enjoyed the sunny pool area and the tiny tortoise that wandered around the lawn. One morning I woke up to fresh made banana pancakes and papaya that Kathy surprised us with. Another surprise you might encounter during your visit are iguanas big and small perched across the top of the fence.
Cozumel Day 1: Scuba Diving Adventure
No matter if you're staying for a few days or a week, no trip to Cozumel Mexico is complete without going scuba diving. Cozumel is home to a gigantic reef system, second in size only to the great barrier reef in Australia. I got my PADI Open Water scuba certification while in Cozumel with ScubaTony. Every Cozumel itinerary should include scuba diving.
If you don't have your PADI Open Water certification I would highly recommend getting it was ScubaTony. My dive instructor, Manu, was spectacular. He was extremely patient with me because I was incredibly nervous about taking off my mask underwater. When I asked him how long he's been driving for he said over 20 years and named various countries where he's worked and been diving in during that time period, including Spain and Thailand.
Scuba Diving with ScubaTony
They have two boats each holding six clients. While some of the other diving companies on Cozumel might have cheaper rates you will most likely be on larger boats with more diverse. In my opinion, and I'm no diving expert by any means, more divers means a less personal experience and usually subpar customer service.
ScubaTony's entire staff – Dive masters, boat captains, and clerical staff – are absolutely amazing and make every step of booking and diving with them an absolute pleasure. On one of my dives their boat captain, Hector aka Mago, was doing coin magic tricks! You may or may not know that I can't stand magic of any kind, but this very human touch and interaction is another thing that makes ScubaTony stand out.
A Full Day of Scuba in Cozumel
Doing a full day of diving in Cozumel with ScubaTony will give you four tanks and plenty of time to discover all that the reef system surrounding the island has to offer. After your first 2 dives, the crew will even drop you off at one of the nearby beach resorts so you can have some time to relax and a delicious lunch. My friend and fellow travel blogger Claire From Claire is itchy feet highly recommends the $ Bar as the food is delicious and relatively cost effective.
Doing four dives in one day will ensure that you get to see some of the amazing marine life that live in Cozumel's waters. Make sure you ask your dive master to help find – cause they're tricky little guys to find – the Splendid Toadfish, which can only be found in Cozumel. If you're there at the right time of year you'll even get to see Eagle Rays!
Out of all the underwater creatures we saw while scuba diving, my favorite was the sea turtles. Seeing them in the water was like watching them fly. I also saw a nurse shark taking a nap, parrot fish, lion fish, various eels trumpet fish, barracudas, and plenty of colorful tiny fish I don't know the name of. After my first day of diving I started planning my next diving trip, I loved it so much!
Watching the Sunset
After a long day of diving, take a shower, put some clean clothes on and head over to Jeanie's for a gorgeous Cozumel sunset. Be careful ordering beers though, as beers are 2 for 1 during happy hour and they'll automatically bring your 4 beers if you order 2. I spent a couple nights surrounded by new friends and amazing conversation while the sun slowly dipped beneath the horizon.
Cozumel Day 2: Island Road Trip
One of the interesting things about Cozumel is that only half the island is fully explored by visitors. The western side of the island, where San Miguel is located, is usually full of tourists, most of them from the cruise ships that come in nearly every day of the week. Those people are missing out, as they never make it to the eastern side of isla Cozumel. I don't want any of you to miss out, so today you need to rent a car to fully explore the island.
Renting a Car
During my time in Cozumel my girl Claire and I did this together and had an absolute blast! We went online a few days before and rented our car from Rentadora Isis, located in downtown San Miguel . You don't need to reserve a car in advance from them, but their best rates are available when booked through their website.
They have both scooter and car rentals. We ended up renting a vintage Volkswagen Bug, it was adorable, but since it was a bit older it had it's share of challenges. Please note that for all my U.S. friends out there that suck at driving a stick shift (Like I do) most car rentals in Cozumel are only manual transmission.
Luckily, Claire grew up in the U.K. driving stick – even it if was on the opposite side of the road. I gave it a try and we decided for safety purposes she'd spend the day behind the wheel. The next time we go on an adventure together I owe her!
From San Miguel we decided to head east directly toward the less-visited part of the island. Unfortunately, our day started off with a downpour of rain, so it made driving a little challenging with our little tiny windshield and slow-moving wipers. Once we were well out of town, driving got a little easier as there were less people and fewer cars which made for a limited amount of speed bumps.
San Gervasio
Our first stop of the day was San Gervasio. An archeological site dating back to 100 B.C., San Gervasio is the largest of the Mayan ruins on the island and should be added to any Cozumel itinerary. We got there nice and early before any of the cruise ship tours that stop here did, one of the main reasons we headed east first!
Claire and I spent about an hour there exploring and taking photos of all the cool iguanas we made friends with (photo courtesy of Claire's Itch Feet). For more information about San Gervasio check out my 19 things to do in Cozumel post.
Cozumel Road Trip
After we left San Gervasio, we continued east until we hit the coast. The waters on this side of Cozumel are not as calm and are not well suited for snorkeling. However, they are perfect for surfing! The day that Claire and I did our trip we struggled with a bunch of rain and the sky coming in from the west looked as if our afternoon was going to be terrible.
As a result we didn't spend as much time on the coast as we wanted and our plans to go surfing were dashed. We were so bummed out. I was really looking forward to dusting off my surfing skills after a few years of not using them. For any of you that want to give surfing a try stop at El Pescasor surf school and beach club.
Here are a few places Claire and I passed during our journey on the east coast that you should add to your Cozumel itinerary:
Rancho Buenavista for Ranch and Horseback riding tours.
Coconuts Restaurant is one of the best restaurants to stop at on the east coast.
Multiple Tequila Tours opportunities as bars and beaches.
Mekixo Beach is great for exploring the rock formation and relaxing on the beach
Kuun Honey Bee Sanctuary.
Playa Palancar is a quiet beach to relax on.
Punta Sur Eco-Park located on the lower portion of the island with snorkeling, a lighthouse, and opportunities for seeing crocodiles.
Surprise Scuba Diving
Of course, by the time we reached the lower part of the east coast the weather had cleared up! However, around 12:15 we got a text message from Adam, the co-owner of ScubaTony, asking us if we wanted to jump on a scuba boat at 1. We didn't think we'd be able to reach the dock on time, but through a series of fortunate events we were able to hop on the boat and go for another dive!
When we got back to San Miguel and returned our car we need to find a place to fill our stomachs. Claire, being the pseudo-local, knew about the only micro-brewery on the island, Cerveceria Punta Sur. As a beer lover I was game, and once she said pizza there was no other place I wanted to eat dinner.
The beer was unfiltered amazing-ness and the pizza was cooked to perfection. I ordered a pizza with all the meat on it because that's how I roll. Claire got the lion fish pizza, which is an invasive species to the waters of Cozumel. Both pizzas were delicious, and because I ordered a whole pizza I had a late night snack that evening! You need to add this place to your Cozumel itinerary.
Today's adventure made me want to hop a ferry and do a road trip around the Yucatan Peninsula.
Cozumel Day 3: Paddleboarding and Relaxing
On your last day in Cozumel why not enjoy some beach time with a few adventures sprinkled in? That's what I did! My day began by finishing off the leftover pizza from the night before because that's the kind of person I am. There is no wrong time to eat pizza (or ice cream for that matter). I usually don't have slow mornings, but today I did. I enjoyed the pool at the hostel and hung out with the little tortoise who hangs around the yard.
Mr. Sanchos Beach Club
After my relaxation time I hopped in a cab and I headed down to Mr. Sanchos beach club. Normally I'm not a big fan of beach clubs, however, this one is special. Mr. Sanchos is the only beach club on the island of Cozumel that is owned and operated by an island local. To add even more of a reason to go to Mr. Sanchos over another Cozumel beach club, over 140 families that live on the island are directly supported by work there.
They offer all-inclusive beach days with plenty of add-ons to make your day extra special.
Paddleboarding and Waterbikes
My day at Mr. Sanchos started with paddleboarding lessons with Gina and Rene at Ha Haak Paddleboarding. They operate out of Mr, Sanchos Beach Club doing paddleboarding lessons, paddleboard rentals, and water bike rentals. They greeted me with so much love, and I am so happy that I got to spend the morning with them.
Rene did a quick lesson with me as I had been paddleboarding before. He's such a great teacher that, experience or not, you'll stand up on the board in no time. Once I was on my feet Gina and I paddled down the coastline passing scuba divers, snorkelers, and beach clubs.
When we returned to Mr. Sanchos Gina did a paddleboard yoga session. I'm happy to report that I only fell off the board once while doing yoga. My balance has definitely gotten better because of all the yoga I've been doing to improve my hiking.
I thought my time with Rene and Gina was over, but they took me for a surprise spin on their water bikes! I had never been on a water bike before. While I tried to go on one during my time at the Golden Arrow Lakeside Resort in Lake Placid last year, they were always out on the water. While they're a bit goofy looking, it was really fun to take them for a ride. You need to take one for a ride while you're there. They're perfect for all ages; especially for those worried they won't be able to do the paddleboarding because of bad knees.
After all that active time, I found a hammock and took a quick nap. I was lucky to be there on a day when there weren't that many people. There were only 2 cruise ships in port. When I finished my power nap I hopped in one of the pools, they have 2 of them! One of them even has a swim-up bar. I took full advantage of it, obviously.
ATVing at Mr. Sanchos
For lunch I gobbled down some chicken tacos that really hit the spot after all the activity in the morning. Since I was well-rested and my belly was full of tacos, I thought I needed to get my adrenaline pumping. So I decided to take one of Mr. Sanchos' ATVs for a spin. They have a small ATV track right next to the beach club that takes you through a small section of the jungle. There are even some muddy sections of trail. Again, I lucked out because they were slow and had the trail on to myself along with my guide, Rambo. I got good and muddy while going fast, which I always enjoy
While not everything at Mr. Sanchos is included in the all-inclusive pass, I recommend getting it anyway if you are planning to spend the entire day there. Beach clubs provide plenty of good food options and white sandy beaches. Make Mr. Sanchos your last stop for your Cozumel trip for a nice relaxing day at the beach with no worries about food or things to do.
What would you add to a Cozumel itinerary? Let me know in the comments!
Love It? Pin it!