A road trip around the small island of Cozumel, Mexico will allow any visitor to see the real Cozumel outside of the Cozumel cruise ports. If you don't rent a car and do a Cozumel road trip, you'll be missing out!
I spent a week in Cozumel scuba diving, exploring and relaxing. After I was there for a few days my friend Claire of Claire's Itchy Feet came over to Cozumel from Playa del Carman and we did a one day road trip in Cozumel.
Renting a car in Cozumel Mexico
There is no shortage of places to rent a car in Cozumel Mexico, however many places have hidden rental fees and those can really add up. After doing some research, and asking some of the locals we knew, we ended up getting our car from Rentadora Isis. Rentadora Isis is located on 5a Ave Norte, a short 5 minute walk from the Playa del Carman Ferry dock, near the main square in San Miguel.
Rentadora has great prices on their website that you can only get if you reserve your car in advance. Claire and I wanted to really explore Cozumel like locals so we ended up renting a hard top Volkwagen Bug (Yes more locals drive scooters, but that wasn't going to work for the day we had planned. And no there wasn't really a plan.)
As an American I never learned to drive a stick shift. I know I'm the WORST! And as a Brit Claire drives on the wrong side of the road. (The right side according to her!) So we made quite the pair getting ready for this trip, and since our car was so old there was no power steering and the stick got stuck a bunch. I felt terrible when Claire had to drive all day, considering this whole crazy day was my idea. Sorry Claire! In light of it all we named our car Trouble.
For more information about renting a car, Jeep or scooter in Cozumel read my Renting a Car in Cozumel blog post.
Driving in Cozumel Mexico
Driving in Cozumel can be a bit intimidating, but it's actually really easy to get around. Avenidas start at the waterfront and and go east in increments of 5. Calles are divided by odd and even numbers with Benito Juarez as a center. From there odd numbers are south and even numbers are to the north. Most of the time Avenidas have the right of way. Even if you think you have or have the right of way use caution when entering the intersection.
Once you get out of San Miguel driving becomes much easier, just make sure you are following what the signs say.
San Gervasio Mayan Ruins
Our first stop of the day was San Gervasio, the largest collection and most well preserved of the Mayan ruins on the island of Cozumel. Head east out of San Miguel and you won't miss the turn as there is a big sign. It will be on the left side of the road.
You'll need at least an hour to fully explore the site. There will be a bunch of people asking if you need a guide around the site. We didn't get a guide and were perfectly fine exploring on our own.
Claire and I made this our first stop of the day because we wanted to avoid the heat of the mid-day sun. However remember to wear mineral sunscreen and bring a sun hat to protect yourself, especially if you're in Cozumel during the summer months.
For more information on the Mayan Ruins of San Gervasio check out my post 19 Things to do in Cozumel.
Surfing in Cozumel at Punta Morena and the Best Beaches in Cozumel
When we finished up at San Gervasio we drove east again towards the coast. The beaches on the east coast are are known to be some of the best beaches in Cozumel. Most of the tourists stay on the west coast making the east coast beaches relatively empty. You'll see more locals than tourists on this side of the island.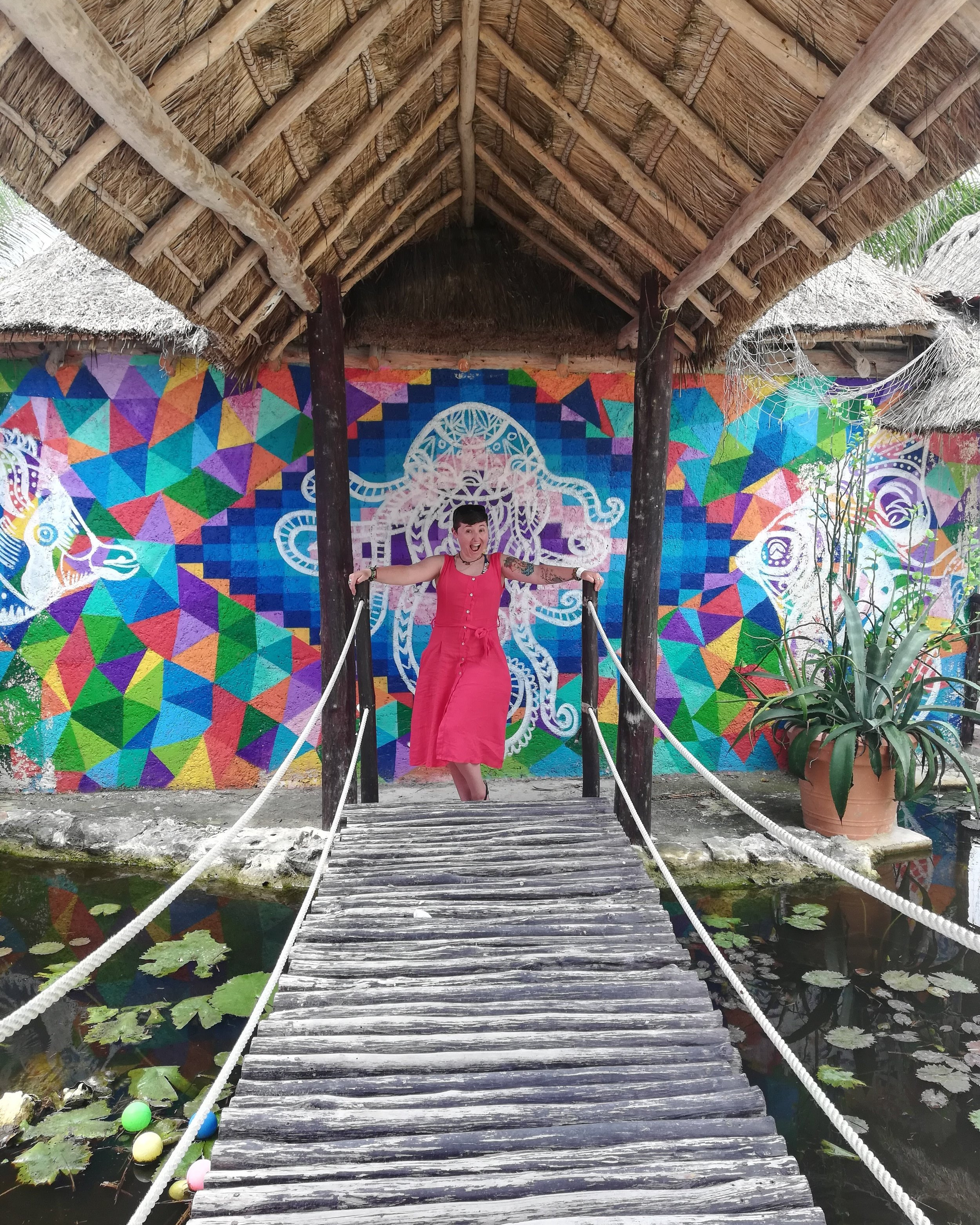 We stopped at the Punta Morena beach club. Compared to the large clubs on the west coast this one was very affordable. The minimum purchase requirement to spend time there was 300 pesos or $15 (amount as of April 2018).
In addition they have direct access to the ocean and a pool. They also offer massages for an additional fee, and surf board rentals and surf classes. The east coast of the island is the only place you can surf because the waves are perfect for all surfing abilities – even beginners!
Unfortunately, by the time we got there the clouds were rolling in and the sky became dark and grey. One of the locals working at Punta Morena told us that a Norte (a large storm usually consisting of rain, thunder, and high winds) was coming in. While our little VW Bug, Trouble was fun to drive, in the rain we knew it would be difficult, so we decided to keep driving. We were both pretty bummed that we weren't able to surf.
Stop at El Miradora
There are plenty of places to stop along the way down the east cost of Cozumel – restaurants, bars, beaches, and souvenirs stands.
We stopped south of Punta Morena at El Miradora. There are a couple of places there to get food and drinks as well as buy souvenirs.
While we were there we walked along the beach and on the rocks by the ocean. There were so few people there it was like we had our own private beach.
One of the shops had swings and hammocks you could use. I personally loved the swings, and may have taken a bunch of photos swinging on them.
Right next to the road there is a Cozumel sign. Claire and I both took photos with it and there was no line. There is another Cozumel sign in San Minguel at the city center and there are always tons of people there waiting to take a photo.
We were still working against the weather, so we didn't stay for too long as we were about 45 minutes from the western side of the island.
Cozumel Road Trip YouTube Video
Claire created this awesome video of our Cozumel road trip – check it out!
Punta Sur Eco Park and The Best Snorkeling in Cozumel
Punta Sur Eco Park is located at the most southern part of Isla Cozumel. As it is a state run park there is an entrance fee to get in, but once inside you'll be able to explore and relax. There is a lighthouse museum, a tower for viewing crocodiles, and plenty of birds and gardens. You can take a virtual tour of Puna Sur by clicking here. There are even some Mayan ruins, but nothing like what you'll find at San Gervasio.
It is said that Punta Sur Beach has the best snorkeling in Cozumel, so make sure to bring your gear so you don't miss out on this gorgeous place. In the playa you can also rent kayaks! Click here to get skip the line tickets to Puna Sur Eco Park.
Luckily by this time the winds had died down form the Norte and we hadn't had any rain. It was looking as if the storm had missed the island!
Cozumel Scuba Diving with ScubaTony from the Paradise Beach Club
During my week in Cozumel I earned my PADI Open Water Certification with ScubaTony. Mid-afternoon Claire and I got a text from Adam, owner of ScubaTony, inviting us to jump on a scuba trip that afternoon.
After we received the text we couldn't get in touch with him because the eastern side of the island of Cozumel has limited cell phone service. However, we ended up finding a spot with service. I'm sorry that I don't remember where it was so I could share it with you, but we were so excited that we found it! Long story short, we were able to get in touch with Adam and hop on an afternoon dive.
ScubaTony picks up clients at various spots and since we were close to Paradise Beach Club, one of many beach clubs along the eastern and south eastern area of Cozumel, they picked us up there. It was a little chilly that day, but I'm so glad we were able to make the boat. We saw a BUNCH of amazing sea turtles on the 2 dives we did that afternoon!
Dinner at Cerveceria Punta Sur – Micro Brewery in Cozumel
After a long day of exploring, drop off your rental car and walk a few blocks to Cerveceria Punta Sur for an affordable and filling dinner (you'll need it after the scuba diving). Cerveceria Punta Sur is the only micro brewery in Cozumel. Their beers are unfiltered and you never know what amazing flavors they'll have on tap when you visit because they're always rotating.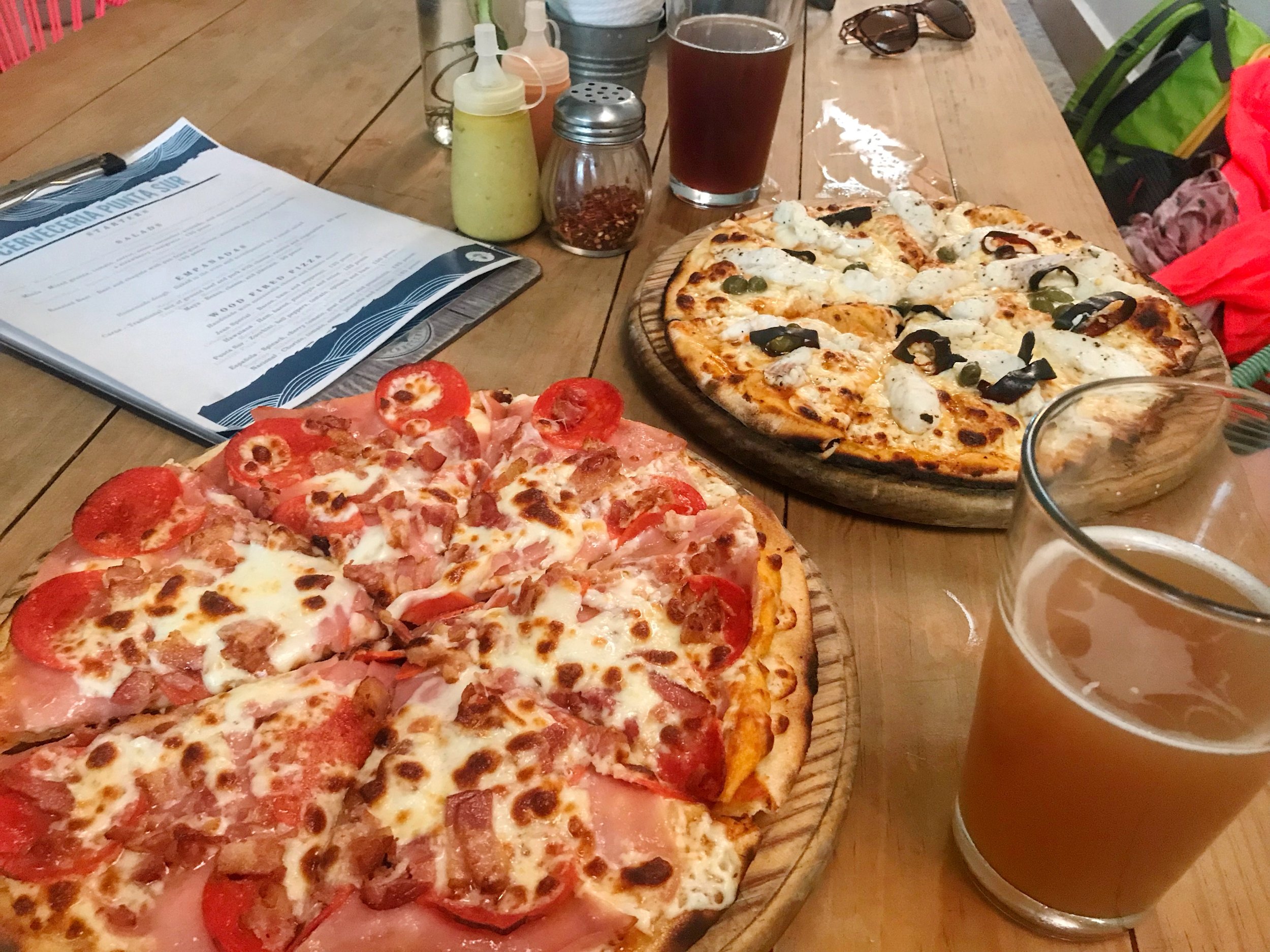 Once you have an ice cold beer in hand order one of their wood fired pizzas. Their specialty is a pizza topped with the invasive Lion Fish. It is hunted daily and delivered to the restaurant. Lion Fish is a light flaky white fish and is an excellent addition to pizza. If you don't like fish there are plenty of other options as well.
Dessert at Chocolateria Isla Bella
If you're in Cozumel Mexico and you don't go to Chocolateria Isla Bella for their delicious chocolate you're missing out! They make handmade chocolate using locally sourced cacao. The mother and daughter team that own the place make chocolate bars and the most delectable chocolate bonbons. I had one of the peanut butter cup ones and it was a perfect end my Cozumel road trip!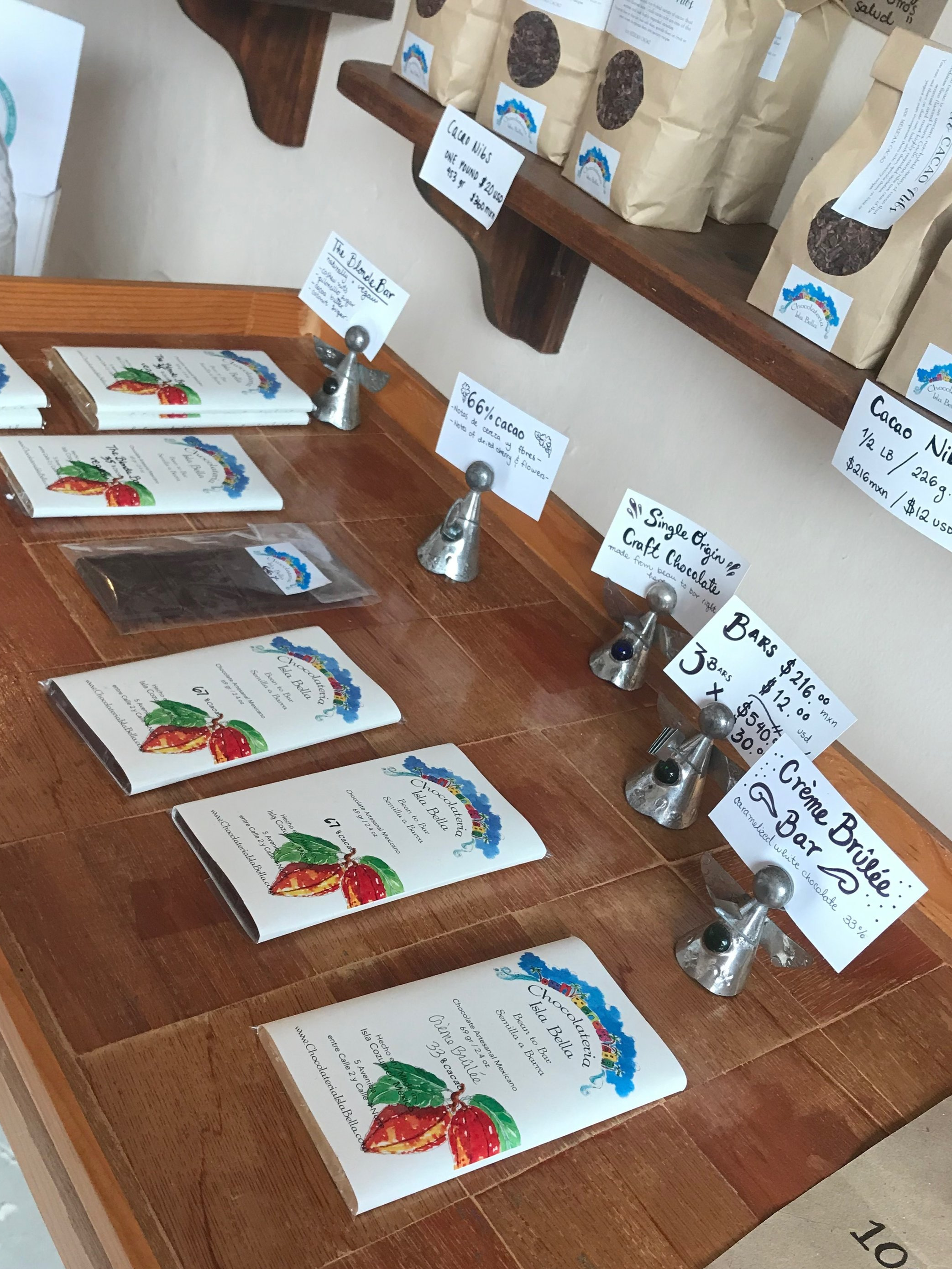 On occasion they hold chocolate tastings and tours, but these are held on a limited basis. Go to their website for more details and to contact Chocolateria Isla Bella for more details.
Cozumel Mexico Map – Road Trip Stops
Here is a Cozumel map with all the stops I've mentioned in this post. Keep in mind between each stop there are plenty more places to stop along the way, these are just a few highlights! I hope you enjoy this Cozumel road map. No matter what you decide to do there are plenty of things to do in Cozumel, Mexico.
Much of our road trip around Cozumel was perfectly timed coincidences, so you might not be able to everything listed here in a day, especially if you're on a time crunch. Regardless what you end up doing, I hope you enjoy this little island paradise.
Have you been to Cozumel, Mexico? What would you do on a Cozumel Road Trip? Let me know in the comments.
Love it? Pin It!