Travel tattoos often tell amazing stories of adventure and growth. Whether you get a tattoo while traveling or when you get back home I think it's always a good idea to get travel tattoos. Here are a few tattoo stories from travelers just like you.
Travel Tattoos
Humpback Whale Travel Tattoo
Demi from Around the World with Her
After spending a life-changing year in Australia, I knew I had to get a travel tattoo to remember my amazing time there. For around 6 months I worked at a lovely little hostel in Port Stephens, New South Wales. Close to the coast, there were beaches and headlands nearby. I would often walk my manager's dog, and more and more frequently would see Humpback whales breaching, or squirting plumes of water into the air.
When I left the hostel, I bought a car and slowly made my way up the East Coast of Australia to Cairns. At nearly every coastal town and city I would see the whales offshore, making their way North. During an early morning walk to Byron bay Lighthouse, I saw 2 huge Humpback Whales only around 50 meters from shore, it was amazing to look down on their silhouettes as they made their way north to warmer waters.
By September that year I had reached Cairns, and so had the whales. This was the time that they arrive in Cairns to give birth. During this time I took a dive trip out onto the Great Barrier Reef. On the way, I saw a mother and baby breaching. A beautiful sight, and the basis for my tattoo. I knew I needed a reputable artist to do my tattoo, so contacted Charlotte Ross from Red Hot and Blue, Edinburgh. Her watercolor style brought my travel tattoo to life.
Pin it for Later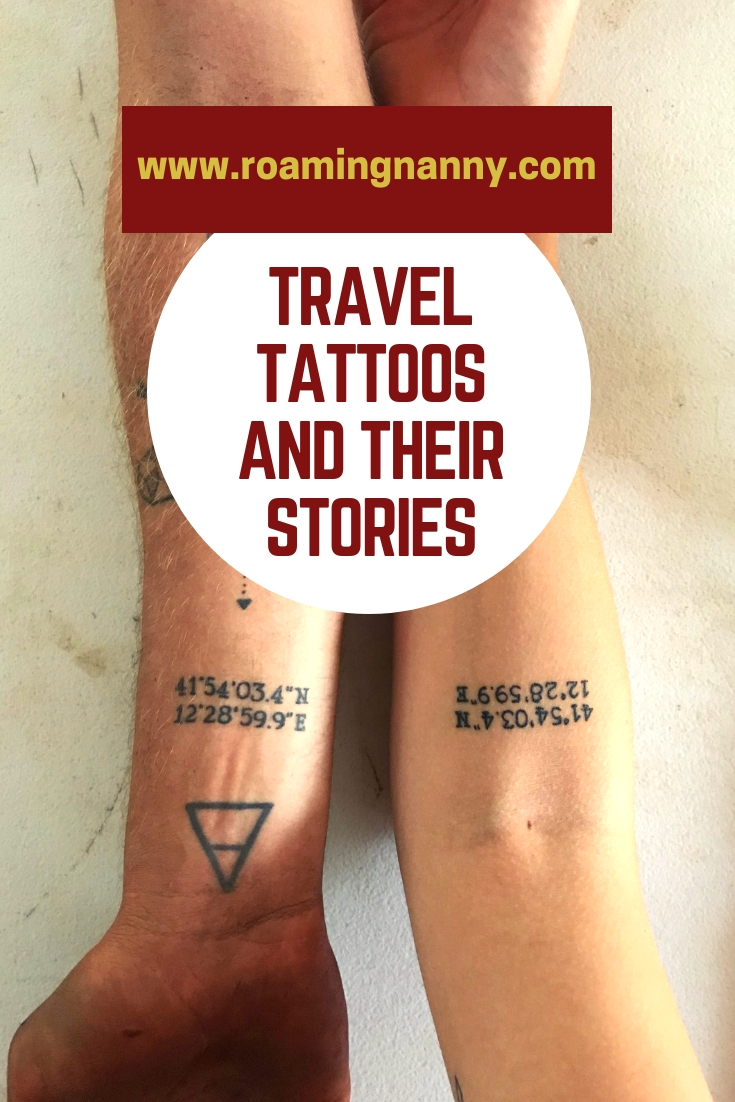 Turtle Travel Tattoo
Ben from Unknown Horizon
I love getting travel tattoos, especially if it reminds me of a memorable experience. During my most recent trip to Thailand with the sole purpose of learning to scuba dive I had some amazing encounters with marine life, especially turtles. I was lucky enough to spend time underwater with sea turtles a few times during my dives in the crystal clear waters of Thailand.
As I made my way north through Thailand and into the mountains I began wondering what souvenir I could buy to commemorate my amazing experience diving. For me, any memorable activity or time in my life is usually depicted by a travel tattoo.
After a hazy, yet beautiful hike in Ao Nang, I found myself with an hour to spare and a tattoo artist with free time. To make it even more special, this local artist was amazing at bamboo style tattoos – where the needle is fitted to a stick of bamboo and all done by hand without the assistance of machines.
I began to worry I would miss my bus as I expected the tattoo that was made by hand to take much more time than by machine. However, once my travel tattoo got going, it didn't take much time at all. Surprisingly, it also hurt a lot less than any tattoo I've ever gotten before!
If you're after a unique souvenir, I highly recommend a travel tattoo by bamboo! Probably one of my smallest pieces, yet it is one of my favorites!
Coordinates Travel Tattoo
We both have the same coordinates tattooed on our arms. This November marks our first wedding anniversary, and we are spending it on the other side of the world from where we got engaged and from where we got married.
We first went to Rome together for Kez's birthday in January 2015, and we completely fell in love with the city. Then, in December 2016, Sam took Kez on a surprise whirlwind trip across Europe. We left our home near Brighton, UK, for London, then onto Paris, where we caught a sleeper train to Verona and lastly, Rome. He popped the question in front of the Trevi Fountain (and in front of hundreds of strangers)! Since then, it has always held a special place in both of our hearts. After getting married, we decided to quit the rat race and trade in our office cubicles and commutes for an indefinite honeymoon around the world. We are currently in Australia. We both have other tattoos already, and knew when we set off that we would probably come back home sporting some new ones from our travels! We decided to start our travel tattoos with the coordinates of the exact spot where we got engaged two years ago. It made us laugh when we first got them done, as people would gasp and say things like 'You got matching tattoos?! What happens if you break up?!' and we'd just reply like 'Guys, we're married… that's a pretty permanent step too!'
Sak Yant Travel Tattoo
I have gotten 2 bamboo travel tattoos in Thailand. It is done by the same cool lady on Koh Phangan. I have lived on Koh Phangan on several occasions and it's kind of my second home. Anyway, I consider Thailand my second home country, so Thai culture, Buddhism, and Thai people are close to my heart.
Sak Yant is the traditional Thai tattoo which dates back to centuries. It can be linked to a Buddhist tradition, though not all Buddhist sects consider it a central part of their their religion. It is traditionally done by a Buddhist monk or an "ajarn" which translates into a teacher. However, monks can't make the tattoos on females.
To me, Sak Yant represents Thai traditions but also mythology and history as it is written in the ancient Pali language which I find very beautiful. The tattoos are also supposed to work as amulets and protectors and they give blessings and powers to its bearers. They all have individual traits and are suited for different situation, eg. some give wealth and power or they can protect you from bad spirits or guide you during your travels and in general, in your life.
To be honest, I chose mine because the shape suited my back and I thought it was the most beautiful one. Then again, the meaning also fits me perfectly; it is to give me protection when I'm traveling and  this I've done quite a lot in recent years.
Butterfly Travel Tattoo
Travel is not my passion or my hobby. It is the oxygen that I need to exist and survive. Some live to travel, I travel to live. Hence, last year I decided to gift myself a travel tattoo on my birthday, it was not a difficult choice to personify myself. I chose a butterfly.
On my right ankle, rests a beautiful butterfly that symbolizes travel, colors, endurance, hope, variations and zest for life.
Butterflies use their wings to fly, to travel, to discover. Like a butterfly, I visit various places, not limiting myself to a planned itinerary. With an open mind and a camera in the bag, I let myself fly into this world exploring and discovering best possible adventures and attractions.
Struggling to evolve from an ugly caterpillar, butterflies denote the stigma of accepting challenges and hardships. My travels have also been my best teacher, allowing me to learn and explore new things. I have grown into a better human being, more knowledgeable and informative.
Lastly, I am somebody who celebrates the little moments in life. I love adding colors to my life and love to spread all shades of smiles around. What better than a butterfly travel tattoo could have defined me?
Sankofa Travel Tattoo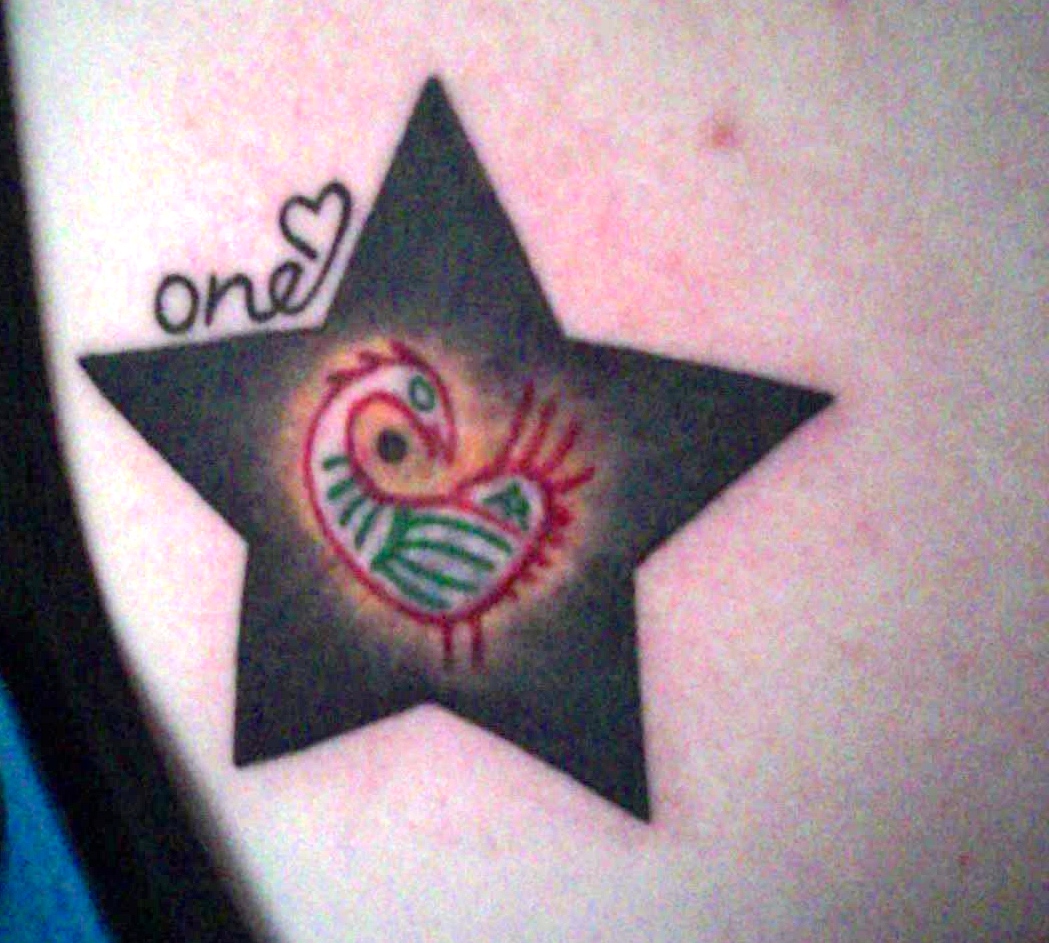 I am a big fan of tattoos. Such a big fan, in fact, that I convinced my mother to let me get one when I was 15 in Abu Dhabi. In true Dagney fashion, I didn't really think it through. I had no idea what I wanted, and I ended up getting a Celtic knot because I thought they looked cool. Turns out, as is quite common, I was allergic to the colored ink. This is common for younger people, and particularly with the color red. So, for the next 6 years my tattoo looked the way tattoos that are being removed looked: splotchy and incomplete. People asked me about it ALL THE TIME, which was incredibly annoying. But I didn't want to just cover it up with anything. I had learned my lesson: think before you act, you impulsive idiot.
When I was 18, I moved to Ghana for 6 months to do volunteer work. I grew up abroad, but Ghana was totally unexpected. It definitely changed me. However, when I returned from Ghana, I felt pretty lost and directionless. In Ghana, I was outspoken and fierce, but back in Abu Dhabi I felt invisible and lost.
As a result, I made the mistake of getting involved with a guy that I wasn't actually interested in. I bowed to societal pressures to be in a relationship, even though at that point in my life I didn't want to be. I moved to another country to be with him. He was emotionally manipulative, and I allowed myself to be totally alienated from friends and family. When I finally got out of the relationship, I moved to Seattle where a friend from Ghana happened to live. We decided we wanted to get tattoos together without realizing that we had both designed tattoos representing our time in Ghana.
My tattoo is a black star, a popular symbol throughout Africa, but especially in Ghana. In the center of the star is an Adrinka symbol, which are traditional Ghanaian symbols seen frequently in their ceramics, wood carvings and fabric prints. This particular symbol is called Sankofa. It literally means 'return and get it' or, to learn from your past. I chose Sankofa because I wanted to remind myself to learn from my past, and always be true to myself.
Do you have any travel tattoos? Tell me about them in the comments!